All gay porn pics and gay porn videos of John Magnum.
Hair Color: Brown
Sign: Unknown
Eye Color: Brown
Dick Size: 8 inch dick
Height: 5'9″
Cut / Uncut: Cut / Circumcised
Weight: 165lbs
Sexual Positions: Versatile
Extra Big Dicks gay porn scenes of John Magnum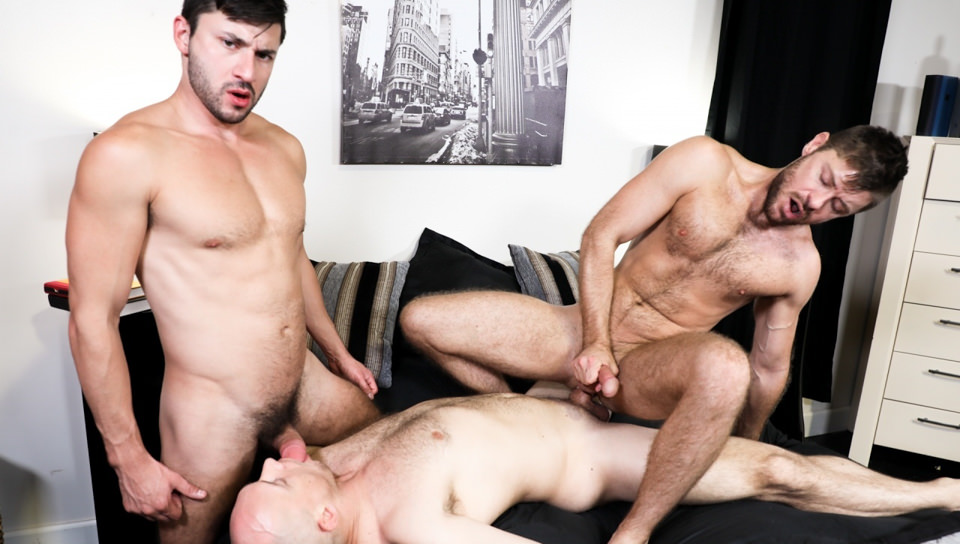 John Magnum is alone in the bedroom stroking his big cock when Scott DeMarco brings Jack Andy, who is blindfolded, into the bedroom for his surprise. He quickly realizes that someone else is in the room and when he feels the big cock, he gets excited and starts stroking both John & Scott.
Soon he is on his knees sucking both of their cocks while still blindfolded. After a while he removes his blindfold and is excited by what he sees. Both John & Scott then share Jack's big cock between them for a while before all three climb on the bed.
Scott rims Jack's ass while he continues to suck John. Scott then fucks Jack from behind to warm up his hole for John. Jack then rides John's big cock while John sucks Scott.
John then flips Jack on his back and fucks him until jack cannot hold back and he shoots his load.
John and Scott then both shoot their loads onto Jack's face….Join them!
Men gay porn scenes of John Magnum
Kaleb Stryker is desperate to hang out with his friend James but James isn't impressed by Kaleb's blowjob skills.
Kaleb gets left hot and bothered with a dildo to practice his head skills, which leads to sexy blue-eyed muscle daddy John Magnum being treated to quite the sight when he comes home.
John gets a raging hard-on watching Kaleb sucking the dildo and has to get in on the action.
John teases Kaleb's mouth with the dildo, making him show off his technique before getting a sample of the real thing.
John fucks Kaleb's eager mouth, shoving his massive cock into the younger stud's mouth before bending him over to give his tight ass a pounding.
Kaleb blows his load all over himself as John hammers him then lets the bald stud blast a thick cum shot across his neck and chest…Join them!
Allen Lucas isn't feeling his new job as a ranch hand and wants to quit but John Magnum makes him an offer to stay on that he simply can't refuse…Join them!
After a night of chatting it up with a beautiful girl, John Magnum decides to text the number she gave him for some after-hours action. The text goes to Jacob Peterson and he just can't help playing along to get John for himself…Join them!
Beaux Banks' crush on his friend, John Magnum, leads him to ask for a mutual jerk off session. Someone agrees, but it's not his friend…Join them!
Young Tyler Sweet is commiserating with a friend after he's heard that he is not on the team.
They hatch up a plan to get Tyler back on the sport's roster.
In just his gym kit Tyler knocks on Coach John Magnum's door and sits down next to him at his desk.
Coach Magnum says sorry son but you'll just have to work harder and come back next year.
Tyler is not giving up that easily as he rubs his hands up along Coach Magnum's bare legs, he reaches into his shorts and feels his already hardening big thick dick.
He licks the Coach's hard erect cock sucking it to the back of his young throat. The Coach lifts Tyler up vertically so that they can 69 each others' dicks.
He then penetrates the young sportsman with his thick cock pressing it home deep in his tight boy ass.
They fuck in a variety of positions including reverse cowboy and missionary each time Coach Magnum getting his boy closer and closer to the edge.
Finally, Tyler can take the ass fucking no more and the sensation drives him over the edge, shooting cum all over his lithe young body.
Seeing the floods of jizz, Coach Magnum can't hold off any longer spraying his load across them both.
Tyler may not be on the team but the Coach has got his back all the same.
Dylan Lucas gay porn scenes of John Magnum
Chase Young is being punished with chores for not coming home on time. His stepdad John Magnum is making him clean the pool, rake the yard and move some plants around. Chase isn't happy about it one bit and ends up breaking the rake and also throwing the pole into the pool.
Chase finally sits down to relax but then John comes outside and tells him to go back inside and bend over the couch for some spankings. John spanks his ass hard and fast making sure he understands the consequences for his actions. Chase's butt is bright red and now he has to suck on his Daddy's big fat dick.
John pumps his face full of his thick cock making Chase gag. John even decides to blow Chase for a bit since his cock is just aching for it. Daddy is demanding and he directs Chase over to the couch to spread his legs wide so he can see that beautiful ass in all its glory.
John licks that hole clean lubing it up with all his spit than pushing his big dick slowly deep into Chase's young ass. Chase is moaning with pleasure as his step daddy pounds away on that sweet young ass. Chase is ready to cum so he mounts up on Daddy's thick cock and rides his shaft up and down until his tight hole squeezes as he releases his load all over himself and John.
He gets off Daddy's dick and lets John cum all over his face like the good son he his…Join them!