Every gay porn video and gay porn image gallery of Dustin Steele.
Hair Color: Brown
Sign: Unknown
Eye Color: Brown
Dick Size: 8 inch dick
Height: 5'9″
Cut / Uncut: Cut / Circumcised
Weight: 165lbs
Sexual Positions: Versatile
Reality Dudes gay porn scenes of Dustin Steele
Muscular hunk Dustin Steele and buff babe Julian Knowles meet up in the locker room shower for some quick play. Tattooed Julian takes bearded Dustin's thick rod down his throat, and Dustin follows up licking his ass, and wetting his tight hole, before slowly working his thick, raw, cock into his perfect bubble butt…Join them!
Extra Big Dicks gay porn scenes of Dustin Steele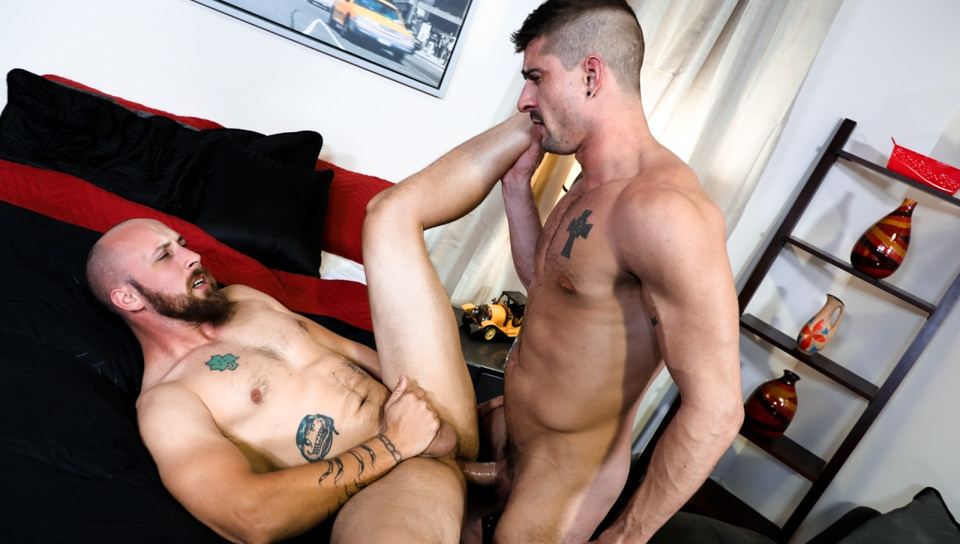 Dustin Steele and Sean Maygers are in bed having a conversation in which Sean says that it is Dustin's turn to bottom for him.
Dustin is very hesitant based on the size of Sean's cock, but Sean assures him he will be gentle. Cautiously Dustin agrees and the two start making out.
Dustin sucks Sean's extra big thick cock first and does his best to take all of it, but struggles. They move into a 69 and suck each other for a while before Sean moves to Dustin's ass and grinds his thick cock against Dustin's hole.
Sean rims him and gets his hole nice and warmed up for his big cock. He starts fucking Dustin slowly at first and based on the groans of ecstasy and pain coming from Dustin, he determines how deep or hard he will thrust.
Once Dustin is relaxed, Sean starts fucking him harder and deeper. After three positions, Dustin cannot hold back and shoots a thick creamy load all over himself.
Sean pulls out and shoots his load all over Dustin…Join them!
Jace Chambers is calling his assistant Anthony Jones into the photo studio. He tells Anthony to get things cleaned up and upload the photos from his camera. Anthony reminds Jace that he is doing a test shoot of his own and asks one more time for permission to use the studio and Jace's equipment.
Jace heads out of the studio and Anthony begins cleaning and getting the studio ready for his shoot. Dustin arrives just as Anthony has finished setting up the studio. Anthony is nervous as he is a new photographer, but Dustin is immediately comfortable in front of the camera and he tells Anthony that he is getting turned on.
Soon they are both kissing and revealing their huge cocks. Dustin at a little over 8 inches and Anthony who is about 9 inches and very thick. They exchange blow jobs and then Anthony fucks Dustin first at his request. Dustin then fucks Anthony and the scene ends with Anthony riding Dustin's cock until he explodes a creamy nut on Dustin's chest.
Dustin then stands up and shoots his load on Anthony's eager face…Join them!
no images were found
Dustin Steele is always ready to give it rough and raw, and now that Jack Winters has him in his sights, he wonders maybe he's bitten off more than he can chew.
He's been craving a good, hard fuck, but when Jack shows up, he hopes Dustin's tough talk isn't just for show.
Luckily, Dustin knows how to back up the chatter with his actions, and he fucks Jack silly all over the bedroom, pounding him from behind as Jack strokes himself off, before dousing Jack with a facial and making him lick up every last job.
On second thought, that's exactly what Jack needed.
Men Over 30 gay porn scenes of Dustin Steele
Trey Turner and Dustin Steele are working on re-doing the walls in their home. Dustin is up on a ladder removing nails from the wall and giving Dustin a little bit of grief for putting so many holes in the wall. Trey has other things on his mind as he looks up at Dustin's ass as he is bending over on the ladder.
Amused, Dustin lowers his ass onto Trey's face and then comes down off the ladder and the two start making out. Trey gets down on his knees and sucks Dustin's cock for a bit. Dustin is rock hard and then climbs up on the ladder so Trey can get right under to service his balls even better which leads into Trey eating that ass.
Dustin works his ass on Treys face moving back and forth across Treys stiff tongue. Trey rims him deep and hard preparing him for a deep fuck. Trey fucks Dustin against the ladder for a while and then tells Dustin he wants him to fuck his ass.
Dustin fucks Trey hard from behind pushing his head into the couch as Dustin pumps inside of him. Dustin lays him on his back and wraps his strong hands around Trey's neck squeezing it as he fucks him hard and deep pounding that tight ass until Trey erupts all over himself.
Dustin pulls his cock out and stands about Trey unleashing his built up load all over him…Join them!
Max Cameron and Dustin Steele are back in the locker room after their workout and Dustin tells Max that his muscles are sore. Max rubs his shoulders and tells him that working out always makes him horny. Since they are all alone in the locker room they decide to let loose some.
Dustin soon has Max's hard cock deep down his throat and then Max reciprocates. Max then moves to Dustin's ass and he sticks his tongue deep in his eager ass getting it lubed up so he can fuck him real good. He then fucks Dustin in several positions until Dustin cannot hold back and he shoots his load all over his stomach.
Max laps up the remaining cum from Dustin's cock and stomach as he strokes himself and then shoots a nice load all over Dustin…Join them!
Jason Barr has entered the locker room and he looks a little sneaky. As he opens his locker, he pulls out a bag with potato chips in it and begins eating them. We can tell by his manner, that he is not supposed to be binging on these chips, but he cannot help himself.
Lost in the world of eating his chips, he does not see Dustin Steele come in and as he eats his chips Dustin looks on with disdain. Jason sees Dustin and is shocked and scared. Dustin begins to lecture Jason on how bad it is for him to be sneaking these chips and how they will ruin all the hard work he has been doing on his body.
He tells Jason that if he agrees to allow him to crush up these chips and throw them away, he can fuck him. Jason is shocked but also excited and Dustin takes control, destroys his chips and begins kissing Jason. Dustin pulls out Jason's cock and begins sucking it and then he feeds his cock to Jason.
He then tells Jason it is time for him to fuck him, but first Jason rims his ass. Jason fucks Dustin up against the lockers and then he tells Dustin that he wants him to fuck his ass. Jason then rides Dustin for a while before Dustin flips him over and fucks him until he shoots.
Dustin pulls out and shoots a big load all over Jason. They both agree that sex and working out are better than chips…Join them!
Pride Studios gay porn scenes of Dustin Steele
Dustin Steele trains his stepson Angel Alden in boxing.
Soon he comes to understand that he wants to learn to fight because people are giving him a hard time for being gay and then decides to have sexual training as well.