Every gay porn video and gay porn image gallery of Lucas Leon.
Hair Color: Brown
Sign: Unknown
Eye Color: Brown
Dick Size: 8-inch dick
Height: 5'9″
Cut / Uncut: Cut / Circumcised
Weight: 165lbs
Sexual Positions: Versatile
Lucas Leon gay porn scenes at Raging Stallion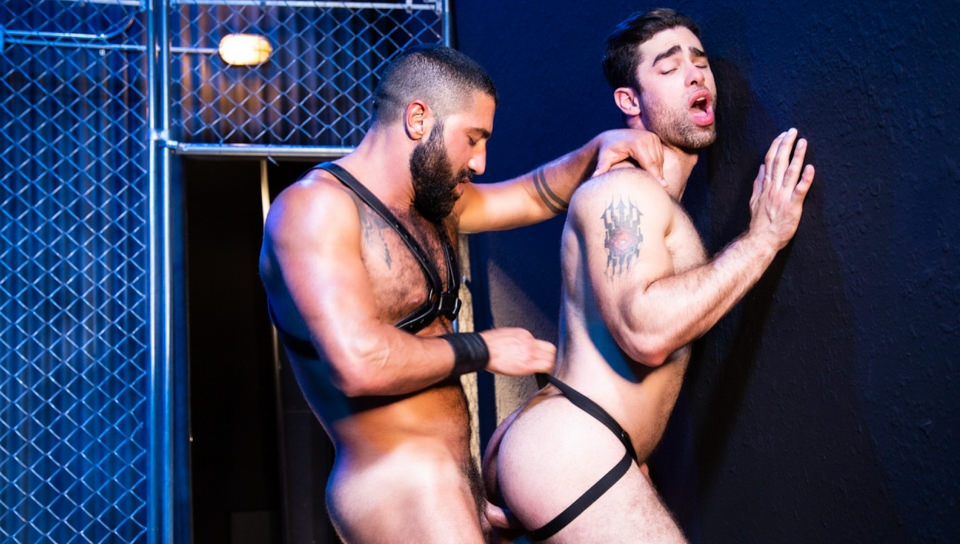 Lucas Leon is sitting and flexing, admiring his own physique and 'Manscent' when Sharok stumbles upon him and starts rubbing his bulge thru his jeans. Lucas is curious and invites Sharok over for a closer look.
They lock lips before Sharok takes his infatuation with Lucas to his knees when he turns him around to get a taste of Lucas' hairy hole. After getting tongue and finger-fucked by Sharok, Lucas gets down to release Sharok's hairy cock from his denim and into his mouth.
After a sopping wet hummer, Lucas hops on top of Sharok to ride his raw cock deep. Lucas holds tightly onto Sharok's harness as he bounces up and down on his girthy cock.
Going ass to mouth, Lucas climbs off and back down to his knees to suck the thick cock that was just up his ass, taking big sniffs of Sharok's musky cock in between slurps.
When Sharok wants more of Lucas' tight hole, he moves him up against a wall and pummel's his bare cock into the moaning stud hard and fast. Sharok holds onto Lucas' jock while Lucas braces himself on the wall from Sharok's powerful thrusts.
Sharok gets Lucas down on his back one last time to stretch out his hairy hole. Lucas moans load while Sharok keeps fucking him hard and spitting on the muscle-bottom.
Seeing Lucas take his raw cock so well sends Sharok over the edge, and he dumps his load all over Lucas.
Pushed to his limits, a few huffs of Sharok's sweaty pits is all it takes for Lucas to dump his thick load out onto the floor…Join them!
Baseball player Ricky Larkin is trying to buy food at the concession stand from worker, Lucas Leon. When Ricky orders up a 'nice big juicy wiener', Lucas takes the hint and gets on his knees in front of the concession stand to service the star player's big hairy cock.
Lucas' mouth gets Ricky revved up and soon Lucas is naked and bent over a picnic table with Ricky's face planted firmly in his scruffy ass. Ricky eats Lucas until neither stud can take the anticipation any longer.
Ricky stands up and slowly slides his big raw dick, deep inside Lucas, stretching his hole to the limits as he picks up the pace and fucks the wiener-slinger harder. Ricky wants maximum, bareback penetration and gets Lucas on the floor to pile-drive the horny hunk.
It feels amazing for both guys, but Ricky wants to see the look on Lucas' face as hiss extra-thick dick stretches Lucas out. Ricky gets Lucas onto his back and fucks him hard until he blasts his creamy load all over Lucas' spent ass.
Ricky fucks his jizz deep into Lucas' hole and keeps pumping until Lucas lets loose and covers himself with his load…Join them!
no images were found
Lucas Leon gay porn scenes at Icon Male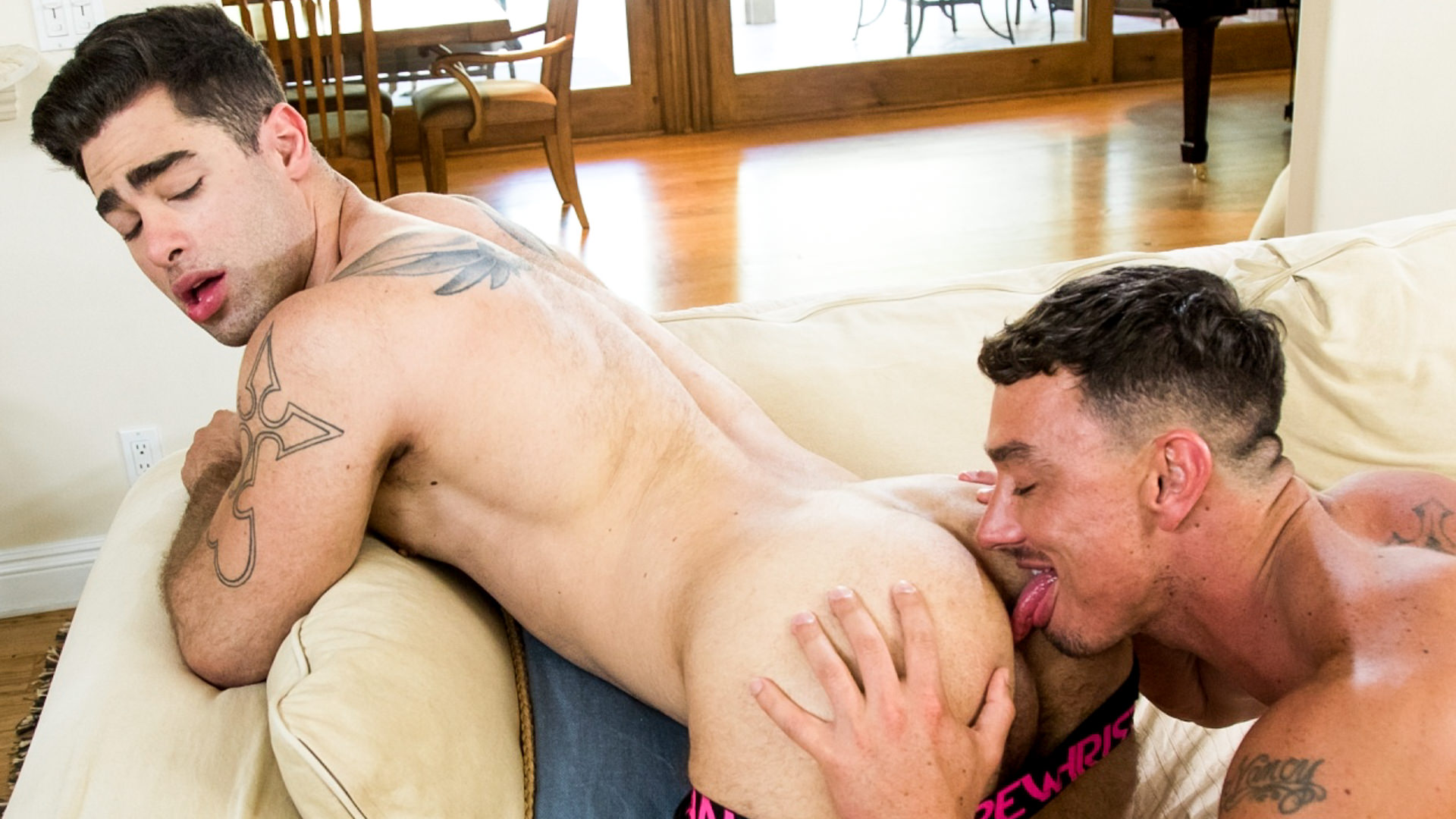 Musclebound superstar Cade Maddox and young Latin hottie Lucas Leon are perfect together.
Cade is dominating with his thick muscles and his giant cock. Lucas is a willing cocksucker and takes every inch down his throat.
Cade loves the taste of Lucas his ass before he shaves every inch up there with extreme pleasure…Join them!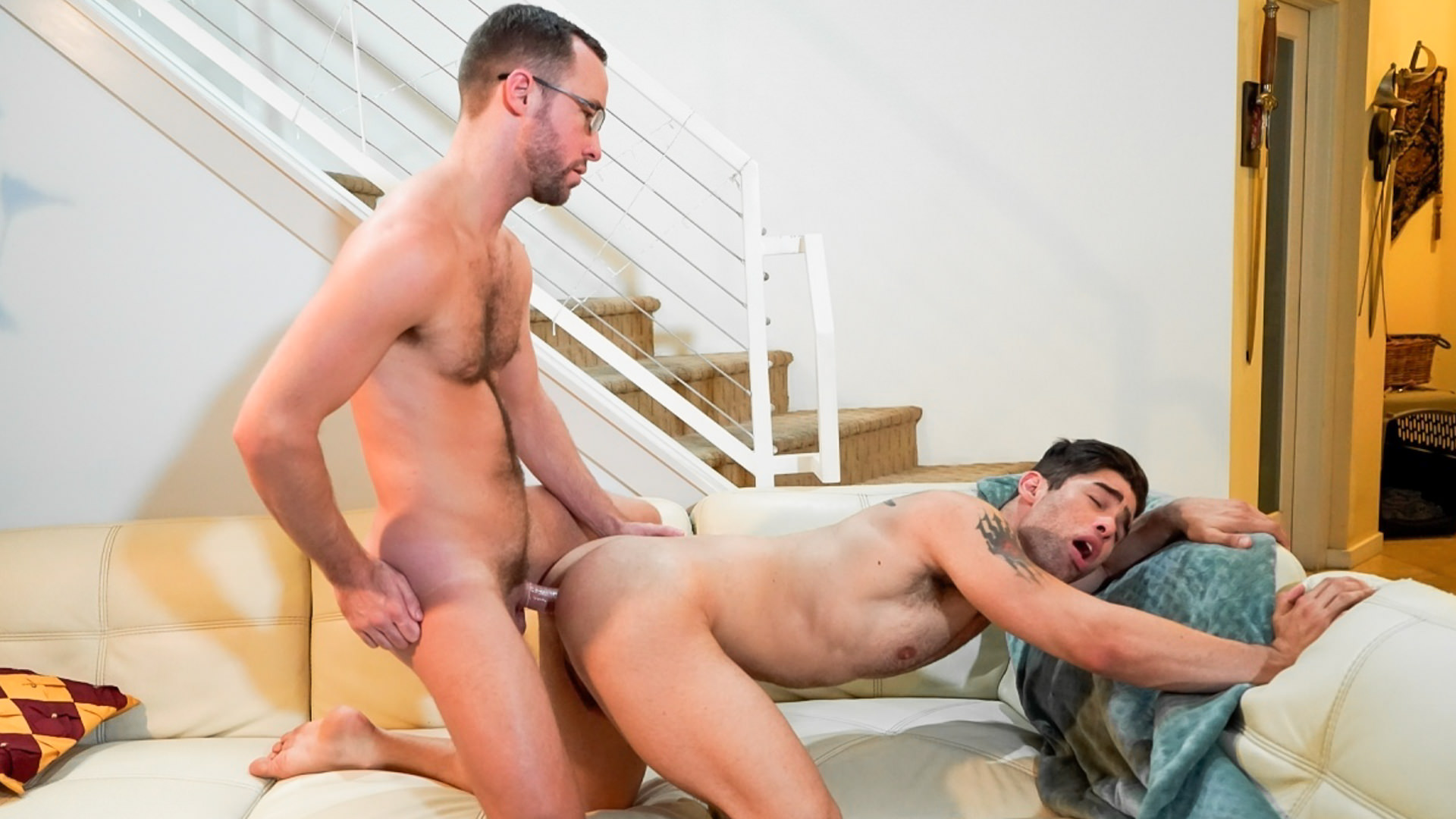 Alex Hawk is confused with his sexuality and breaks it off with lover Lucas Leon.
Manipulative and love desperate Lucas uses tears to lure Alex in. Making it impossible to stop the affair! Sucked in by seduction Alex and Lucas engage in the hottest guy-on-guy sex yet! Filled with passion and lust this is a scene you won't want to miss…Join them!
no images were found
Lucas Leon gay porn scenes at Lucas Entertainment
Sean Xavier's gigantic black dick is plenty for two guys to savor at the same time. Lucas Leon, meanwhile, can't get enough black up up his ass.
To make him happy, Sean and Jason Cox team up and fuck Lucas at the same time for some hole-gaping interracial double penetration. And if Lucas' ass can't get enough, Sean Xavier goes further and fucked Jason and Lucas at the same time with a double-headed dildo….Join them!
Sean Xavier, Jeffrey Lloyd, and Lucas Leon are all models for high executive fashion, and all three of this beautiful guys are instantly attracted to each other while they're on set.
Lucas and Sean entice Jeffrey to take out his huge and beautiful cock, and that's what turns their fashion shoot into a hardcore gay bareback porn shoot….Join them!
Lucas Leon gay porn scenes at Men.com
Chiseled stud Diego Sans just spotted a sexy, fit man walking by, and he decided to follow him back to his room. He waits until he is out of sight, and steals the key card from a housekeeping cleaning cart.
He sneaks into the room and discovers the tattooed hunk in question is Lucas Leon, who's busy in the shower soaping up his round, bubble butt. Brown-haired Diego can't wait to get caught so he can slide his tongue right between those fat ass cheeks.
Just enough to loosen his hole to receive his deep penetration….Join them!
Hairy-chested stud Lucas Leon arrives at the gay club Cock Stop, and he's making out, passionately kissing with Dante Colle under the flashing lights.
The guys suck each other before Lucas rides Dante, then the top bends him over to penetrate him doggy style as they watch themselves in the mirror.
Dante turns the bottom on his back to really pound that hole, then Lucas rides him reverse before the top puts him against the mirror and fucks him doggy style.
Lucas gets to his knees to wait for Dante's hot load, and he can't resist stroking himself till he cums before he takes a facial.