All gay porn pics and gay porn videos of Pierre Fitch.
I met Pierre Fitch when fellow Cocky Boy, Wolf Hudson, asked to do a scene with him. The 5'7″ Canadian stud makes up what he lacks in height with a gorgeous cock and a bubble butt most tops only dream of plowing! Pierre started in the biz as a twink actor, but since he started ten years ago, he's morphed into a tattooed muscle stud who manages himself, directs pornos, and works as a professional (and popular!) DJ.. From his devil-may-care attitude to his ripped pecs and abs to his full sleeve tattoo to his luscious thick lips, Pierre Fitch is definitely one hell of a Cocky Boy
Hair Color: Brown
Sign: Scorpio
Eye Color: Brown
Dick Size: 8.5 inch dick
Height: 5'6″
Cut / Uncut: Cut / Circumcised
Weight: 155lbs
Sexual Positions: Versatile Bottom
Pierre Fitch gay porn scenes at Reality Dudes
Why would muscular top Rocky Vallarta and tattooed bottom Pierre Fitch want to put on real pants and leave the house when they've got everything they need right here on the couch?
The hot boyfriends make out and tease each other's cocks until Rocky pulls off their shirts and caresses Pierre's body, nuzzling his armpit before feeding him his cock.
Then Rocky tastes Pierre's huge cock and tongues his ass, bending the pretty bottom over to fuck his ass nice and deep.
Pierre loves to watch Rocky flex his muscles as he gets pounded, then rides that dick and cums on Rocky's face before Rocky paints Pierre's butt with jizz…Join them!
Pierre Fitch gay porn scenes at Falcon Studios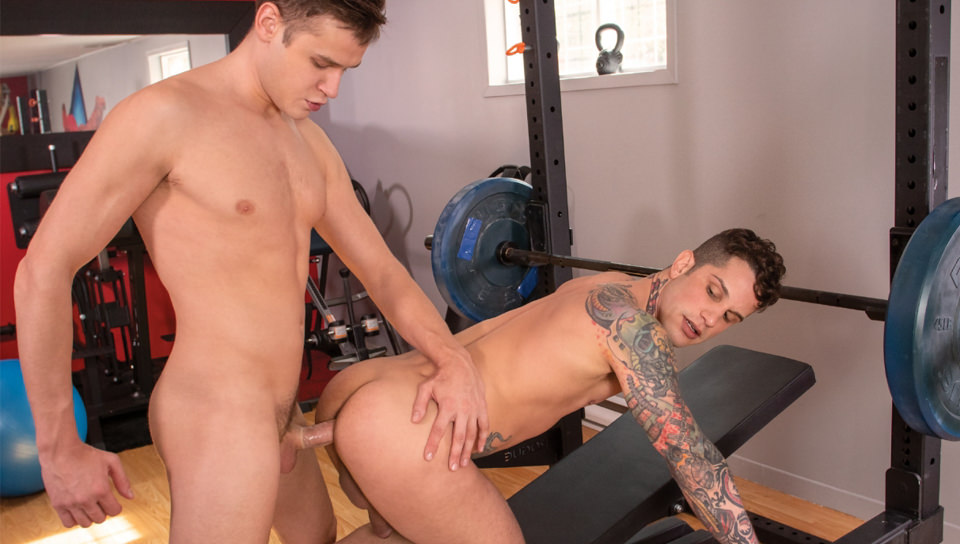 Pierre Fitch and Nikko Russo are working out together and when Nikko comes over to spot Pierre on the weights, Pierre spots something better between Nikko's legs. Nikko peels off his shorts to give Pierre access to his thick, uncut cock.
With his hands still gripping the weights, Pierre opens his mouth wide to let Nikko fuck his face. There's nothing better than Nikko's cock sliding down Pierre's open throat, except possibly Nikko's thick dick in his ass.
Pierre wants it bad and bends over the weight bench to let Nikko slip it in his hole. Nikko goes slow at first, giving Pierre the chance to open up and adjust to his massive member. Once Nikko knows that Pierre's hole is ready for fucking, Nikko pounds the moaning stud hard, going as deep as he possibly can.
Pierre wants it even harder and rolls onto his back to give Nikko complete access to his prostate. Continuing to give Pierre what he wants, Nikko doesn't stop until he's ready to blow. Nikko pulls out and spills his cum all over Pierre's balls and bends down to lick it off.
Nikko wants to share his taste with Pierre and gives him an intimate kiss as the two share Nikko's load. With the taste of Nikko still dripping from his mouth, Pierre stands over Nikko and finishes off with a massive load to the stud's hungry face..Join them!
Pierre Fitch gay porn scenes at Bromo
Real boyfriends Pierre Fitch and Ethan Chase want to spoil you with something special. In Pierre's first ever bareback scene, watch what real no holds barred sex is like for this power couple.
The chemistry between these two is off the charts. See for yourself how Pierre's thick & juicy cock was made to fuck Ethan's gorgeous hole…Join them!
Pierre Fitch gay porn scenes at CockyBoys
Taylor Reign finally gets his shot with his longtime porn crush Pierre Fitch AND he's eager to switch to power bottom mode for the occasion. That's just fine with Pierre who chimes in with a beaming smile, "Oh, I LOVE power bottoms!"
After they spend some quality time kissing, Taylor goes down on Pierre's thick cock and a vocal Pierre begins to see that Taylor has what it takes to be a "power bottom". Taylor deep throats him, laps at his big balls, and takes the aggressive face-fucking Pierre dishes out
Pierre pushes his dominance a little more by moving over to the sofa and sitting atop the back in a royal manner so Taylor can continue to service his cock. Pierre remains an aggressive-talking but he merely points and Taylor knows to sit back on sofa arm and let Pierre suck his rock hard cock.
When Pierre orders him to turn around and straddle the sofa, the mere order itself excites Taylor. Pierre's mouth and tongue become instruments of dominant rimming which sends Taylor into instant vocal ecstasy.
Pierre replaces his mouth with his cock and fucks Taylor deep and hard making Taylor grunt and groan. Again proving his power bottom prowess Taylor thrusts his ass and works his hole on Pierre's cock and that just makes the dirty-talking Pierre fuck harder. He flips Taylor on his back and fucks him into submission, almost.
Taylor utters "I want you to pile drive me" and without hesitation Pierre is doing just that on top of the sofa. It's Taylor who's more vocal as Pierre relentlessly plows him and makes the inverted Taylor cum and give himself an open-mouthed facial.
Pierre simply stands over Taylor and shoots a thick load over his face as an second layer of cum. When they're done Pierre is firmly in charge taking a spent Taylor to the shower…Join them!
Colby Chambers has had a crush on Pierre Fitch since the day he turned 18. He admits that he's been watching his videos since then and that Pierre is the perfect man for all of his little fetishes so it was understandable that Colby was hard before Pierre had even walked into the room.
Colby starts out with some light kisses on Pierre's big pecs because apparently a muscular chest is one of those little fetishes of his but he doesn't waste much time and makes his way down to Pierre's already rock hard cock.
Without further ado Colby wraps his lips around Pierre's big cock and starts to suck and worship the thick piece of meat while Pierre fingers his hole. However, Pierre is clearly hungry for cock himself so he pulls Colby's pants down, gets down on his knees and immediately starts slobbering on that big dick.
It's not long before Pierre finds himself leaning against the window with his ass up in the air and Colby's face shoved between his cheeks. Once the foreplay was over Pierre knew it was time to get fucked. He lays down on the couch, lifts his leg up to show off his hole and without wasting any time Colby shoves his big cock right in and starts pounding away.
Pierre can't seem to be able to stop begging to be fucked harder though so Colby literally fucks a load out of him while Pierre is on his back. But the fun doesn't end there. Pierre gets back on all hours to let Colby drill him from behind as hard as he can.
After some rough pounding Colby clearly can't hold it anymore and shoots a massive load all over Pierre's back…Join them!
Pierre Fitch gay porn scenes at Men.com
The dual sign of Gemini plays two roles, as both lover in the middle of the action and detached observer enjoying the show, so for Gemini Pierre Fitch, the ultimate erotic experience is when his boyfriend Tony Carusso joins him as he's watching porn.
Viewing the visuals on screen while experiencing Tony's mouth engulfing his hard cock is the perfect treat for this horny Gemini.
Pierre switches roles as the tattooed hunks switch places, taking his turn sucking Tony's dick, then fucks Tony's tight hole until he cums on his lover's face…Join them!
Jay James takes control over Pierre Fitch and shows him how to really give it to him hard…Join them!
Pierre Fitch is tasked with preparing Jimmy Fanz for his new life and that means stuffing his fat cock down his throat, and then fucking his bouncy ass while he screams in ecstasy. Jimmy is rock hard as he rides Pierre's big dick, and then Pierre flips his sweet ass around and demands that Jimmy fuck him hard…Join them!