Hair Color: Brown
Sign: Libra
Eye Color: Hazel
Dick Size: 8
Height: 6'2″
Cut / Uncut: Cut
Weight: 205
Sexual Positions: Versatile
Colby Keller scenes at Cockyboys
From award-winning director Jake Jaxson comes the second and final installment of THE STILLEST HOUR, a twisted new take on the psychosexual thriller that explores the power of perception and reality.
Norman (Will Wikle) is a highly committed psychotherapist in New York City whose life, whether he knows it or not, has been reduced to a cyclical pattern of idealistic perfection and strict personal routines.
His professionalism and obsessive habits are soon tested when one of his clients, a headstrong and independent artist (Colby Keller) details through series of sexually provocative sessions, a budding relationship with an impressionable millennial (Levi Karter) who appears to be stalking him. When Norman becomes captivated by this power play, the tables are flipped as the boy soon becomes involved in the personal lives of both men.
Presented in two parts, THE STILLEST HOUR's final act finds things becoming more serious and complicated between all of the trio. As they each continue to explore their relationships with one another, power dynamics appear to shift, and perception gives into reality.
What's exciting about this scene is that it virtually edges the viewer to its climax. And boy what a climax. Featuring Will Wilkle in his long awaited porn debut with Colby Keller the passion, the connection and the sheer man-on-man lovemaking is both intense and satisfying. Both of their bodies shine with perfection, and their hands don't stop touching one another, as they're soaked in sweat and devour one another.
Colby's fucking is so intense that it's impossible not to actually feel each of Colby's thrusts as he looses control, taking the uptight therapist to a new level of excitement. And Will makes sure we all know that he is indeed fully committed to the Art of Porn…Join them!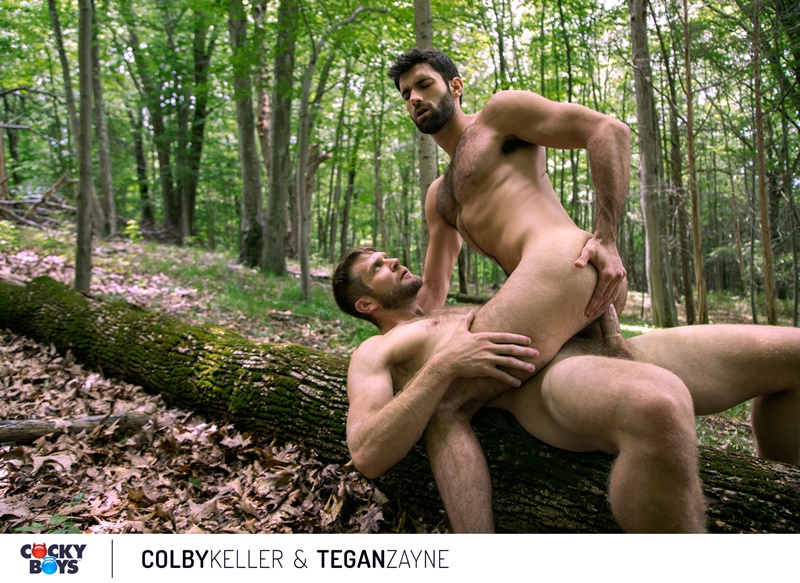 "He is one of those guys that's just my type," says Tegan Zayne when he thinks about Colby Keller. Tegan is not shy to admit that Colby was at the top of his list of guys that he wanted to meet and his dream of being totally Keller'd is finally coming true which probably explains the mischievous smile on his face.
Colby of course is totally in his element being that he gets to fuck Tegan outside so he can't wait to get down to business. There isn't much of a backstory to it. They're obviously both very attracted to each other and they didn't want to waste much time chatting so they decided to meet up somewhere in the forrest and just go at it.
Within seconds, Colby is already deep in both of Tegan's holes, shoving his tongue down Tegan's throat as he fingers his butt making Tegan moan with pleasure. Soon enough Tegan finds himself leaning against a small tree and getting his ass royally tongue-fucked by the hungry beast that is Colby Keller.
Of course that just makes Tegan even hornier and one thing he loves to do is deep throat a big cock. Lucky for him, Colby's rock hard monster finds its way into Tegan's throat and makes him drool with spit all over himself. After Colby's cock and Tegan's hole are wet enough Colby turns Tegan around to take him from behind as he leans on the little tree again.
Outdoors sex isn't the most comfortable way to do it but you can tell by the way Tegan and Colby look into each other's eyes that they're completely caught up in the moment and don't care about who's watching, where they are, and what happens next as long as Colby's big cock keeps pounding into Tegan's hungry hole.
Finally, as Tegan rides Colby and stares deep into his eyes, the pleasure that has been building up in his cock explodes all over his chest. Colby gets so turned on seeing how his cock made Tegan shoot a massive load that he stands up and completely covers Tegan with cum before one last kiss…Join them!
Colby Keller scenes at Men.com
How about certainly a match? Colby Keller and Jay Roberts cocks fit perfectly inside each other. What starts off as a passionate make-out session turns into a loving suck session as Colby pleasures Jay's dick and balls with his warm mouth and roaming tongue. Jay takes his time loosening Colby's pink hole with a wet rim job before stuffing it full of his long uncut cock. The guys flip and pump each other until juices are spewing free from their gorgeous cocks…Join them!
After a daring escape assist, Finn is punished by his commander Captain Phasma. Stormtroopers get horny too, and Captain Phasma knows just how to relieve these horny soldiers to prevent them from rebelling: with a good old-fashion dicking. No hole is off limits for these disciplined Stormtroopers. Colby Keller, Jay Roberts and Kaden Alexander star in the hilarious take on Hollywood movies…Join them!
When Bennett Anthony sees Colby Keller holding an estate sale, he tries to pocket a valuable watch that he says was promised to him. Colby doesn't bite though and makes Bennett give up his hot ass if he wants to take anything home…Join them!
[gallery_master theme="masonry" source_type="selected" ids="1150″ gallery_type="extended" layout="grid" show_title="show" show_desc="hide" height="160″ width="200″ border_style="2px solid #000″ margin="10px 10px 10px 10px" padding="10px 10px 10px 10px" title_color="#000″ desc_color="#000″ lightbox="enabled" order_by="random"] [/gallery_master]
Will Braun feels at peace in his new remote home among like minded, free spirited people. Cult leader Colby Keller summons his followers so that they affirm their bond to one another through passionate cock sucking and hard ass fucking.
Brandon Moore, Addison Graham, Roman Todd, and Will Braun demonstrate true loyalty to their leader and each other in this campground fuck fest…Join them!
There is no denying that Colby Keller and Alex Mecum are a perfect match. Colby knows just how to fuck Alex to make him cum a huge load while being drilled, and then shoots a nice big load of his own…Join them!