Every gay porn video and gay porn image gallery of Jacen Zhu.
Jacen Zhu enjoys the quiet things in life: "Most of the time I'm at the gym or in the dance studio. And when I can get away from all of it I'm hiding away in nature when the weather permits. If not, I'm usually watching 'Doctor Who' or listening to NPR radio."
Jacen started working in adult entertainment because of his obsession with porn. "I've always had a high sexual energy and being an expressionist-turned-exhibitionist, I thought it would be fun to try it out. I never thought I'd be a natural." Jacen Zhu is versatile when having sex with other guys, and especially loves oral sex.
When asked what his ideal type of guy is, Jacen said the following: "I'm attracted to people… and more so the energy and engagement I receive from them. I've experienced some of the best surprises in someone who 'looks' different."
Hair Color: Brown
Sign: Unknown
Eye Color: Brown
Dick Size: 7.5 inch dick
Height: 5'7″
Cut / Uncut: Cut / Circumcised
Weight: 165lbs
Sexual Positions: Versatile
Next Door Ebony gay porn scenes of Jacen Zhu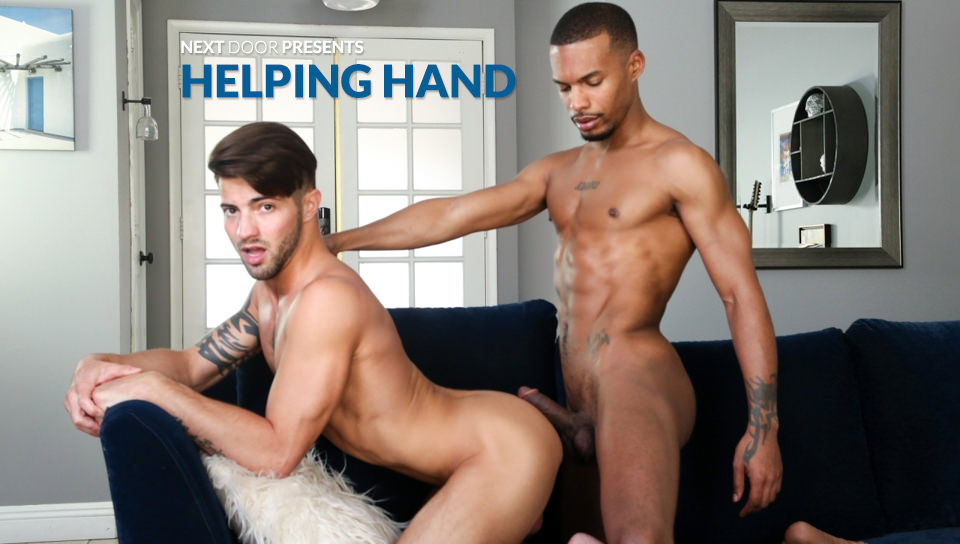 Casey Everett is all set to dance tonight but he's not sure what to wear, so he's enlisted Jacen Zhu to come over and help him. After modeling a few outfits, they decide on one that's best for Casey and Jacen then asks to see his moves.
Casey does a little shake that doesn't do much for Jacen. His disapproval is visible on his face and so Casey asks him to show him, so Jacen stands and helps Casey with his hip movement, gets him to relax, and pressing up against him with his big dick, reminds Casey what he's dancing for in the first place.
Consider the message received, as Casey reaches into Jacen's pants and pulls out his meaty cock. Jacen throws Casey onto the couch and strips him out of his outfit, eating his ass as he strokes himself hard. Seeing his cock, Casey gets to work, standing Jacen up and sucking him off before throwing him on the couch and mounting his big dick.
Casey takes it deep and hard as he bounces on Jacen's dick, and it's obvious to Jacen that Casey wants it harder, so he flips him over and goes to town from behind. Fucking Casey hard, Jacen is ready to drop his load but first he flips Casey over and fucks the cum out of him.
Casey spits his load all over his stomach before sitting Jacen down and sucking him until he's ready to nut. Jacen pulls out and nuts all down Casey's face and chest. Looking down at him, Jacen tells him this is Casey's best look yet…Join them!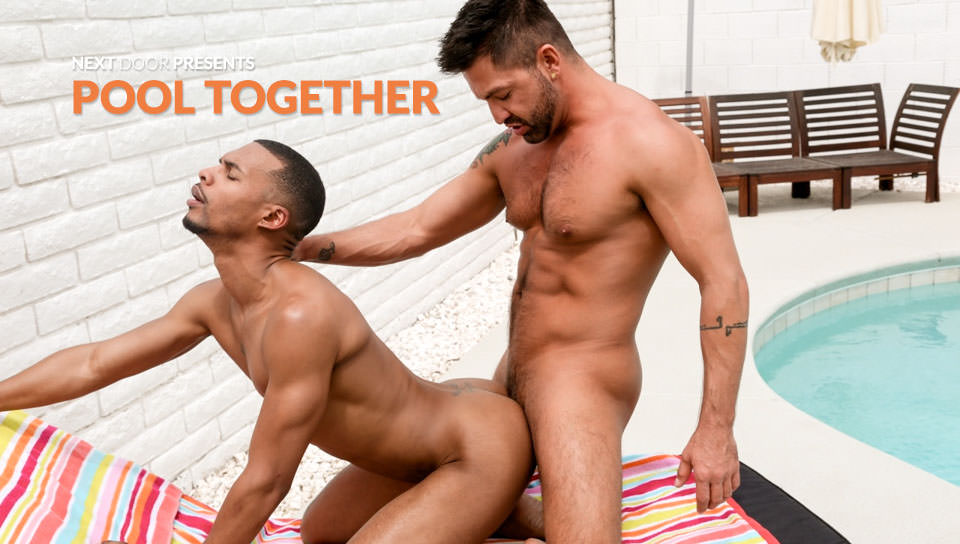 As Jacen Zhu suns himself by the pool, he can't help but fantasize about the guy cleaning the pool in front of him. Dominic Pacifico is a handsome, muscle-bound stud, and when he sees Jacen checking him out and rubbing himself down in anticipation, it doesn't take him long to get with the program.
He makes his way over to Jacen's lounge chair and instantly opens his shorts to let Jacen have a taste. Jacen deep throats his rock hard dick, gagging himself with Dominic's meat rod. Dominic returns the favor, bending down to suck Jacen off, and arching him up to eat his ass.
He tongues Jacen's hole before standing him up against the fence to pound him from behind, hard dicking Jacen in a standing doggy before throwing him down onto the lounge to finish the job. As Jacen strokes himself off, Dominic continues to pound Jacen missionary, before the both mutually spitting their loads all over each other's chests.
Glistening in the sunlight, both guys are cum covered and sweaty, ready to take a dip in the pool and do it all over again…Join them!
Lucas Entertainment gay porn scenes of Jacen Zhu
Alexander Volkov is a Russian businessman who enjoys the taste of white-collar cock in New York City.
A business deal Alexander is closing with Jacen Zhu can only be finalized one way: by stripping off their clothes and playing with each other raw erections.
Both Jacen and Alexander suck each other's cocks before taking raw dick up their asses…Join them!
Damon Heart loves showing off his versatility in bed. He's quick to service a top's hard cock with his mouth and ass, and the action is always bareback sex, but when he feels the need he's not shy about finding a bottom to breed in the butt.
In this encounter Damon is hungry for some black hole. Jacen Zhu gives it up to Damon and swallows his cock before getting his ass pumped by the French exclusive model…Join them!
There's a lot of work going on around the farm: Viktor Rom, Mario Domenech, and Alex Kof are hard at work making repairs to the equipment. Alejandro Castillo brings Jacen Zhu over to the equipment garage to offer everyone some water.
But it's his throat and ass the guys are interested in, and each guy gets his turn with Jacen. At 4:50 you can see Jacen working on all of the uncut cocks as he gets his ass licked. And at 7:45 the fucking begins with Alex raw-dogging Jacen while he makes out with Alejandro and Mario sucks his hard-on.
Viktor is close behind to be the second to plow Jacen bareback…Join them!
Ibrahim Moreno is the reigning star of bareback double penetration. This gorgeous model is full of excited sexual energy and always ready to please. Because when Ibrahim is pleasing another man, he's getting a lot of pleasure out of the experience himself.
Check him out at 19:10 sensually riding Zander Craze's big fat uncut cock raw. The expression on his face tells you how much he loves it while his co-stars Jacen Zhu and Wolf Rayet are having just as much fun with each other.
At 23:00 the guys get Ibrahim on his back and use him for what he's especially good at, getting two bare cocks in his ass at the same time for ass-splitting double penetration action…Join them!
Cockyboys gay porn scenes of Jacen Zhu
Jacen Zhu is back, bringing plenty of joyful energy, and he makes a sensual connection with Aiden Ward on the path to a passionate flip-fuck.
Their chemistry is instantaneous when they start kissing and making out, enjoying each other's bodies as well as their lips.
Aiden's mouth soon makes its way down Jacen's body to suck his cock down to the base and make him softly moan with pleasure.
Jacen wants to give Aiden pleasure too, so they ease into a 69 where Jacen eats his and tongue-fucks hole while Aiden continues to savor his cock.
At one point, Jacen is almost giddy as Aiden brings him too close to the edge, so they slow down and switch it up.
Jacen sucks Aiden's ever-hard cock and Aiden fucks his mouth in response, again getting close to the edge.
Aiden resumes sucking Jacen in a 69 but soon he's rimming him while Jacen gulps down his cock.
Jacen only stops when Aiden fingers his hole, and while he is eager to get fucked it's Aiden who goes first by sitting on Jacen's cock and riding him deeply.
Aiden bounces up and down on Jacen's cock and takes his deep thrusts and they get into a groove.
Jacen has to stop before he orgasms, but Aiden's tight hole around his shaft will not be denied as Jacen shoots his load inside Aiden.
As he slides his cock out of Aiden, Jacen's thick load starts to ooze out BUT he's not done.
Still hard, Jacen fucks Aiden on his back and pounds deep, riding the crest of his sexual stamina as they kiss passionately.
And yet, seemingly tireless Jacen keeps going flipping Aiden on his stomach to get on top of him and drill him deep and neck with him.
Finally, Jacen slows down so Aiden can take the reins and fuck him.
Still reeling from the unexpected thrill of being bred, Aiden wants to return the favor, so he gets Jacen on his back to plow him intensely.
Aiden is a fuck machine, partly fueled by passion kissing and Jacen's vocal encouragement, but it's when he takes Jacen's hole from the side that he reaches the point of no return.
Aiden pulls out to shoot his load between Jacen's muscular thighs then finishes his orgasm inside his hole.
Jacen all smiles once again as they kiss with Aiden's cock still resting inside him.