Hair Color: Brown
Sign: Unknown
Eye Color: Brown
Dick Size: 8 inch dick
Height: 5'9″
Cut / Uncut: Cut / Circumcised
Weight: 165lbs
Sexual Positions: Versatile
Caleb King scenes at Raging Stallion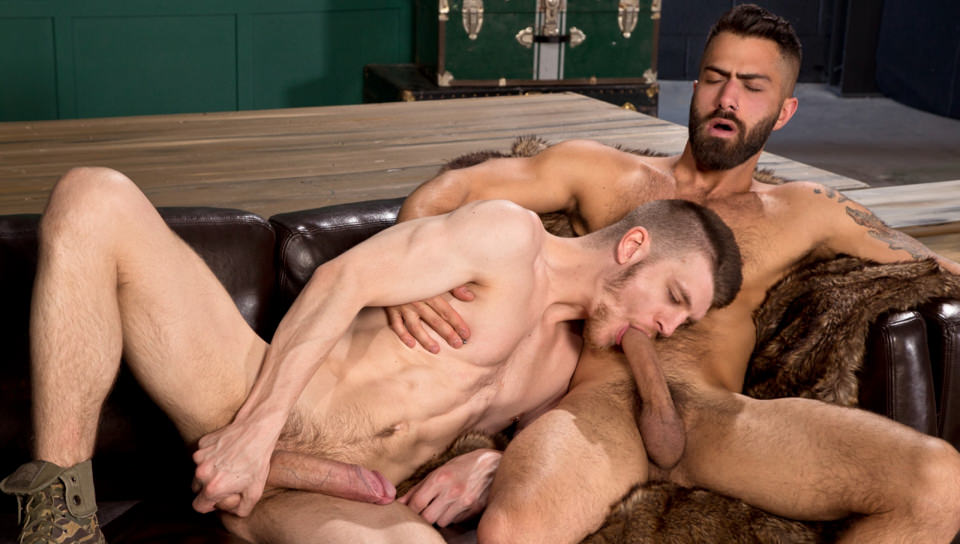 Caleb King and Adam Ramzi sit naked, making out and jacking each other's hard dicks. Caleb begs for more every time Adam teases his pierced nipples. Both men are just the right amount of furry, lean and athletic.
Caleb eagerly services Adam's perfect dick like a master of cocksucking. His efforts get a satisfied grin and a 'good boy' pat on the cheek from Adam. Wanting to satisfy him just as much, Adam kneels to give Caleb an aggressive wet blow job.
He stares up at Caleb while he strokes in and out of his mouth, telling Caleb it's a different hole Adam wants stroked. Now! Caleb goes for it. He wants Adam's ass, so he's quick to get his big dick in Adam's hot hole.
Hooking a long leg over Caleb's shoulder, Adam barks orders like a top, inciting Caleb to fuck him harder and rougher and moaning 'Fuck Yeah!' Adam reasserts dominance in a nimble position change that puts Caleb on his lap and Adam's cock in Caleb's hole.
Now, Caleb takes charge of the fuck, ensuring that Adam's cock hits his sweetest spots. Caleb's hefty orgasm leaves both their thighs dripping with hot cum. Adam stands and feeds Caleb his tasty seed…Join them!
Caleb King scenes at Next Door Ebony
In the dungeon, no one is safe from the wrath of Caleb King. This time, JP Richards is on the receiving end. Blindfolded and bound, JP doesn't know what or who will be doling out punishment today, but he knows he'll likely have to deal with a seriously angry cock.
Caleb enters, gives JP one look up and down, and commences with a regimen of harsh treatment. Caleb employs the use of nipple tweaking, in combination with some deep, passionate kissing. JP knows this is part of the routine, but the blindfold has him totally in the dark and unable to anticipate what this madman might do next.
When Caleb feels his prisoner is ready, he pulls off JP's blindfold and shoves his own pulsating cock into JP's mouth. JP goes with the program, taking the hard shaft into his throat, sucking, slurping and licking when appropriate.
He certainly doesn't want this guy any more pissed off than he is. Caleb decides to have JP lie down so he can taste his asshole. The experience turns Caleb to thinking about going a step further. After some good ass eating, Caleb stands up and shoves his thick boner into JP's tight hole.
JP takes the ramming on his back for a while before Caleb lets him turn around for more punishment. After some good fucking, Caleb decides he'd like JP to taste his ass. JP follows the instruction and licks Caleb's hole. JP isn't bad at this, so Caleb rewards him by allowing him to fuck his ass.
This is one hot dungeon encounter that'll give you pleasant nightmares for some time to cum…Join them!
Here's a wicked tale of sex, leather, and explosive passion. Caleb King has given himself to be toyed with at the mercy of Osiris Blade, dungeon master. Caleb loves to be harshly treated, bound by restrictive clothing, and of course, fucked in the ass very, very hard.
These are all things at which Osiris Blade is quite adept. Caleb knows Blade's reputation and is prepared for a good, solid pounding. They start by kidding hard and with intensity. Soon Caleb is sucking Osiris's stiff cock, hoping to please the dungeon master.
Although the erection is massive, Caleb knows he must do everything in his power to give Osiris pleasure. He takes the enormous dick good and deep down his throat. Osiris is indeed pleased by this and so he reciprocates, slurping on Caleb's large member. Caleb likes this very much.
Next, Osiris is unzipping Caleb's pants to expose his tight asshole. He licks and flicks his tongue around the eager hole, teasing it. It's not long before Osiris is sliding his fat, pulsating cock into Caleb's tender ass.
Join this sadistic pair as they don't hold anything back, fucking hard in this gritty, dungeon dick-down…Join them!