All gay porn pics and gay porn videos of Stephen Harte.
Otter, otter, otter I'm taking a lesson from Beetlejuice and calling up the perfect otter — and that's Stephen Harte! Stephen is a resident of New York City, where he makes all the boys sweat in every gay bar he visits. This stud is currently earning his yoga certification, which explains why he's so limber in the sack.
Stephen said the following when asked about his adult modeling career: "I'm a very sexual fella and I have no qualm sharing my sexual exploits. I see no shame in sexual behavior, so it has always interested me to share that in a more public manner."
Stephen went on to talk about his preference for bottoming: "I am definitely more on the bottom side of life. I love a guy who wants to please a bottom and there's no better way than taking me on all fours!" Stephen Harte is a hot son of a bitch who has an awesome career ahead of him!
Hair Color: Brown
Sign: Unknown
Eye Color: Brown
Dick Size: 7.5 inch dick
Height: 5'8″
Cut / Uncut: Cut / Circumcised
Weight: 145lbs
Sexual Positions: Bottom
Stephen Harte gay porn scenes at Raging Stallion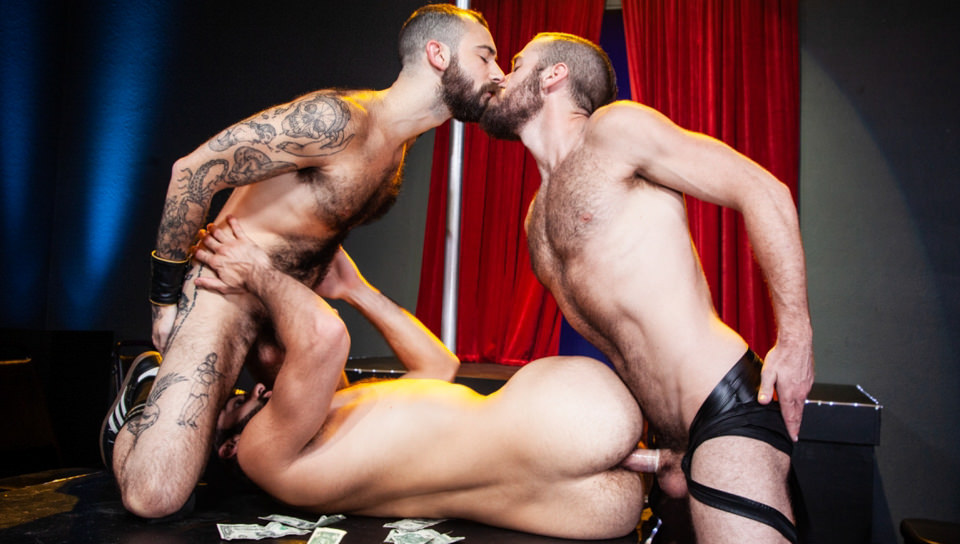 Ziggy Banks and Stephen Harte are making out on stage in front of an empty house when Tegan Zayne enters with his fat wad of cash. Stephen and Ziggy snap to it and start putting on a show when Tegan joins the fun.
Stephen pulls Tegan's big hairy cock out of his white jockstrap and starts sucking as Ziggy brings up the rear to eat Stephan's extra hairy ass.
Ziggy is hungry for cock and positions himself in front of both horny studs so that he can take turns sucking their hard dicks.
The sucking gets both Stephen and Tegan ready to fuck and Stephen bends over to get spit-roasted by taking Tegan up his ass while Ziggy plows his face. Tegan takes the lead and tells Ziggy to fuck his hole.
Ziggy abides and slides his meat deep into Tegan's tight ass while Stephen takes his place by Tegan's mouth. The sight of Tegan getting his hole stretched by Ziggy is more than Stephen can handle and he's the first to blow his pent-up load.
With Tegan's face plastered with jizz, Stephen pulls out of the panting stud and shoots his hairy asshole with a massive load of cum.
With Tegan's face and hole covered in jizz, Tegan is the last to let his inhibitions go and blasts his own creamy cum all over his own furry abs and curly bush…Join them!
Stephen Harte gay porn scenes at Naked Sword
These nasty men have a bareback obsession that needs to be quenched and we've got the right mix of muscular studs who are willing to offer up their holes for a raw pounding.
These sexual champions stuff solid cock into their mouth whilst hands and fingers explore furry flesh, peachy butts and twitching holes.
They can't keep their hands off of each other and it's not long before they come together for an all-out bareback-fest full of messy blowjobs, wild threesomes and non-stop raw fucking that will always end in a huge, sticky explosions.
Nine different guys but all with one sexual goal, to give and take a fat, raw cock. Starring: Alessio Romero, Alex Mason, Brad Kalvo, Hugh Hunter, Jackson Fillmore, Marcos Mateo, Matt Stevens, Ray Diesel and Stephen Harte.…Join them!
Stephen Harte gay porn scenes at Bareback That Hole
Tall, lanky bearded otter Stephen Harte is ready for a solo jerk-off session. His buddy Mickey Carpathio walks in and catches him in the act. He soon ends up with his cock in Stephen's mouth but eagerly returns the favor.
Bald, butch and handsome Hans Berlin walks in on the back-and-forth frenzy of oral service and the bearded blond whips out that big piece of meat, spit-roasting Stephen, who chokes on the juicy slab. He's then impaled by Mickey who bareback fucks the hairy, sweaty whore while sharing cock sucking duties until it's time for Hans to take over.
What follows is a hot, down and dirty primal fuck, the likes of which we haven't seen in a while. Hans pounds hard and deep, aggressively taking Stephen like a bitch in heat.
The surprise for us came when quiet little Mickey slid in behind Hans and the fucker became the bottom, if only for a short while. But it's Stephen and his hungry hairy asshole who gets the jizz…Join them!
Stephen Harte gay porn scenes at Lucas Entertainment
Stephen Harte is working overtime when an unexpected delivery is made to his office. Much to his surprise, Stephen discovered a vast collection of black dildos in the package.
But why play with something fake when you can have the real thing? Black Pearl, the black hunk who made the delivery, quickly figures out that Stephen Harte might be a strongman in the white-collar world, but behind the bedroom door he turns into a submissive slut who loves handing his ass over to a alpha top.
Black Pearl has a huge black dick between his legs, and Stephen services it with his mouth and ass…Join them!
When you see Stephen Harte sucking on Alejandro Castillo's 9-inch uncut cock and big Mexican balls, it will prove to you Stephen's purpose in life is to bottom for as many hot guys as possible.
His sexual talent knows no bounds, and Alejandro isn't going to waste such a skilled and gorgeous bottom. Stephen (one of the hottest otters in gay porn to date) gives total service to Alejandro, and that includes taking that huge uncut dick deep in his ass in all kinds of positions.
Alejandro doesn't just fuck Stephen Harte in the butt, he annihilates his hole…Join them!