Every gay porn video and gay porn image gallery of Jack Dixon.
Hair Color: Brown
Sign: Unknown
Eye Color: Brown
Dick Size: 8-inch dick
Height: 5'9″
Cut / Uncut: Cut / Circumcised
Weight: 165lbs
Sexual Positions: Versatile
Raging Stallion gay porn scenes of Jack Dixon
Teddy Bear and Jack Dixon make out by the pool table and rub crotches until Teddy tells Jack to eat his hairy ass. Jack does as he's told and rubs his lips and beard all over Teddy's tight hole. Teddy is eager to get fucked and after getting nice and opened up, he announces that he's ready for Jack's dick.
Jack stands up and gives the hairy stud what he wants by burying his extra thick shaft deep into Teddy. Jack goes balls deep into Teddy, stretching him out and making him beg for more. Teddy is ready to sit on the daddy's hard cock and Jack lies back to let Teddy do the work.
Teddy bounces up and down letting Jack's dick stretch him out even more with each powerful thrust. Jack loves watching Teddy ride him, but it's time to take control one last time. Jack flips Teddy onto his back and rams his dick into the furry hole one last time.
Jack pounds away until he's ready to blast a load then pulls out and covers Teddy's hairy balls with a milky load of cum.
Teddy loves the feeling of Jack's cum running down his sack and sticking in his fur so much that it makes him blast his own load of sticky white jizz…Join them!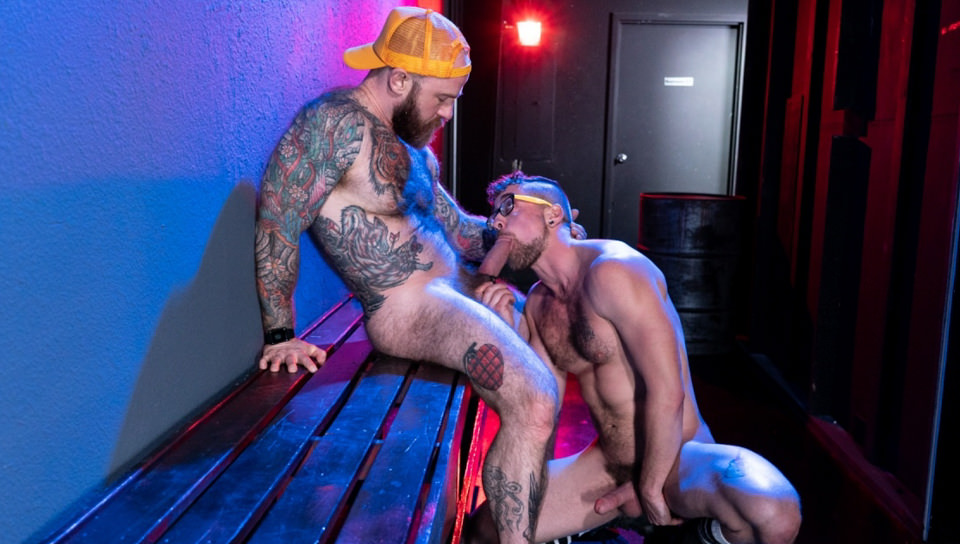 Jack Dixon is alone in a dimly lit hallway jacking his thick, hairy cock and huffing a random used jockstrap. Jay Austin stumbles upon Jack and decides to lend a helping mouth. Jay drops to his knees to take the big dick between his lips and works it until Jack's veins are popping on his bulging shaft.
Jack wants to taste Jay's ass and throws the young stud against the wall. Jack plants his tongue deep into Jay's hole and works it with his mouth, fingers, and beard until Jack wants some of Jay's hairy cock.
Jack flips Jay around and gets to work sucking the hunk, taking his dick in and out of his mouth and savoring every inch of the hung stud. Jack wants to prolong the fun a bit longer and stands up to kiss Jay as they jack their big dicks together.
Jay is on the edge now and needs more of Jack's dick. He gets back in front of the hairy daddy and sucks his cock one last time, gagging and coughing as Jack face fucks his new favorite stranger. Jay's talented mouth feels amazing and finally Jack can't hold off any longer.
He sprays Jay's face with a thick coat of creamy white jizz that leaves his beard soaked in cum. The taste of Jack's load is enough for Jay to finish up and he dumps his pent-up load all over the floor…Join them!
Boy For Sale gay porn scenes of Jack Dixon
Legrand Wolf, Jesse Stone, Jack Dixon and Lance Charger star in this latest sordid episode. Master Jack Dixon was showing interest in buying Boy Jesse Stone.
Boys like him are something of a niche market with the alabaster white skin and a mix of blond on top and ginger below (when the Master allows them to grow out, of course). For the right buyer, a boy like him can go for a very high price to begin with, that Master Legrand had broken him in makes him even more valuable to the right buyer.
I started by presenting Jesse wearing only the regulation black jockstrap.
No fancy harnesses or briefs to get in the way of a fair appraisal.
I get out my measuring tape to start taking his numbers down and I can already tell he's been well-trained.
My every touch, his nipples, his muscles, his treasure trail, all set off a tiny whimper.
These aren't the sounds of pain or fear, but rather the gasps of a good slave boy who is as into his Master as his Master is into him! Read the full story here.
Boy for Sale sexy young stud Cole Blue's hot holes fucked by Lance Charger and Jack Dixon.
Master Charger is keen on ensuring Cole does not get lost in his own desires. He instructs the boy to keep his gaze forward. He rubs the boy down in oil as the bids begin pouring in.
However, even as stern and seasoned a salesman as the man is, Master Charger finds it impossible not to get at least a few good gropes of his own in of the boy's generous flank.
This is a true testament to how much of a prize item Cole is; even as Master Charger presents him, he's unable to resist the boy's natural charms.
Cole is rock hard, his hole puckering, and moans tremble out his lips as the salesman continues to present as their bids, which have easily reached beyond six figures.
The winner of the prize is Master Dixon, a bearded, tattooed man whose towering, masculine form dwarfs Cole's more slender frame.
Dixon approaches his purchase and immediately tests the product, sliding his inked-up fingers into the boy's mouth.
The boy's cock jumps when Master Dixon tells Master Charger that he wants to watch the salesman fuck the boy. Master Charger sees this as an added bonus on top of the sale and acquiesces immediately to Dixon's request.
Master Dixon grabs a chair, sits, and observes as the salesman tongues Cole's hole. He strokes his cock as he watches his new toy's face contort in pleasure while Master Charger's tongue dives deep into his crevice. Master Charger even takes a moment to swallow Cole's own rigid cock, sucking each one of the boy's balls.
Master Charger stands and oils up his own engorged meat, ready to slide it into the boy's hungry opening. Cole's hole yields easily, hungrily to the man's cock, especially as he sees his buyer, Master Dixon, stand up and approach him.
Master Dixon plants a deep kiss on the boy's mouth, practically swallowing him. As the salesman begins to slide in and out of the boy, Master Dixon breaks the kiss, then gently guides the boy's head to his cock to suck it. The boy is owned at both ends and loves every second.
See all Cole Blue gay hardcore fuck sessions at Boy for Sale here.
See all Lance Charger gay hardcore fuck sessions at Boy for Sale here.
See all Jack Dixon gay hardcore fuck sessions at Boy for Sale here.
Sexy young boy Cole Blue's bare asshole fucked by tattooed muscle hunk Jack Dixon's massive dick.
Quality matters while selling boys. Boy Cole was the perfect product for consumer happiness. This trim, athletic young guy sold well at auction, and a glance at his lovely face was enough to get the highest prices.
Master Dixon tried several of our lads. He'd never experienced buyer's remorse and had heard of Boy Cole by now. He was happy to win him at auction. He was more confident in his purchase once Master Charger showed him the boy's hungry hole. He excitedly escorted the youngster to his chamber.
Master Dixon was shocked at how attractive the Boy appeared in stronger light in the private room. Boy Cole was handsome slave in a bowtie and black jockstrap.
Boy Cole crawled up to the dressed elder guy and took off his formal shoes, thinking about slavery. Master Dixon asked the youngster to kiss him, and his new acquisition leant in.
Hand signals were adequate for the Master to direct the Boy. Cole devoured Master Dixon's huge cock. Despite the Master's stature, this boy's serving skills made the assignment appear simple. The elder man's meat throbbed against the Boy's neck as the servant stared up to him.
Master Dixon wanted to see Boy Cole's ass after a great blowjob. The hairy Master had him climb up on the bed and crawl. He rubbed and kneaded the Boy's welcoming ass before plunging in face-first. The Boy lubricated the hole with his tongue, moaning with longing.
Master Dixon understood why this stuff was so popular after sliding his massive meaty cock in. Boy Cole's attractiveness and obedience seemed too wonderful to be true. He was authentic, well-trained, and lovely to break in. Master Dixon turned the youngster over as he got closer. He wanted Boy Cole to blow.
See all Cole Blue gay hardcore fuck sessions at Boy for Sale here.
See all Jack Dixon gay hardcore fuck sessions at Boy for Sale here.