Every gay porn video and gay porn image gallery of Colton Grey.
Hair Color: Brown
Sign: Taurus
Eye Color: Blue
Dick Size: 8.5 inch dick
Height: 5'6″
Cut / Uncut: Cut / Circumcised
Weight: 140lbs
Sexual Positions: Versatile Bottom
Hothouse gay porn scenes of Colton Grey
Blue-eyed bottom Colton Grey is hoisted up in a sling as Austin Wolf aggressively makes out with him and covers his eyes with a blindfold.
At the total mercy of Austin, Colton throws his arms up and lets Austin drill his tongue and finger deep into his tasty ass.
It doesn't take long for Austin to work his fat meat into Colton's slick, lubed asshole. The sling sways and rattles with each vigorous pump.
Austin gets kinky and switches it up by putting an a few ice cubes into Colton's warm hole to cool it down a bit and keep fucking him silly.
Colton loves the combination of the ice with Austin's cock and suspends himself out of the sling to be impaled by Austin's hole stretcher.
They switch it up and move to a leather sawhorse where Austin stuffs Colton from behind.
Colton turns on his back on the padded fuck bench and takes all of Austin's powerful thrusts deep inside him until he blows a massive load onto his chiseled abs.
Austin finishes with an oozing load into Colton's hungry mouth…Join them!
Raging Stallion gay porn scenes of Colton Grey
Their tongues intertwined, Colton Grey and Bruno Bernal let go of their inhibitions and submit to the pull of their heightened sexual arousal. Colton's huge cock and heavy balls are irresistible to Bruno, who falls on his knees and inhales Colton's throbbing member.
Colton leans back, savoring the sensation and showing off his six pack abs and colorful tattoo. Reaching for Bruno's ass, Colton works a finger into Bruno's hole, foreshadowing what is to come. Colton repositions himself behind Bruno and shoves his face into Bruno's ass.
As he works his spit into Bruno's hole, he tugs on Bruno's balls to increase the sensations. With Bruno's hole lubed up, it's time for them to raise the stakes. Bruno sits on Colton's cock and goes for a hell of a ride, using his thick, muscular legs to raise and lower himself on Colton's girthy tool.
As he starts thrusting up into Bruno from below, Colton's big balls bounce and slap against Bruno's ass. Moving to missionary position, Bruno puts his left leg up in the air so Colton can pummel his hole with maximum penetration. The intensity of their sexual chemistry increases as their fucking becomes more and more energetic.
With Colton pounding his g-spot, Bruno strokes out a viscous load that splashes across his leg. Grabbing his cock, Colton lets loose with a massive stream of cum that saturates Bruno's torso…Join them!
Naked Sword gay porn scenes of Colton Grey
The day started out like any other on the Ridge Family Farm. Duke (Rocco Steele), his son Ryder (Colton Grey), brother-in-law Fredrick (Trenton Ducati) and nephew Beckett (Jacob Peterson) head out for a long, hot day of hard labor.
Ranch hands (Brian Bonds and Brandon Wilde) soon discover their trusted tractor won't start and domineering Fredrick has little patience for excuses. Its payday again and Fredrick is less than satisfied with their performance on the field, its time to make it up with a load yielding performance on his big dick.
Fredrick pushes the guys down to face fuck innocent Brian and Brandon then rips their pants down to have his way with their pink holes. Brandon makes it up to his angry boss by climbing the ladder in the barn and warming up his hole with a ranch hoe.
The guys switch from circus fuck to train to both of them swallowing all the loads. Paychecks are earned but Uncle Fredrick forgot there are eyes everywhere on the Ridge Family Farm…Join them!
Men gay porn scenes of Colton Grey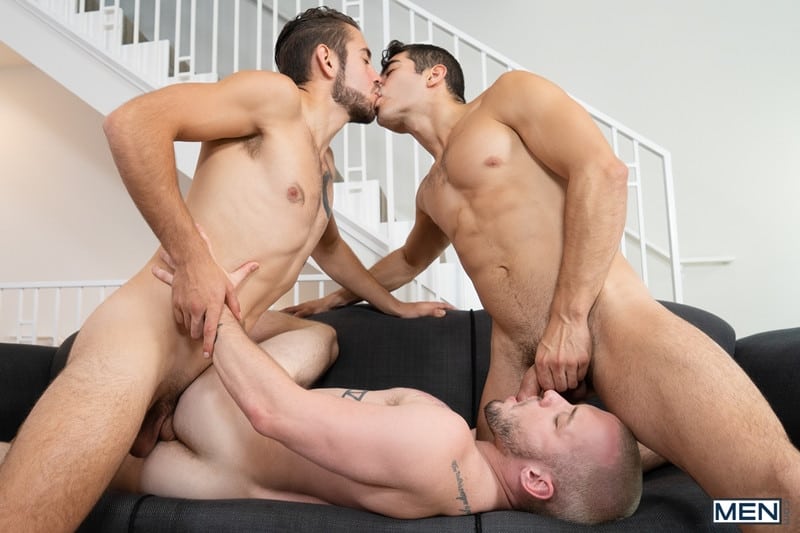 Tattooed, hunk Dante Colle still can't get rid of his everlasting erection, and he has a birthday party to attend. What is he going to do? He decides to stuff it in his pants and heads out. Once there, the guys notice something is off with Dante, and begin probing him until his rock hard, hung cock is revealed. Atheltic Cazden Hunter, blond-haired Colton Grey, muscular Dominic Pacifico and chiseled Marcus Tresor all have one thing in mind now, and that's to get the party really started with some hot group sex….Join them!
It's hot out and even hotter between Hector De Silva and Colton Grey as they passionately explore each other's tattooed hard bodies and huge hard cocks…Join them!
Diego leads Johnny away from Paddy O'Brian's ship. Aggravated by their escape, Paddy mounts a search to retrieve Johnny. He swims to the shore of the nearest island where he encounters Colton Grey and his tribe. After a pursuit on the beach, Colton gets Paddy exactly where he wants him: pillaging his hot little hole the way only a seaman knows how…Join them!
Trevor Long and Colton Grey get down and dirty in 'Home Service'…Join them!
Golden boy Colton Grey gets off on stealing from the rich, but this time his path is crossed by three hairy bears Dirk Caber, Derek Bolt, and Marc Giacomo. Caught in their bed, he coaxes the bears into joining him for one hot jizz orgy. Each bear gets a taste of the thief, eating his golden little asshole before jamming it full of their hot hairy cocks. Seems the three bears have a new addition to their hairy family…Join them!
Tobias and Colton Grey explore each other's gorgeous bodies in 'Jungle Love'. Colton's cute pink hole
welcomes Tobias' veiny rod all the way, filling him with pulsing pleasure. The boys go at it until Tobias can no longer retain his warm man juices, spraying all over bottom boy Colton…Join them!
Tatted-hottie Colton Grey gets his way with bronzed beefy blue-eyed Landon Mycles. Starting with a passionate make-out session, the boys work each other into a frenzy before taking turns blowing their thick dicks.
Colton mounts Landon until they climax on Landon's toned stomach…Join them!
Guys in Sweatpants gay porn scenes of Colton Grey
It seems ages since we have seen Clark Parker getting his ass fucked and we had just the guy to stretch his tight hole, Colton Grey.
Colton's thick cock was just what we and Clark needed.
Clark himself is not small in the dick department but he loves to bottom for men with big dicks.
Sometimes you just wanna use a hole until it drains every last drop of your loadout, especially when that hole turns into a huge cum slut at the end and lets his top wipe and spit his load in his mouth and face.
Another sloppy hole fucked and satisfied.