Every gay porn video and gay porn image gallery of Devin Totter.
Hair Color: Brown
Sign: Unknown
Eye Color: Brown
Dick Size: 8 inch dick
Height: 5'9″
Cut / Uncut: Cut / Circumcised
Weight: 165lbs
Sexual Positions: Versatile
Devin Totter gay porn scenes at Raging Stallion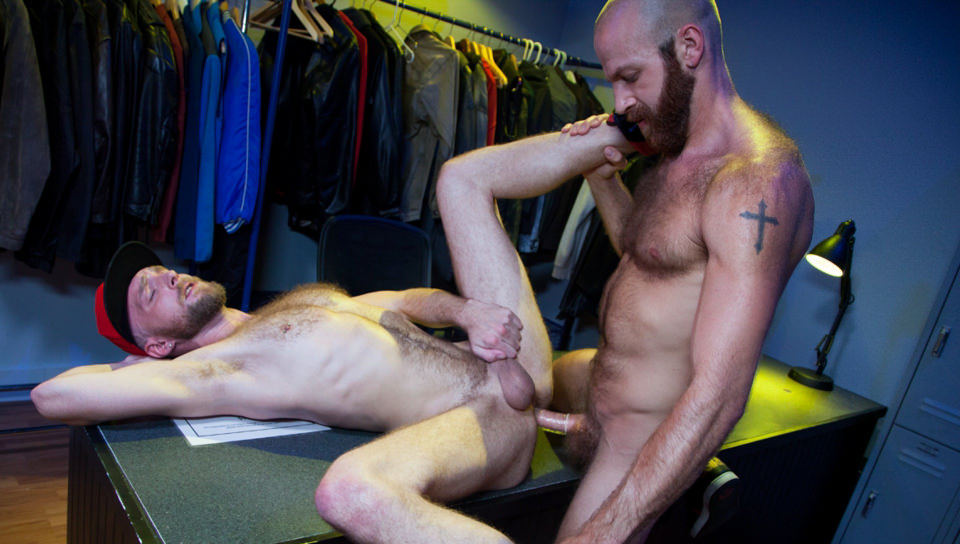 James Stevens and Devin Totter are getting hot and horny in the coat check area at the sex club. As soon as their clothes hit the floor, Deviant has James' cock planted firmly down his throat. He works the hard and hairy cock with his mouth until James takes the lead and bends Deviant over the table.
James can't wait to get his tongue buried inside Deviant's hairy ass and works it deep with his fingers and mouth. James knows that Deviant is more than ready for his swollen dick and lies back to let the horny otter hop on and impale himself with James' swollen member.
Deviant bounces up and down on the thick pole until his ass is open as wide as it can be. James needs to be deeper inside Deviant and bends him over to plug his ass from behind. The deeper he goes, the more Deviant begs him not to stop.
'Use my hole!' the young otter screams out as James positions Deviant for one last go. With Deviant on his back and his legs in the air, he begs for James' cum until he gets exactly what he needs and wants. With his bearded mouth wide open, Deviant get a face full of creamy cum.
With the taste of James dripping from his lips, Deviant lets go and erupts a massive geyser of cum all over James and his big fuzzy beard…Join them!
Devin Totter gay porn scenes at Deviant Otter
I'm sure this comes as no surprise, but I haven't always been the most organized otter.
Although I'm usually good about accounting for all of the raw footage after filming a fuck session, every now and then a few clips will fall through the cracks.
So a couple days ago while I was cleaning up some hard drives I stumbled upon some footage of me and my otter form another, Chandler Scott.
I honestly could not remember filming even one second of this footage, so I asked my Pup if he remembered where/when the footage was from and he couldn't remember either even though he was the one filming the entire time.
Well, after taking a closer look at the footage it finally hit me, this footage was from first time me and Chandler ever got naked in front of a camera together.
I remember at that time I was concerned about looking too sloppy, but we all know now what a hot mess I can be so I figured why not finally share it with you guys…Join them!
Me and this dude, Ryan Powers have wanted to blaze and fuck for what feels like forever. We finally just met a month ago at gang bang shoot during Southern Decadence, but we didn't have any time for some one on one action.
Well to my good fortune, it turned out that he was going to be in Fort Lauderdale shortly after the trip and he had some down time. Needless to say we got stoned off our asses and then used his until he shot a giant load all over himself.
And don't even get me started on that puppy dog face he makes, it makes my nuts throb. Fucking woof…Join them!
I mean there's not really much more that I can say, Jeremy Spreadums' ass speaks for itself. I've fucked around with muscle dudes before, but something new went off in me when he put his hands behind his head and flexed those massive arms. I have always appreciated muscle, but now I think I'm going to be renting muscle dudes just so I can sit on their chests and jerk off while admiring their pits and mass. Glad to know you can still discover new things you enjoy after being a man slut for so many years…Join them!