Every gay porn video and gay porn image gallery of Daymin Voss.
Hair Color: Black
Sign: Unknown
Eye Color: Brown
Dick Size: 7.5 inch dick
Height: 5'11"
Cut / Uncut: Cut / Circumcised
Weight: 165lbs
Sexual Positions: Versatile
Daymin Voss gay porn scenes at Titan Men
"I'm always a bit of an early riser," says Dirk Caber as house guest Daymin Voss greets him good morning.
"I see you are, too!" he smiles, grabbing the bulge in Daymin's shorts.
They head inside, groins grinding before Daymin deep throats his host. Dirk fucks his face, then plants his nose to Daymin's bush.
They swap another round, Dirk's ass then swallowing the muscle top's cock.
Dirk's rock-hard boner slams Daymin's fuzzy groin as he rides, the top then getting him on his back.
Daymin jacks a load out of Dirk as he fucks him ("You're a big cummer! Jesus!"), then gets fucked by the virile and versatile daddy Daymin coating himself as they share a final kiss…Join them!
Daymin Voss gay porn scenes at Raging Stallion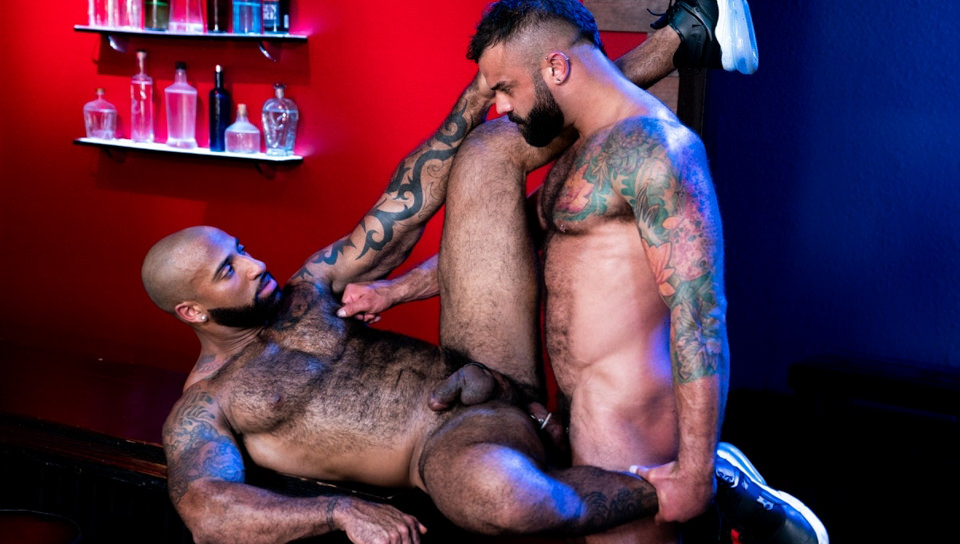 Bartender Drake Masters is slinging drinks when Daymin Voss enters without words. Daymin can't resist touching Drake's rock-hard, hairy body and Drake responds by reaching down to grope Daymin's massive bulge.
That's Daymin's cue to get on his knees to take Drake's thick hairy cock down his throat. He services Drake with an urgency, getting the rough and tumble muscle hunk hard as a rock. Daymin needs a taste of Drake's hairy asshole and bends the stud over to spread his cheeks.
When both furry hunks are worked up and sweaty, Drake is ready for dick so Daymin slides his throbbing cock deep into Drake's hole. He pumps away and enjoys the feeling of Drake's warm hole surrounding his big dick.
It's Drake's turn to feel Daymin from the inside and bends the stud over to plunge deep into his hole. Drake keeps pounding in and out until Daymin's furry hole makes him ready to blow. Drake pulls out and dumps a load of creamy cum all over Daymin's big sack and hairy taint.
Drake isn't quite done yet. He wants a taste of Daymin's load and gets in front of the stud to get what he deserves. Daymin drains his balls all over Drake's beard and face to finish off the furry fun at the bar…Join them!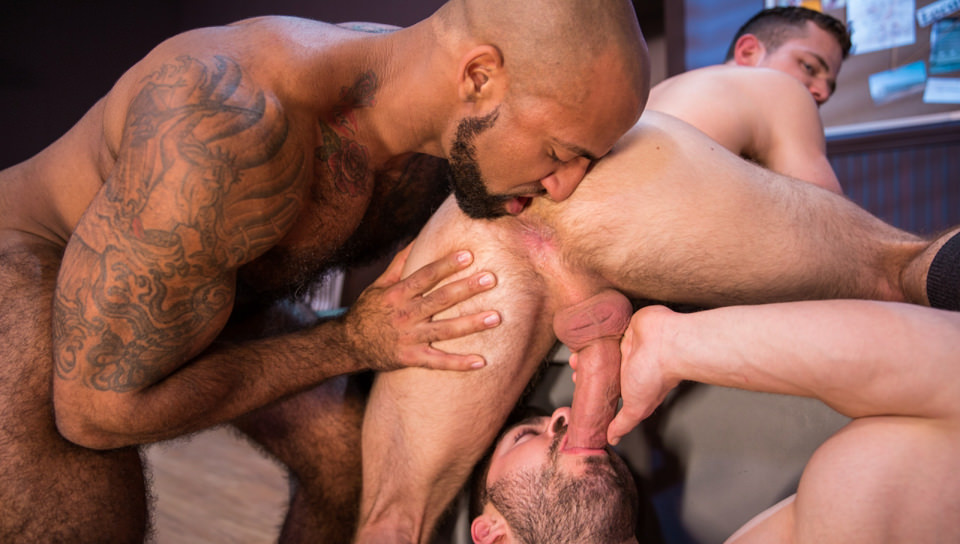 Daymin Voss walks in on Derek Bolt and Kurtis Wolfe making out in police headquarters. Their lowered inhibitions lead to a hot confession and Derek taking on both hung studs.
Kurtis gets on his knees and takes turns servicing the two hung muscle hunks in front of him, taking their cocks in and out of his warm, wet mouth.
Derek and Daymin both want a taste of Kurtis, so they bend him over a desk and lather their tongues in his willing ass. Kurtis loves every second of all the attention but wants to stick his dick in any available hole.
Derek is happy to offer up his body and sits down on Kurtis' massive fuck stick. Derek rides up and down as he sucks on Daymin, getting a dick in each end.
Daymin is throbbing hard and wants more than a mouth to satisfy his needs. He bends Derek over and shoves his dick deep inside the muscled-up cop to plow away as Derek once again, gets both holes stuffed with cock.
Derek's bubble butt feels amazing and Daymin pulls out to soak Derek's balls with jizz. The sight of all that cum makes Kurtis blast his load right after.
Daymin opens his mouth wide and takes every last drop of the hung stud's cum before he finishes off the fun with his own load on his smooth, ripped body…Join them!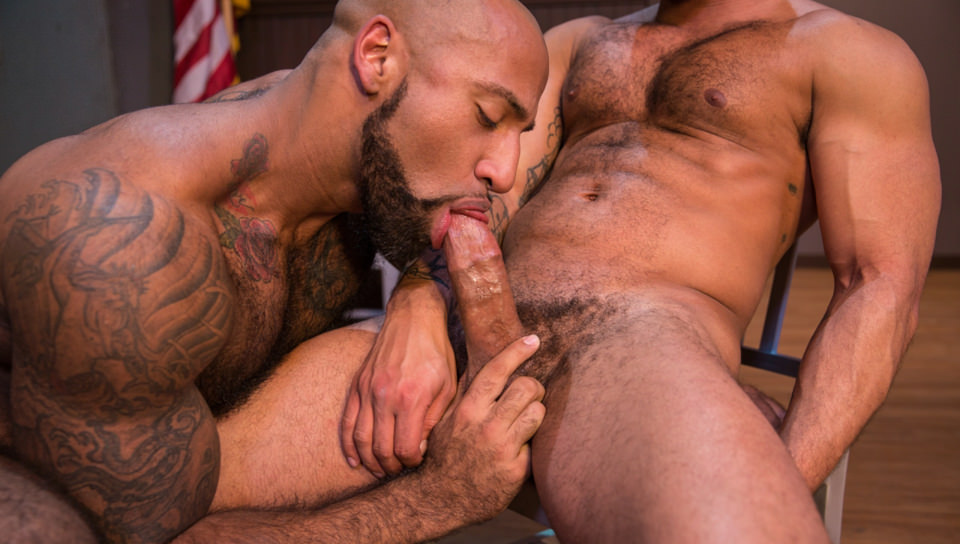 Vice cop Damian Taylor is at police headquarters with detective Daymin Voss. Daymin tells Damian that he 'wants to do gay shit' with him.
Damian takes his fellow blue brother up on the offer and frantically unbuckles the detective's belt to release his big hairy dick. Damian takes it in his mouth and sucks it like his life depends on it as he rips off his clothes.
Daymin's primal instincts kick in and he's soon the one begging for cock down his throat. The hairy muscle studs peel off the rest of their clothes and Damian takes his position in a chair.
He opens his legs wide for Daymin to get in with his mouth as he makes the hung detective gag and cough by stuffing his face with dick. Daymin is like a machine, sucking and slurping and spitting all over as he services the thick shaft and big balls in front of him.
His steady pace and talented tongue bring Damian to the brink and he pulls out to spray Daymin's face with cum.
Covered in Damian's load, Daymin pounds away on his ready-to-burst cock until he polishes the floor with buckets of sticky white jizz…Join them!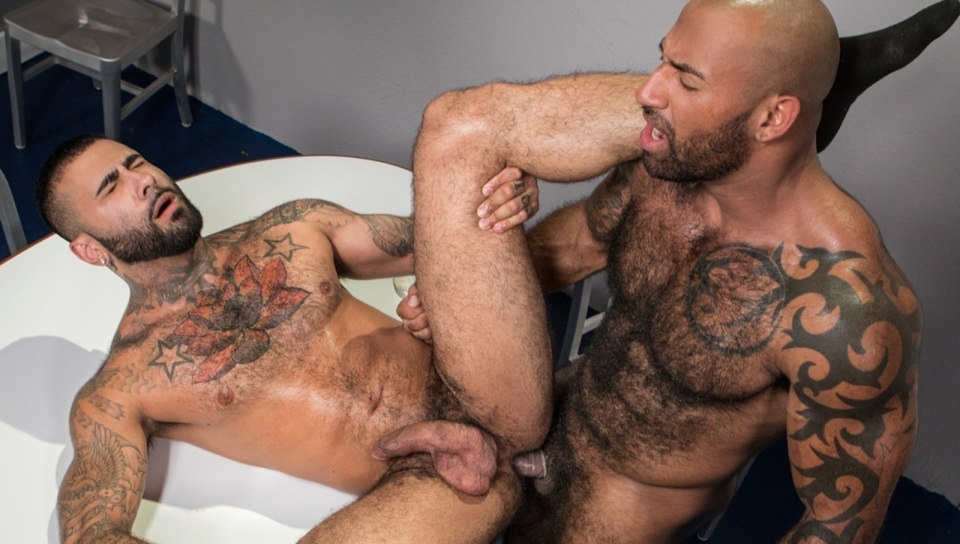 Daymin Voss is a TSA agent and when Rikk York comes through security to get to his flight, he sets off the alarms several times.
Daymin decides to subject Rikk to a full body search. It doesn't go well for the traveler when Daymin finds some contraband in Rikk's 'loose sloppy hole'.
The agent decides to explore a little further because he wants to make sure there's nothing else up Rikk's big hairy ass and gets in deep with his gloved hands.
To be absolutely sure, Daymin gets on his knees and sticks his tongue all the way into Rikk's hairy hole. When Daymin doesn't find any more unnatural objects shoved up Rikk's ass, he unbuckles his pants and has Rikk suck his way to freedom.
Rikk's magic mouth gets Daymin horned up and soon the commuter is balls deep inside the TSA agent's tight muscle hole. Rikk pounds away until Daymin is ready to teach his suspect the final lesson of the day.
Daymin mounts up and slams Rikk's fuzzy ass with his massive cock until he sets off Rikk's explosive device.
Daymin takes his job seriously and won't let Rikk through security until he slathers the guilty traveler with some TSA approval…Join them!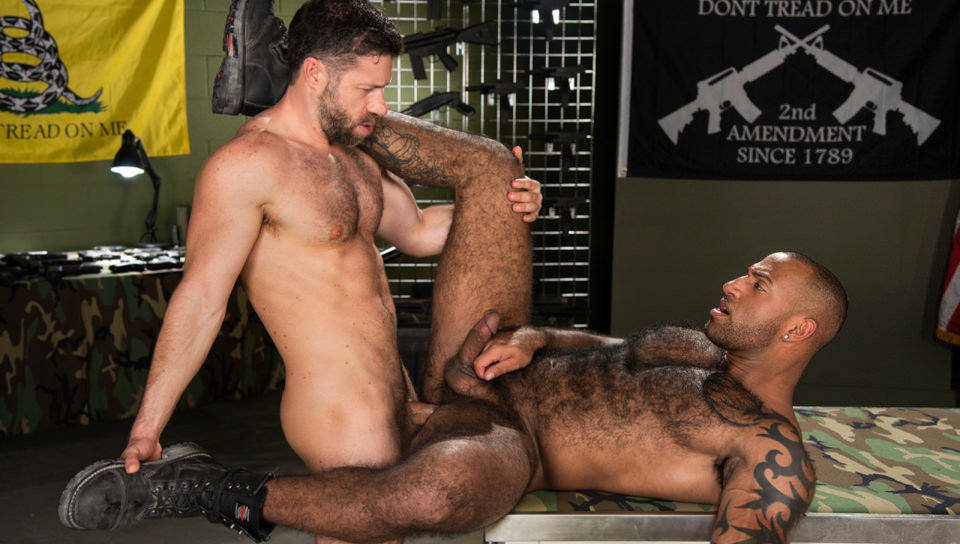 Gay gun seller Daymin Voss is running a booth at the gun show when Tristan Jaxx shows up just as Daymin's stand is closing for the day. Tristan is looking to buy something for self-defense but doesn't know much about owning a gun.
Daymin shows him how to hold it and when Tristan is holding the weapon up, Daymin comes up behind him. The touch of Daymin's big manly hand on his side makes Tristan get a stir in his pants and the two studs start to make out. Daymin gets the stranger out of his shirt before peeling off his own.
The scent of Daymin's manhood is almost more than Tristan can handle and he goes in to worship Daymin's ripe sweaty pits. The session drives Tristan wild and he gets on his knees to take Daymin's big cock in his mouth. Daymin loves dick and can't wait to taste what Tristan has pressing against the fabric of his pants.
Daymin removes Tristan's pants and gets dirty by sucking his cock. Daymin loves every inch of it in his mouth and tells his new friend that he's going to open his ass for him. Tristan is more than willing to honor the request and bends Daymin over the gun table to eat him out.
Tristan takes his time with the fresh meat and gets as far inside Daymin's butt as he can get with his fingers and tongue. When Tristan is convinced that Daymin is good and opened up, he stands and slips his hard cock deep inside. He gives Daymin a pounding that the stud won't soon forget and stretches him even further with each thrust.
Daymin begs for Tristan to go deeper and grunts harder the further in Tristan gets. Tristan's pelvis slaps against Daymin's bubble butt as skin hits skin. The two studs switch it up more than once and finally settle with the gun dealer on his back getting plowed.
Tristan increases his intensity to get himself closer and plugs away as Daymin begs for him not to stop. Daymin yells out: 'Dude, you're so fucking deep.' as his cock explodes and varnishes his hairy body with a thick layer of cum.
Tristan is happy to have given so much pleasure and pulls his cock out of Daymin's tight hole to blast his own load of cream. It's a real gusher, and it covers Daymin's bush and stomach with a seemingly never-ending barrage of squirts.
Daymin can't believe his eyes and feels lucky to be covered in so much jizz…Join them!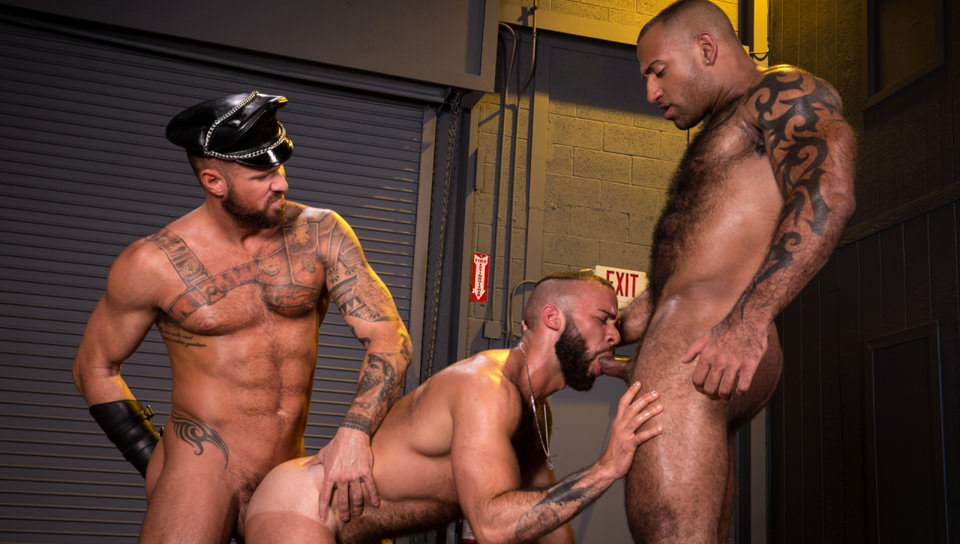 Leather daddy Michael Roman, pig Fernando Del Rio, and Daymin Voss are tatted muscle studs looking to get dirty in their jockstraps. Fernando bends over and offers up his hairy, sweaty hole for the other two muscle hunks to share.
Michael and Daymin get Fernando's ass lubed and opened up with their prying tongues and lots of spit while they prime him for what's about to come. Fernando's big fuzzy sack dangles down between his legs as he gets his taint and balls worked along with his hole.
Fernando bends over to get spit roasted with Michael stretching out his ass and Daymin reaming his throat with his thick, hairy, huge dick. Michael wants a turn on Fernando's tight hole and the sweaty studs switch positions with the leather daddy fucking Fernando's face as Daymin mans the helm from behind.
Daymin pulls out of Fernando and lies down on the table to let Michael ram his big hard cock in his fuzzy crack. Daymin gets his butt hole pounded deep as he sucks on Fernando's hairy dick and rims his used-up ass. Pulling out Michael drops a load of jizz all over Daymin's tasty bubble butt.
The sight of it all makes Fernando blast a geyser of his own as the cum shoots out of his throbbing, thick, uncut cock and onto the floor. Daymin is the last to go and moans out hard with his thick, creamy white semen rolling out of the tip of his cock.
Nothing gets in the way of these studs living out their fantasies and getting all the hairy cock and ass they can get…Join them!