All Gay porn pics and gay porn videos of Brandon Evans
Hair Color: Brown
Sign: Unknown
Eye Color: Blue
Dick Size: 7 inch dick
Height: 5'10"
Cut / Uncut: Cut / Circumcized
Weight: 170lbs
Sexual Positions: Top
Falcon Studios gay porn scenes of Brandon Evans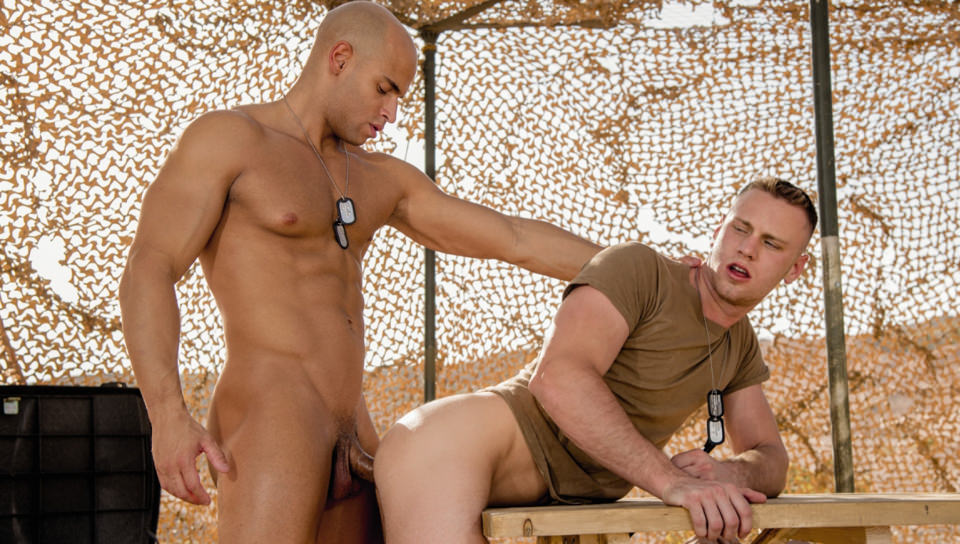 Sergeant Sean Zevran comes up behind his subordinate, Brandon Evans, and grabs his ass. Brandon is taken off guard. 'I see everything in in this camp,' Sean says. 'I know you two have been sneaking out in the middle of the night to suck each other off.'
Sean pulls Brandon's pants off and asks if he likes sucking dick. Brandon denies it once but after a berating from Sean, he finally admits that he does indeed like sucking dick. Sean pushes Brandon to his knees and slides his thick, uncut pole all the way down Brandon's throat.
Brandon gets his face reamed and then takes a taste of Sean's big low hanging balls. Brandon loves every second of the impromptu action and takes every inch that Sean has to offer. Sean never waivers on his authority over Brandon and Brandon knows that he needs to do whatever Sean wants.
Sean bends Brandon over a table and rims his fuzzy little hole. The sergeant works Brandon's ass and finally asks if he's ready for his dick. Brandon yells out 'Yes, Seargent!' before Sean slips his massive member deep inside. Sean is definitely the authority figure to the submissive Brandon, who just wants to please his superior officer.
The sergeant isn't going to finish without having his way. He wants one more position to truly feel everything that Brandon has to offer. He gets Brandon on his back and enters the muscle stud to go as deep as he possibly can. The pounding makes Brandon blow his load all over his own hot and ripped torso.
Sean won't be left out of the action and pulls out to drop his own load all over Brandon's well-worked and still heaving body…Join them!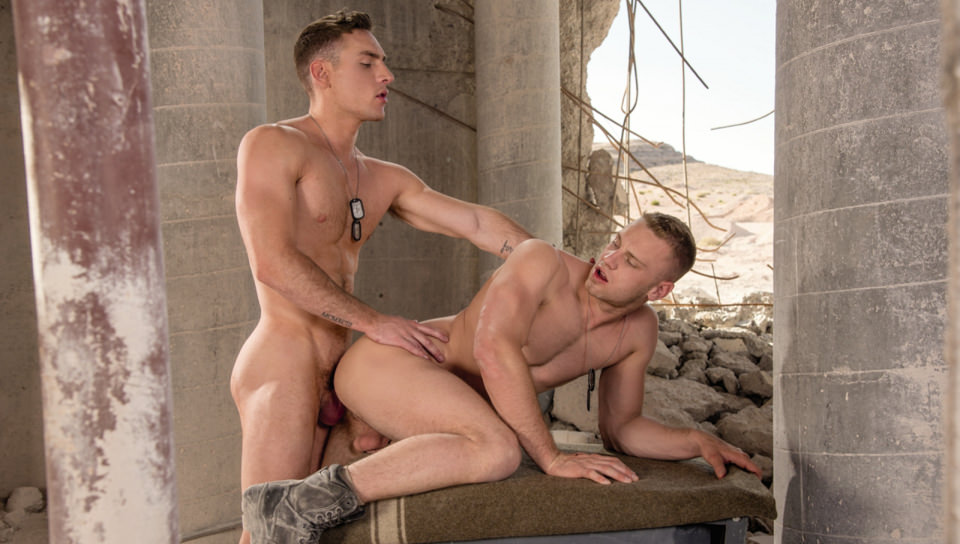 There's a place in the desert where soldiers can go to get away from the everyday stress of military life. It's isolated and free from enemy control and today Brandon Evans and Fane Roberts find themselves alone in their spot together.
Brandon is on his knees servicing Fane's big dick. He gets Fane throbbing hard and unable to think of anything but giving head. Fane wants a taste of his military buddy's big pole and pushes him back against a pillar to get what he wants.
Brandon pulls his pants down around his ankles and peels off his shirt as Fane gets to work getting what he needs. The sensual licking drives Brandon wild and he offers up his hairy little ass and bends over to let Fane rim him. Fane's tongue goes deep as he readies Brandon for what's about to come.
Brandon begs for Fane to fuck him and Fane isn't one to disappoint. He slides his dick inside his buddy's fuzzy little ass and pumps him as Brandon moans and grunts with each thrust. Brandon's dog tags dangle around his neck as he takes it from behind.
Fane wants to get a little deeper inside Brandon and he flips the stud around to get as far in as he possibly can. The deep penetration hits just the right spot and it makes Brandon erupt with an explosion that covers his toned stomach and chest.
Once Fane sees the pleasure he's given to his fellow Marine, he pulls out and makes an even bigger mess all over Brandon's writhing body. His thick semen rolls out of his tip and pools up with Brandon's juicy sweetness as the studs finish up an afternoon job well done…Join them!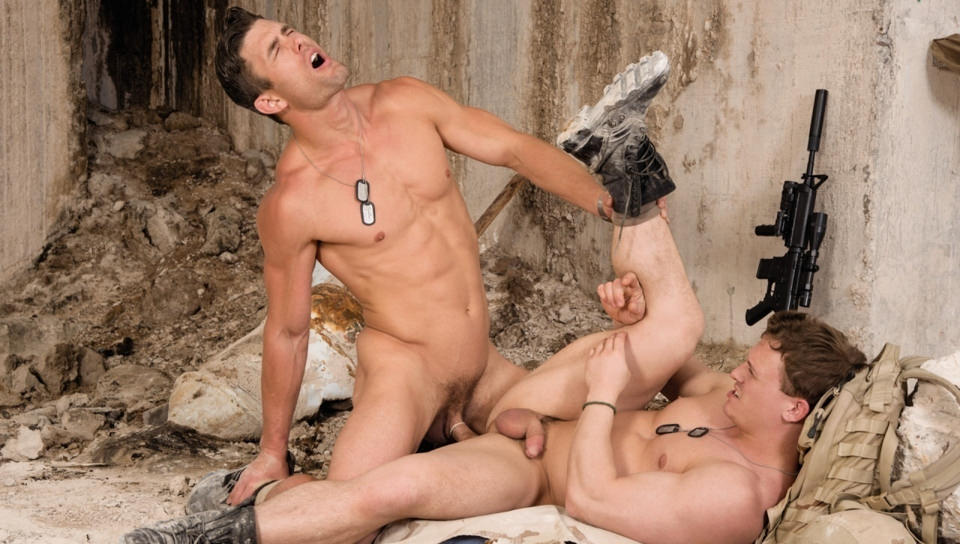 Handsome soldier Fane Roberts is assigned to his new post with fellow stud grunt Brandon Evans. After spending so much intimate time together, their attraction and feelings are undeniable. Unable to resist any longer, they secretly swap head in the barracks.
Fane moans loudly as he shoots a creamy load down Brandon's virgin throat. Sergeant Zevran passes by nearly catching them in the act. Meanwhile, out in the hot desert sun, Ryan Rose and Tommy Regan are on a military patrol.
There's no one around for as far as the eye can see so the Marines take off their protective gear to get more comfortable. Ryan takes it a step further and unbuckles his belt to pull his dick out of his fatigues. Tommy tries to ignore Ryan jacking off behind him and when Ryan asks Tommy to show his ass, Tommy refuses.
Ryan is the commanding officer and orders Tommy to remove his pants. Tommy obeys the order and bends over to let his superior officer rim his cute, fit bubble butt. Tommy admits that the rim job feels good, and as it continues, it gets him in the mood for more action.
Tommy turns around to offer up his growing erection. Ryan can't wait to get Tommy in his mouth and treats his subordinate to a nice long blowjob as he leans against a shelled-out cement wall. All the sucking gets Tommy in the mood to take a taste of Ryan's hard dick.
He services the ripped stud on his knees until Ryan instructs Tommy to turn around. Ryan slips his big stiff rod inside Tommy's tight ass and has his way with him as the muscled up military jock bends over to take it deeper inside his body.
Ryan keeps a steady pace and uses Tommy's perfectly fit form to get himself off. He pulls out and covers the military stud's groin and abs with a river of white and creamy satisfaction…Join them!
Broke Straight Boys gay porn scenes of Brandon Evans
Grey Donovan has been getting used to life as a Broke Straight Boy, but he's still got some challenges ahead of him, but Brandon Evans is ready to help him get even more comfortable. Leaning in for a kiss, they make out and then undress as Brandon finds his way down to Grey's cock, pulling it out of his underwear and wrapping his lips around it.
Grey watches as Brandon swallows his dick, his shaft disappearing in Brandon's mouth over and over until Brandon stands up to get his own prick sucked. Grey captures that sweet cock on his tongue, letting Brandon face fuck him as Grey takes that dick and then sucks on Brandon's balls.
But now that Brandon's hard and ready to fuck, he throws Grey onto the bed and fingers that tight ass before filling it with the full length of his bareback cock. Grey moans as his ass stretches around Brandon's pulsing member and Brandon goes deeper, hitting the walls of Grey's entrance as he fucks him.
Grey rides Brandon next, his ass bouncing up and down on that cock but Brandon wants it harder and faster, pushing Grey to the floor and taking him how he wants him, balls slapping against Grey's dominated ass as he takes that dick.
Putting him back on the bed, Brandon fucks Grey until he makes him shoot his load, pulling out and stroking his cock fast and hard until he squirts his cum across Grey…Join them!
Jos Alvarez and Brandon Evans have been getting to know each other better as they spend time together at the house, and they've gotten a lot closer in that time.
Now they're preparing to get to know each other in a different way as they undress and Brandon sucks and kisses Jos's nipples and chest then kneels on the bed to get some head from Jos.
Jos sucks that sweet dick and Brandon swings his legs around, 69ing with Jos as Brandon sucks Jos's prick and Jos eats Brandon's ass, rimming his hole and spanking him while Brandon deepthroats his cock.
When Brandon's expert tongue has Jos's cock pulsing with desire, he straddles him reverse cowboy style and lets Jos push his hard bareback shaft into his ass, getting deep and hard as every inch of his thick cock disappears into Brandon's ass.
Brandon plays with himself while he gets pounded, his hand running over his dick as Jos fucks him from every angle, turning him onto his side and dominating him as Brandon begs for more.
When Brandon turns onto his back, Jos fucks him harder than ever, slamming his huge cock into him until Brandon shoots a huge load all over himself.
Jos reaches down for a taste of that jizz as he gets balls deep in Brandon's ass until he can't take anymore of that tight hole and pulls out to drain his dick between Brandon's ass cheeks, his cum covering Brandon's sore hole…Join them!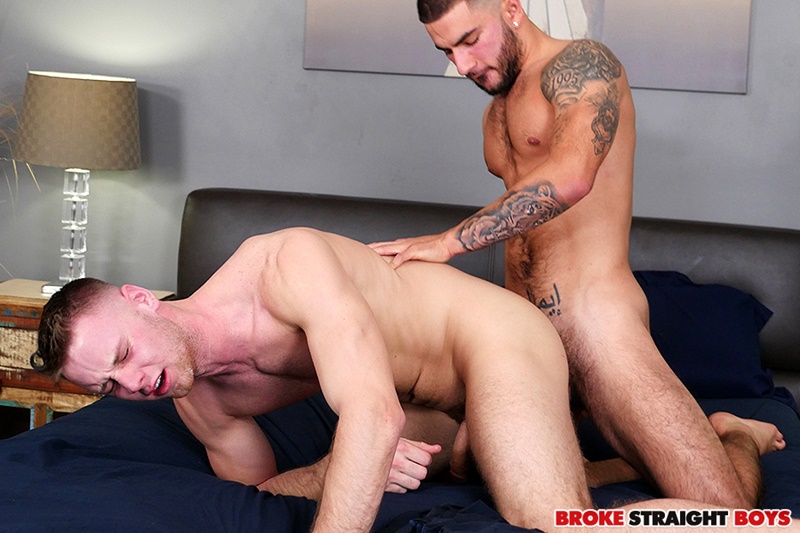 Vadim Black and Brandon Evans share some similar experiences with their work history, but past experiences aside, these two sexy dudes are ready to bring some fresh flavor to us today. They admire each other's perfect, muscular bodies as they make out, and when they get naked they go down on each other, sucking those big dicks and 69ing while they get harder in each others mouth.
After that oral Vadim bends Brandon's legs over his head and slowly pushes his huge cock into Brandon's ass, gently thrusting that bareback dick in and out as Brandon jerks his own hard member. Vadim goes balls deep in Brandon's tight ass, pounding him as Brandon moans for more and Vadim kisses him while they fuck raw.
Vadim turns Brandon around and takes him from behind, making Brandon's sore ass bounce as he shoves that fat prick in and out until Brandon busts a nut, shooting a huge load across his chest. Vadim pulls out and gives his own dick a few good strokes before he adds his own cum to the mess on Brandon's chest…Join them!
Men gay porn scenes of Brandon Evans
The boys are being sent off to war, but not before one last hot and sexy romp. Slender Zach Country, beefy Damien Stone, chiseled Vadim Black, fit Brandon Evans and muscular Blaze Austin partake in some deep dick sucking before designating who's bottom will get dominated.
These hard-bodied men know just how to please each other, and can't wait to let off a satisfying creamy load.
Brandon Cody and Brandon Evans are two athletic, muscular men that share the same name and the same fondness for some hot, bareback sex.
Watch as they get real close and personal and prove that two Brandons are better than one…Join them!
Ashton McKay wakes up next to Brandon Evans and is ready to get down and dirty, but not before breakfast. The boys can't make it back up to the bedroom in time Brandon drops down to his knees and blows Ashton's cock in the kitchen…Join them!
Brandon Evans has been trying to get Adam Bryant into bed forever, and has a plan to make it happen. With the help of a girl out on the street, Brandon coaxes Adam to strip and get into bed with him.
Soon enough Adam's cock is down Brandon's throat, primed to the max for a vigorous round of butt fucking…Join them!
Raging Stallion gay porn scenes of Brandon Evans
Brandon Evans pops a boner during a boxing photo shoot with fellow athlete Justin Matthews.
The photographer realizes what's going on, and has Justin suck on Brandon's bulging cock.
Both studs have raging hard-ons now and Brandon wants to try Justin's dick.
Justin's dick tastes amazing and Brandon savors every inch from the balls to the tip before he bends the horny stud over and slides his dick inside.
As he's getting railed, Justin decides to switch it up and bends Brandon over to flip-fuck the toned boxer.
Brandon's hole is extra tight and it takes a little effort to get Justin's big cock crammed inside.
Once he's in, he can't quit commenting about how amazing Brandon's ass feels around his cock.
Justin quickens his rhythm with his raw pole until he's ready to look Brandon in the eyes as they fuck.
Brandon gets on his back and opens his legs to allow Justin to continue the bareback, ass-stretching marathon.
With Justin still pounding his ass, Brandon's cock erupts like a fountain and sprays up onto his chiseled chest and over his shoulder.
When Justin sees the mess on Brandon's hot body, he pulls out and sprays the hunky stud's spent cock and balls before fucking his cum deep into Brandon's formerly tight hole.