Gay porn videos and pics of Hector de Silva.
Hair Color: Brown
Sign: Unknown
Eye Color: Blue
Dick Size: 7 inch dick
Height: 5'7″
Cut / Uncut: Cut / Circumcised
Weight: 154lbs
Sexual Positions: Top
Hector de Silva gay porn scenes at Raging Stallion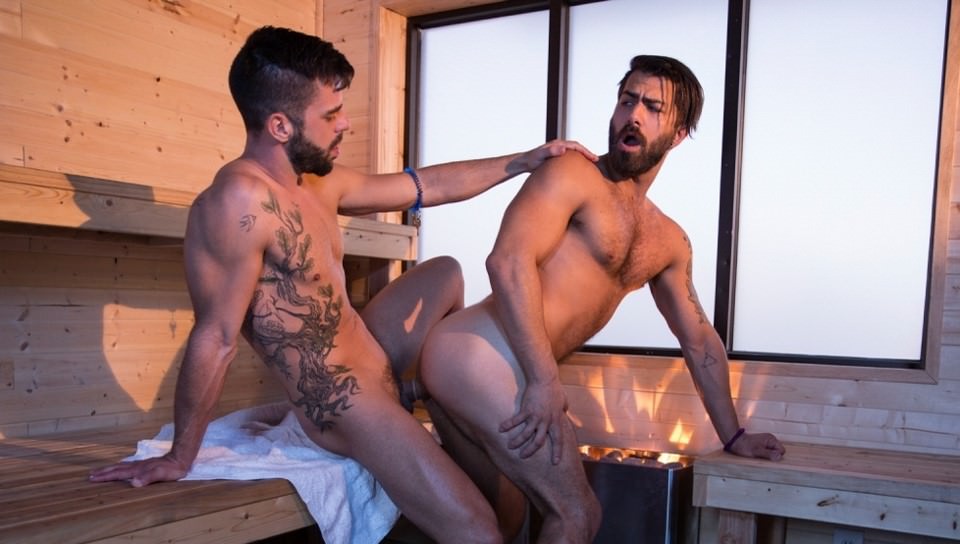 Adam Ramzi is relaxing in the sauna when Hector de Silva enters and drops his towel. Adam notices instantly and the hunks lock eyes.
The studs get down to business and start making out as their dicks grow hard between their hairy legs. Adam can't go another second without Hector's cock in his mouth and opens wide to get every inch of meat he can cram down his throat.
After enjoying all the attention, Hector needs a taste of Adam's big glistening hard-on and gets down to return the favor. Both hung hunks want to fuck but before they do, Adam needs his hole opened up.
Hector takes his place in front of Adam's hairy hole and rims him until he's ready to receive. Adam begs for more than just a tongue up his ass and Hector is happy to oblige.
Adam bends over to let Hector stretch his hole as Hector slides his cock deep inside and pounds him hard.
After a nice long fuck session, Adam wants to be dominated and lies back on the sauna bench to let Hector do the heavy lifting.
Hector fucks the cum out of Adam before he pulls out and mixes his own load with Adam's pool of jizz, leaving the hairy stud a sticky, cum-covered mess…Join them!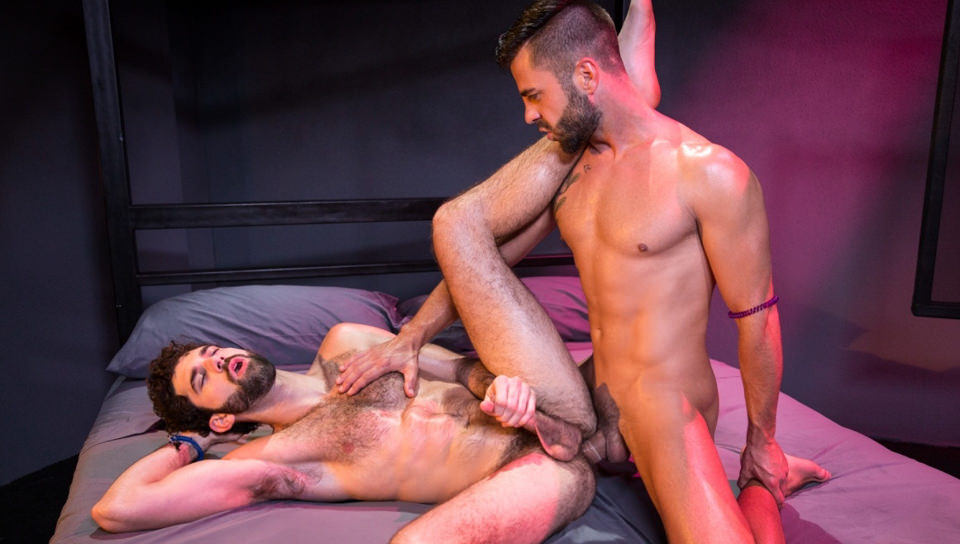 Tegan Zayne and Hector de Silva meet up in nothing but their bath towels at the clothing optional spa. Without wasting time, the hunks swap some quick spit, skip the foreplay and head right to the dick sucking.
Tegan is the most cock-hungry of the two and gets on his knees to get his greedy face stuffed with Hector's super hard cock. As Hector gets harder, his instincts take over and he fingers Tegan's hairy hole until it's open and ready for more.
Tegan can't wait to get Hector's monster up his ass and he mounts up on the stud to ride him hard. Tegan always needs it deeper and harder and after riding Hector's pole, he lets the hunky stud take control and fuck him on his back.
Hector uses Tegan like a toy and pumps his hairy asshole until Tegan dumps his load all over his own fuzzy, toned abs. Hector isn't one to be left behind and squats over Tegan to get his asshole licked as he jacks his uncut rod all over Tegan's thick black body hair.
Tegan needs one last taste and sucks the last few drops from Hector's swollen cock before the two kiss the taste of jizz away…Join them!
Hector de Silva gay porn scenes at Men.com
Now that Massimo Piano knows the Genie can deliver, he makes sure to use his next wish wisely; by getting in one last fuck with his ex, Hector De Silva. Massimo spreads his hole wide to soak in every second of Hector pumping his hard cock in and out of him…Join them!
These three studs Dato Foland, Hector De Silva and Sunny Colucci aren't afraid of open relationships. All three holes are spread open by thick dicks and thrusting hips as these muscle men service each other to a sweaty semen explosion…Join them!
It's hot out and even hotter between Hector De Silva and Colton Grey as they passionately explore each other's tattooed hard bodies and huge hard cocks…Join them!
Prepare for a jizz orgy with a healthy helping of delicious man meat. These hunks Paddy O'Brian, Dato Foland, Hector De Silva and Johan Kane know how to get what they want and fill each other with dirty lustful pleasure…Join them!
Dato Foland and Hector de Silva take turns rimming and drilling each other's holes…Join them!
Matt Anders easily swipes Hector de Silva's tight tourist ass off the streets and quickly seduces the reluctant foreigner in the "bar" assigned by Will Braun. Hector loosens Matt up with his probing tongue and strong hands before filling the horny slut with his manhood. The only challenge after this fuck is going to be walking without a limp…Join them!
It is Hector De Silva's turn with lost boy Will Braun. Will stuffs his throat with Hector's hot cock before jamming his runaway cock in his beautiful ass…Join them!
no images were found
The world is nearing collapse when a fight breaks out over one of the few remaining females. Paddy O'Brian defeats Hector De Silva but instead of finishing him, he takes him aside and rewards him with his fat cock…Join them!