Every gay porn video and gay porn image gallery of Manuel Scalco.
Manuel Scalco is a very friendly and masculine man. He describes himself as a versatile top, but he can take it just as well as he can give it. He's very sexual, and he says that he likes to cum numerous times per day.
Hair Color: Brown
Sign: Unknown
Eye Color: Brown
Dick Size: 8 inch dick / 20.32 cms
Height: 5'11"
Cut / Uncut: Uncut / Uncircumcised
Weight: 180 lbs
Sexual Positions: Versatile/Top
Sexual Orientation: Gay
Nationality: Italian
Raging Stallion gay porn scenes of Manuel Scalco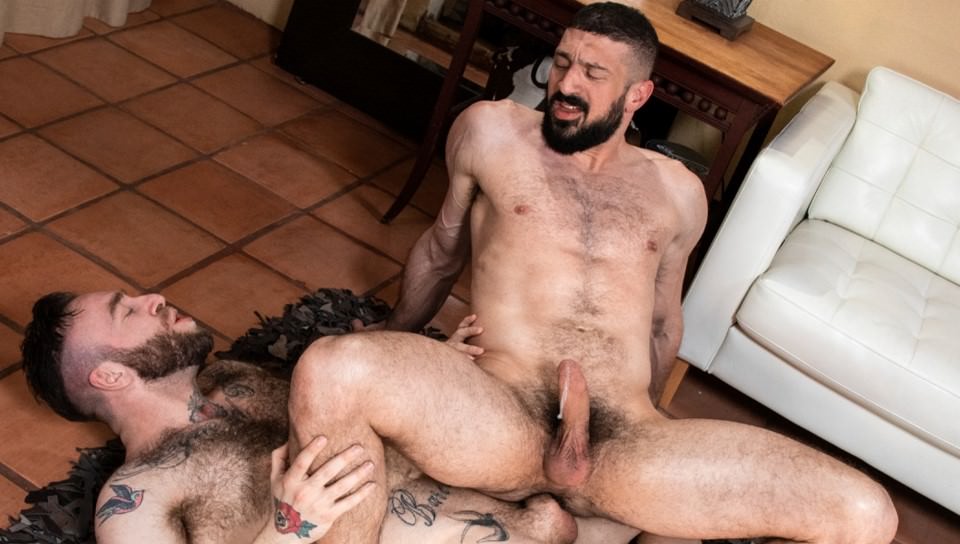 After driving down an isolated stretch of desert highway, Marco Napoli arrives at his destination to find Manuel Scalco in the yard eager and ready to suck his dick.
Marco happily pulls out his hard, hairy cock to let Manuel take it down his throat and eagerly fucks the willing cocksucker's face. Manuel isn't going to stop at that and needs a taste of Marco's furry ass before they move the action into the house.
Marco doesn't want to waste any more time with foreplay and quickly bends Manuel over to slam his giant cock balls deep into the stud's hole. Marco pounds away, opening Manuel up even further until Marco is ready to take some dick of his own.
Manuel is happy to give the stud what he wants and lies back on the rug with his boner pointing straight up. That's Marco's cue to take a seat on Manuel's pole and ride it using it as his gearshift until Manuel takes over one last time.
Marco takes the pounding until his swollen cock erupts with a geyser of jizz. When Manuel sees that Marco has unleashed, he pulls his dick out of the spent hole and stands above the stud to jack himself off.
Marco can't wait to taste Manuel's cum and is soon rewarded with a massive load that covers Marco's lips and full, bushy beard…Join them!
Kristen Bjorn gay porn scenes of Manuel Scalco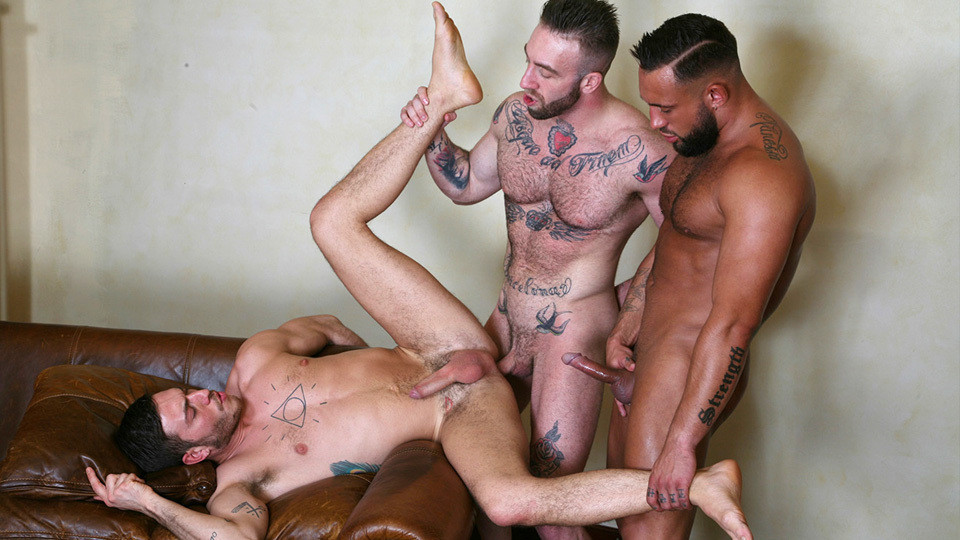 Everyone is so excited at Kristen Bjorn for the launch of the new line of underpants/underwear, but watch what happens when the photoshoot with Manuel Scalco, Jake Cook, and Ricco Fatale goes awry.
Photoshoots can get very stressful, but as the models strip down and are completely nude everyone takes notice, especially the other models. After the photoshoot, the models tug, touch and stretch the fabrics until Jake goes down on Manuel and pleasures his cock with his hot mouth.
While Jake is busy sucking on Manuel's cock, Ricco climbs on the furniture to get into a better position for Manuel to suck on his cock. The underpants have been lost and now it is all out raw sex with the models.
Ricco appears to be the "pig" in the group and gets on his knees and sucks in both cocks at the same time. Manuel feeds Ricco his cock a bit longer to make sure he has an extra layer of saliva dripping from his cock as he forces his bare cock deep into Jake's hungry hole.
Much to Ricco's delight Manuel periodically pulls out so that Ricco can apply more spit with his talented mouth. Ricco repositions himself and now Jake is begin fed raw cock from both ends and takes it like a true supermodel.
Jake and Manuel move Ricco into a perfect fucking pig position as they begin tag teaming his famished ass. Manuel moves in and gives the final push that thrusts Ricco's hot load of cum to explode.
Just as Ricco releases his load, Manuel kicks it into high gear and rapid-fire fucks, Ricco, until both Jake and Manuel are showering him with their thick loads of cum in tandem. Good thing the cameras were left running…Join them!
Manalized gay porn scenes of Manuel Scalco
Hot tattooed young hunks Stephan Raw and Manuel Scalco meet up at a trailer park and immediately get naked and down to business.
The guys start making out, Manuel drops his pants and Stephan sucks down hard on his huge thick dick.
Bottom boy Stephan is on his knees, sucking cock like a demon.
This got Manuel even hornier so he had him bend over so he could play around with his hole.
Stephan was glad to do this because he knew what the next step was bareback.
It began doggy style, with Manuel thrusting deep enough to make Stephan shudder.
The banging picked up speed as they changed position to missionary before Manuel could take no more so Stephan offered his mouth as the place for his load.
Men gay porn scenes of Manuel Scalco
Hairy muscle hunk Manuel Scalco has been growing his beard and not trimming it for many months.
His boyfriend Aitor Fornik agrees to give him a well-deserved trim.
As Aitor starts clipping away, sexy top Manuel gets his hard erect dick out and starts jerking off.
Aitor can't ignore his mates big cock and sees it needs his attention more than Manuel's facial fur.
So Aitor leans in and gives Manuel's huge cock balls deep blowjob.
Manuel undresses the bottom and eats his hole, then fucks him doggy style.
They sit on the couch where Aitor can climb on Manuel's cock, then head into the bedroom where Manuel bends Aitor over the bed till he pulls out and gives the bottom a facial.
The guys cuddle up as Aitor jacks his cock and shoots a big load onto Manuel's face.
Men at Play gay porn scenes of Manuel Scalco
Joe Gillis and Manuel Scalco, colleagues at a high-stress firm, are having a guys' night in with plans on watching the football game.
While chatting before the game begins, Joe starts to subtly flirt with the Spanish stud, Manuel.
At first, Manuel assumes that Joe is just being funnier than usual.
When the game begins, Manuel confesses that he is not really a big fan of sports.
In fact, he watches football because he likes watching the men and their bulges on the field.
As luck would have it, the TV loses power and turns off.
Unable to fix the TV, Joe's invitation to watch the game turns out to be a disaster or does it?
Manuel seizes the opportunity to invite Joe to play with his bulge and turn the night into a hot co-worker play session.