Every gay porn video and gay porn image gallery of Robin Sanchez.
Robin Sanchez is talkative guy with a rapier wit. He did a couple of casting videos for Kristin Bjorn back in 2007, but then subsequently went on to participate in a Spanish Reality TV program called Pekin Expres. It was a race between couples to follow clues and to travel across the planet penniless. While the cameras were following Robin around in India, his porn past was revealed on TV and it caused quite a scandal back in Spain. All's well that ends well, though. Robin actually came back some years later to work with Kristin Bjorn again, and he was looking better than ever!
Hair Color: Black
Sign: Unknown
Eye Color: Brown
Dick Size: 7 inch dick / 17.78 cms
Height: 5'9″
Cut / Uncut: Uncut / Uncircumcised
Weight: 189lbs
Sexual Positions: Versatile
Sexual Orientation: Gay
Nationality: Spanish
Kristen Bjorn scenes of Robin Sanchez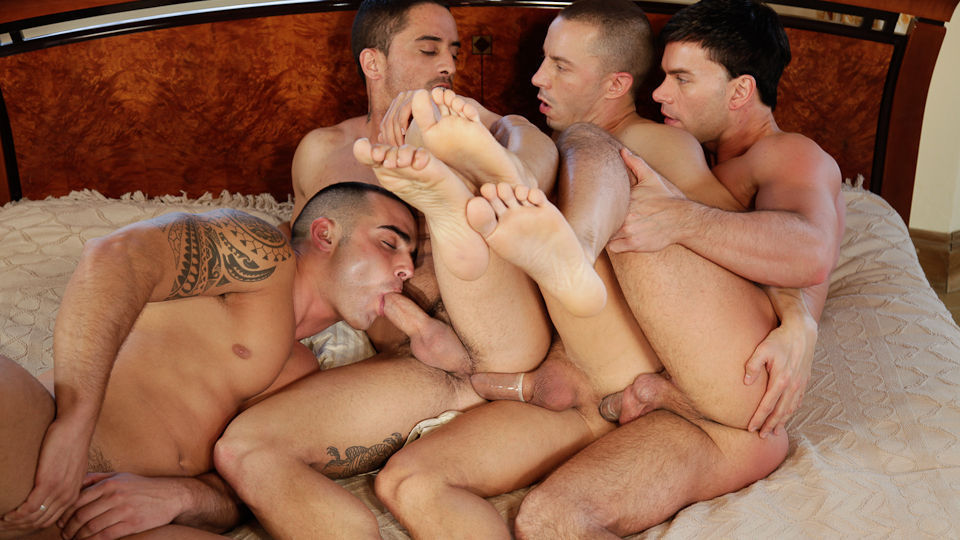 We rejoin out two hot couples after Robin Sanchez and Abel Pozsar had tracked down Adrian Toledo after finding one of his secret desires in a floating bottle. Robin spits on his hard cock to make it that much juicer for Adrian to suck on as Abel fucks him and as Brian McNight fucks Abel.
Abel loves this position fucking and begin fucked at the same time that he kicks it into overdrive and rides both cock and ass as hard as he can. Needing a piece of the action Robin and Adrian switch up positions and Abel pounds away at Robin's tight ass as Adrian swallows his hard cock.
Abel has ridden Brian's huge cock as hard and as far as he could until Brian had no choice but to blow his thick load all over Abel's sweaty thighs. Feeling the hot load erupting from Brian's huge mushroom head pushes Abel over the edge of ecstasy as he unleashes his creamy load all over Robin's balls and ass.
Adrian has the perfect viewing of this explosion and sends his load flying while still deep-throating Robin. Adrian then takes Robin to the point of no return as Robin's gooey load flows across Adrian's hungry lips and tongue.
Set your desires and dreams free, you never know who may show up at your doorstep one day…Join them!
Robin Sanchez, an international gay porn sensation uses a guest pass to a new gym and runs into Klein Kerr.
The guys have seen each other's work and are very impressed when they see each other at the gym.
Klein invites Robin back to his place after their workouts.
After some passionate kissing, bumping and grinding, Robin takes Klein's magnificent cock into his mouth and begins sucking on it.
Klein's huge cock quickly fills Robin's mouth as he works to suck on as much of it as he possibly can. As Robin sucks on Klein's cock, the elevated levels of testosterone from the gym have Robin horny as fuck and he immediately goes from sucking cock to ramming it deep into his muscular ass.
The guys work in tandem, Robin grinding his ass down hard on Klein's cock and Klein taking the opportunity to fuck Robin deep and hard.
Robin changes position and bends over in front of Klein and gives us a perfect view of that incredible cock filling the powerful ass.
Klein teases Robin's ass as he pulls out and Robin keeps his hole open for Klein to slam his cock back inside.
Robin gets flipped onto his back with Klein right on top of him, slamming his cock as deep as Robin's ass will allow.
Klein knows exactly how to massage Robin's ass and knows when to back off as he sees Robin's cock pulsating as the cum has built up in his tight ball sac.
As Klein picks up the pace of his fucking, he also crosses that line of no return and showers his hot load of cum all over Robin's massive, muscular thighs.
Klein immediately drops to his knees and begins eating Robin's drenched ass.
The feel of hot cum on his thighs and a strong, wet tongue fucking his ass sends Robin over the edge as he shoots his load of cum.