Hair Color: Brown
Sign: Unknown
Eye Color: Brown
Dick Size: 8 inch dick
Height: 5'9″
Cut / Uncut: Cut / Circumcised
Weight: 165lbs
Sexual Positions: Versatile
Tom Vojak scenes at Kristen Bjorn
The breathtaking city of Prague attracts some of the worlds hottest men, this time it has attracted Julio Rey to come and experience all of its rich treasures. Julio is approached by Rado Zuska and Tom Vojak and show him some local hospitality.
The three men return to Rado's flat and get very acquainted with each other. They quickly free themselves of the confines of their clothing and reveal their perfectly sculpted muscular bodies.
Julio is eager to pleasure his hosts and drops to his knees and begins sucking on one succulent cock after the other. He works his way from one to the other and has worked Rado into a frenzy and he shoots his thick creamy load of cum all over Julio.
Julio sucks Rado's cock clean of all that cum. After some more intense cock sucking, Rado then squats down onto Julio's trobbing raw cock while Tom feeds Julio his hot, hard cock. Rado is then flipped and Tom plunges his massive cock deep inside of his ass as Rado swallows Julio's cock that is dripping with their fuck juices still on his cock.
Tom fucks Rado with such passion that he sprays Rado's ass with is creamy load of cum. Julio's cock has had such immense pleasure today that Rado sucks the cum from deep within his shaft and laps it all up with his hungry tongue…Join them!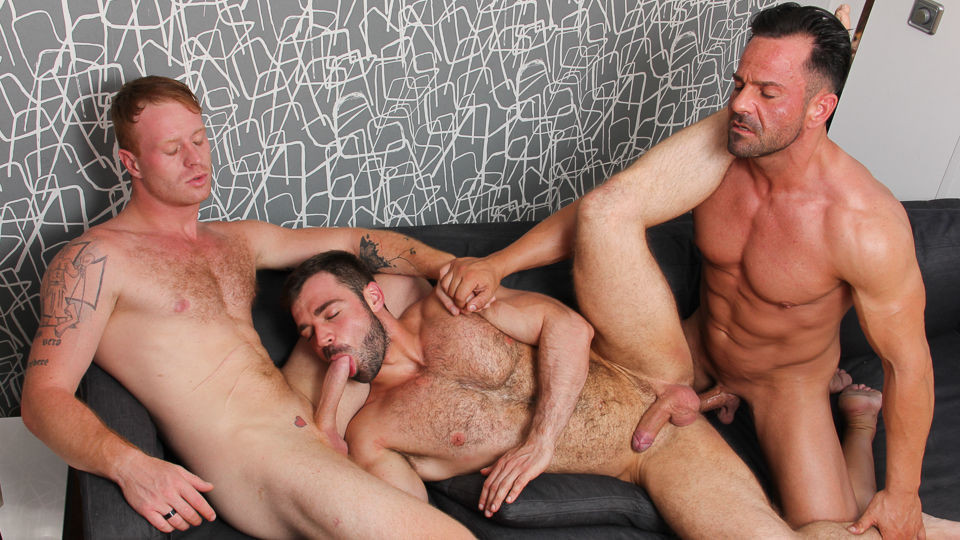 [gallery_master theme="masonry" source_type="selected" ids="1014″ gallery_type="extended" layout="grid" show_title="show" show_desc="hide" height="160″ width="200″ border_style="2px solid #000″ margin="10px 10px 10px 10px" padding="10px 10px 10px 10px" title_color="#000″ desc_color="#000″ lightbox="enabled" order_by="random"] [/gallery_master]
Alex Brando is thinking of preparing for a bodybuilding competition so his friends Jose Quevedo and Tom Vojak suggest that he start to practice his posing. Jose oils up Alex's smooth muscles as Tom finds himself getting aroused.
Tom and Jose explore Alex's hardest muscle of all with their hungry mouths. Tom whips out his huge cock and Jose goes into hot cock sucking heaven.
Jose sucks, swallows and chokes down the two hot cocks in front of him. Jose moves into the full pleasure position, while sucking Tom's hung, uncut cock Alex licks and probes his ass with his hungry tongue.
Alex plunges his raw cock deep inside of Jose's hairy hole as Tom feeds him his throbbing cock. Tom moves into position and rams his hard cock into Jose's raw hole and stretches his limits.
Jose is flipped upside down and Tom begins to fuck him from above as Alex fucks his mouth with his muscle cock. The guys move into another hot position that has Alex slapping his smooth balls against Jose's ass as he attempts to swallow Tom's massive cock.
Alex and Tom flip back and forth keeping Jose in the middle of the fuck sensation. While servicing both hot cocks, Jose sucks the hot load of cum out of Alex's cock then blows his own hot load.
Tom continues his fucking until he also joins the group of exploding cocks…Join them!