Every gay porn video and gay porn image gallery of Dani Robles.
Dani Robles came to me out of the need to fulfill his fantasy. I could see the potential in him and he had no clue what was about to happen. Dani told me that he wanted to be fucked by all the hung men in our films, we accommodated his wish. Dani has become a worldwide phenomenon that I could see on that first day.
Hair Color: Brown
Sign: Unknown
Eye Color: Brown
Dick Size: 8 inch dick
Height: 6'1″ / 185 cms
Cut / Uncut: Cut / Circumcised
Weight: 165lbs
Sexual Positions: Total Bottom
Sexual Orientation: Gay
Nationality: Spanish
Dani Robles gay porn scenes at Lucas Entertainment
Andy Star is hanging out with his best friend Dani Robles while Andy's boyfriend, Andrey Vic, is picking up his Russian friend from the airport. Andrey has wanted to get his hands on Dani for a while now, but Andy will only allow that to happen if he's offered a hot guy to occupy him in the meantime.
Andrey sends Dan and Andy a picture of his friend, Bogdan Gromov, and Andy instantly falls for his incredibly body and warm smile. By the time the foursome is well underway, Andy Star and Dani Robles are full of raw Russian dick as Bogdan Gromov and Andrey Vic fuck the hell out of them…Join them!
Ken Summers loves group sex, the more men who come his way the better. He might be a little guy, but he's not shy. He teams up with fellow bottom Dani Robles as they submit to serving Sean Xavier, Ralph Novak, and Logan Rogue.
Ken loves being the center of attention, and when he's taking Ralph and Logan's cocks up his ass at the same time while sucking off Dani and Sean, it's clear the production team gave him exactly what he wanted…Join them!
Dani Robles gay porn scenes at Kristen Bjorn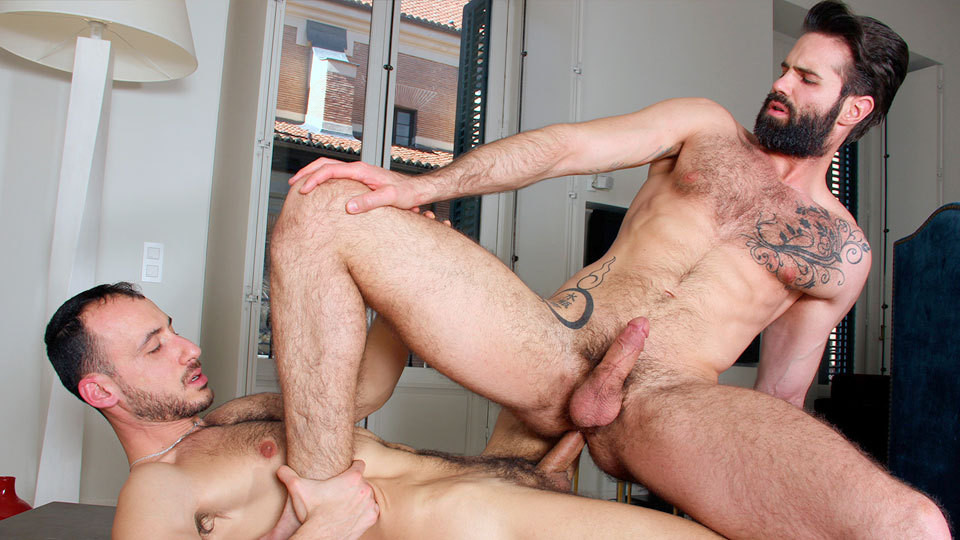 Ely Chaim is rehearsing for an up-coming concert and awakens his lover, Dani Robles with his wondrous melody. Danny comes to the piano and desires to pleasure Ely as he has pleasured him with his music. Dani takes Ely's hard, long cock shaft into his mouth and down his throat.
Ely taunts and teases Dani by slapping his cock on his lips and tongue, popping his cock in and out of his starving mouth and then back in for the pleasures of that he brings to his cock. Dani is flipped on his back onto the piano bench as Ely begins to lavish his hairy ass with his probing tongue.
Ely flips Dani again and this time he is coming from behind as his hard cock slips deep within Dani's hungry ass. With every thrust of Ely's cock, Dani's cock appears to grow even harder. With Dani's cock straining so much, Ely decides to put him in charge of the fucking and has Dani squat down on his cock and fuck himself.
Dani is flipped onto his back, his legs spread wide open and Ely comes in to fill his lover's hairy ass with his throbbing cock. Our lovers know exactly how to heighten the other's pleasure thresholds with Dani's furry ass milking Ely's cock for all he can get and Ely's cock massaging Dani's ass with each deep thrust.
With all this stimulation and pleasure occurring it is no wonder that Dani's cock has reached its zenith and erupts with a huge load of cum that splatters his furry torso. Ely continues fucking Dani's ass as the lost drops of cum fall from his cock.
The heat of Dani's ass and the visual of his cum glistening on his body provokes Ely's creamy load of cum to evenly coat that wet, furry hole.
Ely begins to tease Dani's ass with the glossy head of his cock, sliding it ever so gently in and out of him, before coming into one another with their kisses…Join them!
The daily stress of work leaves Dani Robles in need of release, so he calls his fuck buddy Diego Lauzen. Diego knows exactly what Dani needs and desires and wastes no time when Dani arrives. Dani knows what Diego is capable of so he takes his frustrations out by forcefully fucking Diego's hungry and talented mouth.
Now it is time for Dani to release his demands of work and let go of all control and become Diego's sex slave. After obediently sucking Diego's hot cock, Dani turns around and Diego dives deep into his hairy ass with his probing tongue.
Diego can sense that Dani is still holding onto some stress, so he bends him over and plunges his raw cock into Dani's tight, hairy hole. Diego knows to help his buddy fully relax is to fuck him hard. He teases Dani's ass by pulling out then thrusting full breadth into his ass, giving him no option but to enjoy.
Diego flips Dani again and continues to fuck the stress out of him. Sensing that Dani has surrendered himself to Diego he now has Dani straddle his cock and fuck himself. Dani rides Diego's cock hard as it penetrates him deeper and deeper.
Diego takes control of the fucking and takes Dani over the edge as all his built-up stress releases up and out of his huge cock head along with all his stress. All that stress powers his explosive eruption of cum that flies through the air and lands on his furry thighs.
As the last drops of cum drool from his head Diego rips off a thick load of cum that showers Dani's hairy ball sack and ass. Dani lowers his ass back onto Diego's coated cock and feels nothing but pleasure…Join them!
Dani Robles gay porn scenes at Men at Play
When Alexander Muller began his day at work he had no idea that his open door policy was about to take on another meaning in the shape of Dani Robles.
With 20 mins to spare on his break, Dani wastes no time letting Alexander know that his little visit might be for more than just business.
Alex, eager to see just how far Dani was willing to take this, rubs his cock through his pants titillating Dani from afar, letting him know that there was more waiting for him if he'd just step inside the office.
That was all the invite Dani needed as he drops to his knees and begins to let Alex fuck his face, choking on his cock with every thrust, then offering up his ass to reciprocate the open door policy.
Alex pounds Dani deep and hard over the desk before moving on the couch, giving everyone a cum gusher of an ending that simply can't be missed…Join them!
Have you ever asked "Is this seat taken?" knowing perfectly well that there are plenty of other empty tables, but there's a particular guy at this particular table that is just so fucking hot you got to breath in a bit of his personal space.
You actively start invading that space, shifting up closer, opening up your body language, and giving little glances to test the water. You desperately try to think of an excuse to brush up against this stud and start a conversation.
Kayden Grey is as subtle as he can be when faced with such a beauty as Dani Robles. Then, when he gets the signals he's been waiting for he gentle strokes his shoe up and down Dani's calf under the table. Meanwhile Kayden opens his flies and lets Dani reach inside.
Trying to hide Kayden's huge dick behind a newspaper is a challenge, as is Dani getting his lips around it, but before long they've thrown caution to the wind and Kayden is riding Dani and going at it like nobody's business…Join them!
Corporate Financial Controller Dani Robles is being given a polygraph by examiner Sir Peter.
Mr. Robles is accused of tax fraud cheating the government out of millions of dollars in revenue.
The government tax agency is in search of the truth but Dani insists on his innocence throughout.
Once the lie detector test is complete, Dani demands to know the results.
However, the results need to be analyzed and can only be reviewed by the inspector general.
So, Dani tries to bribe Sir Peter for a favorable test result.
Sir Peter is an honorable examiner – and money won't buy him peace of mind.
But, then Dani offers Sir Peter something he simply cannot resist.
It's time to get down to real business.
In his MAP debut, Nicholas Bardem is a marketing professor changing careers and leaving teaching behind him.
After Nicholas streams his last online lesson, Dani Robles, who will be taking over Nicholas' classes, sits behind the camera and makes a short speech.
When Dani finishes, Nicholas approaches and thanks him.
Nicholas realizes that Dani has a crush on him – he can tell by the way Dani looks at him.
No more pretenses, Nicholas takes Dani's tie with one hand and grabs him with the other; their lips almost touching.
Who could resist the temptation? Dani has had a crush on Nicholas, the sexy professor, and colleague, and he's ready for their own private play session and lesson.
Dani Robles gay porn scenes at Raging Stallion
Emir Boscatto comes inside soaking wet; he's been out working in the cold rain, and Dani Robles helps him warm up. Dani strips off Emir's shirt, revealing smooth abs and a massive chest. The coveralls Emir was wearing fall to the ground, revealing his huge cock standing at attention.
They kiss, and Dani lowers himself to service Emir's throbbing member. Using his tongue, he stimulates the sensitive tip of Emir's uncut cock, then swallows the entire shaft. To return the favor, Emir pulls down Dani's shorts and dives in face first.
The rim job gets Dani's hole ready to be used, and Emir eagerly uses his meat to stuff Dani's hole. With assertive movements, Emir pins Dani down on the table and unleashes full-throttle thrusting. Changing it up, Dani rolls over on the table and takes Emir's cock in missionary position, throwing a leg over Emir's shoulder to achieve maximum penetration.
Jerking his stiff cock, Dani lets loose with a torrent of cum that spews across his hairy chest. Emir gets a few more pounding thrusts in for good measure before pulling out and spilling his load right on Dani's cock and balls…Join them!
Dani Robles gay porn scenes at Men
Bearded big muscle hunk Jessy Ares's massive thick dick fucking hairy stud Dani Robles's bubble butt.
Jessy is facing a difficult decision. Due to sales being down, his boss has given him the chance to keep his job or fire his best friend, Dani.
Jessy decides to take the honest route and tell Dani of the choice that lay in front of him.
Jessy is a married man with a family, Dani is a young and hot single guy.
Dani accepts his fate but is able to see the positive in this outcome due to them no longer being boss and employee, they are now just two men who can fuck without any consequences.
See all Jessy Ares gay hardcore fuck sessions at Men here.
See all Dani Robles gay hardcore fuck sessions at Men here.