Every gay porn video and gay porn image gallery of Klein Kerr.
The devilishly handsome Klein Kerr will make his Lucas Entertainment debut in the upcoming film "Gentlemen 16: Professionally Pounded." You won't want to miss the pure sex appeal of this stud fucking Dylan O'Hardy.
Hair Color: Brown
Sign: Unknown
Eye Color: Brown
Dick Size: 8.5 inch dick
Height: 5'10"
Cut / Uncut: Uncut / Uncircumcised
Weight: 175lbs
Sexual Positions: Top
Falcon Studios gay porn scenes of Klein Kerr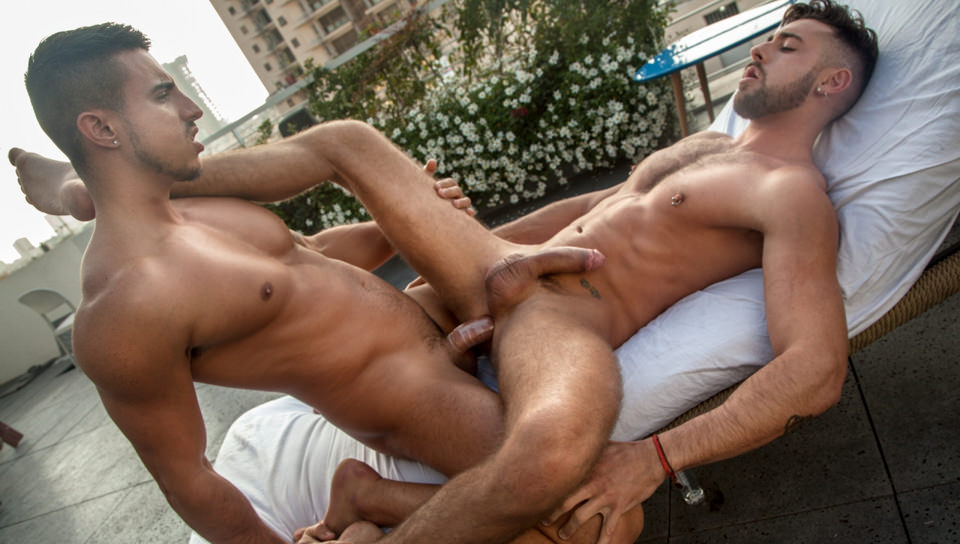 International boyfriends Massimo Piano and Klein Kerr show Tel Aviv what love looks like as they playfully frolic from the city streets up to the semi-private patio of their hotel room.
An impromptu dance lesson gets both men so turned on they strip down and take turns sucking dick and eating ass. Klein is the first lover to get his hole filled, bouncing up and down on Massimo's giant cock. Before either of them get off, Klein turns the tables and shoves his dick in Massimo's tight hole.
Klein cums first and eats if off Massimo's washboard abs then bends over and gets fucked again until Massimo pulls out and shoots all over his big raw butt hole…Join them!
Men gay porn scenes of Klein Kerr
Dark-haired Klein Kerr is having dinner with his beefy boyfriend, Massimo Piano, and their tall, handsome friend, Lucas Fox.
Klein suspects something is going on between the two muscular men and is shocked to find his chiseled boyfriend riding Lucas's big, uncut dick.
Upset, the toned cutie grabs Lucas's dick and starts to deep throat it in front of Massimo. Soon, all three men get a turn at getting their asses spread open for some rimming and ramming…Join them!
There's nothing hotter than a sharp-dressed man, as Rico Vega realizes while watching his boyfriend Klein Kerr don a crisp white shirt and sharp tailored blazer.
Rico rubs his cock, then lets his robe slip off and grinds his ass against Klein's bulge.
The top realizes he doesn't have to go out just yet and runs his hands all over his tattooed boyfriend's body, kissing him passionately.
Rico unfastens Klein's belt and drops to his knees to suck his cock, then gets on the bed on all fours as Klein rims him.
The top lets his shirt fall open as he fucks Rico doggy style, then sucks the bottom's hard dick.
Rico rides Klein reverse, and this passionate couple gaze at each other as Klein fucks his man missionary till Rico orgasms, then pulls out to shoot his hot load on the bottom's abs.
In a romantic mood Klein Kerr fills a hot bubble bath for his smooth lover, Ken Summers.
In just his bathrobe Ken looks on as Klein checks the water temperature is just right, and the guys make out, kissing passionately before Klein lowers Ken into the tub, kissing his neck, nibbling his ear, and caressing his wet body.
Ken sucks Klein's cock, then stands up in the bath so Klein can fuck him doggy style.
The guys get out of the tub so Ken can ride his man's cock, and the horny bottom cums hard, so Klein bathes his face in jizz before they get back in the tub.
Lucas Entertainment gay porn scenes of Klein Kerr
During this production in Greece, Zander Craze certainly spent his time on set well. He first got a chance to show Viktor Rom his stuff, and his efforts as a bottom paid off: Viktor was left satisfied and smiling after pumping out a load with Zander.
Now he's paired up with the broodingly handsome Klein Kerr and when Klein fucks he takes control of the situation. Zander Craze isn't a man to say "no" to the raw cock of a handsome top, and here you'll see him swallow and ride Klein in an incredibly hot bareback encounter…Join them!
A fireplace is enough to get anyone's juices pumping. Check out Javi Velaro, who is enjoying Klein Kerr; Klein is laying back while Javi rubs and massages him before moving on to Klein's ample uncut package.
And, a personal touch that's a favorite of mine, Klein is wearing black briefs even while Javi is sucking on his cock (see some of it for yourself at 03:14; this is some awesome oral action if you like the sensual side of fellatio).
Javi Velaro is one of those porn models that does well in versatile sex scenes, and with a guy like Klein ready to meet his needs, Javi very much wants some of Klein's furry butt before turning around and bending over himself…Join them!
Kristen Bjorn gay porn scenes of Klein Kerr
Robin Sanchez, an international gay porn sensation uses a guest pass to a new gym and runs into Klein Kerr.
The guys have seen each other's work and are very impressed when they see each other at the gym.
Klein invites Robin back to his place after their workouts.
After some passionate kissing, bumping and grinding, Robin takes Klein's magnificent cock into his mouth and begins sucking on it.
Klein's huge cock quickly fills Robin's mouth as he works to suck on as much of it as he possibly can. As Robin sucks on Klein's cock, the elevated levels of testosterone from the gym have Robin horny as fuck and he immediately goes from sucking cock to ramming it deep into his muscular ass.
The guys work in tandem, Robin grinding his ass down hard on Klein's cock and Klein taking the opportunity to fuck Robin deep and hard.
Robin changes position and bends over in front of Klein and gives us a perfect view of that incredible cock filling the powerful ass.
Klein teases Robin's ass as he pulls out and Robin keeps his hole open for Klein to slam his cock back inside.
Robin gets flipped onto his back with Klein right on top of him, slamming his cock as deep as Robin's ass will allow.
Klein knows exactly how to massage Robin's ass and knows when to back off as he sees Robin's cock pulsating as the cum has built up in his tight ball sac.
As Klein picks up the pace of his fucking, he also crosses that line of no return and showers his hot load of cum all over Robin's massive, muscular thighs.
Klein immediately drops to his knees and begins eating Robin's drenched ass.
The feel of hot cum on his thighs and a strong, wet tongue fucking his ass sends Robin over the edge as he shoots his load of cum.
Amateur Gay POV gay porn scenes of Klein Kerr
When you catch your daughter's hot Latino boyfriend, Klein Kerr jerking off, you don't kick him out of your house.
You ask if he wants to play with daddy.
And when he says yes, have him show you how to suck cock and take it like a good boy.
Men at Play gay porn scenes of Klein Kerr
Surprised by how confident, masculine, and horny the tailored suit makes him feel, salesman Johan Kane feels a sudden desperate urge to get his dick sucked.
Luckily, the young tailor Klein Kerr is happy to play with his straight dapper customer.
Johan stands dominantly, watching Klein get to work on his uncut cock, savoring the taste of Johan's pre-cum on his tongue.
Unable to resist going any further, Johan turns Klein around, rips open his pants, and goes straight for it, ramming his hard cock deep inside.
Johan pounds away hard and fast without even stopping to catch his breath, working himself up to an intense orgasm.