Every gay porn video and gay porn image gallery of Jay Moore.
As a hot-blooded Spaniard, Jay Moore has an insatiable appetite for sex. He says that is has been that way since puberty. Jay says that he is versatile, but prefers to feed his desires to be fucked. Jay claims to be a huge follower of fashion trends and loves exploring and finding incredible new styles and deals.
Hair Color: Bald / Shaved / Ginger Beard
Sign: Unknown
Eye Color: Brown
Dick Size: 7 inch dick / 17.78 cms
Height: 5'9″
Cut / Uncut: Uncut / Uncircumcised
Weight: 175lbs
Sexual Positions: Versatile
Sexual Orientation: Gay
Nationality: Spanish
Jay Moore scenes at Kristen Bjorn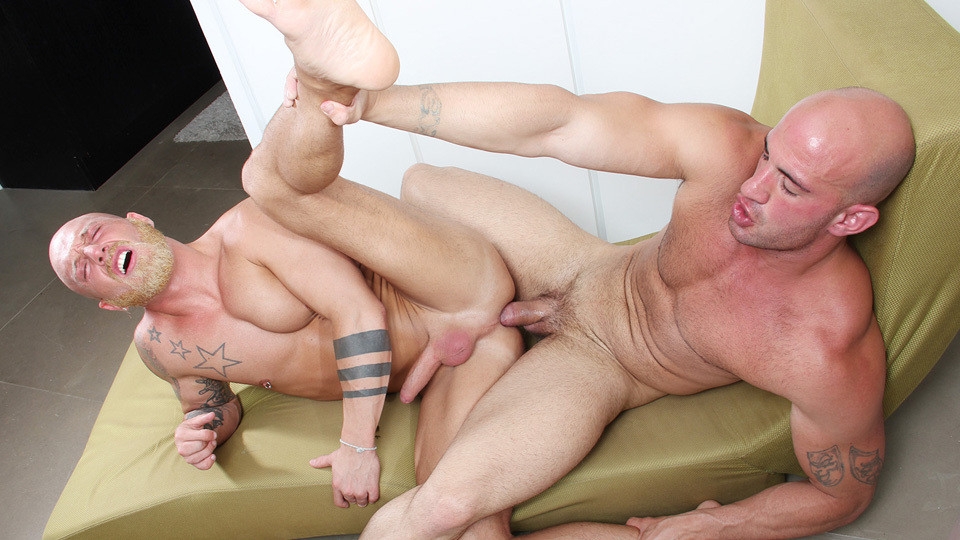 Hugo Stark got turned on watching Jay Moore's muscles pumping while working out at the gym, so he invited him back to his place. The guys strip down and Hugo moves in on Jay's muscular ass perfectly framed by his jock strap.
Hugo probes that hot, pink hole with his hungry tongue before Jay spins around and consumes Hugo's swelling mushroom head. Jay masterfully works his wet lips up and down Hugo's throbbing cock shaft, forcing it to swell to its full circumference.
Hugo flips Jay over again and can't get enough of that sweet, smooth hole. Jay's ass is wet and hungry and is fully prepared for Hugo's cock as it rams deep within his treasure canal. Jay loves that he can watch Hugo fuck him as he is perched directly in front of the mirror.
Jay lays on his back and Hugo rams his cock into his famished ass. The guys flip positions again and this time Jay squats his ass down onto Hugo's fat cock and begins to grind his ass down hard onto Hugo's pubic bone. The guys work in tandem in who controls the fucking as Jay's cock gains in strength and hardness.
Jay is working hard at making Hugo's cock his fuck slave as he picks up the pace and rides him like a wild stallion. All of this hard grinding has pushed Jay over the edge as he blows his huge creamy load all over Hugo's ripped, furry abs.
Hugo pulls his cock out and Jay's ass begins teasing, taunting and inviting Hugo's cock back for more. Hugo shoots a huge, thick load of cum all over Jay's smooth ass, then starts to finger that hot ass with his cum slicked fingers.
We all love to see that hot man In The Mirror that we are fucking…Join them!
Gay porn star Jay Moore is really a sex pig who loves being fucked by sexy men with massive cocks.
Today Jay teams up with Gianni Maggio, he of the huge monster dick.
Gianni bends Jay over opening up his ass cheeks getting his tongue in deep licking his hole and getting it wet with his saliva.
Jay's hole is fully lubed by Gianni's sexy tongue bath.
Jay then goes down on Gianni's massive cock taking it all the way back until it chokes his throat.
Gianni then flips Jay over onto his front, his pink hole uppermost, as Gianni gives it another tongue lashing before he plunges his huge dick deep opening up his tight sphincter muscle.
As Gianni begins pumping his cock in and out of Jay's ass, Jay works through the pain to be able to accept what he can of Gianni's hefty cock.
Jay is moved to all 4's as Gianni continues to fuck with the strength of a giant.
Gianni positions himself on his feet to get better leverage and gives Jay the fucking he has dreamed of.
Jay gets flipped one last time and this time he is on his back and Gianni's monster cock is coming in for the full glory.
Just as the pace of Gianni's fucking picks up to a frenzied pitch, he stands up and lets his cum rain down upon Jay.
With all that hot cum coating his body Jay has been pushed over the edge and explodes his own load of cum on his ripped abs.
Jay scoops up the mixture of cum and begins fingering his smooth ass with the thick blend of lubricant.