Every gay porn video and gay porn image gallery of Jose Quevedo.
Jose Quevedo is devilishly handsome, check out those devilish eyes sparkling back at you. As a person, Jose is a professional by day, a bit shy, soft spoken, and always a gentleman. His real-life partner is porn actor Felipe Ferro. When asked if having his partner in the business was difficult, Jose simply replied that he enjoys watching his partner having fun.
Hair Color: Brown
Sign: Unknown
Eye Color: Brown
Dick Size: 7.5 inch dick / 19.05 cms
Height: 5'8″
Cut / Uncut: Uncut / Uncircumcised
Weight: 175lbs
Sexual Positions: Versatile
Sexual Orientation: Gay
Nationality: Spanish
Kristen Bjorn gay porn scenes of Jose Quevedo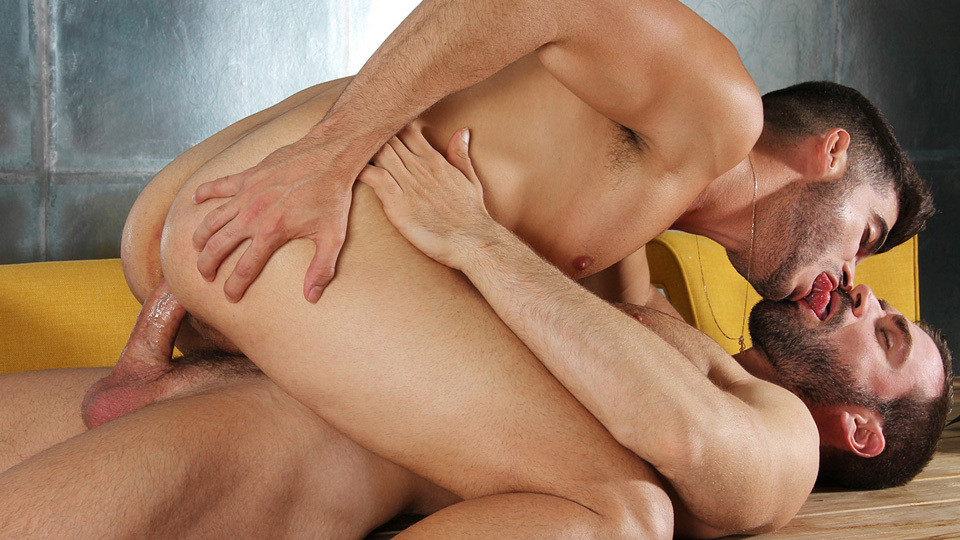 With a rich abundance of fruits placed before them, Tonny Scott and Jose Quevedo give way their wildest and juiciest fantasy. As they indulge and cover their bodies with the juices of the fruits, Jose runs his hard cock up the length of the ripe papaya forcing the seeds to burst forth.
When his cock leaps from the papaya, Tonny is there to suck and savor the richness of the juice on his cock. Tonny squeezes the juice from an orange onto his cock for Jose to taste the tart orange flavor with the sweet nectar of his own cock.
The banana is always a fruit of sexual choice and Tonny begins to pry Jose's ass open with the bright yellow fruit. With the majority of the banana inside of Jose, Tonny leans in and peals the other end and starts eating until he reaches the sweet taste of Jose's pink pucker hole.
Tonny uses the soft masticated banana to meld the flavors of banana and sweet ass together as he eats away at Jose's furry ass. With the mixture of banana and saliva from Tonny's tongue he lunges his cock forward and deep into Jose's fruit flavored ass.
Jose flips Tonny onto his back on the table and shoves his raw cock into his smooth, muscular ass. As Jose fucks Tonny, he pulls his cock out and it is hard to distinguish between the juice of the fruit and the juice of Jose's cock that drips from Tonny's ass.
The fruit is as much a part of this sexual encounter as is the physical interactions with Jose and Tonny. With each new position a new piece of fruit is shared. Tonny is now sitting astride Jose as they share their deep passionate fucking along with the ruby red strawberry.
Tonny has taken control by thrusting his ass up and down Jose's juicy glazed cock while stroking his own in tandem. The tantalizing fresh fruit juice along with Tonny's muscular ass have taken Jose over the edge of pleasure as he erupts his fresh, juicy load of cum all over the exterior and interior of Tonny's hot ass.
Just as Tonny lowers his ass full depth onto Jose's cock he pumps out his own thick, creamy load of cum onto Jose's hairy chest…Join them!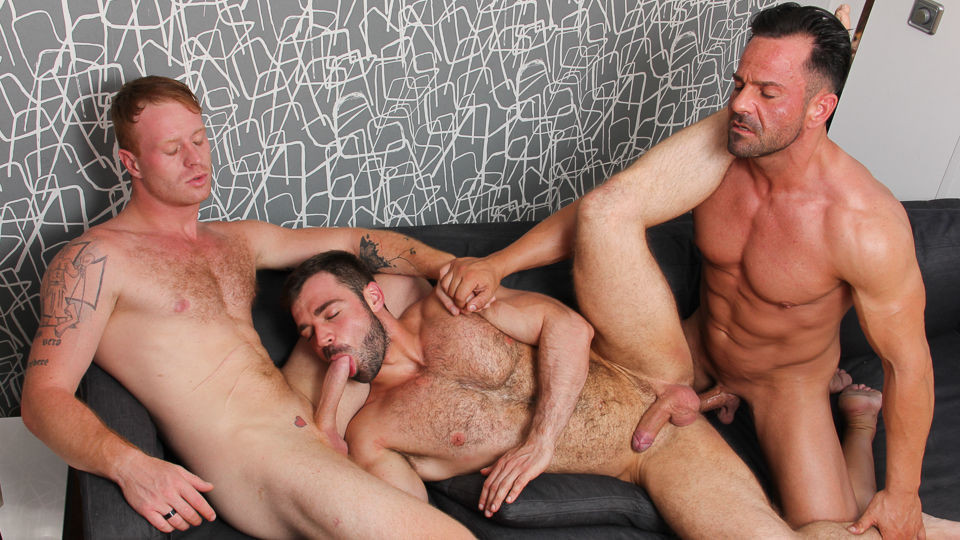 Alex Brando is thinking of preparing for a bodybuilding competition so his friends Jose Quevedo and Tom Vojak suggest that he start to practice his posing. Jose oils up Alex's smooth muscles as Tom finds himself getting aroused.
Tom and Jose explore Alex's hardest muscle of all with their hungry mouths. Tom whips out his huge cock and Jose goes into hot cock sucking heaven.
Jose sucks, swallows and chokes down the two hot cocks in front of him. Jose moves into the full pleasure position, while sucking Tom's hung, uncut cock Alex licks and probes his ass with his hungry tongue.
Alex plunges his raw cock deep inside of Jose's hairy hole as Tom feeds him his throbbing cock. Tom moves into position and rams his hard cock into Jose's raw hole and stretches his limits.
Jose is flipped upside down and Tom begins to fuck him from above as Alex fucks his mouth with his muscle cock. The guys move into another hot position that has Alex slapping his smooth balls against Jose's ass as he attempts to swallow Tom's massive cock.
Alex and Tom flip back and forth keeping Jose in the middle of the fuck sensation. While servicing both hot cocks, Jose sucks the hot load of cum out of Alex's cock then blows his own hot load.
Tom continues his fucking until he also joins the group of exploding cocks…Join them!
Ripped muscled Colombian stud Santiago Rodriguez and Spanish muscle hunk Manuel Reyes share a love of sexy underwear.
As the two hotties meet up they kiss briefly, making out in just their undies when Manuel pushes Santiago back so he falls onto the bed.
Santiago's body looks amazing with his huge crotch bulge, Manuel on his knees reaches down and unleashes Santiago's thick 8-inch cock, and sucks it down to the back of his throat.
He feels Santiago's soft dick grow to a full erection as he caresses it with his tongue working his lips around his big mushroom cockhead.
Santiago's magical mouth has Manuel so excited that he jumps from Santiago's mouth to his throbbing cock as he shoves that huge cock up his smooth ass.
Manuel grabs his ass cheeks, spreads them wide open, and grinds down balls deep onto Santiago's hot cock.
Manuel feels that he is too close to the edge and flips with Santiago, ramming his cock into that beautiful ass.
Thrusting his cock in and out of Santiago's ass, Manuel uses his torpedo cock to drive pleasure deep inside of Santiago with each new thrust.
Santiago gets flipped onto his back and Manuel continues with his blitz of deep ass fucking.
Both men are reaching their ultimate rub when Santiago flips Manuel and shoves his huge cock up his sleek ass.
Santiago's fucking brings them to the precipice of pleasure as both men rub out their creamy loads of cum.