Every gay porn video and gay porn image gallery of Letterio Amadeo.
Hair Color: Black
Sign: Unknown
Eye Color: Brown
Dick Size: 9 inch dick (22.86 cms)
Height: 6'0″
Cut / Uncut: Uncut / Uncircumcised
Weight: 195lbs
Sexual Positions: Versatile
Nationality: Australian
Letterio Amadeo gay porn scenes at Raging Stallion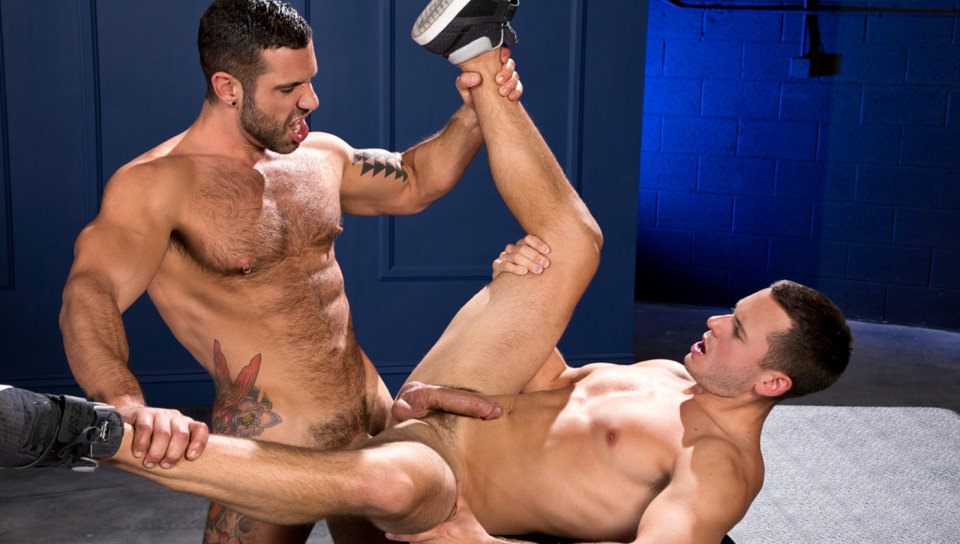 Beefy, tatted stud Letterio Amadeo shares some intense kissing with smooth, lean Brenner Bolton.
Letterio is furry, muscular and wears a ring in his right nipple. Brenner stretches the foreskin on Letterio's meaty, up-curved cock before sucking it.
Grabbing the back of Brenner's head, Letterio face-fucks him with and thrusting rhythm, as spit drips down onto his thick cock for lube.
Spearing Brenner's ass with two fingers of each hand, Letterio spreads and stretches the walls of Brenner's hole until his tongue can slip in easily.
Letterio's tongue paves the way to loosen up Brenner's ass to get it ready for Letterio's massive uncut cock to slide in.
Groans of pleasure echo through the room as fireworks of cum burst from Brenner's cock.
As sweet as Brenner's hole is, Letterio saves his load for Brenner's mouth…Join them!
Mick Stallone is a scruffy versatile stud from Montreal who loves making out and rimming. Letterio Amadeo is a beefy Australian top who puts all his passion into fucking. They both crave the intimacy of eye contact.
As they make out and rub against each other in bed, Letterio quickly assumes a dominant position over Mick and begins giving him head. Wet saliva coats Mick's cock shaft as Letterio works the sensitive head with this thick lips.
Letterio gets up on his knees and feeds his cock to Mick. To enhance his pleasure, Letterio plays with his own plump nipples, one of which is pierced. Spinning Mick around, Letterio dives tongue-first into his ass. The slick spit from Letterio's rim job gets Mick's ass ready to get fucked.
Standing up, Letterio begins a doggy-style fucking that stretches Mick's hole wide and deep. Exploring his versatility, Letterio lets Mick have a go at his ass: with Letterio's legs in the air, Mick pounds his hard meat into Letterio's tight hole.
The intense fucking puts Mick at the cusp of orgasm, and he jerks out his load directly on Letterio's dick. Using Mick's cum for lube, Letterio strokes his thick meat until he spills his cum across his hairy stomach…Join them!
Letterio Amadeo gay porn scenes at Kristen Bjorn
[gallery_master theme="masonry" source_type="selected" ids="1332″ gallery_type="extended" layout="grid" show_title="show" show_desc="hide" height="160″ width="200″ border_style="2px solid #000″ margin="10px 10px 10px 10px" padding="10px 10px 10px 10px" title_color="#000″ desc_color="#000″ lightbox="enabled" order_by="random"] [/gallery_master]
Antonio Miracle and Letterio Amadeo are enjoying a beautiful autumn day when Viktor Rom passes by and catches their attention. He pauses, Letterio and Antonio give each other that glance that says "he's ours", but Viktor moves on.
They catch up with him and convince him that his day would be better spent with them. All three men return to Antonio's apartment where everyone is quickly stripped down to their briefs. These briefs are being challenged by the huge monsters inside fighting to be released.
The three monsters are unleashed and the beautiful day becomes a memorable day. Letterio is the first to drop to his knees and worship his friend's colossal cocks with his hungry mouth. Letterio works his way up and down both giant shafts and then swallows them deep down his throat.
Viktor finds himself so worked up that he blows his thick load of cum all over Letterio's face and mouth. Letterio licks his cock clean from the dripping wet head all the way down to his heaving balls. Taking center stage, Letterio is plundered deep and hard by Viktor's massive raw cock as Antonio feeds his cock down his throat.
Viktor fucks Letterio hard, hard enough that he erupts his hot load while servicing two cocks. After some hard pounding of his ass, Letterio then sucks Viktor's cock, he wants to taste the juices of their fucking. Antonio is then offered up Viktor's monster and squats down balls deep and bare.
Antonio finds he needs some more lubricant so Letterio sucks on Viktor's cock and lubes him up with his saliva. Antonio mounts Viktor's cock and Letterio deep throats Antonio's straining cock. Viktor's hot ass pounding has brought Antonio to an explosive orgasm that Letterio is eager to eat up.
A perfect eating day for Letterio with two hot loads coating his stomach…Join them!