All gay porn pics and gay porn videos of Diego Lauzen.
Diego Lauzen is tall, with bulging yet lean musculature, and he has golden-green eyes that take your breath away. Diego knows how to move his body to seduce you. He knows how to moan, look, and touch you. His full lips are tireless. His long, well proportioned dick can take whatever comes its way, and his firm, round ass is always ready for more…. Wagner, please make room for us in your guys bed!
Hair Color: Brown
Sign: Unknown
Eye Color: Brown
Dick Size: 7 inch dick / 7.78 cms
Height: 5'9″
Cut / Uncut: Uncut / Uncircumcised
Weight: 175 lbs
Sexual Positions: Versatile
Sexual Orientation: Gay
Nationality: Brazilian
Diego Lauzen gay porn scenes at Lucas Entertainment
Rico Marlon and his Venezuelan pal Louis Ricaute return for a bareback orgy with Viktor Rom, Diego Lauzen, Wagner Vittoria, and Konrad Cummings. There's no shortage of Latino meat and uncut cocks in this raw orgy: Rico, Louis, and Viktor dominate the encounter as the unforgiving alpha tops, while Diego, Wanger, and Konrad are the bottom takes getting their asses hammered by raw Latin dick…Join them!
Diego Lauzen gay porn scenes at Men.com
Diego Lauzen takes what he's learned from Theo and entices Andy Star to be the next participant in these not so private office meetings. Diego takes Andy's tight behind, as Theo is trying to figure out why Andy is falling behind…Join them!
Diego Lauzen gay porn scenes at Kristen Bjorn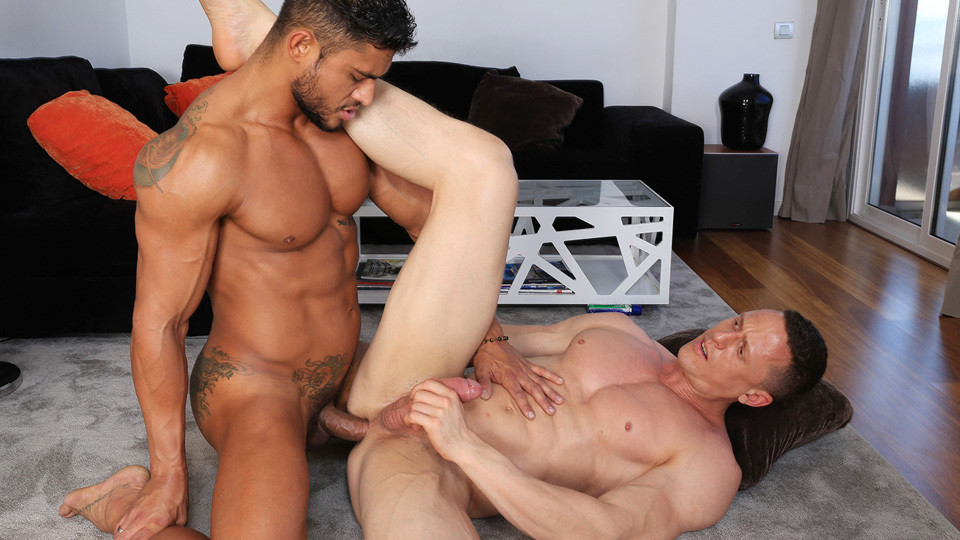 Ivan Gregory and Diego Lauzen are both on tour and are thrilled to find out that they are both in the same beautiful city. Ivan invites Diego over for a drink. They are both familiar with the others show, but now they have the opportunity to go live with each other.
Both men are overly impressed with the others muscular attributes and enjoy every sensual touch from the other. Diego unleashes his throbbing beast as Ivan takes it into his hand and strokes the long, meaty shaft. The sensation of that hot cock in his hand only forces his own beefy cock to demand equal attention.
Ivan then takes both hefty cocks into his hand allowing the foreskins to glide over the bulbous heads and expose both cock's full magnificence. Ivan is hungry for that hot Brazilian cock and begins to worship it as any would at the base of a deity.
Working his mouth and blistering tongue up and down the shaft of Diego's cock brings both men to a new level of heightened pleasure. Diego moves into position and demonstrates to Ivan that he too knows how to worship that which is deserving of such service.
With Ivan's monster cock thoroughly lubricated with spit, Diego slowly lowers his smooth, bronze ass onto that hungry cock. Ivan allows Diego to take the lead and ride him as he may. Diego quickly picks up the pace and is soon slamming his raw ass onto that huge ivory tower, while his own cock slams against his own ripped abs.
Ivan soon joins in and gives Diego's talented ass the banging he so richly deserves. Diego and Ivan are talented enough to know when the other has reached the edge of no return and both back off and switch it up. Ivan gets on his back and spreads his legs wide open for Diego to take him completely.
Diego slips his cock deep inside of Ivan's hot, pink hole and quickly begins building his rhythmic fucking. Both men begin to feel the pleasure of reaching nirvana together as Diego's pumping action builds while Ivan strokes his cock in unison with Diego.
Ivan and Diego are in tune with the other and read the other's pleasure perfectly as Diego unleashes his huge, creamy load of cum all over Ivan's ass and balls.
Diego slams his cum slicked cock back into Ivan, which triggers Ivan's cock to spew his huge load of cum…Join them!
The daily stress of work leaves Dani Robles in need of release, so he calls his fuck buddy Diego Lauzen. Diego knows exactly what Dani needs and desires and wastes no time when Dani arrives. Dani knows what Diego is capable of so he takes his frustrations out by forcefully fucking Diego's hungry and talented mouth.
Now it is time for Dani to release his demands of work and let go of all control and become Diego's sex slave. After obediently sucking Diego's hot cock, Dani turns around and Diego dives deep into his hairy ass with his probing tongue.
Diego can sense that Dani is still holding onto some stress, so he bends him over and plunges his raw cock into Dani's tight, hairy hole. Diego knows to help his buddy fully relax is to fuck him hard. He teases Dani's ass by pulling out then thrusting full breadth into his ass, giving him no option but to enjoy.
Diego flips Dani again and continues to fuck the stress out of him. Sensing that Dani has surrendered himself to Diego he now has Dani straddle his cock and fuck himself. Dani rides Diego's cock hard as it penetrates him deeper and deeper.
Diego takes control of the fucking and takes Dani over the edge as all his built-up stress releases up and out of his huge cock head along with all his stress. All that stress powers his explosive eruption of cum that flies through the air and lands on his furry thighs.
As the last drops of cum drool from his head Diego rips off a thick load of cum that showers Dani's hairy ball sack and ass. Dani lowers his ass back onto Diego's coated cock and feels nothing but pleasure…Join them!