Every gay porn video and gay porn image gallery of Vic Rocco.
Hair Color: Brown
Sign: Unknown
Eye Color: Brown
Dick Size: 8 inch dick
Height: 5'9″
Cut / Uncut: Cut / Circumcised
Weight: 165lbs
Sexual Positions: Versatile
Vic Rocco gay porn scenes at Extra Big Dicks
Liam Knox is eating a sandwich in the break room when Vic Rocco comes in to use the restroom. Liam can hear Vic pissing through the door and it's a massive, steady stream that gets Liam's attention right away. 'It sounds like you really had to go. I wish I could've seen that,' Liam says to Vic in passing.
'You still can,' the stud replies, and that's all it takes for Liam to get down and take Vic's extra thick dick in his mouth. Liam works it until Vic needs to taste Liam's ass and splays the muscled hunk out on the table to bury his face in his hairy hole. Vic works his way up to sample Liam's cock before he bends him over to finally get what he really wants.
Vic slams his cock into Liam's eager hole and fucks him from behind over the table. Vic picks up the pace plunging in and out of Liam until he flips the stud over to see the look on his face as he gets his hole stretched.
Watching Liam as he gets fucked is everything that Vic needs and he pulls out to blast his cum all over Liam's hairy body. That gives Liam the permission he needs to surrender to his own needs, and he stands up to cover Vic's chiseled chest with his load…Join them!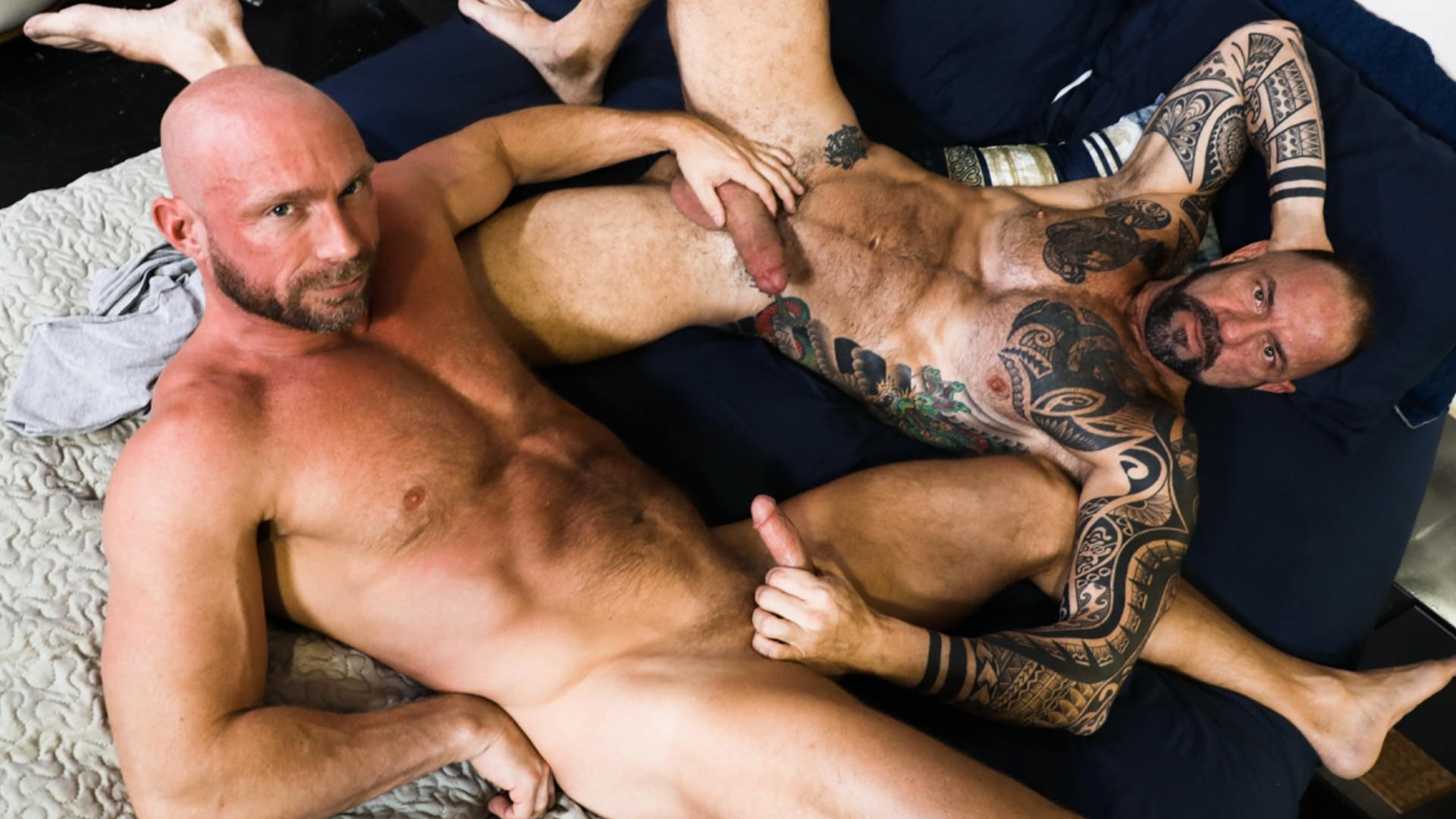 Killian Knox is stroking Vic Rocco's cock through his shorts and quite impressed with how big it is. Once he pulls it out, he is even more impressed with the girth and length as he does his best to take it all the way down his throat.
After a while Vic Rocco has Killian lie on his back and he face/throat fucks him for a while. They then move into a 69 for a while before Vic rolls Killian up on his back and starts rimming his ass.
Vic then puts Killian on his knees and once his hole is wet and ready, he drives his big cock deep inside. Killian grunts and groans in both pleasure and pain with ever stroke.
Killian then rides Vic's cock two ways for a while before flipping on his back and having Vic fuck the cum out of him…Join them!