Every gay porn video and gay porn image gallery of Adam Russo.
Hair Color: Shaved Black
Sign: Leo
Eye Color: Brown
Dick Size: 7.5 inch dick
Height: 5'9″
Cut / Uncut: Cut
Weight: 147 lbs
Sexual Positions: Versatile Bottom
Nationality: American
Sexual Orientation: Gay
Titan Men gay porn scenes of Adam Russo
Pecs punched. Balls slapped. Big cocks soaked with spit. Cum flying in the air.
It's time to get Down and Dirty with TitanMen exclusive Jesse Jackman and a group of no-nonsense alpha males who know exactly what they want—and waste no time getting it.
Realtor Adam Russo gets turned on by client Jesse Jackman, who towers over him in a sweat- soaked grunt fest filled with animalistic action.
Beefy Brad Kalvo gets an assist down the ladder from bearded Stany Falcone the two exchanging sucks before Stany bends over.
On a balcony with a breathtaking view, Leo Forte unleashes an unforgettable suck of hung Brian Davilla, before offering his ass—and shooting a massive load…Join them!
A sexy desert jogger. A medical specialist testing new dubious medical procedures. A crowd of sexy macho male patients keen to satisfy professional doctors.
Plenty of mysterious events await anyone on the Mojave Run. An isolated correctional facility is where sex addicted men such as Christopher Saint, Leo Alarcon, and Dakota Rivers have come to be treated.
The question is do this horny group of men want to be healed? We are about to find out as director Joe Gage's explosive movie reaches boiling point in the dry desert heat.
Christopher Saint is out jogging, in just a t-shirt, Calvins, and sneakers, through the desert brush when he happens upon stranded driver Dakota Rivers. Dakota is horny as fuck and he's out cruising looking for someone to fuck his hot ass.
Doctor Sean Stavos is with his patients Jock Hudson and Leo Alarcon, his fingers and a big dildo are probing in a hot oral experiment.
Leo Alarcon, Jock Hudson, Ben Stone, and Adam Russo are trying to sleep in the heat of the night stroking their big dicks.
Everyone's cocks are out as Jock Hudson's hairy asshole is fucked by Dakota Rivers' big cock.
Leo Alarcon sucks Doctor Sean Stavos' dick as he leads a group therapy session where Ben Stone's hot ass is pummelled by Adam Russo.
During a horny one to one examination, Christopher Saint's hole is ravaged by Doctor Stavos' huge cock. All these horny men erupt in huge loads of cum spraying across each other as they sate their sexual desires.
Lie back and relax, your big cock is rock hard and ready for action, itching for your attention.
Spit on your dick, grab it hard and slide your dick into a Powerstroke of the pros like Dario Beck, who leads a horny big group of muscled cock-strong showoffs with all hands on dick.
As the rain pours down outside, hottie hunk Dario is jerking his big cock when he is joined by voyeuristic Adam Russo who fucks both Dario's holes keeping his dick rock solid.
Blonde handsome muscle stud Christopher Daniels makes out with tattooed hottie bottom boy Caleb Colton, their two tight bodies sweaty as they wrestle each other into submission.
Overly horned up before the party starts sexy dude Ty Roderick shares favor with smooth Jecht Parker a big and thick boner ready to burst in a heated outdoor encounter.
Muscle man Thomas is working, it's late and as darkness falls, he sneaks a sly porn break while at his desk.
"Is that what I'm paying you for?" demands his sexy horny boss Adam Russo who manages to sneak up and catch him red-handed so to speak.
"Let's make our own porn movie."
Adam unbuckles Thomas's jeans and unleashes his already huge uncut dick which gets fully erect as he sucks it down his throat.
Thomas whips it on his tongue, then smiling Adam taking down right to his balls.
Thomas then pulls on his foreskin to show off his thick uncut cock, before Adam spits on it and chokes it down again.
Adam pulls up the foreskin, twirling his tongue inside and nibbling it.
Adam eats and fingers his bud's hole before guiding him down.
Thomas deep sucks the verbal Adam's throbber ("Go all the way down hold it!"), then eats his ass biting on Adam's cheeks before offering his own hole.
The top smiles as he fucks him fast from behind. "Slower?" asks Adam.
"Do what you like," Thomas answers, exciting the top even more: "Is that my ass? Fuck yeah!" Adam wraps his arms around the bottom, pulling him closer.
Thomas gets on his back for more, his dark, smooth and tattooed body soon covered in their cum.
Naked Sword gay porn scenes of Adam Russo
Greedy-ass bottoms never want one big dick; they need two big dicks at the very least. And that's just what they get in Dark Alley's Tag Team Breeders, a collection of five scenes featuring dirty sluts who want their asses plowed by two sexy, sweaty men and their huge cocks all in one sitting. Starring: Adam Russo, Cutler X, Dolf Dietrich, Dylan Hyde, Hugh Hunter, Jackson Fillmore, Justin Case, Leon Fox, Mario Cruz, Matt Stevens, Max Cameron, Owen Hawk, Sean Duran, Simon Santana.…Join them!
Icon Male gay porn scenes of Adam Russo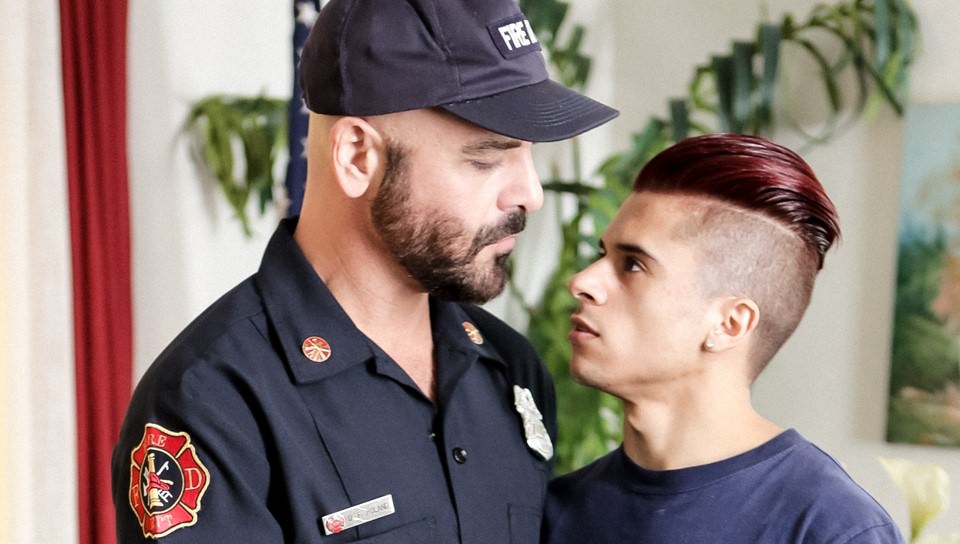 Armond Rizzo can't stop fantasizing about the other firemen at his station fucking. He pictures gorgeous, black Noah Donovan fucking his fire chief's tight asshole, and even thinks about pretty boy Calvin Banks and Noah doing double anal on Adam Russo, whose slutty asshole takes both giant cocks without any problem.
When Armond tells Adam his fantasy, Adam takes young Armond into his arms and makes out with him. This turns into Armond getting the fuck of his life, as Adam sucks off the younger man and then fucks his tight little asshole until the boy needs to cum. Adam cums all over Armond, and both of them are left exhausted and satisfied…Join them!
Extra Big Dicks gay porn scenes of Adam Russo
Adam Russo and Jack Andy are stuck together in quarantine, so they decide to fill each other's hungry holes real deep with their cocks and film it.
no images were found