Hair Color: Red / Ginger
Sign: Unknown
Eye Color: Brown
Dick Size: 7 inch dick
Height: 5'6″
Cut / Uncut: Uncut / Uncircumcised
Weight: 165lbs
Sexual Positions: Versatile
Extra Big Dicks gay porn scenes of Steven Ponce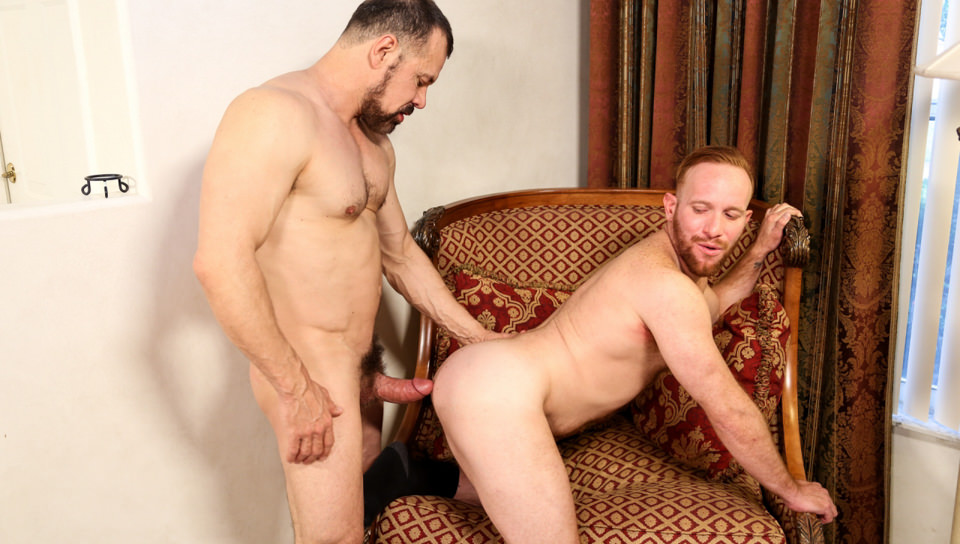 Max Sargent is sitting at home when he calls Steven Ponce. He is horny and wants to know when Steven is finally going to come over so he can fuck his tight ass. Steven is nervous because he has never had a cock as thick as Max's before and not sure he can handle it.
Max tells him that he will be gentle and Steven agrees to come over. While Max is waiting for Steven, he starts to jack his massively thick cock. Steven knocks at the door and once inside Max has his cock out and Steven gets down on his knees instantly and starts sucking it.
Steven can't believe how thick this dick is but is loving it fill his mouth up. Max then sucks Stevens cock for a while before bending him over and rimming his ass. He then takes his big thick cock and slowly drives it deep into Steven's eager ass.
Max starts slow and increases the intensity as he fucks Steven on the chair in a couple positions until Steven cannot hold back and shoots a big load all over himself.
Max then adds his own cum to the mix of stickiness…Join them!
Titan Men gay porn scenes of Steven Ponce
After spending hours spying on all the hardcore gay sex action Diesel Washington is feeling horny so he phones his valet, Steven Ponce.
Diesel heard some gossip that Steven has been misusing his car taking joyrides out to impress his friends, he needs taking down a peg or two with some firm discipline.
Diesel knows how to deal with him, he takes command of the situation immediately forcing Steven onto his knees and his mouth onto his big black cock
Steven is an accomplished cock sucker and has no trouble swallowing Diesel's massive dick all the way to his balls. Diesel's face fucks him hard till Steven chokes on his rock solid man meat.
Steven slurps and gags with delight as Diesel really goes at it.
Diesel stands Steven up on a chair while he punches and tugs on his balls before sucking him off.
Diesel gives Steven just as an enthusiastic and spit-filled blowjob as Diesel gave him; in no time, Steven sprays his load all over Diesel's massive chest.
Diesel throws his compact, redheaded partner onto his stomach, shoots his load all over his back, and then licks up every last drop.
Diesel bends Steven over the couch and aggressively rims his ass while stroking his cock, then pulls Steven up onto him and hangs him upside down while he continues to eat his ass.
Hanging down, Steven's the perfect height to hang right in front of Diesel's cock, which he greedily sucks down.
Diesel throws Steven back onto the couch for the main event of the whole film, and a scene people will be talking about for years to come: the must-be-seen-tobe-believed fucking session.
Steven starts by straddling Diesel, who fucks him so intensely from underneath Steven looks like he's going to be split open.
But they're just getting started; Diesel grabs Steven from behind, holding him in a full nelson while literally bouncing him up-and-down off his cock.
He then throws him back onto the couch where he impales him some more until they both cum again.