All gay porn pics and gay porn videos of Noah Donovan.
Hair Color: Black
Sign: Unknown
Eye Color: Brown
Dick Size: 9.5 inch dick
Height: 5'11"
Cut / Uncut: Cut / Circumcised
Weight: 185lbs
Sexual Positions: Top
Noah Donovan scenes at Icon Male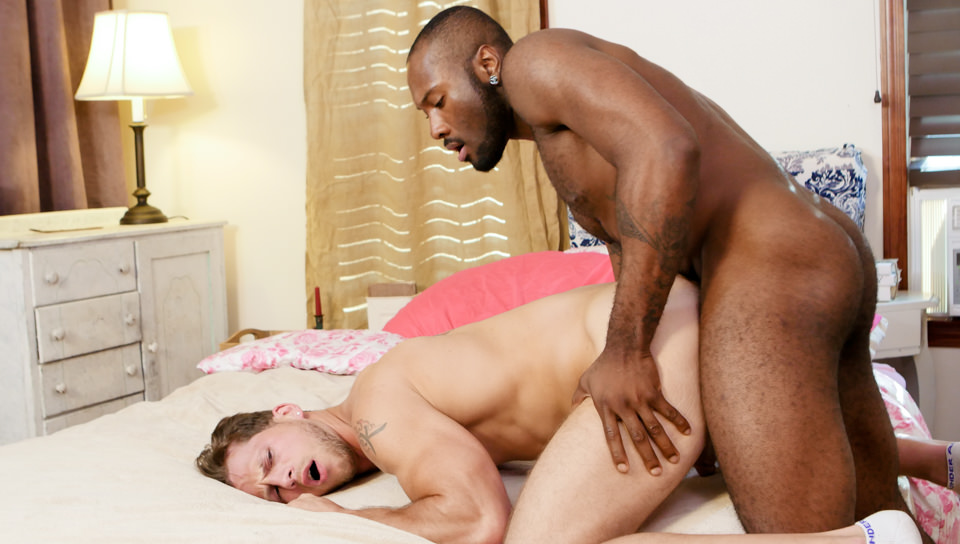 Hot, muscular sex god Roman Todd and dark, sexy stud Noah Donovan can no longer deny the powerful attraction between them.
After a night of watching movies and having a few drinks, Roman's inhibitions are down, and he admits his lustful desire for his beautiful, ebony-eyed brother in law.
Watch the two fuck and suck the night away, until they drench each other in cum and sweat…Join them!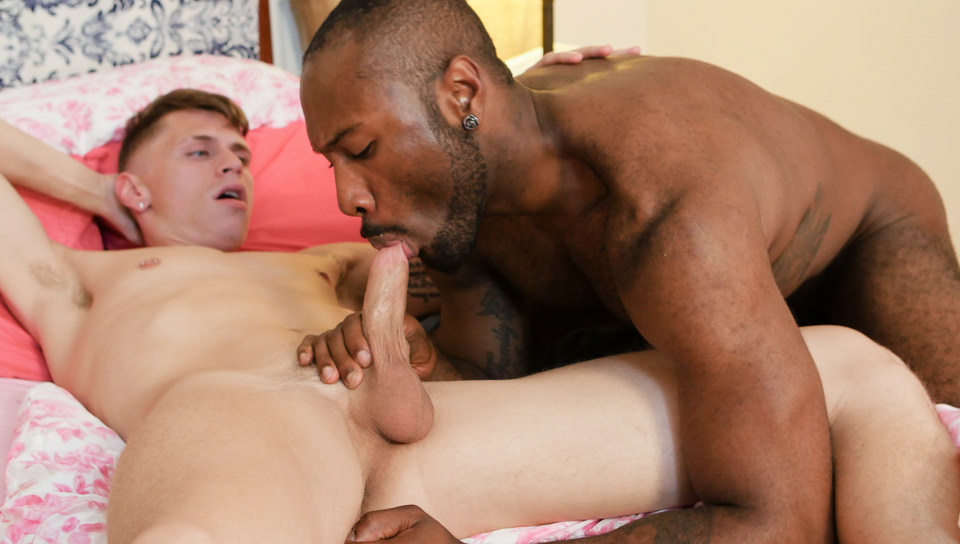 Sexy and muscular ebony stud Noah Donovan fucks pretty young twink Troy Accola with his monster cock, until the slender teen squeals with a mixture of pain and pleasure, before cumming in a show-stopping orgasm…Join them!
Noah Donovan scenes at Raging Stallion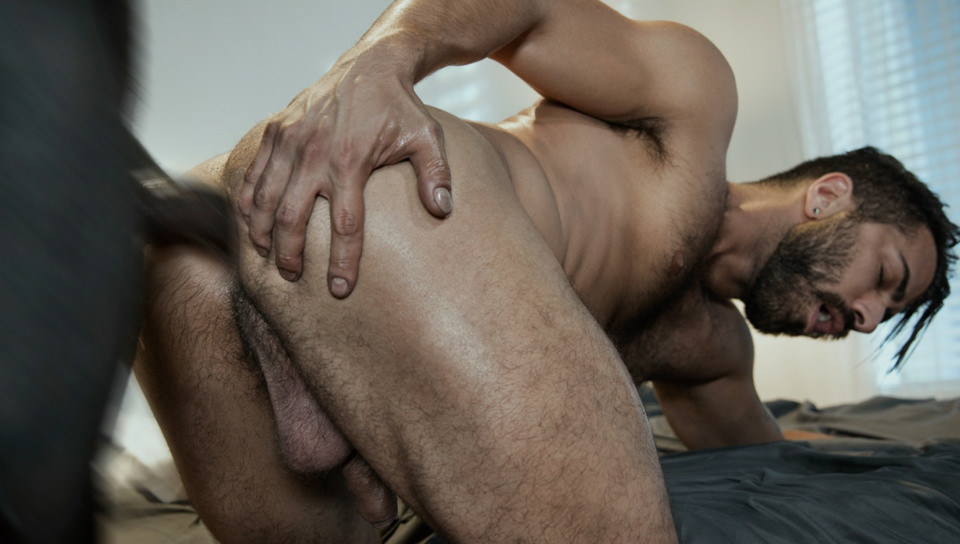 Adam Ramzi is distraught about Beaux's unexpected departure and takes a few more pills to relax. He falls into an ominous dream about the house.
Or is it a dream? Adam is jolted awake with a feeling of terror and erotic stimulation. He's surprised to find he's rock hard, and strangely he starts jacking his thick, uncut rod.
He writhes on the bed, feeling his own body when he looks up to see a presence (Noah Donovan) watching over him. Is he delirious? He challenges the presence saying that if he wants him, he has to come and get him.
The presence approaches the bed and reaches out to Adam's hard cock. The supernatural, erotic energy overtakes Adam as he is first entranced, then dominated by the presence.
He's made himself the offering, what will happen to Adam next? Will he lose his mind? Will he get out alive…Join them!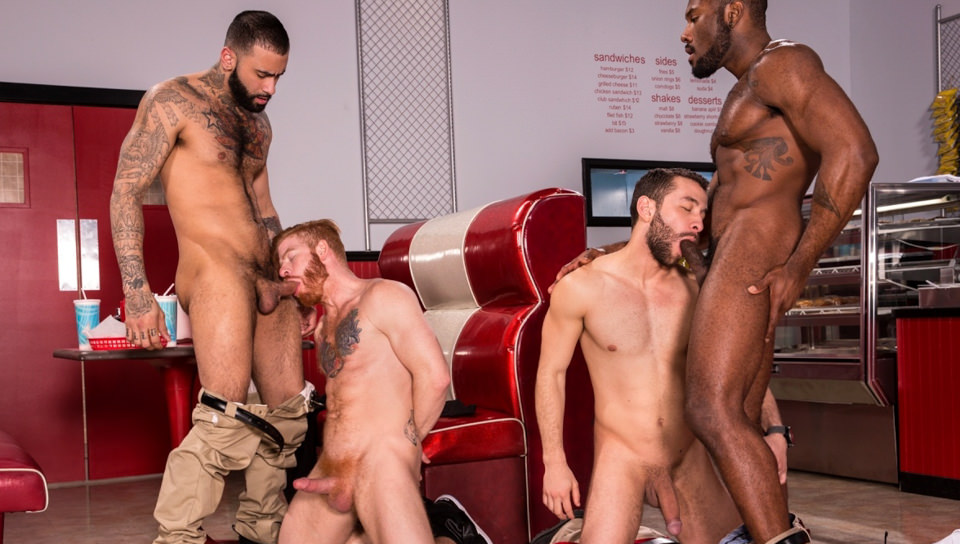 Tatted ginger Bennett Anthony is dining in with Noah Donovan and the service from Rikk York and Lucas Allen is slow. After finally getting their food, an annoyed Bennett realizes his hot dog is cold.
Irritated, Bennett flags Rikk down and lets him know his hot dog is cold and wants it replaced with some 'big fat meat.' Rikk takes note and tells his co-worker the irate customers wants some 'big, fat meat' and Lucas says, 'lets give it to him.'
The fast food employees approach the table with throbbing hard-ons and Rikk grabs Bennett by the head and shoves his mouth down to the base of his cock. Rikk switches off with his work buddy to face fuck the annoying customer. Bennett's foody friend joins in on the action in getting his swollen member serviced.
Lucas joins Bennett on his knees as they alternate Rikk and Noah's cocks down their throats. Rikk wants a taste of his uncut co-worker, servicing Lucas' meat at the cashier counter. Lucas finishes as he jacks a load onto his abs while Rikk shoots a thick load on Lucas' thigh…Join them!
Noah Donovan scenes at Extra Big Dicks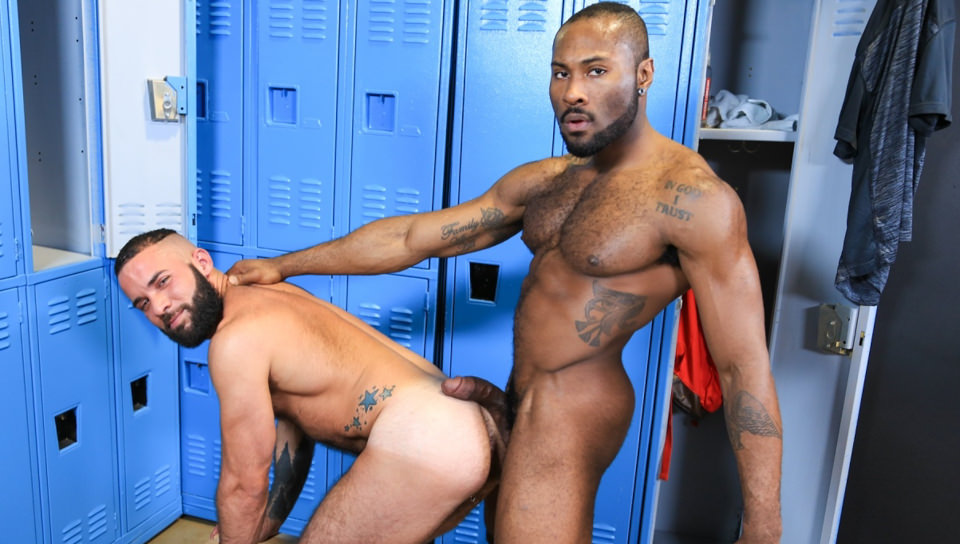 Noah Donovan is in the locker room when Fernando Del Rio comes in and starts staring at him. They exchange a few words before Fernando asks Noah if the rumor is true about him having a huge cock. Noah tells him he should find out by sucking it.
Fernando does just that and gets on his knees and wraps his mouth around all ten inches of Noah's cock deep down his throat. Noah then puts Fernando on his back on the bench and begins to face fuck him as he plays with and sucks Fernando's uncut cock.
He bends Fernando over the bench and rims his ass deep with his tongue before fucking him. Noah starts out slow at first and once Fernando is comfortable he increases the intensity and fucks the cum right out of him. He pulls out and Fernando takes Noah's load in his mouth and we see the cum oozing out the sides of his happy mouth…Join them!
Noah Donovan and Trey Turner are planning their vacation to Paris and while doing so they become aroused by how sexy it would be to fuck in their hotel while looking out of their hotel balcony. They roll around the bed kissing and fondling each other.
They lose the clothes and Trey bends his big booty over for Noah's face to dive right in and lube it up with his wet tongue. Noah has a big hard dick that is just aching to penetrate Trey's big soft ass. They don't wait long at all and soon enough Noah is fucking Trey deep and hard with his big cock.
Trey can barely take it but he can't get enough of how great it feels as Noah knows exactly how to use it. Noah fucks the cum right out of Trey and then Noah pulls out and cums all over Trey's face…Join them!
Noah Donovan scenes at Hothouse
[gallery_master theme="masonry" source_type="selected" ids="1680″ gallery_type="extended" layout="grid" show_title="show" show_desc="hide" height="160″ width="200″ border_style="2px solid #000″ margin="10px 10px 10px 10px" padding="10px 10px 10px 10px" title_color="#000″ desc_color="#000″ lightbox="enabled" order_by="random"] [/gallery_master]
Sexy power bottom Brian Bonds and big-dicked Noah Donavan waste no time getting orally acquainted. After swapping some spit, Brian is quickly on his knees with a mouthful of Noah's huge cock.
Brian tries his best to deep throat the 9.5′ inch, thick cock, gagging as it hits the back of his throat. Noah wants ass, so he rims Brian's eager hole, jamming his tongue deep into his center.
After warming Brian's hole up, they switch to a sit fuck where Brian energetically bounces on Noah's meat stick. Brian can't get enough, and his hot hole is able to take Noah's big dick and powerful thrusts in every position before he oozes his load out into his hand.
Noah pulls out and finishes all over Brian's spent cock…Join them!