Every gay porn video and gay porn image gallery of Aaron Trainer.
Hair Color: Brown
Sign: Unknown
Eye Color: Brown
Dick Size: 8 inch dick
Height: 5'9″
Cut / Uncut: Cut / Circumcised
Weight: 165lbs
Sexual Positions: Versatile
Extra Big Dicks gay porn scenes of Aaron Trainer
Clay Towers is hanging out in his bed waiting for Aaron Trainer to arrive while he talks on the phone with a friend.
Clay is excited to be fucked by his big dick.
Aaron arrives and they waste no time in getting naked and Clay begins to worship that big fat cock of his.
He loves every inch of that hard cock in his mouth as he feels the ridges and throb of it.
Arron spreads those legs and gets his ass nice and lubed up with spit so he can ease his cock in.
Aaron pushes his big cock into Clay's tight ass and it slowly opens up for him. Once he is balls deep he begins to thrust in and out making Clay moan with pleasure.
Aaron fucks Clay all over the bed until he fucks the cum right out of him and than he shoots his load all over Clay…Join them!
Aaron Trainer is at the resort lounging by the pool when Adrian Hart shows up and gets in the pool. They strike up some conversation with each other and Aaron joins him in the pool.
They then venture to the room where the passion heats up and their massive big cocks are hard as a rock. Aaron sucks Adrian's big cock deep down his throat and then moves to Adrian's ass where he rims him.
Adrian then sucks Aaron's big hard cock before lying on his stomach and letting Aaron fuck him deep.
Adrian then rides Aaron's cock and then Aaron puts Adrian on his back and fucks the cum out of him and then he pulls out and shoots all over Adrian…Join them!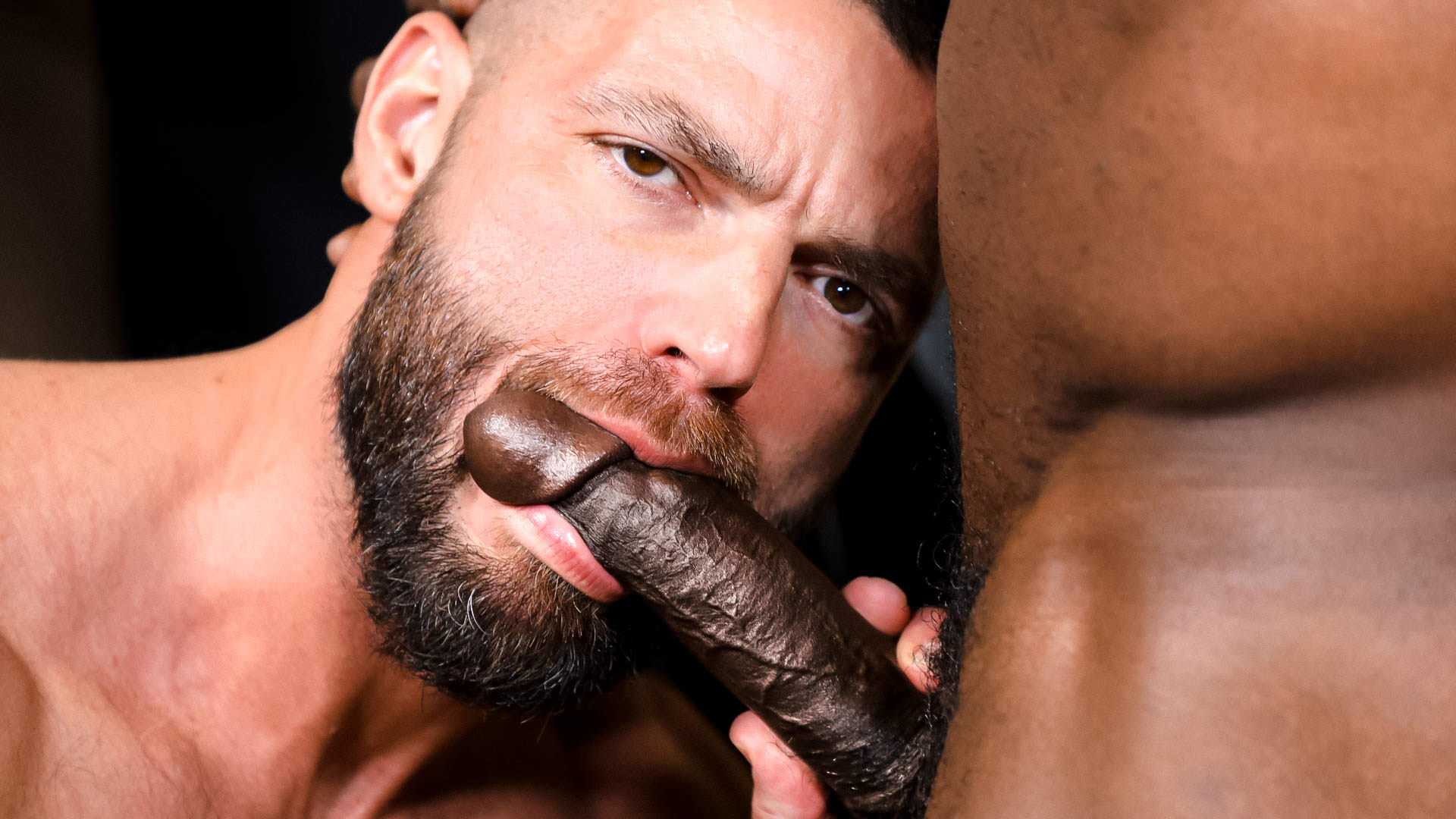 Aaron Trainer and Jake Morgan are in the locker room getting ready for Jake's training session. Aaron is trying to speed him up, but Jake is not happy that it is leg day and he is moving very slow.
Aaron turns out, totally naked revealing his big cock, and Jake is wide eyed and surprised to see how big it is. Aaron notices he is excited and he moves closer to let Jake get a closer look. He starts stroking Aaron's huge cock as they make out with each other.
Jake then drops to his knees and starts sucking Aaron's massive cock and does his best to take it all down his throat. Aaron then sucks Jakes cock for a while before burying his tongue deep in Jake's eager hairy ass.
Aaron fucks Jake from behind first and drives his cock deep inside his ass. Aaron then lies on his back and Jake rides his big cock.
He then lies on his back and Aaron fucks him harder and deeper until both shoot their creamy loads…Join them!
Devin Tyler has fantasized about Aaron Trainer ever since he saw him in a gay porn movie and now Aaron is lying next to him in bed.
Devin's mind is in overdrive as his dreams have literally come true.
As they are undressing Devin catches his first glimpse of Aaron's big black dick, he gulps, perhaps he has bitten off more than he can chew.
Devin wants to put on a good show in front of Aaron so he breaths in deep and sucks down hard on his big cock.
Taking the full length and girth until it chokes the back of his throat.
Aaron has come here today for more than a quick blowjob and eyes young Devin's hairy ass hole getting it wet with the tip of his tongue.
Once Devin's hole is fully lubed with Aaron's saliva Devin plunges his rock hard dick deep inside Devin's moist warm hole.
Moaning aloud as Aaron's thick shaft makes slow progress at first then with harder and longer strokes Aaron goes in deeper and Devin clearly loves this ass pummeling.
A smiling Devin jerk his cock all the while Aaron's huge man meat splits his ass apart one stroke at a time.
Before long Aaron's intense anal punishment sends Devin over the edge as his orgasm spills hot jizz all over them then Aaron follows blasting him with his thick cum load.
Just what fantasies are about!
While in the locker room Aaron Trainer and Joel Someone have a personal talk and discuss fucking each other up their ass.
Their kissing soon leads to Aaron getting his big dick sucked by Joel before they fuck on the bench.
Family Creep gay porn scenes of Aaron Trainer
Stepson Blake Ryan and step-daddy Aaron Trainer in the sordid family scene.
Blake hasn't seen his mother's sexy black boyfriend, Trainer.
In the past, Blake and Aaron did get to spend some hot times fooling around together but now Aaron is married to his mom and things have been awkward between them.
This time, Blake's new step-daddy pays his ass a visit, and how good his big black cock feels deep inside him.