Every gay porn video and gay porn image gallery of Sean Harding.
Hair Color: Brown
Sign: Unknown
Eye Color: Brown
Dick Size: 8 inch dick
Height: 5'9″
Cut / Uncut: Cut / Circumcised
Weight: 165lbs
Sexual Positions: Versatile
Extra Big Dicks gay porn scenes of Sean Harding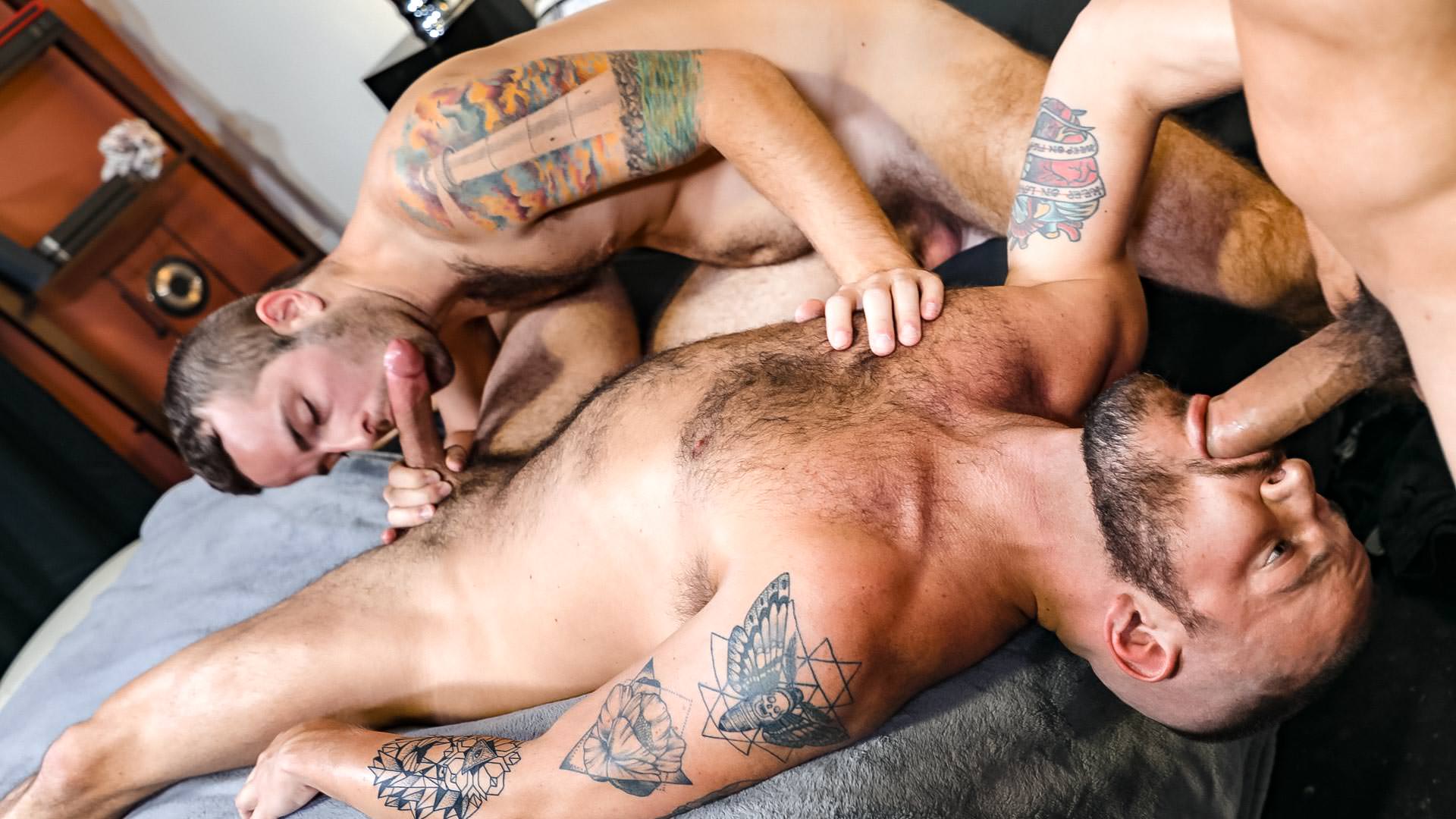 Jay Donahue and Sean Harding are friends and they are talking about their love of guys with a big cock. Sean shows Jay a photo of Lex Sabre's cock and tells him he is on his way over.
With that Jay gets naked in anticipation and lies on the bed as Sean let's Jay into the room. Jay starts by getting them naked and then he and Sean take turns getting face fucked by Lex's huge uncut cock.
While one is sucking Lex the other is sucking him. Lex then moves to Sean's ass and starts by fucking him doggy style bent over the bed. Lex then fucks Sean on his back for a while. Sean cannot hold back and he shoots his load all over himself.
Now it is Jay's turn to get fucked by Lex. Jay starts out Riding Lex's cock and he needs a little more time than Sean to warm up to it. Once warmed up, Jay rides his cock deep in his ass as he sucks Sean's cum drenched cock.
Jay shoots all over Lex's stomach while being fucked and then both he and Sean go down and watch Lex shoot his load….Join them!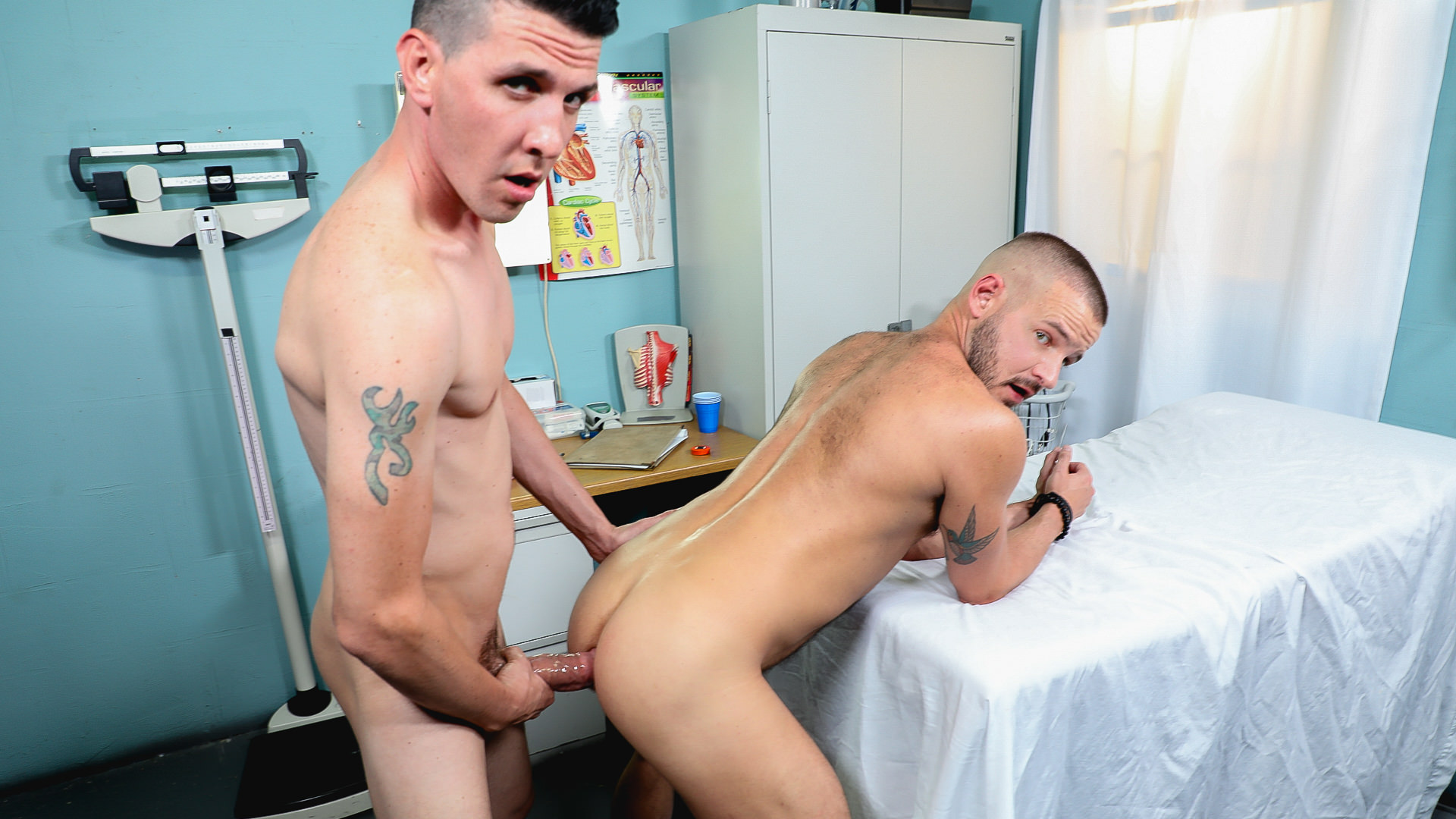 This scene opens at the end of Part 1 with Jacob Stax asking twin brother Michael Stax about what went on when he went into the exam room. Michael is not telling him details, but assuring him it will all be fine and he will like it.
Just then Sean Harding walks into the waiting room and asks for Jacob to come to the back with him. Once inside the exam room, Sean explains that he will be getting penis measurements for the Twins Study and for him to take his pants off.
Once Sean Harding gets the flaccid measurement he tells Jacob that it appears he might be a little larger than his twin brother and they so far he and Michael have the biggest penis in the study.
Jacob measures about ½ inch larger than his brother when fully hard and it is interesting that he is circumcised but Michael is not. He explains that it because of something that happened when they were born and then Sean continues to pleasure Jacob with his eager mouth sucking his big cock.
He deep throats Jacob to the hilt and then Jacob sucks Sean for a little while before bending Sean over the table. Jacob's cock goes balls deep into Sean's eager ass as he fucks him bent over from behind. Sean then gets on his back on the exam table and Jacob fucks the cum out of him.
Sean then gets the container to collect Jacob's sperm and has him jack off into the container. He then compares both their samples and let's Jacob know he ejaculated more than Michael…Join them!
no images were found
Raging Stallion gay porn scenes of Sean Harding
Hairy muscle hunk Sean Harding interrupts Wade Wolfgar in his personal bathhouse whilst he is jerking his huge hung cock.
Sean immediately kneels on the floor and sucks Wade's thick dick deep to the back of his throat.
Once he has pleasured Wade's huge cock and mighty heavy balls, he gets into position so that Wade can enter his hairy jock strapped asshole.
Wade goes straight for the kill pressing home his big raw cock making Sean take every solid inch with his balls smacking against Sean's ass.
Sean can't get enough of this ass drilling.
After taking it raw on all fours, Sean spins around and sucks the cock that was just deep inside his insatiable hole.
Sean wants more so Wade lays back, so Sean can receive his cock from up top.
Flipping on his back one last time, Wade strips off Sean's jock and breeds his hole one last time before Sean busts his nut all over his hairy chest.