Hair Color: Brown
Sign: Unknown
Eye Color: Brown
Dick Size: 8 inch dick
Height: 5'9″
Cut / Uncut: Cut / Circumcised
Weight: 165lbs
Sexual Positions: Versatile
Lex Ryan scenes at Men Over 30
Lex Ryan is in the waiting room at his Doctor's office when Mike Maverick walks out (wearing nurse scrubs) and tells Lex he has bad news that the Doctor and everyone else in the office are out to lunch and will not be back for more than an hour.
They exchange some small talk and the subject turns when Mike tells Lex that he looks good and it is obvious he keeps himself in good shape. Lex says he needs to get to the gym more often and eat healthier. Mike tells him that he also works at a local gym and would be willing to help him out.
He has Lex stand up so he can check him out some more. He does so by asking some odd questions of Lex as he moves his hands around his body. With it getting awkward, Lex says he feels like he is already getting a physical and they should continue.
Mike gets the clue and the two start groping each other and kissing. Mike drops to his knees and starts sucking Lex's big cock. Lex services Mike's cock before turning him around and rimming his ass deep while stroking his cock from behind.
He fucks Mike all over the Doctor's office until both of them shoot thick loads of creamy cum all over Mike's chest…Join them!
Lex Ryan scenes at Extra Big Dicks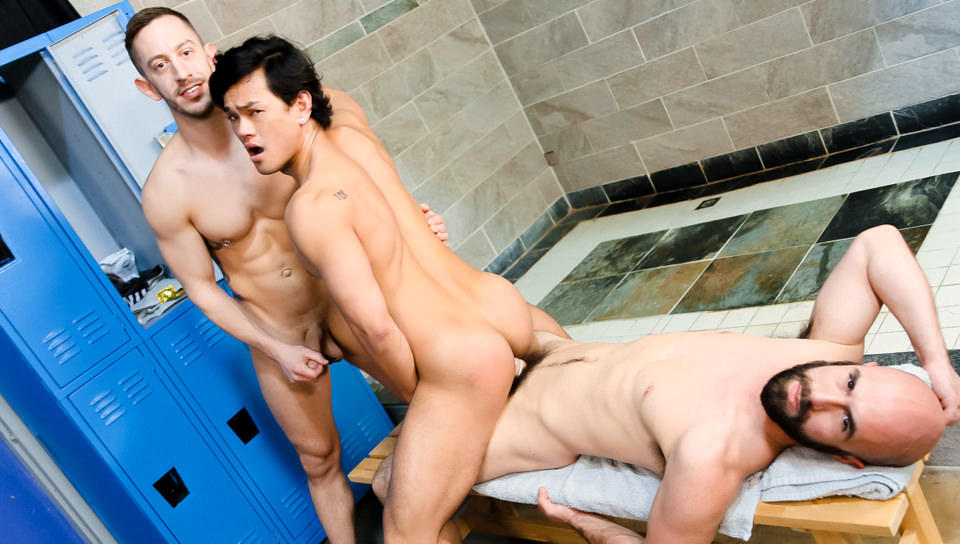 Bryan Cole and Eli Lewis are lovers who are getting ready for their workout at the gym when they see Lex Ryan walk into the locker room. As Lex starts to undress they both stare at him with wide eyes when they see the big cock hanging between his legs.
Lex then heads to the shower as they both continue to ogle him. He knows they are looking and he starts stroking his own cock as they begin to do the same with theirs. Lex invites them over to suck his cock and they both eagerly begin sucking and sharing Lex's big hard cock.
Lex then lies down on the bench as they continue to worship his huge cock. Lex declares he wants to fuck them and Eli starts out by riding Lex's huge cock as Bryan encourages him to go deep. Bryan then lies down on the bench and Lex fucks him while Eli gives him his ass and balls to eat.
Eli also sucks Bryan's cock while he is being fucked. Bryan is so turned on by having Lex's huge cock in his ass that he shoots his load all over his abs. Then it is Eli's turn to get fucked. Bryan holds his legs open as Lex drives his huge cock deep inside and Bryan feeds his cock to Eli at the same time.
Lex then pulls out and shoots his load all over Eli and then Eli jacks his cock and shoots a big load of his own cum. All three then enter the shower to clean up…Join them!
Lex Ryan is sitting at his desk watching porn when he notices that one of the models looks like his new assistant Javier Cruz. Upon closer inspection he discovers it is him. This obviously turns him on and from the massive bulge he is showing through his dress pants, you can tell he wants Javier's ass.
He calls Javier into the office and when Javier walks in we can still hear the audio coming from Lex's laptop and Javier realizes he is looking at his porn. Lex opens the screen and asks Javier if that is him. Javier is shocked and quiet, but notices that Lex has a huge bulge hiding in his pants.
Lex stands up and gets closer to Javier who soon drops to his knees and beings sucking Lex's massive cock. Lex has Javier service his cock for quite a while before pulling Javier's pants down and bending him over the desk and rimming his ass.
He then fucks Javier in a couple positions on top of his desk and strokes Javier's cock until Javier cannot hold back and he shoots a big load all over himself. Lex pulls out and shoots his own load all over Javier…Join them!