Every gay porn video and gay porn image gallery of Ziggy Banks.
Hair Color: Brown
Sign: Unknown
Eye Color: Brown
Dick Size: 8 inch dick
Height: 5'9″
Cut / Uncut: Cut / Circumcised
Weight: 165lbs
Sexual Positions: Versatile
Ziggy Banks gay porn scenes at Cocky Boys
Ziggy Banks. Strikingly handsome, blue-eyed, ripped and hairy model and dancer Ziggy Banks would be called the total package no matter what he chose to do.
He's sexy and sexual, a versatile and dynamic performer who expresses himself in ways both subtle and pronounced. It's easy to see why he is a member of the elite Haus of Banks brotherhood.
In an all-Haus Of Banks CBFO condom-less flip-fuck release Ziggy Banks makes his CockyBoys debut opposite Haus founder Boomer Banks. Boomer gets a very welcome wake-up call from Ziggy kisses and caresses his body and goes all in eating out his ass and nuzzling him.
In return Boomer makes out with Ziggy against the nearby mirror and generously sucks his cock, exciting Ziggy to hump Boomer's crack. Ziggy lies Boomer back on the bed, gives him one last drive-by rimming and slides his cock into him.
Ziggy is all about wrapping himself around Boomer and kissing him passionately as he thrusts deep into his moaning mentor. Even as he turns to fucking Boomer sideways his lips and mouth are in constant contact with him.
Boomer responds by fucking Ziggy against a chest of drawers with some all-in/all-out action to the max. Knowing he's on the edge Boomer wants Ziggy to cum while fucking him and Ziggy gives him full-on pounding.
Soon after Ziggy cums and finishes off his intense orgasm by milking out every drop on his Boomer's hole and licking it up.
Ziggy moves his head in position as Boomer jacks off a thick load and though most of it winds up as a facial and beard mousse Ziggy gets a taste from the drippings and kisses King Boomer with his royal icing still on his face…Join them!
Ziggy Banks gay porn scenes at Raging Stallion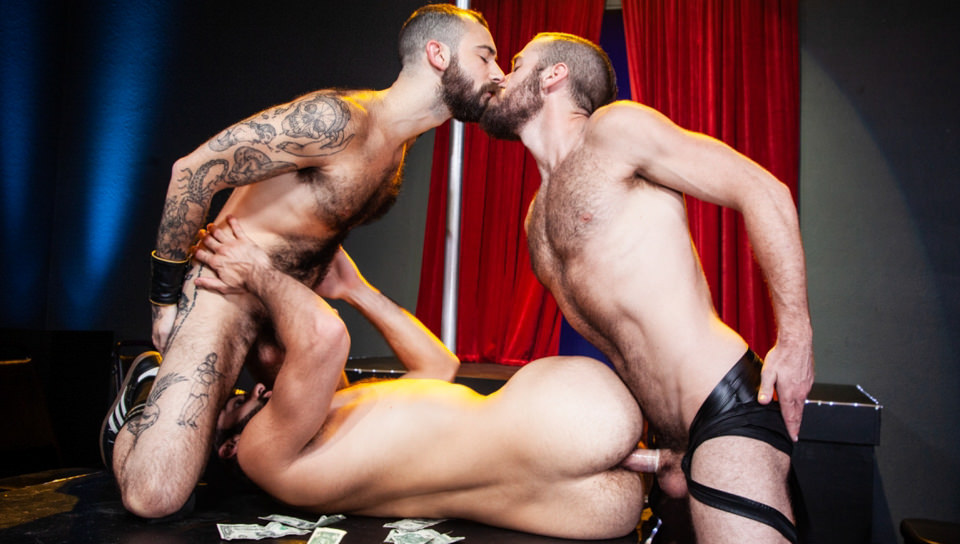 Ziggy Banks and Stephen Harte are making out on stage in front of an empty house when Tegan Zayne enters with his fat wad of cash. Stephen and Ziggy snap to it and start putting on a show when Tegan joins the fun.
Stephen pulls Tegan's big hairy cock out of his white jockstrap and starts sucking as Ziggy brings up the rear to eat Stephan's extra hairy ass.
Ziggy is hungry for cock and positions himself in front of both horny studs so that he can take turns sucking their hard dicks.
The sucking gets both Stephen and Tegan ready to fuck and Stephen bends over to get spit-roasted by taking Tegan up his ass while Ziggy plows his face. Tegan takes the lead and tells Ziggy to fuck his hole.
Ziggy abides and slides his meat deep into Tegan's tight ass while Stephen takes his place by Tegan's mouth. The sight of Tegan getting his hole stretched by Ziggy is more than Stephen can handle and he's the first to blow his pent-up load.
With Tegan's face plastered with jizz, Stephen pulls out of the panting stud and shoots his hairy asshole with a massive load of cum.
With Tegan's face and hole covered in jizz, Tegan is the last to let his inhibitions go and blasts his own creamy cum all over his own furry abs and curly bush…Join them!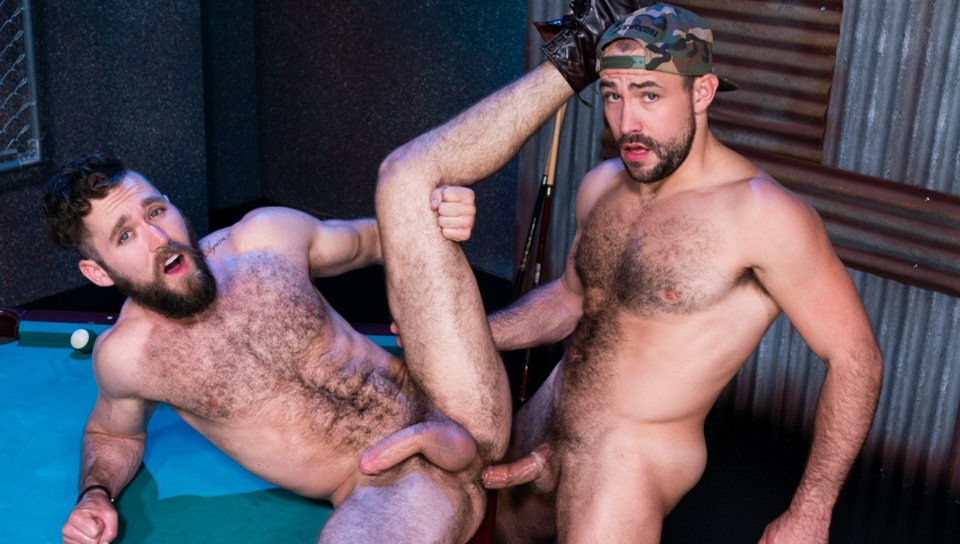 Ziggy Banks and Ashland are shoving their tongues down each other's throats as they grope their dicks through their jockstraps. Ziggy is revved up and hungry for cock when he opens wide to take Ashland, balls deep down his throat.
He gags on the big hairy cock until he's ready to eat some furry ass. Ziggy bends Ashland over and spreads his perfect bubble butt to get in deep and eat his hairy hole. Ziggy munches ass like it's the last one he'll ever get to eat and makes sure Ashland is opened up wide and wet with spit.
It's Ashland's turn to showcase his oral talents and gets his throat reamed and ass munched until Ziggy can't wait another minute. Ziggy lies back and spreads his legs to take Ashland's hard dick up his ass. Ashland plows away pumping almost to the point of no return when he decides to let Ziggy pound his hole.
Ashland pulls out and bends over the table to take every inch of Ziggy's big, hairy cock. Ziggy fucks Ashland just the way he likes it until he pulls out and blasts his giant load all over Ashland's freshly pounded butt.
When Ashland feels Ziggy's warm load hit his ass, he knows he needs to blow. The furry hunk stands up over Ziggy and dumps his load all over the hairy stud's face…Join them!