All gay porn pics and gay porn videos of Dakota Rivers.
Hair Color: Brown
Sign: Unknown
Eye Color: Brown
Dick Size: 8 inch dick
Height: 5'9″
Cut / Uncut: Cut / Circumcised
Weight: 165lbs
Sexual Positions: Versatile
Titan Men gay porn scenes of Dakota Rivers
"You still smell like him," smiles Dirk Caber at his hubby. Dakota Rivers' dick head peeks out of his shorts, Dirk having a taste ("Sexy fucker!") before they free their beasts.
"Less talk, more suck," says Dakota, Dirk wrapping his bearded lips around it. Dirk gets slurped, his dick snapping back to his stomach when released from Dakota's mouth.
Dakota fucks Dirk's furry hole, the bottom sitting all the way down to his tight sac. Dirk gets on his back—his boner expertly stroked as Dakota fucks him: "You are so mean when you're doing that. I love it!"
Dakota's ass cheeks clench as he pile drives in, the top stroking out Dirk's load before delivering another messy, multi-squirt facial—rubbing it into the bottom's beard before kissing him, a strand of cum still dripping from Dirk's dick head…Join them!
A sexy desert jogger. A medical specialist testing new dubious medical procedures. A crowd of sexy macho male patients keen to satisfy professional doctors.
Plenty of mysterious events await anyone on the Mojave Run. An isolated correctional facility is where sex addicted men such as Christopher Saint, Leo Alarcon, and Dakota Rivers have come to be treated.
The question is do this horny group of men want to be healed? We are about to find out as director Joe Gage's explosive movie reaches boiling point in the dry desert heat.
Christopher Saint is out jogging, in just a t-shirt, Calvins, and sneakers, through the desert brush when he happens upon stranded driver Dakota Rivers. Dakota is horny as fuck and he's out cruising looking for someone to fuck his hot ass.
Doctor Sean Stavos is with his patients Jock Hudson and Leo Alarcon, his fingers and a big dildo are probing in a hot oral experiment.
Leo Alarcon, Jock Hudson, Ben Stone, and Adam Russo are trying to sleep in the heat of the night stroking their big dicks.
Everyone's cocks are out as Jock Hudson's hairy asshole is fucked by Dakota Rivers' big cock.
Leo Alarcon sucks Doctor Sean Stavos' dick as he leads a group therapy session where Ben Stone's hot ass is pummelled by Adam Russo.
During a horny one to one examination, Christopher Saint's hole is ravaged by Doctor Stavos' huge cock. All these horny men erupt in huge loads of cum spraying across each other as they sate their sexual desires.
With your eyes wide open suddenly you can sense the dark and smoky theatre stage, it is here that the horny action will feast your eyes.
Super hot muscle men Dakota Rivers and Dario Beck introduce a cast of gay porn stars through a sexy seduction.
Steven Daigle ever the voyeurist eyes the action as big muscle dudes Tom Wolfe and Junior Stellano suck each others' big muscle cocks. He then joins together with them in one long fuck train.
With the dark stage engulfed in a smoky haze, both Logan Scott's holes are filled by Dakota Rivers' huge dick. He pins the bottom stud to the ground with a balls deep anal fucking.
With his juicy uncut cock leaking, toned and hairy Dario Beck fills up smooth and beefy Eduardo Rodriguez, their passion climaxing with two memorable squirts.
Eyes engage. Hearts pound. Bodies react. You can't control it—it's your natural Reflex.
Led by the artistic touch of award-winning director Brian Mills, a group of studs including David Anthony, Dario Beck, Marco Blaze, Will Parker, and Christopher Saint pulse and twitch their way through a throbbing series of scenes.
Surrender your mind, lose control, and give in to your primal instinct.
While lounging by the pool at night, a rock-hard Christopher Saint is soon seduced by tall, dark, and handsome David Anthony whose monster cock has a mind of its own.
The muscular bods and big boners of showering buds Dario Beck and Dakota Rivers are too much for voyeur Will Parker to take leading to enthusiastic slurping and an intense fuck chain.
Two titanic cocks come together when Marco Blaze moves in on handyman Tyler Saint, their oral excitement followed by a passionate flip-fuck that leaves them breathless.
Heat stroke got you horny? Get some relief with this hot cast, who appear from the pool as water cascades down the defined crevices of their bulging bodies.
David Anthony, JR Matthews, and Dakota Rivers lead the charge as massive muscles soak up the sun in this steamy effort.
You won't find a better way to beat off the heat and yourself.
Gabriel Cross dozes off by the pool, but his dreams come to life in the form of Travis James.
The two put on a passionate show highlighted by a truly unforgettable fuck.
After playing in the pool, Dakota Rivers and Sean Stavos get the temperature rising again as they take turns stuffing both of JR Matthews' holes.
Stroking in the shade, hairy hunk Jock Hudson is soon smiling at the site of tan top David Anthony whose monster cock keeps his admirer hard and happy.
Hothouse gay porn scenes of Dakota Rivers
Cute ginger, Gabriel Cross, is a house boy whose only job is to make his sugar daddy happy. Gabriel is enjoying an orange soda on the couch watching some porn when his hot muscle daddy, Dakota Rivers, storms in the room.
Dakota is mad as hell because Gabriel has racked up his emergency credit cards buying frivolous toys for himself and his friends with Dakota's money. Dakota demands more than a few answers, when he throws the bills to the side and slams his crotch in guilty Gabriel's face.
Gabriel knows he has a lot of work to do to get on his daddy's good side again and doesn't waste a minute taking the muscle stud's big hard cock down his throat. Dakota face fucks and gags the money-grubbing boy with his big daddy dick before he bends him over and eats his hot ass.
When Gabriel is nice and wet and opened up, Dakota slides his meat inside the ginger's hairy hole and pumps his ass hard. Gabriel needs it deeper and turns around to ride the massively thick cock as Dakota overpowers his tight asshole balls deep and stretches his hole wide open.
It's almost more than Gabriel can take and his cock explodes as his ass is getting pounded. Gabriel begs for Dakota's load and licks his daddy's big full sack as Dakota erupts all over Gabriel's hungry face.
The toned boy licks up his keeper's cum with the satisfaction of knowing he has a place to stay for at least another night…Join them!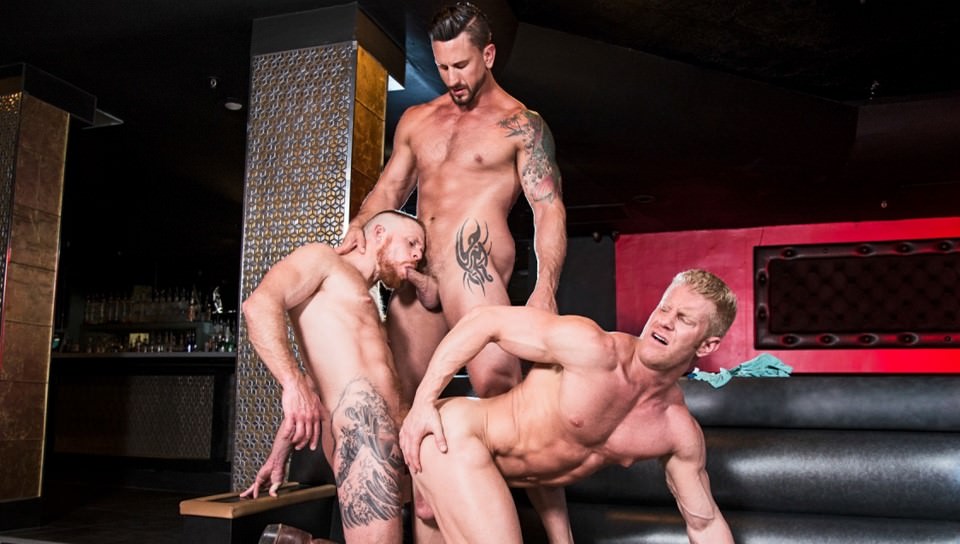 Jack Vidra is the bartender at the Ready Bar and he's seen a lot of action come and go on his watch. He never gets to join in on the action and usually has to live vicariously through all the other patrons.
When he has to kick Johnny V out at closing time, Johnny wants to give something special back to Jack for all his hard work. His surprise is Dakota Rivers, a hunky stud with a body full of muscles who's ready to please the bartender and his friend.
Jack is riled up and ready for fun and can hardly peel off his apron fast enough as he and Johnny worship every inch of Dakota's bulging body. Jack is horny after watching everyone else get action all night and is the first to take a taste of Dakota's raging boner.
Johnny doesn't like to be left out and takes turns with Jack sucking on the stud's hard cock. Jack needs a bit more to satisfy his cravings and bends Johnny over to lick his ass. As Johnny keeps sucking Dakota, Jack slips his cock inside Johnny and pounds away.
Johnny gets spit roasted until Dakota decides he wants to have a go at Jack. Jack is happy to please the stud and hops on for the ride of his life. The threesome can't get enough different cocks and asses and they switch it up until they've all had a taste of each other.
Johnny is the first to let loose when he sprays Jack's face with his massive load. The sight of Jack getting doused with jizz is all it takes for Dakota to go with the flow and give the lucky bartender a second load of fun.
With his mouth full and his face dripping, Jack gives himself permission to unleash the day and sprays his own hairy body with his bartender's special blend…Join them!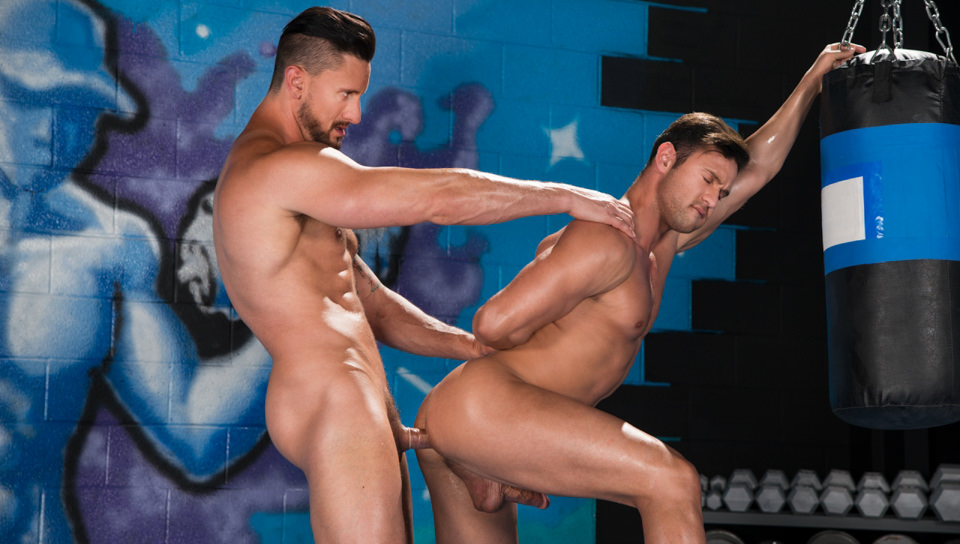 Big muscle dude Josh Conners is with his boxing trainer, Dakota Rivers in the gym. Josh is punching the pads hard as Dakota eggs him on to go in harder and harder.
They both build up a sweat and off come their shirts, revealing two big muscled hunks. It's not long before they're making out and Josh runs his inquisitive tongue down Dakota's hot muscled body. Josh manhandles Dakota's massive muscle cock.
Dakota reaches down and grabs a hold of Josh's throbbing thick dick as they engage in a bout of mutual masturbation. Josh then falls to his knees sucking down hard on Dakota's big erect dick swallowing it all the way back deep in his throat.
As Dakota pumps his muscle cock in and out of Josh's willing mouth, precum coats the back of his throat and drips down from his lips and mouth. Dakota turns Josh around and plants his inquisitive tongue deep into his pink asshole, giving him an ass rimming he'll never forget.
Josh leans over the boxing punch bag as Dakota lubes up his ass for a real good hardcore as fucking. Josh looks Dakota in the eye as Dakota pumps his thick dick in and out of Josh's open and throbbing hole. Josh's low hanging balls swing wildly right and left as Dakota's cock reams Josh's tight ass hole. Josh enjoy's every inch of his boxing trainer's muscled cock.
Josh lies back with both legs in the air allowing Dakota to penetrate his bubble ass hard and deep. Josh's cock remains rock hard throughout Dakota's punishing ass fucking and can barely hold off his own orgasm. Greedy Josh doesn't want Dakota's ass hammering to stop enjoying the deep fucking for all it is worth.
In the end Josh can hold on any longer and his cock spurts a huge torrent of muscle boy cum. Seeing Josh losing his load sets Dakota off on cue, blowing the full contents of his balls all over…Join them!
Raging Stallion scenes of Dakota Rivers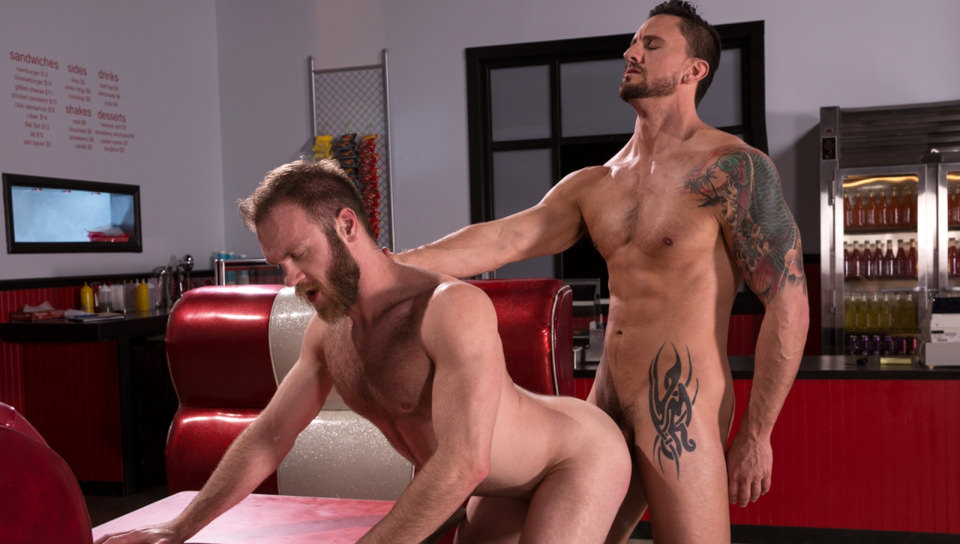 Hopeful new-hire Peter Marcus sits down with General Manager Dakota Rivers for an interview at the 'Drive Thru'. As Dakota reviews Peter's application, he notices he doesn't have any experience in the food industry. Peter quickly replies, 'I'm a fast learner and I'm eager to please.'
Dakota wants to see just how eager Peter is. Guiding Peter to his knees, Dakota whips his cock out. Eager for the job, Peter begins to service his potential employer's fat cock. After checking Peter's oral skills, Dakota decides to drill his tongue into his bare hole.
With Peter's hole slick with spit, Dakota stuffs his meat into Peter's man hole. After taking it from behind, Peter hops on the table, legs up, taking hard, powerful thrusts from Dakota. The intense drilling from Dakota's cock is too much for Peter and he blasts a thick white load onto his furry torso.
Boss man Dakota strokes his hefty load onto Peter's hole. When it's all said and done, Peter still didn't get the job…Join them!