Every gay porn video and gay porn image gallery of Jessie Colter.
Kentucky native Jessie Colter is one sexual country boy. This power bottom loves getting rimmed and pounding by an aggressive top. Jessie's favorite part of sex is, " the hot dirtiness of it all!" The craziest place he's been fucked in on top of a school bus. Besides getting his perfect bubble butt slammed, Jessie loves to garden and strip but not at the same time.
Hair Color: Brown
Sign: Unknown
Eye Color: Brown
Dick Size: 8.5 inch dick
Height: 6'2″
Cut / Uncut: Cut / Circumcised
Weight: 165lbs
Sexual Positions: Bottom
Sexual Orientation: Gay
Nationality: American
Titan Men gay porn scenes of Jessie Colter
A pulsating charge courses through their buff bodies, an erotic energy they can't ignore. They're Hot Wired from head to toe, and things are about to explode.
Get electric with TitanMen exclusive Trenton Ducati, who leads a handful of blue collar contractors as they enjoy some on- the-job training in hot male mechanics.
In need of a break from work, Race Cooper offers his hard tool to boss Jessie Colter who is happy to take orders and offer his services as the tables are turned.
With his massive frame towering over beefy Brad Kalvo, smooth and tattooed Trenton Ducati face fucks his hairy bud before bending over and taking it like a man.
Smooth and tan Jordan White is eager to please Trenton Ducati, who shuts his bud's inquisitive mouth before bending him over—and then holding him up—for a moan-filled fuck…Join them!
You know those times when you promise a friend a favor and it quickly gets more complicated.
Or a quick piece of advice comes along some other added benefit.
And the offer of a job that involves a whole lot more than expected.
See what happens when One Thing Leads to Another, a Joe Gage chronicle headlined by David Anthony and Hunter Marx.
Straight buds David Anthony and Hunter Marx enjoy brews and baseball before a photo favor gets out of control, the two buds soon joined by neighbor Jessie Colter.
Bad boy Tate Ryder awaits his hearing and sentence at court, getting a last-minute romp from corrections officer Brad Kalvo.
Painter Conner Habib needs nudes, and toned top Colby White is happy to strip down and offer his body for the sake of art an explosive climax punctuating their performance.
Raging Stallion gay porn scenes of Jessie Colter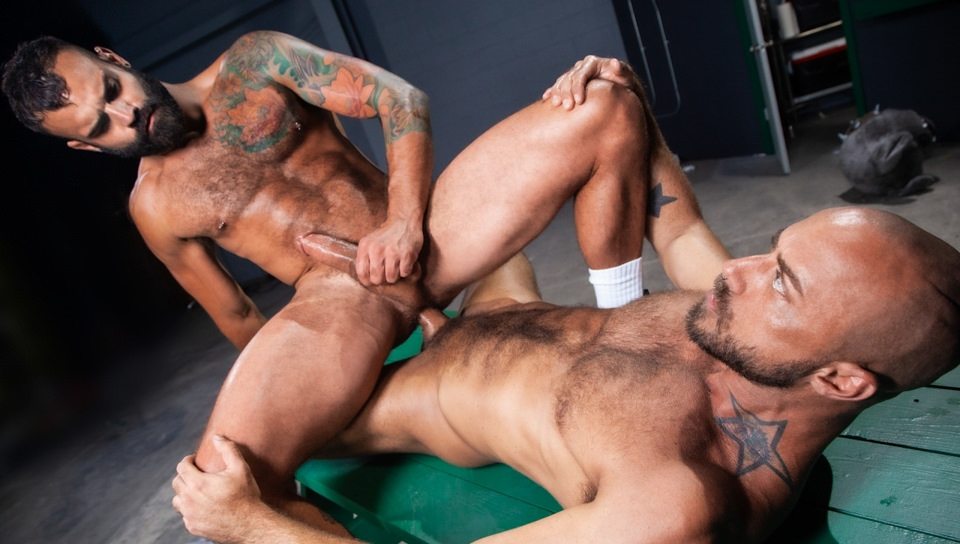 Opposing team mascot, Drake Masters, starts harassing concession vendor, Jessie Colter, by trashing his stand and throwing things around. When Jessie comes around the counter to get rid of Drake, the mascot pulls his pants down to show off his thick dick.
Jessie tries in vain to get Drake to pull his pants up but ends up finding out that Drake's sausage tastes better than the wieners he sells. Jessie gobbles up Drake's growing cock and gets his own dick rock-hard. When Drake sees Jessie's hard-on, he can't resist getting it in his mouth.
He takes off his costume and gets to work sucking on Jessie, taking it all the way to the base as he gags and spits. Drake wants that dick bad and bends over to let Jessie have a taste of his hairy hole to prepare it for a deep bareback fucking.
When Jessie senses that Drake's ass is nice and opened up, he steps up to the plate and slides his cock into the strike zone. He fucks the dirty mascot hard, keeping a steady pace with his plump, raw cock.
The horny hunks throw a change-up a few more times until Jessie is ready to drop his load. With Drake on his back and his legs in the air, Jessie fucks the cum out of Drake's cock before dumping his own load and fucking it back into Drake's busted hole…Join them!
Lucas Entertainment gay porn scenes of Jessie Colter
Jessie Colter is very popular within the Suited Gay Gentlemen Sex series, and he now returns to one of his favorite film lines.
The handsome American jock has beefed up since he last appeared on the site; he also now has a shaved head and full beard that suits (no pun intended) his gay porn persona well.
He and Dylan James dress up only to have Jessie strip down and take Dylan's raw dick; thrown in the mix are anal beads and double-penetration from Dylan and a dildo…Join them!