Every gay porn video and gay porn image gallery of Dylan Hayes.
I'm 20 years old from California. I enjoy the beach, friends and going out. I work out a few times a week. I'm pretty outgoing and love to meet new people.
Hair Color: Brown
Sign: Unknown
Eye Color: Brown
Dick Size: 7.5-inch dick
Height: 5'4″
Cut / Uncut: Cut / Circumcised
Weight: 130lbs
Sexual Positions: Bottom
Sexual Orientation: Gay
Nationality: American
Next Door Twink gay porn scenes of Dylan Hayes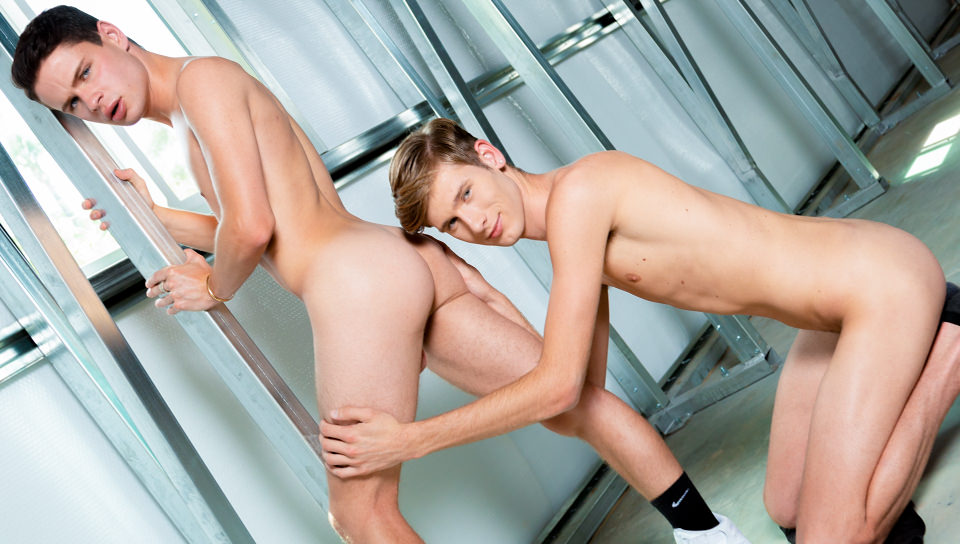 Just looking for a quiet place to rub one out, Julian Bell is horrified to discover he's being spied on by the biggest mouth in the neighborhood, but Dylan Hayes promises he won't tell.
Julian is skeptical but Dylan Hayes quickly shows him that he can use his mouth for a lot more than blabbing secrets.
As he downs his cock, Julian realizes this may have turned out to be a blessing in disguise, and as he proceeds to have his way with Dylan, pounding him in every position he desires, he suddenly feels thankful to have been discovered.
Dylan is just happy he can finally show his feelings for Julian and no longer has to hide his desires, and now that he's got Julian where he wants him, he has every intention of indulging every one of his deepest fantasies…Join them!
Spank This gay porn scenes of Dylan Hayes
Dylan Hayes is four hours late coming home, allowing boyfriend Max Carter's imagination to run wild and rile up a juicy jealous streak. When the dirty stay out finally arrives home, he finds master Max waiting, frustrated, furious and ready to enact his revenge.
He bends Hayes' hot hind end over and gives him the third degree while dominating the dude's delicious derriere. Dylan has several hours to answer for and Carter is intent on making the pretty boy pay by turning his perky posterior a porn perfect pink.
Carter cracks the kid's can in various stages of undress and the tight bodied, tan twink's tasty tush looks absolutely edible every single, smacking good second. After priming his boy's booty with a heavy hand in tighty whities, Max muscles Dylan completely out of his drawers and demands an apology while he continues to annihilate that amazing ass of his.
The boy's buoyant bubble butt is absolutely beautiful and Max manhandles it like a master, spanking, rubbing and caressing each meaty, muscle cheek into submission. By the end of this scorching spank session, hottie Hayes' hiney is hot red and scarlet ripe with repentance…Join them!
Helix Studios gay porn scenes of Dylan Hayes
Dylan Hayes is a house guest at muscle twunk, Travis Steven's place when he hears the shower turn on. Dick hungry Dylan has the hots for his house host, and can't pass up this golden opportunity to peep his crush washing that well worked out body and colossal cock.
Hayes opens the bathroom door and gets an erotic eyeful of Stevens' shredded bod and swinging schlong. He licks his perfect, pouty lips watching Stevens, wrapped up in a daydream about them fucking. He eventually makes a noise, which leads Travis to investigate.
When the freshly cleaned cock slinger finds his shower spy, he makes the dude's dreams cum true…and then some! He puts the peeping Tom twink through the paces, choking the pretty boy with his horse cock, then shoving his spit slick stiffy balls deep in Dylan's lust canal.
It's a hot, rough session with spitting, and hammer hard, balls to butt, booty banging! After a rough ride, our blond muscle boy flips his hot fuck onto his back, then bangs the cum right out of him.
The shower fresh fucker then floods his undercover cock watcher with a heaping helping of white hot, nut bust.
Seems like Stevens will need another shower, only this time, it looks like he'll have company…Join them!
Next Door Studios gay porn scenes of Dylan Hayes
Hot Homemade action from Jordan Starr and Dylan Hayes.
Jordan tells us, Dylan brings two words to mind, Fun and Fire.
Pics and videos could not have prepared me for what I was getting into with this little firecracker.
Amazing chemistry from the get-go.
When he walked in the door and I saw those eyes and that smile it was electric.
He's like my kid brother and boy do we like to have fun.
This is our first video together but you can rest assured it will not be our last.
I got off multiple times in this collab and I'm sure you will too.
Raging Stallion gay porn scenes of Dylan Hayes
Dylan Hayes just started his new job as the towel boy at Max Konnor's exclusive resort.
As Max tells Dylan about all of the services his establishment offers, he's curious to see what Dylan is willing to prove as he pulls his speedo down to show Dylan his cock.
Eager to prove he wants the job, Dylan wraps his lips around Max's massive cock and gets to work.
Dylan does all he can to get his mouth down to the base of Max's rod before getting bent over and eaten out by Max's talented tongue.
Max takes his time savoring Dylan's hairless hole before he begins to work his monster in and pound his hole.
Max holds his bottom in place as he continues to pummel his tight hole.
Switching positions, Dylan lays back to feel the full power of Max's until Max slathers Dylan's ass with his warm load.
When it's Dylan's turn, he sits back and strokes his cock until his glistening abs are covered in jizz.
Disruptive Films gay porn scenes of Dylan Hayes
After his mother passes, Hayden Beck (Dylan Hayes) is left with his stepfather, Clive Ward (Lance Charger).
Clive is the complete opposite of Hayden's sweet-as-pie, loving mother and Hayden yearns for similar affection from his stepfather.
Men gay porn scenes of Dylan Hayes
Hairy muscle hunk Morgxn Thicke's massive thick dick fucking hottie twink Dylan Hayes's bubble butt.
Twink Dylan Hayes is all dressed up in a button-down and tie to knock on doors for the local representative, but when bearded daddy Morgan Thicke answers in nothing but a towel and invites him in, Dylan can't concentrate on his petition… especially when Morgan strokes his boner and spots a matching one in Dylan's pants.
Soon the twink is sucking and rimming the top, then riding his dick. Morgan fucks the bottom in missionary and sucks Dylan's cock, then bends him over to drill him doggy style.
The top cums on Dylan's face, then the twink strokes himself till he orgasms.
See all Morgxn Thicke gay hardcore fuck sessions at Men here.
See all Dylan Hayes gay hardcore fuck sessions at Men here.