Every gay porn video and gay porn image gallery of Nathan Styles.
Hair Color: Blue
Sign: Unknown
Eye Color: Brown
Dick Size: 7.5 inch dick
Height: 5'11"
Cut / Uncut: Cut / Circumcised
Weight: 165lbs
Sexual Positions: Versatile
Nathan Styles gay porn scenes at Next Door Buddies
It's not like Nathan Styles hasn't seen buddy Spencer Laval's dick before after all, they played football together all through high school, but now that the two of them are sharing their first jerk off together, Nathan suddenly has an insatiable urge to get a taste of what Spencer is packing.
As Spencer shifts the position of the screen they're watching, Nathan takes his chance, quickly wrapping his lips around the head of Spencer's cock and downing it. Spencer is surprised, but his cock gets rock hard as soon as Nathan tongues it, so he lets Nathan have a mouth full, choking him with his meaty pole as Nathan spits all over it.
Nathan proves so good at sucking dick that Spencer is ready to fuck his football teammate, so he has Nathan mount him, sliding his bareback cock deep into Nathan's hole. He has to take it slowly at first, but Nathan quickly opens up.
Spencer fucks him raw all over the sofa as Nathan strokes himself, finally spitting his load as Spencer pounds him, launching it all over his stomach as Spencer pulls out and blasts him, rubbing his head in the cum puddle on Nathan's belly and using it as he strokes both of their cocks together…Join them!
Nathan Styles gay porn scenes at Next Door Studios
When it comes to the neighborhood, Nathan Styles has trained himself to keep an eye out for strangers. While it's mostly a safety measure, truth is, Nathan doesn't actually mind a little personal invasion from a private stranger.
Just his luck, new neighbor Quin Quire is just the sort of new stranger Nathan needs in his life, and when he finds Quin poking around his property, he asks if he'd like to come in and poke around something else.
Nathan is soon questioning that choice, when Quin unleashes his thick, hard cock. It splits Nathan open and stretches his hole, as Quin fucks him all over his newly remodeled kitchen, before cumming all over him. That's one way to greet a new neighbor…Join them!
All Nathan Styles wanted was a nice fuck from a stranger, but now that he's come over, he finds himself caught in a love triangle, as lovers Donte Thick and Johnny Hill both seem to have some kind of vendetta to prove.
Donte and Johnny waste no time trying to make each other jealous, and Nathan is the beneficiary of all that attention, as they take turns sucking him off in attempts to get a rise out of the other.
Nathan doesn't mind being caught between this rock and a hard on, so long as they deliver the goods. And boy, do they.
They take turns long dicking Nathan and using him to their hearts content, fucking him all over the living room as they pig roast him from both sides, trading turns fucking his tight, bareback hole, then using him like a cum rag as they both empty their loads all over him.
As he lay there covered in their spiteful cum, Johnny and Donte vow to include each other in their secret fantasies from here on out….Join them!
no images were found
Making his last delivery for the day, Vince Michaels realizes he recognizes customer Nathan Styles, and not just because Nathan used to date one of Vince's friends. No, Vince recognizes Nathan from his on screen work in the adult industry, and when Nathan realizes this, he becomes a little nervous.
Vince assures him he's cool with it, and in fact, begins to pick Nathan's brain on how to get started. Offering a bribe of beer to go with the delivery, he finds himself hanging with Nathan and asking him questions about the biz. Nathan answers Vince's questions patiently, slowly piecing it together that Vince has never been with a guy, but really secretly wants to.
When he asks Vince directly, Vince makes a move for Nathan's shorts, quickly pulling them down and immediately sucking Nathan's cock. Nathan smiles but doesn't stop him, so Vince continues. To Nathan's surprise, he turns out to be really good at sucking cock for someone who's never tried it before, and Nathan finds himself genuinely turned on.
He returns the favor to Vince, sucking him off as he plays with his balls, and once Vince is nice and hard, he bends over and tells Vince to fuck him. An hour ago, Vince was delivering food to a stranger, and now he finds himself cock deep in his fantasy of fantasies, as he pounds Nathan all over the sofa.
He squeezes Nathan's sweet ass as he watches his cock stretching Nathan's hole from behind, finally turning Nathan over and fucking him missionary until Vince is ready to shoot. He empties himself all over Nathan's hole as Nathan shoots his load all over his stomach.
As they kiss, Nathan tells Vince he definitely has what it takes to make a career switch…Join them!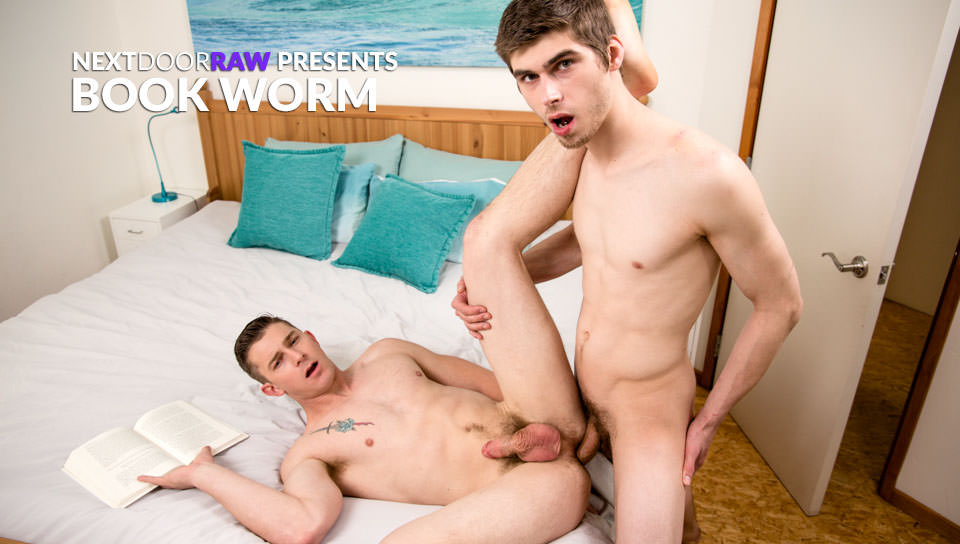 When Chad Piper sees roomie Nathan Styles reading alone in his room, he figures Nathan is just doing some nerd shit to kill the time, but when Nathan rolls over and reveals his rock hard dick bulging in his jeans, Chad realizes Nathan is in here reading some hot and heavy material.
Chad asks him if he wants the real thing and Nathan tells him he wants to see what he's packing. Chad unzips his pants and shows Nathan all he needs to see to get on board with the idea. They trade sloppy blow jobs before Chad bends Nathan over and begins to eat his ass.
He tongues Nathan's hole until it's ready for more, and then Chad stands up fulfills Nathan's literary desires, inching his raw cock as deep as it will go. Nathan lets out a gasp as he realizes just how much pipe Chad is laying, and Chad begins to fuck him harder.
He pounds from behind as Nathan strokes his dick feverishly as Chad begins to ease up. Slowing down, they decide to switch up, and Nathan climbs on top of Chad, lowering himself onto Chad's pole, then sliding all the way down as he parts his cheeks. He takes the cock balls deep and gives Chad the ride of his life.
Both guys are close to cumming, but Nathan wants to try his hand at laying the pipe. Chad is game, but almost as soon as Nathan can get his cock inside the hole, Chad clenches and tightens up around the head of Nathan's dick, causing him to erupt all over Chad's stomach.
Chad realizes it's now or never, and busts his load as Nathan exhales, and they both laugh, wondering what the next chapter will bring…Join them!