All gay porn pics and gay porn videos of Allen Lucas.
Hair Color: Brown
Sign: Unknown
Eye Color: Brown
Dick Size: 8 inch dick
Height: 5'9″
Cut / Uncut: Cut / Circumcised
Weight: 165lbs
Sexual Positions: Versatile
Allen Lucas gay porn scenes at Men.com
Allen Lucas isn't feeling his new job as a ranch hand and wants to quit but John Magnum makes him an offer to stay on that he simply can't refuse…Join them!
Paul Canon walks right into a frat house full of naked men about to get it on. After a little convincing, they let him stay and go to town on each others ass. Starring: Paul Canon, Johnny Rapid, Allen Lucas and Justin Matthews…Join them!
Max Wilde finds himself in need of care after getting stung by a jellyfish so Allen Lucas goes off looking for help. He ends up finding some sexy lifeguards Diego Sans and Damien Stone who help them back to the hotel room. Now that Max Wilde is feeling better, these men are hot, horny and ready to get it on…Join them!
Allen Lucas gay porn scenes at Next Door Buddies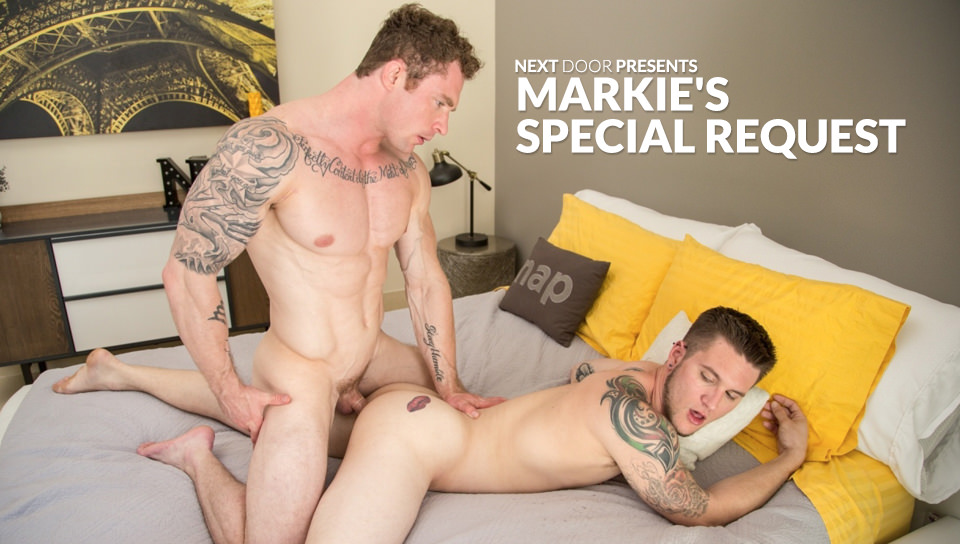 Markie More is known to have an eye for talent, so when he heard that Allen Lucas had started bottoming, Markie's interest piqued.
After checking out some of his vids, Markie decided he definitely wanted a piece for himself, so he threw he humbly requested a scene with Allen. For his part, Allen sure seems excited to be chosen, and can't wait to take Markie's famous cock for a test drive.
Markie promises not to take it easy on him and Allen's cock swells in anticipation. Markie pulls out Allen's hard on and sucks him to the base, deep throating him as he strokes him softly.
Allen's head spits a little pre-cum as Markie downs him again. They switch and Markie face fucks Allen before flipping him over and eating his ass while Allen strokes himself. Markie spits in his hole then plunges his cock deep inside, filling Allen up before pile driving him from above.
Allen tells Markie to slow down or else he'll cum, and instead, Markie flips him over and hits it from the back, arching Allen's ass high up in the air so he can watch his meaty cock going in and out.
It's evident that both guys are ready to spit their loads, so Allen mounts Markie's dick and rides him until he spits his huge load in a cathartic release. Allen's load drenches his stomach just as Markie pulls out and cums all over Allen's face.
Feeding his throbbing cock to him, Markie helps Allen lick up every drop…Join them!
Allen Lucas gay porn scenes at Next Door Studios
With massage stud Markie More on his way over for a private session, Allen Lucas takes the time and effort to rig his room up with cameras.
Allen figures he may as well capture this experience for posterity, and figures he'll have to be secretive about it, and begins to devise a scheme to seduce Markie. As soon as he undresses and stretches out on Markie's table, he realizes that Markie is very open to extra curricular activity, and that he even is open to filming it.
Allen asks Markie if he minds having his dick played with, and Markie goes a step further, shoving it in Allen's mouth and letting him suck him off. Allen obliges, and pretty soon Markie is hard as a rock.
Allen asks him if he'll eat his ass, and Markie explains that service isn't usually included in the massage, but since Allen's ass is particularly nice, Markie decides to do it anyway. He moves around and tongue fucks Allen's hole, before sliding up and working his cock deep inside.
Allen whips out his phone and asks Markie to film it, and Markie obliges, getting good shots of his cock pounding Allen's ass.
Markie flips Allen over onto his back and continues to fuck him dry, as Allen spits his load all over himself before telling Markie to cum on his face.
Markie pulls out and hoses Allen down, blasting his face with his load and covering him with cum before the two of them make their way to the shower, where, unfortunately, Allen neglected to set up more cameras. Maybe next time he'll rig the whole house…Join them!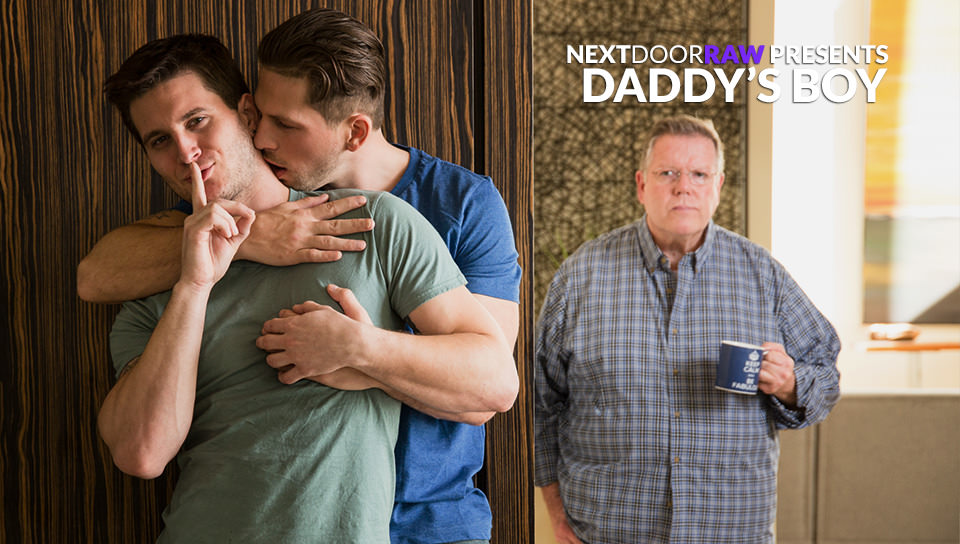 Fed up with the secretive living arrangement, Allen Lucas is hopping mad and on the verge of spilling the beans. Roman Todd is stuck between a rock and a hard place, as he realizes his father would kill him if he finds out Allen is more than just a roommate, but as he tries to soothe his father's suspicions in the living room, Allen is yelling to himself in the kitchen.
Roman tries to quiet Allen but he's having none of it, and demands that the only way he won't tell is if Roman fucks him right now in the kitchen. Roman realizes he has no easy way out, so he puts his hand over Allen's mouth and begins to undress him.
Throwing him up against the fridge and pulling out his cock. Allen falls to his knees to suck him off, and Roman checks over his shoulder to see if his father is wise to what's happening. Oblivious, he sips his tea on the sofa, as Allen flips Roman around and eats his ass.
Roman's cock is hard and the fear of getting caught turns him on, so he turns Allen around and rubs his cock up down Allen's crack, slipping a finger deep inside his hole, before he dives tongue first into Allen's ass. He gets Allen good and ready, then stands and silently plunges his raw cock deep inside Allen, who lets out a moan through Roman's cupped fingers.
Roman pounds him from behind up against the fridge, then the boldly move to the dining room where Roman has a seat while Allen rides him. Allen's cock bounces up and down as Roman continues to fuck him hard, flipping him over and pounding him missionary as Allen loses his massive load all over his chest.
He begs for Roman to feed him his load and Roman does as instructed, pulling out and dripping his load all over Allen's mouth as Allen sucks him dry. Roman finishes just in time to look up and see his father in the hallway staring at them, as Allen smiles from ear to ear…Join them!
After being kidnapped from his own garage, Brenner Bolton comes to in an unfamiliar place, naked, bound and blindfolded. Hearing footsteps approaching, he pleads for his assailant not to hurt him. Allen Lucas smiles at the sight of the hostage in front of him, using a riding crop to tease his cock before whispering in his ear.
Allen works his way down Brenner's body, and begins to suck him off, to Brenner's surprise. He's even more surprised when Allen shoves his cock inside Brenner's mouth, but like a good little slave, he obeys Allen's commands and does what is expected of him.
Fully hard, Allen throws him onto the ground face first, then tongues Brenner's ass, before plunging his cock in his moist hole. Allen fucks Brenner from behind as Brenner takes his pounding obediently, then Allen flips him around and takes Brenner's cock for a ride, mounting him as Brenner lay tied and helpless, before flipping him back over one more time to resume fucking him.
As Brenner lay on his back, Allen fucks him missionary as he strokes Brenner to climax, pulling out and dousing Brenner's face with his load. Allen removes Brenner's blindfold and asks him if his fantasy was fulfilled.
Wiping the cum off his face, Brenner nods his approval…Join them!
Allen Lucas gay porn scenes at Next Door World
Allen Lucas begins with the whipped cream, applying it liberally all over the naked, statuesque physique laid out before him. Covering all vital and exposed bits first, he then sets to strategically placing various fruits, and when he's done, escort Jimmy Clay is a veritable human sundae that Allen is just sure will bring a surprise.
Allen won't have to wait long to find out, as just as he's finishing up is culinary masterpiece, boyfriend Scott Demarco comes through the door. Allen rushes to greet him and cover his eyes, leading him into the kitchen where Jimmy lays on the kitchen table.
Seeing Jimmy laid out before him, covered in sweets, Scott is confused, asking Allen what's going on. Allen explains it's a gift to him, an edible escort, and immediately Scott's eyes light up. Allen and Scott make their way over to Jimmy on the table, and begin to snack away, licking every inch of Jimmy's body.
For Jimmy, the sensation is nothing short of spectacular, as Scoot works his way up to Jimmy's mouth, taking the strawberry placed there and replacing it with his tongue. They kiss as Scott works his way back down to Jimmy's cock, sucking him off as Allen continues to lick about his body.
Allen stands up and Scott alternates between Jimmy and Allen, getting both of them rock hard and ready for what comes next. Since it's his gift, Allen gives Scott first dibs on Jimmy's sweet ass, and Scott jumps at the opportunity, slamming Jimmy from behind as he sucks Allen's cock.
Scott fucks Jimmy hard from behind while Allen watches him work, then they all line up and Allen fucks Jimmy while Jimmy fucks Scott, running a train before flipping Jimmy back over one last time.
Scott then proceeds to fuck the cum out of Jimmy, who shoots a massive load as Scott pulls out and does the same, leaving only Allen to add the finishing touch to this cream filled sundae, which he does with a master chef's touch. Who said desert had to be filling?…Join them!
Allen Lucas gay porn scenes at Active Duty
It doesn't get any hotter than this, boys. We have two new cummers matched up with an Active Duty soldier I think I can confidently call a veteran by now. It's Allen Lucas and Shawn getting a trial by fire, led by our stalwart and trustworthy Quentin Gainz.
This time, we see even more of that as the chemistry here steadily builds to a point of complete eruption. Quentin, being the vet, jumps right into the sweet, sweet action by taking Allen's enormous, pulsating cock in his mouth and taking it deep. Shawn enters the water slowly, starting out by getting into some passionate kissing with Allen.
Once the intensity really starts building, Shawn makes his way around to the other side of Quentin, where he goes in for a taste of his nice, tight hole. Eventually, Shawn moves upward and shares Allen's superb cock with Quentin for a while.
Allen has both tongues licking up and down for a while, and he sure enjoys it thoroughly, before Quentin gets up on his knees so Allen can take some dick in his mouth. He gets a good taste of Quentin's hard cock, then turns him around to lick his ass. I'm sure he could taste Shawn's mouth too while rimming that sweet hole.
As Allen takes his time tonguing Quentin's ass, Shawn moves to sucking Quentin's big dick. This gets Shawn good 'n' eager for his hole to get fucked. Quentin takes the reigns and has the rookie Shawn climb on top of Allen for a good ol' fashioned pole ride. Once everything is running smoothly, Quentin pops his dick into Shawn's mouth.
Shawn, like a good newbie, eager to please, keeps right on riding Allen's cock while taking Quentin's too. Claude gets in tight and captures some wonderful views of Allen's truly large erection making its way in and out of Shawn's ass. They decide to switch things up so Quentin can bang Shawn.
Allen gets in there on the other end, being sure Shawn has a good mouthful of his swollen dick. Claude really enjoyed seeing this great chemistry. He asks Shawn, 'you like having a big dick in your mouth and one railing your ass?' Shawn looks at him with a big smile and says, 'it feels great.' What a champ.
Allen and Quentin use the opportunity to get into some very hot kissing over Shawn's back. Then it was the icing on the cake: Quentin lays on his back and wraps his lips around Shawn's dick while Allen gets back to licking Quentin's amazing ass. 'I feel like I'm being worshiped,' Quentin tells Claude as both guys treat his body like a wonderland.
But it's not long before Claude calls for Shawn to take some more breaking in. 'I think it's time for you to put that big dick in his hole,' he says. Quentin has a dick in his mouth, but Allen answers with a hearty affirmative. Quentin steps into position and pounds Shawn again.
It's not long after this point that Allen assumes the position and takes a solid banging from Quentin. Well this one is sure a doozy. It's a great time and one that'll sure go down in the books as a favorite three way among the whole platoon…Join them!