Every gay porn video and gay porn image gallery of Osiris Blade.
Hair Color: Brown
Sign: Unknown
Eye Color: Brown
Dick Size: 11 inch dick
Height: 5'8″
Cut / Uncut: Cut / Circumcised
Weight: 166lbs
Sexual Positions: Versatile
Osiris Blade gay porn scenes at Dominic Ford
Sexy Scott DeMaro is back with his tight, lean body and huge dick to give Osiris Blade a pounding. Even though Osiris has a huge cock, sometimes he likes to take it in the ass. Raw.
And Scott was more than happy to show Osiris what a good raw pounding can do, especially as he fucks Osiris' huge load right out of him.
Then Scott fucks Osiris again with his own cum…Join them!
Osiris Blade gay porn scenes at Extra Big Dicks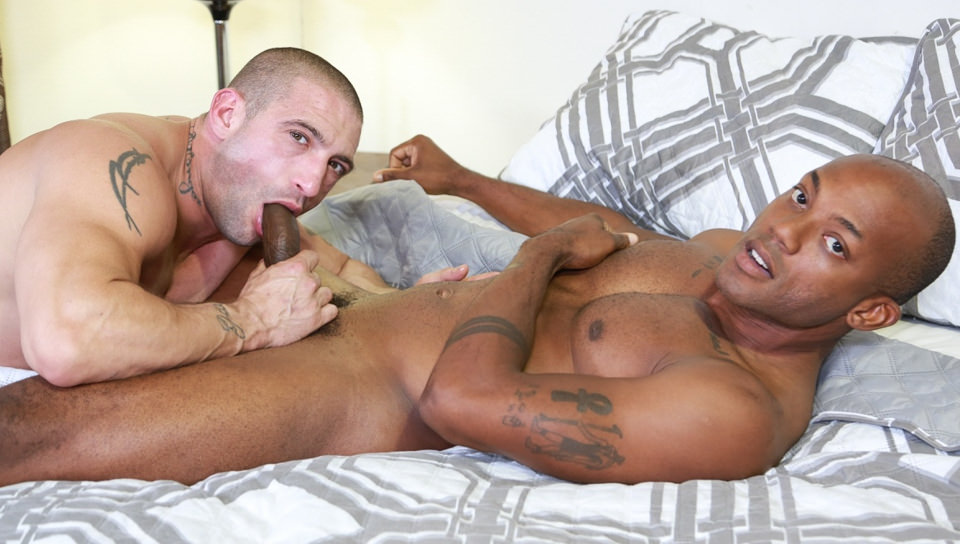 Ceasar Camaro has wanted Osiris Blade's big cock for quite some time and now he has him in his bedroom.
Osiris is teasing Ceasar stroking his cock inside his jeans and not letting him touch it.
He tells him to beg for it and he does. Osiris finally pulls it out and Ceasar starts sucking him and doing his best to take it down his throat.
Once they are both on the bed, Ceasar continues to service Osiris's huge cock and then they move into a 69 for a bit.
Osiris then starts rimming his ass while he continues to suck his cock.
From there he moves to start fucking Ceasar who has been begging for his cock in his ass.
He fucks him doggy style to start and then flips him on his back and fucks him deep until he cannot hold back and pulls out and shoots his load.
He then fingers Ceasar's ass while he shoots his load…Join them!
Osiris Blade is in his massage studio getting ready for his next client when he hears a knock at the door. Alan Kennedy enters the room and they discuss his needs for massage and areas on his body that needs special attention.
Osiris tells Alan he can take care of him and asks if he prefers to be massaged clothed or naked. Alan chooses nude and gets undressed and lies face down on the table. Osiris begins massaging his body and pays close attention to Alan's lower back and glutes.
Based on Alan's moaning, Osiris begins to take the massage in a more sensual/sexual direction and starts stroking Alan's ass and cock. He then starts rimming Alan and then turns him over. He then reveals his huge cock to Alan and Alan does his best to try and deep throat Osiris.
The two share a 69 for a while and then Alan gets on his knees and sucks Osiris's huge cock. Osiris then fucks Alan long and deep until Alan cannot hold back and he shoots a nice big load of cum all over himself. Osiris pulls out and sprays Alan with his own huge load of cum…Join them!
no images were found
Osiris Blade gay porn scenes at Hot Older Male
Handsome silver daddy Jake Marshall and beautiful boy Osiris Blade find the perfect way to relax after everyone else has left the office. It starts with a shoulder rub and soon Jake has Osiris' huge black meat deep down his throat and all the way up into the sweet, wet reaches of his daddy hole.
These men fuck. Jake blows first. He can't hold off with that 10.5 inch shaft all the way in him. Then Osiris blows and breeds. Fuck…Join them!
Osiris Blade gay porn scenes at Next Door Ebony
It's a good thing Osiris Blade is always prepared for friends to drop by. On this occasion, his good buddies, Bam Bam and Dylan Henri happened to show up to hang out. Osiris pulls out a deck of cards to inspire a playful attitude and enjoy some friendly, competitive fun.
Instead of playing a boring game of Old Maid, Osiris tells the guys that the game they'll be playing is a version of the classic favorite, Strip Poker. Bam and Dylan don't protest, and before long, Bam is pulling his pants down to expose to his friends his large, swelling cock.
When Bam loses yet again in the next round of play, he finds himself with Dylan's big dick in his mouth. That's the way it goes at Osiris's house…it's all or nothing.
After Bam Bam gets a taste of both hard cocks, Osiris lets Dylan slide his fat erection in and out of his mouth, while Bam Bam works on Osiris's boner. From there, they switch things up so Dylan can enjoy a taste of Osiris's tight hole as Bam Bam gets a turn having his dick sucked.
This gets the trio juiced up for some fucking, so, being a gracious host, Osiris takes Bam Bam's thick cock in his eager ass. Dylan and Bam Bam kiss passionately as Osiris takes a good banging.
Then Dylan gets in there and slams that sweet hole for a while too. Bam Bam likes this and offers up his own tight pocket. Dylan takes advantage and pounds him for a while. This is an adventure that must be experienced to be believed.
Join these three as their simple card game turns into a fuck fest where everyone gets a piece of ace…Join them!
Here's a wicked tale of sex, leather, and explosive passion. Caleb King has given himself to be toyed with at the mercy of Osiris Blade, dungeon master. Caleb loves to be harshly treated, bound by restrictive clothing, and of course, fucked in the ass very, very hard.
These are all things at which Osiris Blade is quite adept. Caleb knows Blade's reputation and is prepared for a good, solid pounding. They start by kidding hard and with intensity. Soon Caleb is sucking Osiris's stiff cock, hoping to please the dungeon master.
Although the erection is massive, Caleb knows he must do everything in his power to give Osiris pleasure. He takes the enormous dick good and deep down his throat. Osiris is indeed pleased by this and so he reciprocates, slurping on Caleb's large member. Caleb likes this very much.
Next, Osiris is unzipping Caleb's pants to expose his tight asshole. He licks and flicks his tongue around the eager hole, teasing it. It's not long before Osiris is sliding his fat, pulsating cock into Caleb's tender ass.
Join this sadistic pair as they don't hold anything back, fucking hard in this gritty, dungeon dick-down…Join them!