Juan Carlos in his own words:"I am very chill and I like to hang with my homies. On the outside, I may look like a badass but I am really a great guy."
BSB comments:"Juan Carlos has a little swagger about him and he exudes that tough guy attitude. When you get to know him you will see that he is really just a sweet guy with a smile that is delightful. "
Hair Color: Black
Sign: Unknown
Eye Color: Brown
Dick Size: 7.5 inch dick
Height: 5'1″ / 180 cms
Cut / Uncut: Cut / Circumcised
Weight: 145 lbs
Sexual Positions: Versatile
Juan Carlos scenes at Extra Big Dicks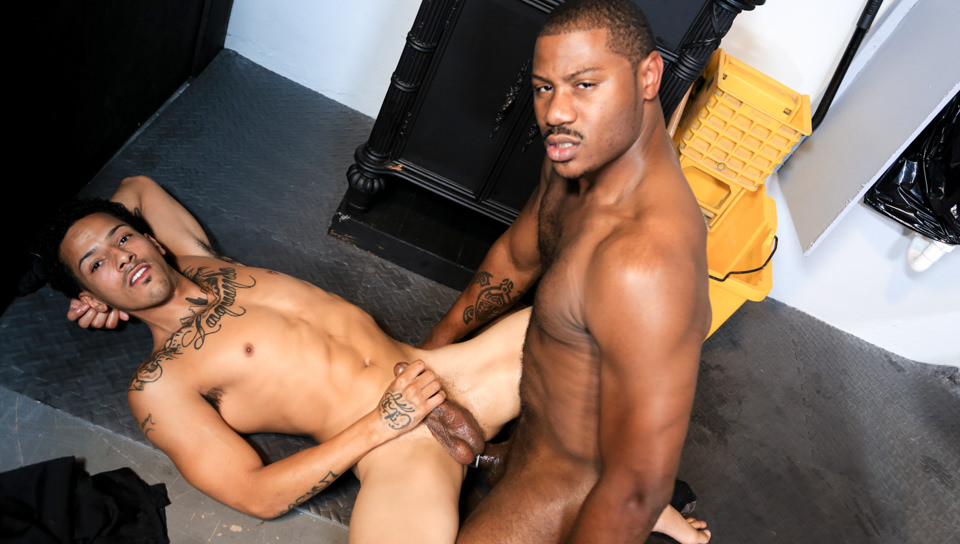 Juan Carlos is finishing up his custodial duties at his work when Adonis Couverture comes rushing into the bathroom area. Juan tries to stop and tell him that the toilet doesn't work but Adonis needs to release his big dick.
Juan takes a step back and waits for Adonis to finish peeing in the stall but when he notices Adonis' feet are not facing the toilet anymore. Juan is trying to get Adonis's attention but he doesn't reply back, Juan sees a big hard cock slowly poke through the glory hole.
Juan can't believe his eyes and begins to stroke the thick piece of meat. Soon enough Juan is on his knees worshiping Adonis' big black cock. Juan takes every inch of the throbbing dick into his mouth. Adonis fully hard comes out of the stall and pushes Juan down to his knees for some more cock worshiping.
Adonis loves his little cock sucker as Juan begs for it in his ass. Adonis lies on his back and Juan slowly slides down the big thick cock until he's resting on his balls. Juan begins to ride that big fucking dick like a pro making use of every single inch.
Adonis flips him on his back where he fucks the cum out of Juan's tight little ass. Adonis' thick meat fills Juan's little hole up as Juan nuts all over himself almost getting it in his eye.
Adonis stands stall above Juan and blasts his nut down on to his chest…Join them!
Juan Carlos scenes at College Dudes
After Juan Carlos and Dylan Drive spend a few minutes making out with each other, Juan gets quite the surprise when he gets on his knees and frees Dylan's hard erect dick from his pants.
His big dick springs upright, to attention and Juan takes it in to the back of his throat, sucking Dylan's big dick and balls and then standing up and letting Dylan get a taste of him next.
Dylan leans forward and captures Juan's prick between his soft lips, taking that cock deep down his throat as he gets Juan hard and then lies back on the bed, waiting for that ass.
Juan sits his tight hole on Dylan's member but it takes him some time to stuff that massive cock in his ass, taking it nice and slow as his ass stretches around Dylan's fat dick.
When it's all the way he rides it, taking every inch of that impressive cock up his ass while he bounces up and down on Dylan's lap until they switch position and Dylan spreads Juan's legs and buries his dick between them while Juan plays with himself.
Dylan fucks him balls deep in his tight ass hole, fucking Juan until both guys are stroking out a huge load of cum…Join them!