Every gay porn video and gay porn image gallery of Jaxx Thanatos.
Hair Color: Brown
Sign: Unknown
Eye Color: Brown
Dick Size: 8 inch dick
Height: 5'9″
Cut / Uncut: Cut / Circumcised
Weight: 165lbs
Sexual Positions: Versatile
Jaxx Thanatos gay porn scenes at Raging Stallion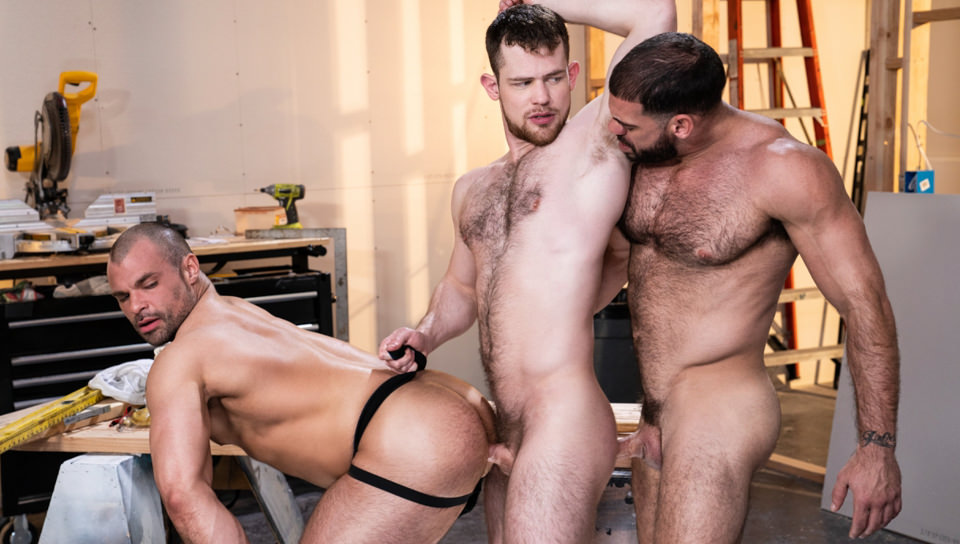 Ricky Larkin and Jaxx Thanatos are out on a construction site with new hunk, Kurtis Wolfe. Ricky and Jaxx like what they see and surround Kurtis to properly welcome him to the work site. Jaxx gets Kurtis down on the workbench as Ricky pulls down his pants and shoves his hard cock into Kurtis' face.
Kurtis is hesitant at first, but soon warms up and realizes he loves getting his body used by his two hunky co-workers. Jaxx wants in on the action and peels off his clothes to get behind Kurtis. Jaxx opens Kurtis' cheeks and plants his tongue as Kurtis keeps sucking Ricky's hard cock. After Jaxx gets Kurtis opened up, Ricky decides to take the next step and shove his raw dick into Kurtis' hairy ass.
Jaxx and Ricky switch sides with Jaxx up front as the studs spit-roast Kurtis. Seeing Kurtis getting plowed from behind makes Jaxx eager for cock himself and bends over to let Kurtis fuck his hole. Kurtis isn't done getting fucked yet, though. He still wants Ricky inside of him and the three form a fuck-chain with Kurtis in the middle.
Kurtis can't get enough dick and lies back on the bench to let his new co-workers take turns tag-teaming his hole. Kurtis loves the feeling of the studs plowing in and out of his ass and cums hard as Ricky blows his load in deep Kurtis' ass.
The sight of Ricky's jizz leaking out of Kurtis makes Jaxx ready to blow and he sticks his dick into the gooey mess to finish himself off leaving Kurtis filled with two massive loads of cum….Join them!
Jaxx Thanatos gay porn scenes at Extra Big Dick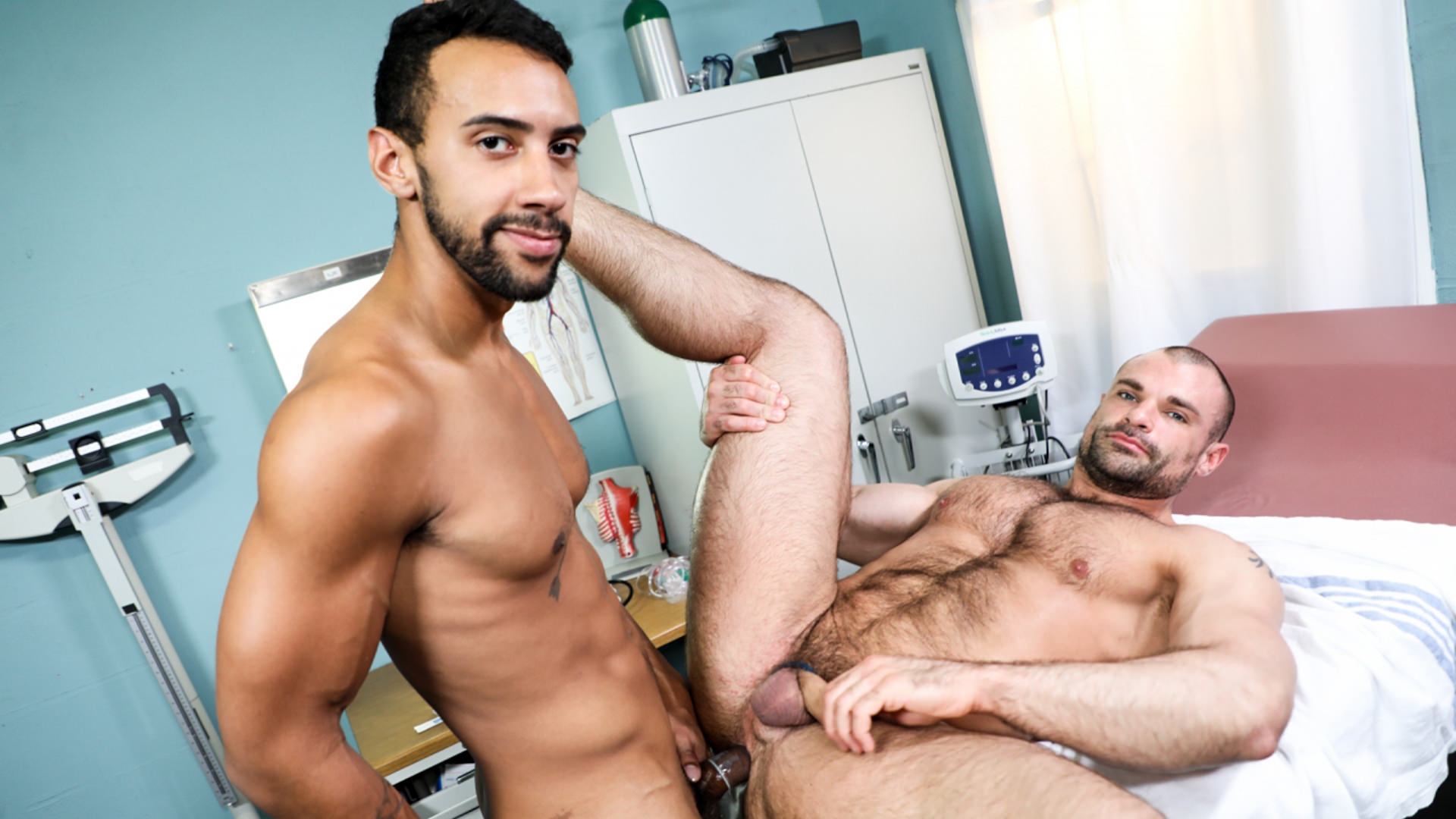 Jaxx Thanatos has come to be examined by the Doctor because he loves to suck big cocks, but lately his gag reflex has been kicking in too much and causing him to choke and gag.
Jay Alexander examines him and determines that he should try sucking his big cock to see if he can help him get over his gagging. He pulls out his big cock and Jaxx is excited. He drops to his knees and starts sucking Jay.
He does gag and choke a few times, but as time goes by it appears his gag reflex has relaxed and he is able to deep throat Jay's big cock. Jay then turns his attention to Jaxx's big beautiful hairy ass and starts rimming him.
He then fucks Jaxx bent over the exam table and then on his back on the table until he cannot hold back and he shoots his load all over Jaxx. Jaxx jacks himself off and cums on himself…Join them!