Every gay porn video and gay porn image gallery of Active Duty Mathias.
Hair Color: Brown
Sign: Unknown
Eye Color: Brown
Dick Size: 8 inch dick
Height: 5'8″
Cut / Uncut: Cut / Circumcised
Weight: 165lbs
Sexual Positions: Versatile
Mathias gay porn scenes at Next Door Studios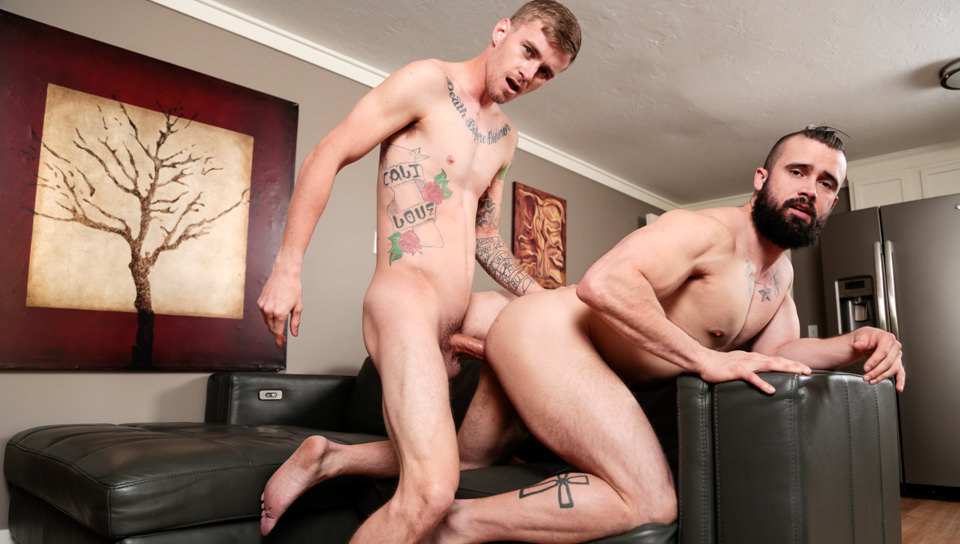 Soon on his way to join the Police Academy, Mathias is eager to show buddy Ryan Jordan all the ways he has of controlling another man, and Ryan finds Mathias unwarranted use of force to be downright sexy.
Hopefully, the mean streets will be just as easy to win over as Ryan, but in the meantime, Mathias is looking to take advantage of this cooperative citizen, and he'll be searching deep and hard until he finds what he's looking for.
As for Ryan, well he's just always wanted to fuck a cop, and he figures a cop-in-training is a good start…Join them!
As Mathias and Gunner spend their anniversary with a weekend getaway, they can't help but marvel at the amenities: the view, the accomodations, and especially the service of cabana server Ty Mitchell.
It's not technically company policy to engage in fraternization with the guests, but Ty always goes above and beyond the call of duty. And besides, getting double stuffed by these two hot guests is worth the consequences.
And after taking turns fucking Ty's little bareback hole, then cumming all over him, Mathias and Gunner are sure to give their stay only the highest praise possible…Join them!
Mathias gay porn scenes at Next Door Buddies
Mathias and Ryan Jordan haven't had much luck filling out the lineup for their band since moving west, but their fortune is about to turn around when drummer Steve Rickz answers their audition call.
Steve not only has the chops to fill in behind them, but he's also some serious equipment to 'fill in' a few other places.
It sure seems like a promising match, but Ryan and Mathias won't know for sure until the put Steve through a standard 'practice run' to test the chemistry between the three of them.
Steve is ready and willing to show he has what it takes to be the cornerstone of this band, and he quickly turns Ryan and Mathias into harmonious believers, as the three of them prove to be a natural fit for each other in every single way.
Looks like Ryan and Mathias have found their man…Join them!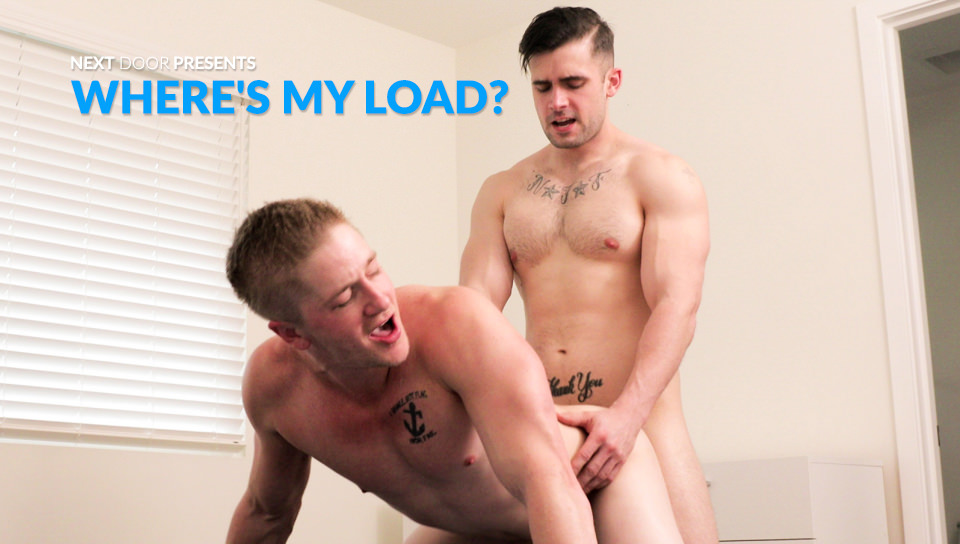 Exiting the shower, Chris Blades heads to the laundry room to get his clothes out of the dryer. Roomie Mathias stumbles upon Chris fumbling with his towel, and as it slips off and reveals his bare ass, Mathias wonders if Chris has enough energy for another load.
He surprises Chris who turns suddenly, his dick blowing in the wind, and Mathias quickly moves towards him, pinning him against the door jam and kissing him hard. They make their way to Chris' room and Mathias falls to his knees, sucking Chris off as he stands by the bed.
Chris gets hard inside Mathias' mouth, returning the favor before Mathias throws him onto the bed. Mathias spoons up with Chris from behind and slides his cock deep into Chris' pink hole, working him from behind as Chris opens up and spreads his legs.
Mathias fucks Chris every way he desires as Chris strokes himself closer to cumming with every thrust. Finally Mathias pulls out and blasts Chris' hole with his load, as Chris nuts all over himself simultaneously…Join them!
Mathias gay porn scenes at Active Duty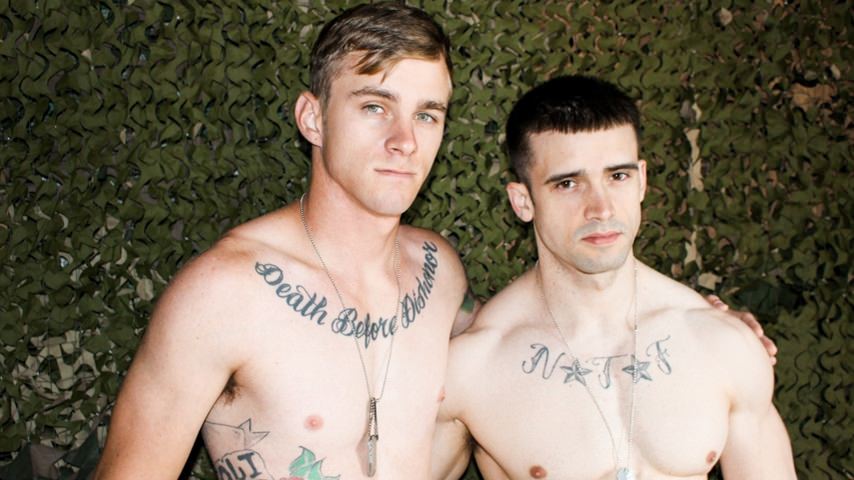 These two hot studs begin in classic fashion by spreading out with their cocks out. They start stroking their big dicks until Ryan Jordan wraps his mouth around Mathias's thick veiny dick. Ryan deep throats the hell out of Mathias until the tables turn and Mathias has his mouth all over Ryan's big dick.
Mathias loves to get a hard cock deep in his mouth before he begins fucking. The under shot is amazing as we see every inch slide in and out of Ryan. Ryan can't believe how great Mathias feels deep inside of him. He continues to moan with every thrust from Mathias veiny throbbing cock.
Mathias fucks Ryan in a few positions all over the bed and you can see his sexy tight bubble butt tense up with every deep push into Ryan.
Finally, Mathias pulls his big dick out of Ryan and jacks his nut all over him which makes Ryan explode his creamy nut all over himself…Join them!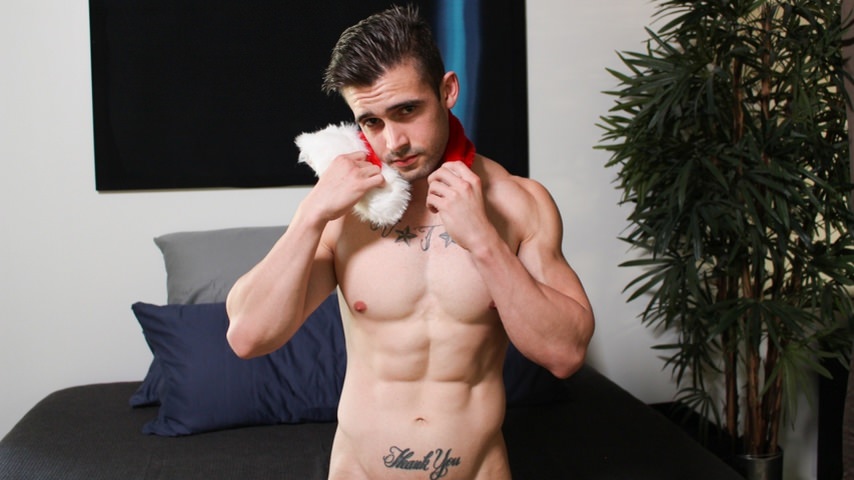 Mathias is wearing his X-Mas hat which he has had for many years. He slowly undresses and reveals his massive veiny cock as he begins to slowly stroke his big dick.
You can hear the excitement as he moans with pleasure stroking his thick shaft. His body is in peak physical condition as he uses his fingers to play with his eager tight hole.
He grips his cock with the strength of a bear making it pulsate for the camera and he tugs on his balls making them jingle all the way.
Mathias didn't just want this to be a stroke session so he incorporated some amazing show and tell and by that I mean he begins to slowly move his hips back and forth while showing off every muscle on his amazing fit body.
A long stroking and showing off session can make you thirsty as he takes a quick break to tell our viewers that it's time now for the cum shot.
He lies back on the couch and starts to beat his cock fast until his balls can't hold his nut in no longer and he shoots his thick creamy load all over his ripped abs…Join him!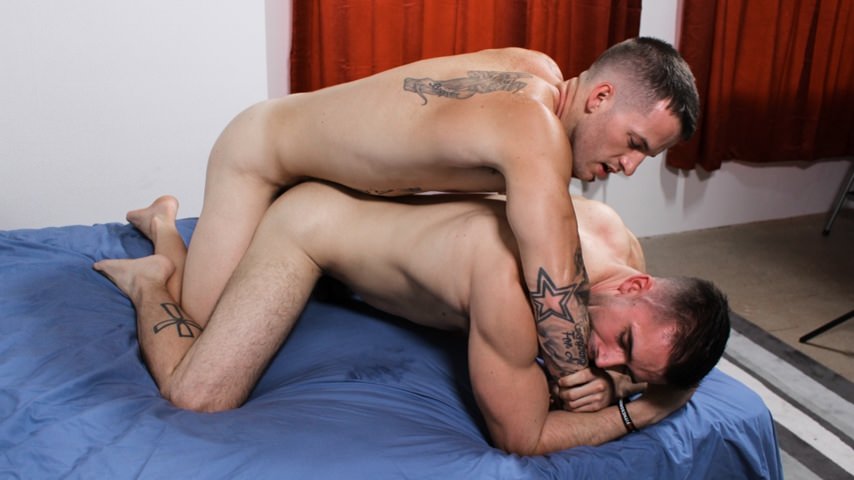 Mathias is ready to take it to the next step but first he has Quentin Gainz wrap his mouth around his cock for a nice sultry BJ.
Quentin loves Mathias's veiny hard cock throbbing in his mouth and he is fired up to take that virgin ass. Quentin will be doing all the work so he kicks back and lets Mathias worship his rock hard cock.
Mathias missed his hard dick and you can tell by the way he sucks on that meat. He might be super excited to give his sweet hole up to Quentin and it shows as he gives Quentin one of his best BJs ever.
Quentin slowly pushes into Mathias. It takes a few slow pushes but soon enough he is in balls deep. Quentin can't believe he is inside this unbelievable tight ass.
Mathias just might enjoy being a bottom more than a top by the looks on his face and all the moans coming from him.
Mathias's cock is so sensitive while being fucked so he has Quentin pull out and he nuts all over Mathias's hard cock which makes him finally release his built upload…Join them!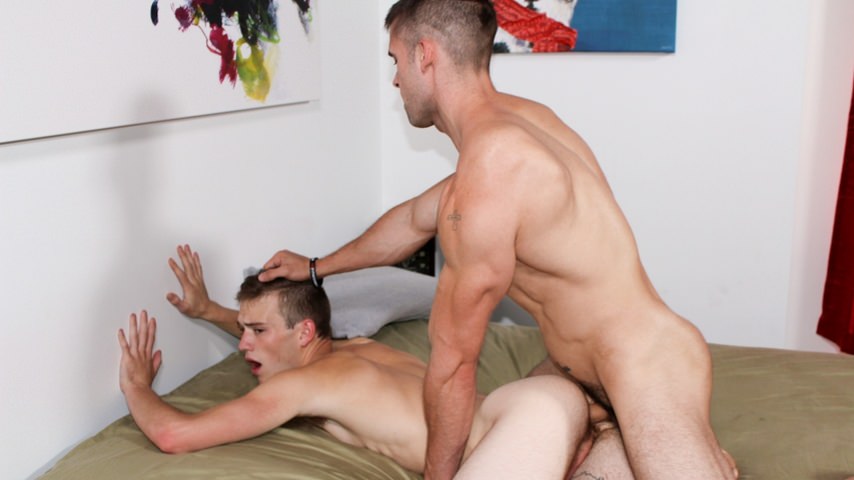 Mathias is the first to get a nice hard cock down his eager throat. He starts deep throating Scott Finn like the pro he has become without hesitation.
Mathias's ripped body flexes with every move he makes. Scott pulls him off his cock so not to cum so quickly and wraps his mouth around Mathias's hard throbbing dick.
Mathias kicks back as he is serviced by one of the best vets. Mathias pulls him off his veiny cock to get one last taste of Scott's precum before he fucks him.
Mathias man handles Scott as he positions him in the right angles so he can enjoy this young soldier as much as possible.
Mathias pounds him deep and hard in each position until his balls have become so full that he gets him into one last position so he can nut all over him.
Scott can feel Mathias's hard cock about to nut but then Scott ends up shooting his nut all over the sheets as Mathias is still fucking him.
Mathias can hear the moans and he pulls out and unleashes his load all over Scotts back…Join them!