Every gay porn video and gay porn image gallery of Tom Bentley.
Hair Color: Brown
Sign: Unknown
Eye Color: Brown
Dick Size: 6 inch dick
Height: 5'8″
Cut / Uncut: Cut / Circumcised
Weight: 165lbs
Sexual Positions: Bottom Boy
Men gay porn scenes of Tom Bentley
Mason Lear is down to fuck, but his boyfriend Tom Bentley is too engrossed in his book to respond to any of his subtle hints. There's always one sure-fire way to get Tom's attention: tickling.
Their breathless tickle fight soon turns to a playful pillow fight. Once the guys tucker themselves out, Tom sucks Mason's cock, and before long they're enjoying a hot 69.
Mason tongues Tom's hole and fucks that ass, and after Tom rides Mason's cock, it's Mason's turn riding his man's dick. Tom fucks the cum out of Mason, who begs for his BF's load all over his face….Join them!
College Dudes gay porn scenes of Tom Bentley
Nate Long and Tom Bentley kiss before Tom gets on his knees to see what Nate's got under those pants. Revealing Nate's massive cock, Tom wraps his lips around it and sucks, doing his best to take that huge prick down his throat as it grows rock hard on his tongue.
Nate pulls Tom up to meet his lips, pulling another kiss from them before he goes down on Tom next, yanking off that underwear and catching Tom's already erect cock in his mouth. Nate runs his tongue along Tom's shaft and Tom pushes Nate's head down, making him take it deeper as Nate gags on that thick cock.
Nate treats Tom to a different kind of oral next as he bends Tom over the bed, spreads his ass, and rims it, his tongue dancing across Tom's sensitive hole, both guys throbbing hard and ready to fuck as Nate climbs onto the bed with Tom.
Straddling his lap, Tom sits on Nate's thick cock and lets his ass stretch around it before riding that dick, his hips moving up and down as Nate's dick fills him up. When Tom's sore ass needs a break, they flip, and Nate bottoms for Tom as he slowly pushes into Nate's hole, fucking him good and deep as Nate's hand strokes his own cock.
Watching Nate play with himself while buried in his tight ass makes Tom nut hard, pulling out just in time to shoot his load all over Nate and then sitting back to let Nate finish himself, his jizz shooting across the bed as they exchange one last kiss…Join them!
Next Door Buddies gay porn scenes of Tom Bentley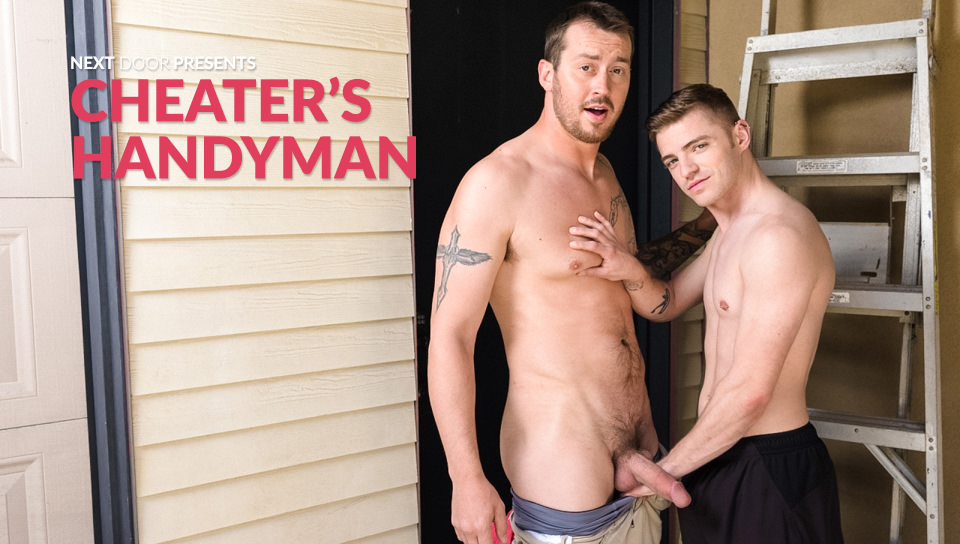 When Mark Long showed up to the address his boss gave him, he had no idea today's job would also come with a show, but when Mark is cleaning windows outside the complex, he spies Tom Bentley's fine ass taking a nice long shower.
Mark's dick stirs in his pants as he watches Tom get out of the shower, and when Tom feels someone staring at him and looks quickly over his shoulder, Mark hurries down his ladder and tries to scuffle away. Tom greets him at the door and sees the bulge in Mark's shorts.
Seeing that this peeping handyman is packing the right tool for the job, Tom falls to his knees and gets a better look at Mark's qualifications. Taking his big dick in his mouth, Tom downs it right there on the front porch, and once Mark is good and hard enough to do some interior work, Tom invites him in.
There, he tells Mark to fuck him hard. Mark does as he's told, sliding his hard cock into Tom's hole, fucking him doggy style as he watches his raw cock go in and out of Tom's tanned and toned hole.
Tom takes the handyman's dick all over the bed, riding it to his content before Mark puts him on his back and fucks the cum out of him. Mark pulls out and shoots his load all over Tom's body, as Tom watches it splooge all over him from beneath.
Tom tells Mark he'll definitely be giving him a recommendation for a job well done on the premises…Join them!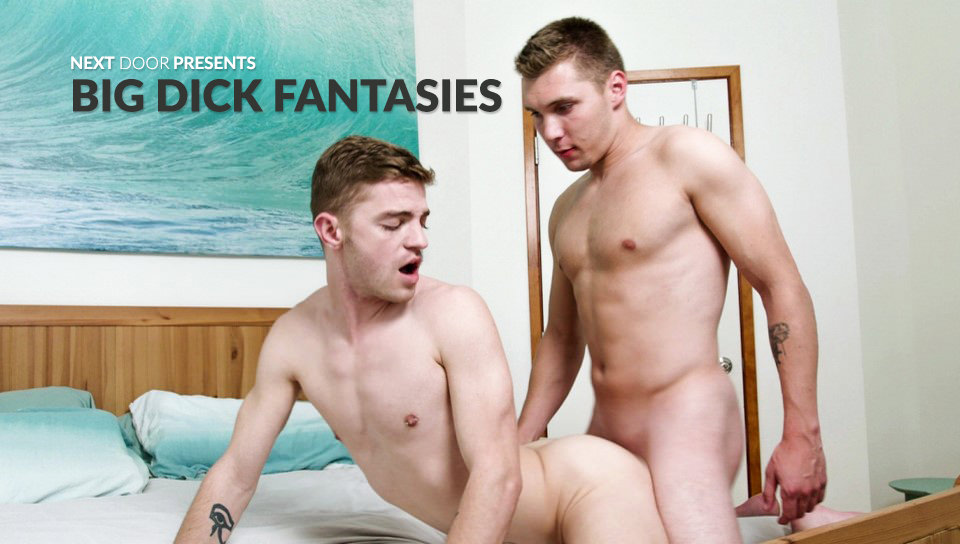 As soon as Elye Black sees the outfit Tom Bentley has when he answers the door, his dick stirs awake. Recognizing Tom's teasing tactics, Elye can tell Tom is ready for a nice hard fuck.
Luckily, Elye is just the guy for the job, so as soon as the two of them make it upstairs, Elye slips his hand between Tom's legs from behind, fingering his crack through Tom's tight little underwear.
Elye rips them down and plunges his tongue deep into Tom's hole, spreading his legs wide as he reaches through and strokes Tom's cock. Elye is rock hard and can't wait to pound Tom's perfect ass, so he leads him into the bedroom and spreads him wide, sliding his bareback cock deep inside Tom's waiting hole.
Tom moans as he's penetrated, stroking himself as Elye fills him with his thick meat. Elye pounds Tom from behind, smacking his tight little ass before letting Tom mount him.
He climbs aboard and grinds against the base of Elye's cock, taking the full length of it as deep as it can go as he cums all over himself from the sensation.
Eyle feels the spray of Tom's load and loses his edge, pulling out and emptying himself into Tom's raw dogged hole, as the two of them laugh at their newfound secret…Join them!
Next Door Studios gay porn scenes of Tom Bentley
Jax Thirio and Tom Bentley have tons of chemistry. They make out and 69 before getting into some passionate fucking in this homemade gem.
Raw Fuck Boys gay porn scenes of Tom Bentley
Diminutive dream-boat, Tom Bentley, teams up with blond, beefy hunk, Spencer Daily, in the latest film from the new-look RawFuckBoys series.
It's clear from their very first, sensual kiss that these two jock-wearing dudes are heavily into each other. Their bodies are soon entwined in a passionate clinch, their hands gently caressing each other as their lips lock together sensuously.
Spencer drops to his knees to service Tom's impressive meat with his hungry mouth. The blond guy sucks and slurps, taking Tom's entire length deep into his tight, wet throat. Tom moans as he looks down at the handsome man taking his shaft, eager for his chance to return the favor.
Spencer, now horny beyond words, makes his way to the sling in the corner of the darkened dungeon. Tom squats between Spencer's widely-spread legs and gets his probing tongue dancing deep inside the blond boy's tender, pink hole, carefully stretching it out for what promises to be mind-blowing sex. The meaty cheeks press against his face, making him all the more ravenous and ready to breed.
Tom stands and slowly pushes his saliva-covered shaft into Spencer's tasty ass. Tom instantly starts to pound Spencer, thrusting all eight inches into the blond guy's guts. Spencer bravely grits his teeth as his insides are entirely re-arranged with increasing speed and power.
The two men stare into each other's eyes, locked in a state of profound ecstasy. There are few words to describe how good Spencer's tight ass feels wrapped around Tom's giant meat.
Tom's strokes get harder and faster as he hurtles towards orgasm. Desperate to breed Spencer's ass, he explodes deep inside him. Spencer can feel Tom's semen squirting violently into his guts. It feels erotic, intimate, and really sexy.
Twink Top gay porn scenes of Tom Bentley
Coach Dale Savage then started doing squats, trying to show the boy what to do to improve his form.
But young cute Tom Bentley, not missing the moment to be bold, asked the coach to remove his shorts as well.
Coach Savage practically tore off his bottoms, happy to give the young man a glimpse of his muscular ass.
And as he squatted down, Tom placed hands on him just as the older man had done.
Tom's fingers caressed the older man's backside.
He continued to feel his glutes and hamstrings until Savage asked, Do you like what you see?
The cheeky question made it clear that Tom was going to get more than just advice from the older man during their private session.
Savage stood up and bent over an ottoman according to the young man's direction, taking on a submissive and willing spirit as the boy clearly started to take charge. Coach Savage loved it.
He loved seeing his young players step up and become strong, especially if it meant he was going to benefit from their sexual prowess.
Tom knelt down, turning his cap around as if to signify his readiness to dive into the older man's ass.
He spread his meaty, hairy cheeks apart and began tasting the deep, tasty hole of his mentor.
Coach Savage arched his back and held himself up with his muscular arms, embracing the young man's tongue with his hole.