All gay porn pics and gay porn videos of Teddy Torres.
Hair Color: Black
Sign:
Eye Color: Brown
Dick Size: 8-inch dick
Height: 5'10"
Cut / Uncut: Uncut / Uncircumcised
Weight: 187 lbs
Sexual Positions: Versatile
Masqulin gay porn scenes of Teddy Torres
Bossman Manuel Skye keeps a close eye on his employees, particularly on their crotches. Unbeknownst to them, he has hidden cameras placed under the desks of all of his male employees. He enjoys the various views from his own desk while discreetly stroking his rod, but today he's in for a real show; compliments of his sexy employees Damon Heart and Teddy Torres.…Join them!
Hairy muscle hunk Teddy Torres is feeling horny and he's spending a lot of time on his phone scrolling through sexy young dudes on a hook-up app.
Then he spots hottie young escort Ryan Jacobs.
His ad tells all, Ryan is a 21-year-old escort who is totally hot with a very easygoing attitude.
Teddy messages Ryan that he's interested and wants to meet up now. Within minutes Ryan is knocking on his door.
Teddy notices that Ryan looks much better in person than in the pictures and he is nervous but excited for the discreet, no strings attached sex.
As soon as Ryan enters the apartment he's glad to see Teddy's huge crotch bulge and big stiff dick.
They kiss passionately at first as Ryan strips off his t-shirt and jeans.
Teddy sucks down hard on Ryan's young cock before spinning him around to run his tongue up and down Ryan's smooth ass.
Ryan's hole gets a good rimming from Teddy before he shoves his huge thick dick deep into his ass.
Teddy bareback fucks Ryan's bubble ass changing positions and pummelling his asshole hard and fast till both are close to orgasm.
This heat has everyone sweaty and extra horny.
When Teddy Torres notices an anonymous invitation by Ace Quinn to follow him into his garage, he's more than willing.
Inside, the horny men get at it leading to a breeding session by the hairy Teddy and the young stud Ace.
In part 2 of the Keys Game, Leo Bacchus and Teddy Torres discover they've been paired up and find their way to bedroom number 2.
Leo and Teddy have been eyeing each other all night, and Leo is more than excited to have been paired with his hairy masculine fuck-partner.
Secretly, he's been wanting this to happen for a long time and is happy to finally get a chance to fuck no-strings-attached with Teddy.
Teddy is an epic cock-sucker and he swallows Leo's cock deep.
Leo enthusiastically licks Teddy's sack and takes a rough face-fucking before climbing up and riding his face.
Teddy tongue-fucks him deep 'til his hole is nice and slick.
Teddy flips him over, and thrusts deep into his buff muscle-bottom, tweaking his nipples before spraying his hot load on his chin.
Teddy wraps his big hands around Leo's neck, and Leo cums uncontrollably, shooting his load all over his ripped abs.
Teddy Torres gay porn scenes at Raging Stallion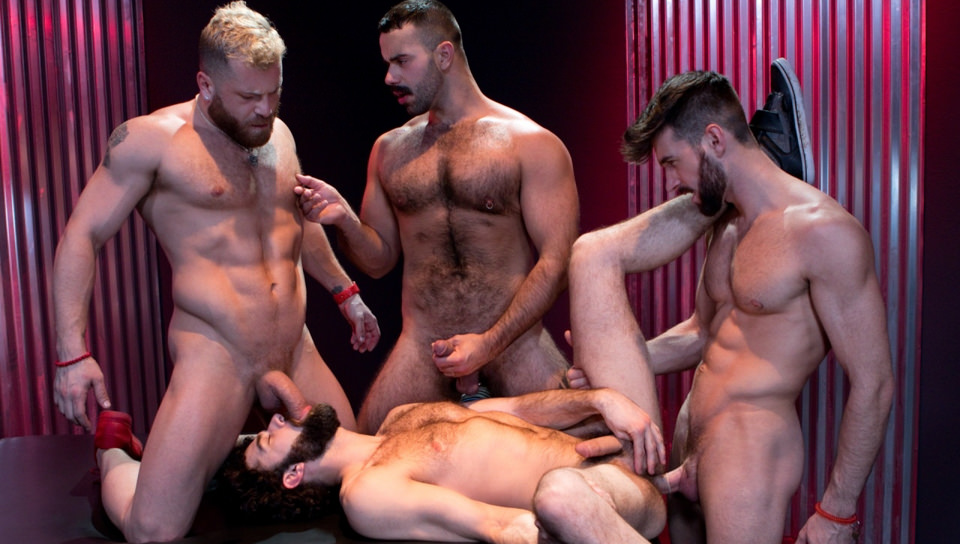 Tegan Zayne finds himself home alone and decides to hit the sex club. He barely gets in the door when he runs into Woody Fox standing by the lockers with his uncut dick in his hand.
The two exchange glances and soon Tegan is on his knees servicing the hung stud's big cock and balls. As Tegan continues sucking on Woody's dick, they can hear another couple having sex nearby.
They decide to explore the club and come across Teddy Torres getting railed by Riley Mitchell. Woody and Tegan find a spot near the new couple and as Riley pounds away on Teddy's ass, Woody gets behind Tegan to fuck him deep.
Teddy and Riley don't wait for an invitation to join the fun and soon Riley and Teddy have their dicks down Tegan's throat as Woody continues to fuck him.
Tegan loves being the hole to be used by every other dick in the room as the guys all take turns on his face and asshole, pounding away to get their own satisfaction.
All the hot action surrounding him makes Woody the first to blow. He dumps his load all over Tegan's face and as Riley laps it up; he's the next to go.
Watching Tegan get his face doused in cum is all it takes for Teddy to let loose. He covers Tegan's hairy patch of pubes with creamy white ropes before Tegan is the last to blow.
Tegan is left as a sloppy, sticky mess covered in the loads of four extra-hung studs…Join them!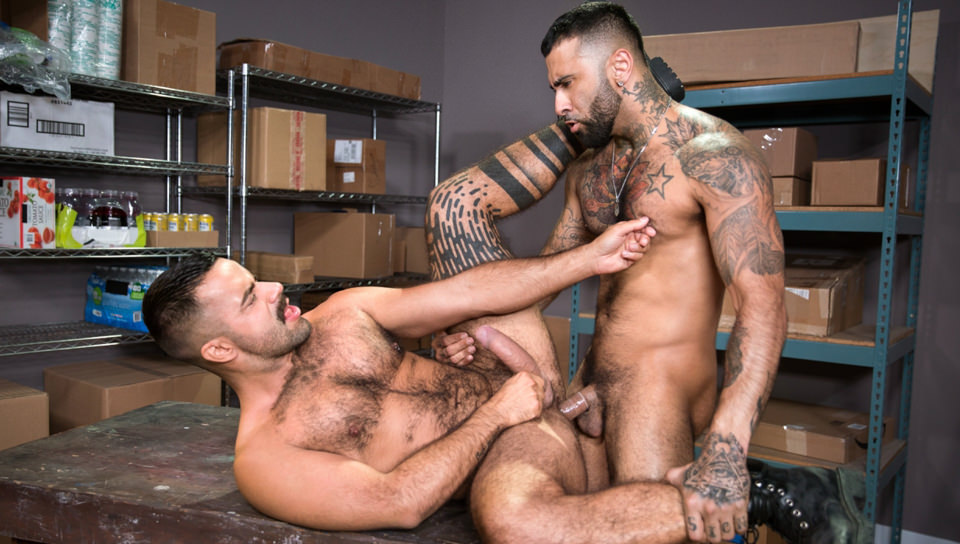 Hunky Rikk York can barely keep his eyes open while working at the 24-hour convenience store. To stay awake, he guzzles down what he thinks is an energy drink.
It turns out to be a boner elixir and it works instantly. In the meantime, delivery guy Teddy Torres is stacking boxes in the storage room when Rikk walks in with his dick in his hand.
Teddy takes one look at the thick, uncut cock in Rikk's meaty fist and immediately gets on his knees to help relieve Rikk.
Teddy is hungry for cock and wraps his warm lips around Rikk's big one to take it all the way down his throat. Rikk can see that Teddy has a raging hard-on and returns the favor.
When Teddy can't get any harder, he bends Rikk over and after priming his hairy asshole with spit for lube, he rams his monster cock all the way into the muscle stud.
Rikk gets railed deep and then realizes he still has a boner to reduce. He throws Teddy down on the table and slides his throbbing rod into the hairy hunk.
Rikk pounds away until both of them let loose and dump their milky loads all over Teddy's furry stomach…Join them!
Burly truck drivers Markus Kage and Ryan Bones are enraged that Teddy Torres would waste their time by dragging them out to the middle of the woods and trying to sell them a piece of junk truck.
To make up for his fuck up, the two bearded daddies bring Teddy to his knees and stuff his face with their firm slabs of meat. Markus lets out a brutal growl and is soon thrusting his bareback dick into Teddy's hairy hole while Ryan fills the trucker fucker's mouth.
With Teddy's fur-covered body draped over a pile of old ties, the two hulking tops continue using their girthy cocks to stuff him at both ends until the bottom is covering himself in his own cum.
A drained Teddy then drops to his knees for his fellow truckers to stroke it out and shoot ropes all over his thick body hair.
Teddy Torres gay porn scenes at Kristen Bjorn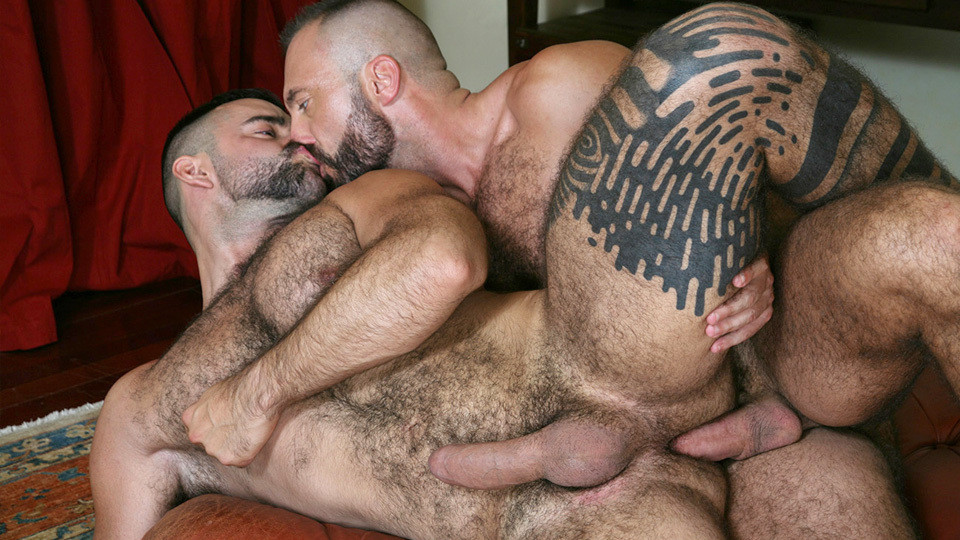 Xavi Garcia is looking for someone a bit more like himself and turns to the Burly Bear app and finds Teddy Torres. Teddy heads over and finds that Xavi is so much more than his pics on the app.
The two muscular grizzlies are immediately attracted to one another and begin to expose their furry, muscular bodies. Both men unleash their meaty, uncut cocks and the attraction continues to build.
Xavi drops to his knees and immediately devours Teddy's fat cock all the way to his hairy base. As Xavi expertly works his way up and down that hot shaft of Teddy's cock, Teddy's head roles from side to side in utter delight as his eyes roll back in absolute pleasure.
Teddy finds himself so turned on that he has to get a taste of Xavi's sexy cock. He drops down and pierces his mouth and throat with Xavi's straining cock. Teddy uses his mouth as a fuck machine and goes wild sucking and bringing ultimate pleasure to Xavi's cock.
After flipping back and forth with the intense cock sucking and nipple pleasure Teddy spreads Xavi's furry ass open and delves deep into the abyss of fur and begins fucking Xavi with his wet tongue. Teddy works his hot tongue from the scorching pink hole, along the furry ass crack down to Xavi's smooth balls and succulent cock.
Xavi's ass is hot, dripping with saliva, and primed for action as Teddy stands up and rams his raw cock to its fullest extent deep inside of Xavi. Teddy loves the sensation of both men's fur merging together as the fucking intensifies.
Xavi knows that he has to get in on all of this hot action before he gets too close to cumming. Teddy is flipped on his side and Xavi comes in from behind and pumps Teddy's ass full of raw cock. Xavi gets flipped onto his back and Teddy rides him to the edge and beyond.
Xavi looks up and admires the man that is so strong, powerful, tender and like himself a sex beast. With all that admiration for Teddy, Xavi blows his load of cum as Teddy continues to pummel his ass hard. Just as Xavi's ass muscles start to loosen their grip Teddy whips out his cock and cover Xavi's furry ass with his thick load of cum.
Teddy slides his cock back inside of Xavi and the circle of pleasure is complete…Join them!
Teddy Torres gay porn scenes at Men.com
Dustin Holloway is still on the hunt for the sex-crazed men in town and is excitedly pleased when he runs into Teddy Torres. One encounter together turns into dick sucking, ass fucking, and cum bursting fun…Join them!
Beau Reed gives his workers Teddy Torres, Ethan Chase, and William Sawyer a little bonus in the form of a free pass to his ass…Join them!
Top Fan Vids gay porn scenes of Teddy Torres
Ryan Bones in his apartment tugging on his dick and dragging on a cigarette.
He's waiting for his hunky hookup Teddy Torres to arrive.
Teddy does exactly as he's told, and drops down to his knees to worship Ryan's big cock.
Get ready for plenty of reciprocal blowjobs, great rimming, and a messy cumshot.