All gay porn videos and pics from gay porn star Grayson Lange.
Hair Color: Brown
Sign: Unknown
Eye Color: Brown
Dick Size: 7.5-inch dick
Height: 5'8″
Cut / Uncut: Cut / Circumcised
Weight: 125lbs
Sexual Positions: Versatile
Sexual Orientation: Gay
Nationality: American
Cockyboys gay porn scenes of Grayson Lange
Grayson Lange makes his CockyBoys debut in a new Wildest Dream episode, with Ethan Slade helping him relive an incident from his past.
Grayson once crushed on one of his older brother's friends and got a look at him naked, but nothing came of it…except material for his spank bank.
Here, Ethan plays his brother's friend and as Grayson often fantasized he sees Ethan jacking off. And when Ethan catches him looking he invites Grayson into his room.
Grayson walks in and goes down on Ethan, who's soon pleased with the eager service and obedience. He gives Grayson passionate kisses of encouragement and Grayson goes back to deep sucking him, but Ethan wants his ass.
In a 69 Grayson sucks him while Ethan rims his tight little hole and primes it for his cock. And in one swivel of his body Grayson plants himself on Ethan's cock and begins to ride him.
He works himself into an energetic rhythm as he rides Ethan's cock and kisses him passionately. Ethan adds intensity by bouncing Grayson on his cock, keeping up the sex talk, and holding Grayson by the throat.
Ethan sits up to thrust into Grayson, hold him close, kiss him deeper and show his control by picking him up to fuck him in mid-air. He plants him on his back to pound him deeper with even more authority.
Ethan finishes off Grayson by moving sideways thrusting into him and in little time his cock works its magic by making Grayson shoot his load over himself.
Ethan wastes little time getting up and giving Grayson a thick facial and make BOTH their wildest dreams come true…Join them!
Next Door Studios gay porn scenes of Grayson Lange
Now that Grayson Lange and his brother's friend, Johnny Hill, have hooked up, Johnny is back for more. This time Grayson is the hesitant one, as Johnny tries to initiate with him while he sits in the living room.
Grayson is nervous because his step-brother, Chad Piper, is in the next room, but Johnny assures him Chad wouldn't care. In fact, Johnny thinks Chad might be into it. Grayson is skeptical so Johnny tells him to ask Chad himself, as Grayson turns and finds his step-brother standing there, cock in hand, ready for action.
Grayson laughs and then shrugs, thinking why not. He quickly bends over and begins to suck Chad off, while Johnny tongues his hole and shoves a finger deep inside. Grayson shows his pure cock lust as he lets both Johnny and Chad face fuck him at the same time.
Chad never knew that his brother was such a cock pig, but now that he realizes it, he decides to take full advantage, bending Grayson over and plunging his meaty cock bareback into Grayson's waiting hole. He pounds Grayson doggy style before giving Johnny a turn.
Johnny mounts Grayson onto his cock, fucking him from beneath while Grayson bounces on his hard dick. After taking both of them separately, Grayson is still not satisfied, so he tells them both to fuck him at the same time. Johnny isn't even sure it's possible, but sure enough, he watches Grayson mount Chad's pole before sliding his in too.
They double penetrate his hole as Grayson smiles and takes it willingly. Johnny feels his cock up against Chad's and the sensation causes him to pull out and blow his load.
Chad follows suit, standing up and blasting Grayson's face with his jizz, as Grayson strokes himself off and lauches all over himself…Join them!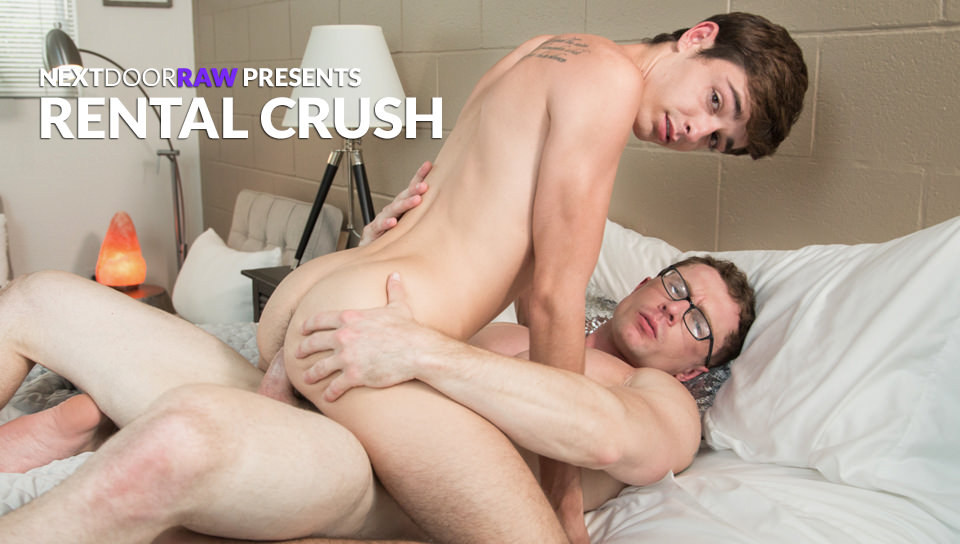 When Markie More booked his beach rental, he was looking for a nice, relaxing get-away, and figured the sun and the sand would do the trick.
What he didn't count on was that the rental agent's son, Grayson Lange, would be stalking his every move, but when he hears the sound of his door opening and closing, Markie has a pretty good idea who is breaking in.
Catching Grayson spying in the hallway, Markie tells him he can either rat him out and get his money back, or that he can just fuck Grayson's little ass hard.
Grayson smiles at choice B, and that's the one Markie decides to pursue, as they kiss hard in the hallway before Markie shoves Grayson's head down to his waist.
Grayson takes the cue and does the rest, removing Markie's shorts and downing his cock in one gulp, deep throating him as he begins to play with his hole.
Markie grows hungry to have at Grayson, so he pulls him up and spins around, pushing him up against a wall and dropping to his knees to get a close look at Grayson's ass, tonguing the intruder's hole as he continues to stroke himself hard.
Ready to fuck, Markie stands up and lifts Grayson into his arms, setting him down on his hard cock and fucking him raw against the wall. He pounds Grayson in the hallway before the move to the bedroom, where Grayson mounts Markie and gives him a ride.
Markie lets Grayson bounce on his cock to his heart's content, and when Grayson has had his fill, Markie flips him onto his back and fucks the cum out him. Grayson spits his load onto his stomach as Markie gets closer and closer to busting his nut.
He fucks Grayson hard and cums deep inside him, pulling his dick out and letting the cum spill out of Grayson in a messy conclusion to an eventful day. Some vacation indeed…Join them!
Helix Studios gay porn scenes of Grayson Lange
[gallery_master theme="masonry" source_type="selected" ids="1999″ gallery_type="extended" layout="grid" show_title="show" show_desc="hide" height="160″ width="200″ border_style="2px solid #000″ margin="10px 10px 10px 10px" padding="10px 10px 10px 10px" title_color="#000″ desc_color="#000″ lightbox="enabled" order_by="random"] [/gallery_master]
Total top bro next door Blake Mitchell along with blue-eyed angel-face fuckboy Brad Chase join adorable new teen on the scene Grayson Lange in his threeway initiation.
This gang of smooth and chiseled cherubs undresses to impress and dicks are devoured and their impeccable asses are eaten. As an innocent conversation quickly turns into an afternoon eruption of youthful ecstasy…Join them!

Twink Loads gay porn scenes of Grayson Lange
Cute blond twink, Grayson Lange, and tall muscle-god, Silver Steele, make their debuts in an electrifying scene.
They start kneeling on a bed, Steele's masculine arms engulfing the twink in a passionate embrace as they kiss with lustful intensity. Clothes are soon torn off, revealing a huge contrast in body types.
Steele is a hunky, hairy, gym-sculpted DILF. Young Grayson is lithe, slight, and smooth. They say opposites attract and there's certainly no doubt about the chemistry buzzing between these two.
Steele loves the young boy's dick, it's a beautiful, upward-curving, rock-solid pole and he can't wait to make its acquaintance!
The older man is soon on all fours, obsessively sucking Grayson's sexy dick like a tasty popsicle. He wants the boy real bad. Grayson's eyes roll up to heaven as waves of pure pleasure surge through his tight, young body.
Grayson knows that the power is very firmly in his hands. Steele is horny for him and will do anything he wants… and Grayson wants to top! He turns Steele around and uses his probing, sensuous, snake-like tongue to prepare the older man for an unforgettable ride.
Grayson is soon feeding his hard dick into Steele's tight hole. The handsome DILF gasps euphorically as Grayson begins to thrust. The young man certainly doesn't waste any time and is banging hard and fast within seconds…
Grayson loves the feeling of his dick deep inside Grayson's hole and starts to ram it in even more aggressively before grabbing his phone and filming some of the action to revisit the next time he's feeling horny with nowhere to stick his rock hard tool.
The banging reaches a raw, animalistic climax with Steele begging for Grayson's meat and the twink responding by blasting a giant, thick, creamy load deep inside the older dude's hole which squirts out like a slimy stream all over the bed sheets.
Raging Stallion gay porn scenes of Grayson Lange
Governor Max Konnor isn't surprised to find young college student Grayson Lange on the doorstep of his mansion.
After all, the two have been having a torrid May-December affair since Mrs. Konnor began traveling more frequently.
Somehow, Grayson has inside details about the scheme at Rider's Correctional Facility, a subject that Governor Konnor is very eager to discuss.
Grayson, though, is more eager to get his mouth around Max. Grayson wastes no time dropping to his knees, taking Max's entire girthy shaft between his drooling lips.
It's not long before Grayson strips down to his black thong, positioning himself over an expensive chair.
Max can't ignore the view, the milky white flesh of a tender young ass, and spanks Grayson's cheeks until they're red.
Soon, Max's fingers and tongue find their way deep into the college boy's cum tunnel, a beautifully tight fit for the governor's huge, raw, fat cock.
Grayson's hairless twink-hole is extremely accommodating as Max rams his heavy pole into the piggy undergrad from behind.
The governor then takes business into his bedroom, where he lays Grayson flat on his stomach. With each bareback thrust, Max rearranges Grayson's insides until he flips the smooth student onto his back.
As Grayson demands to be fucked some more, the lawmaker pounds on the boy's sweet spot until Grayson shoots his hot spunk over his head.
Still, rock hard, Max unloads into Grayson's mouth and then samples his seed with a lip-lock.
In the afterglow, Max reveals that he has someone in addition to Grayson who's giving him inside information about Riders Correctional. But who?