All gay porn pics and gay porn videos of Ian Greene.
Hair Color: Brown
Sign: Unknown
Eye Color: Brown
Dick Size: 8-inch dick
Height: 5'9″
Cut / Uncut: Cut / Circumcised
Weight: 165lbs
Sexual Positions: Versatile
Men gay porn scenes at Ian Greene
Hairy hunk Ian Greene wants a nice quiet day to tan nude all alone at the beach, so he's quick to dismiss William Seed when he asks to borrow some lotion.
Undeterred, William decides to have a little fun by playing with his drone…and taking the attached dildo in for a landing in Ian's ass!
Ian chases William into the water, then starts sucking the prankster's cock.
William fucks Ian with his real cock nice and hard in doggy style and missionary till Ian cums, then has him ride his dick before cumming in Ian's mouth…Join them!
Ian Greene and Ty Mitchell playfully splash each other as they take a bath together. The pair dry off, and Ian pulls off Ty's towel and swats at his ass with it, then gets to his knees and rims his juicy peach.
Ty's got a surprise for his mana double-ended dildo! The guys play a fun game of anal-tug-of-war as Ty rubs their cocks together before he decides he needs to sit on Ian's dick.
He rides him on the floor, then Ian picks him up and bends him over the vanity to fuck him doggy style.
Ty rides the top reverse until he orgasms, then Ian puts him on the floor on all fours to penetrate him before cumming on that wet ass peach.
Today Paul Wagner goes deep with Ian Greene, asking him about his experiences in his five years making porn and some of his hottest fantasies, including any Ian, might have about him.
In fact, there is a fantasy the bottom has been cultivating, and he acts it out on camera, rubbing his face against Paul's bulge before taking out his big cock and sucking it.
Ian gets naked and gets on all fours in a chair for Paul to fuck him doggy style, then he rides the top.
Ian takes that fantasy-cum-true cock deep in missionary, then sucks Paul and takes a facial as he strokes himself off.
Bromo gay porn scenes at Ian Greene
Ian Greene receives a mysterious anonymous text saying something has been left in his room, and Bo Sinn watches and follows him back home.
Ian finds a leather collar and mask waiting on his bed, and immediately gets naked and puts them on, then waits on the bed on all fours.
Bo enters holding another surprise, a studded leather paddle, and gives Ian's ass a thorough spanking before fucking his mouth.
Ian wants his master's big dick in his tight hole, and Bo fucks him hard before cumming all over his face…Join them!
Naked Sword gay porn scenes at Ian Greene
It's the ultimate fight, everything's on the line and these fine athletic studs will do anything they can to finish off their opponents.
They're jacked up, they're hot as hell and they're horny as fuck, they're, TKO Total Knockouts.
They will fuck you until you beg for mercy and throw in the towel. Nick Foxx directs eight relentless, horny studs who punch, grapple, wrestle, suck, and fuck their way to mixed martial arts victory.
Ian Greene is the up and comer vying for the win against Ryan Rose, but Ryan's USMC training gives him the upper hand over Ian and his tight ass.
Austin Wolf asserts his solid, massive body in dominance against Josh Conners, claiming his prize with a no-holds-barred fuck.
Trenton Ducati imparts some pro tips upon Alexander Gustavo, winning the fight and giving Alexander a hands-free cum shot.
Micky Jr takes a beating from Sean Zevran, bending over to take Sean's cock doggy style and receiving a load to the face.
Watch the excitement, intensity, and heavy action as the studs of 'TKO Total Knockouts' fight for the sexual dominance…Join them!
Next Door Studios gay porn scenes at Ian Greene
Out among the trees of his father's avocado grove, Ian Greene happens upon one of the workers on break engaging in a little 'me time'. Donte Thick has found a nice private spot set up, and as Ian watches on, Donte strokes his massive cock.
Even from a distance, Ian can see that Donte is packing quite the package in his overalls, and beginning to fondle himself, he fantasizes about sucking him off. To his surprise, Donte wags his dick at him and invites him over. Ian wastes no time making his way over to Donte's spot, and without words, he falls to his knees and makes his fantasy a reality, as he downs Donte's hog of a cock to the base.
Donte gags him with his dick as Ian chokes on the head. Donte comes out of his overalls and tells Ian to stand up. When he does, Donte delivers a messy blowjob, spitting all over Ian's cock and then gagging himself on it repeatedly. He lays Ian on his back and tongues his hole before sitting up and sliding his bareback cock into Ian.

Ian looks up at Donte as he thrusts over and over again.
He reaches up and runs his hands along Donte's chest as Donte pounds him with his cock. Donte flips him over and perches Ian's ass high in the air, before fucking him from behind as he reaches around and chokes Ian a little. When he finally lets Ian have a ride, they are both on the edge of cumming, and Ian is rock hard and ready to shoot his load.
He strokes himself as he rides and lauches his messy jizz all over Donte's blanket as Donte continues to fuck him raw. A few more pumps and Donte is ready to cum, so he Ian dismounts and Donte feeds him his load, spraying it all over Ian's face.
Cum covered, Ian realizes maybe his father is right when he says he should spend more time in the grove…Join him!
Chad Piper is a little nervous as he knocks on the door to this internet stranger's house, but as soon as Ian Greene lets him inside, Chad is immediately distracted by how nice the place is.
He immediately conjures fantasies of fucking in every corner of the house, and luckily, Ian is ready to start right now on the stairwell, grabbing Chad and kissing him as he takes off his clothes.
Removing Chad's pants, Ian gets his an up close look as his cock, and realizes he isn't about to be disappointed, as he downs Chad's cock in one fell swoop, taking him into his mouth all the way to the base, gagging on the shaft as Chad breaks out of his shell and pushes Ian's head down even further.
He comes off it for air and Chad tells him he wants to give it a go, so Ian reclines back onto his elbows as Chad sucks him off and fingers his hole.
Spitting in it, he tongue fucks Ian's hole before plunging his raw dick deep inside, fucking Ian in a standing doggy as he clings to the stair rail for dear life. Chad fucks him hard from behind before giving Ian a chance to ride.
Ian jumps at the opportunity, mounting Chad's cock and giving it a nice spin, before laying back and stroking himself off as Chad fucks the cum out of him.
He finally empties his seed into Ian, breeding him as Ian closes his eyes and imagines where Round 2 should happen…Join them!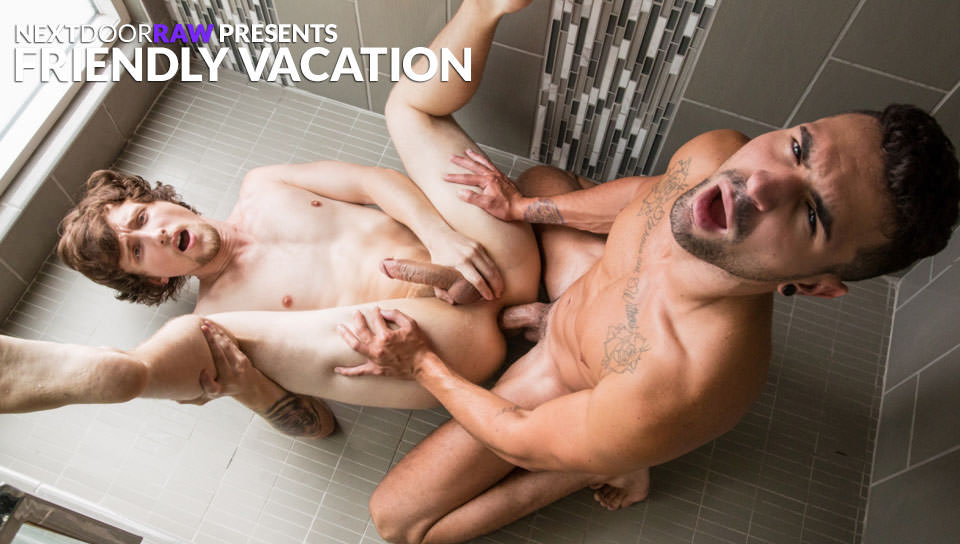 After settling into their vacation rental for the week, school friends Scotty Zee and Ian Greene realize they only have about fifteen minutes until their parents show up, and both of them are ready for a shower after a half day's travel.
Luckily, as Ian points out, the shower has two heads. Scotty seems hesitant to partake in such an arrangement, but his desire to be clean outweighs his reluctance to share the bathroom. When he enters the shower, he finds Ian already halfway clean, and taking his place beside his friend, he commences to soaping off.
Ian can't help but stare at Scotty's figure, noting his perfect ass and his nice cock. Ian reaches out to touch the perfect ass in front of him, and Scotty recoils at first, but almost immediately seems to consider Ian's silent offer.
Relenting, he and Ian embrace and begin to kiss, and in an effort to seize the moment, Ian falls to his knees and begins to suck Scotty off. Scotty grows hard inside Ian's mouth and then experiences something entirely new when Ian bends him over to eat his ass.
But that's nothing compared to the first time experience that happens next, as Ian plunges his raw cock deep inside Scotty's tight hole. Ian pounds Scotty from behind and Scotty takes every bareback inch willingly until Ian tells them to switch, and it's Scotty's turn to raw dog his friend, bouncing Ian on his cock as he runs his hands up and down Ian's back.
Scotty is turned on by this, but quickly admits to Ian that he'd rather be the one getting fucked, so they switch again, and Ian plays Scotty out on the floor, fucking a massive load out of him missionary style before pulling out and wetting his friend down with his first gay load, just as the guys can hear their parents coming down the hall…Join them!
Raging Stallion gay porn scenes at Ian Greene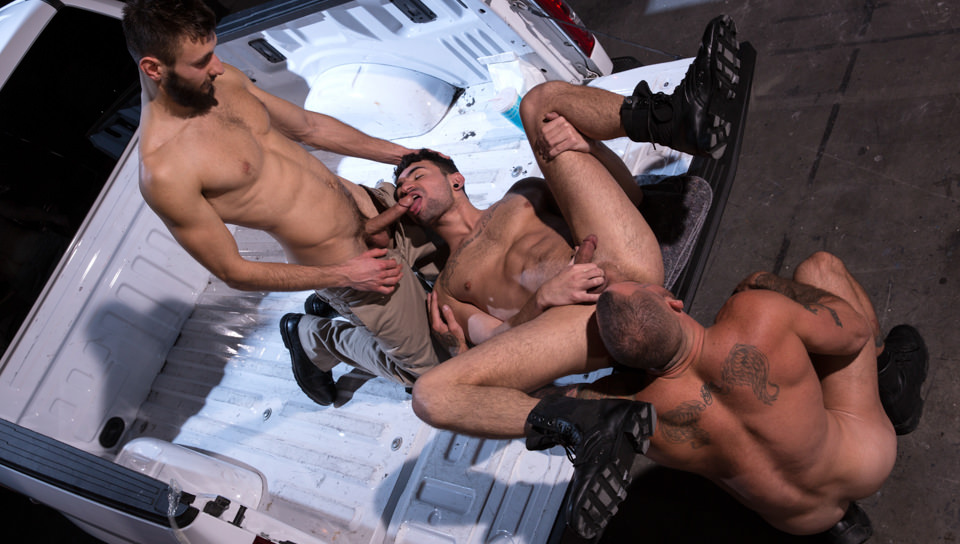 Fast food workers Ian Greene and John Ander are hard at work in the 'Drive Thru' when tatted stud Sean Duran comes to the order speaker asking for something with the 'most meat.' Ian tells him to pull up to the window and Sean asks for some cake.
Confused, Ian and John tell the customer they don't sell cake. Sean looks down and says, 'you have plenty of cake.' Ian drops his pants and sticks his ass out of the Drive Thru window for Sean to bury his face in. The car waiting in line honks as Sean switches between licking Ian and John's cakes.
The boys return the favor by taking turns slurping down Sean's wiener. Ian and John climb out of the window and meet Sean at the back of his truck where John gets bent over first. Ian feeds John his meat from the front while Sean pounds him from behind.
Things move to the bed of Sean's truck and Ian gets his ass slicked and fingered one more time by Sean while he sucks on John's cock. Sean sticks his fuck stick into Ian's eager hole while John continues to face fuck Ian. Sean climax's a thick load onto Ian's ass and John releases thick ropes into Ian's awaiting mouth.
Ian finishes with a milky shot to his abs…Join them!
Reality Dudes gay porn scenes at Ian Greene
Builder's bum is not always attractive but when young hot plumber Ian Greene dives beneath the sink in the kitchen the flash of his ass crack brought me to a raging hardon so I got my dick out.
As I wanked I was busted as Ian catches sight of me with my throbbing dick in my hand.
Ian caught me with my cock in my hand and was hesitant at first until I offered him cash to jack me off and suck me.
After an awesome blowjob, he agreed to let me fuck him for another four hundred.
It was pricy but worth it as I pounded him doggy-style against the counter, then he rode my cock on the floor.
I fucked him mish till I pulled out to cum all over his hole, then he jacked off and blew a big load.