Every gay porn video and gay porn image gallery of Cazden Hunter.
Hair Color: Brown
Sign: Unknown
Eye Color: Brown
Dick Size: 8 inch dick
Height: 5'9″
Cut / Uncut: Uncut / Uncircumcised
Weight: 165lbs
Sexual Positions: Versatile
Icon Male gay porn scenes of Cazden Hunter
When you have a sex dream, there is no better subjects that huge dicked Max Konnor and willing Latin bottom Cazden Hunter.
Max fucks Cazden until his eyes roll back in his head and moans with pleasure.
Cazden takes every inch of Max down his throat and fucks the cum right out of him…Join them!
Falcon Studios gay porn scenes of Cazden Hunter
When devoted bottom Cazden Hunter is paired with dedicated top Steven Lee, it doesn't take long to work out what's going to happen.
'I like to get bred,' admits Cazden, whose beefy bubble butt backs up his boast.
'I like it rough,' asserts Steven, and his fat throbbing dick proves he's a man of his word.
Cazden gulps down Steven's girthy cock while his haunches get worked up.
Steven impales the perky bottom bareback. Everybody leaves totally satisfied, and drained of their cum..Join them!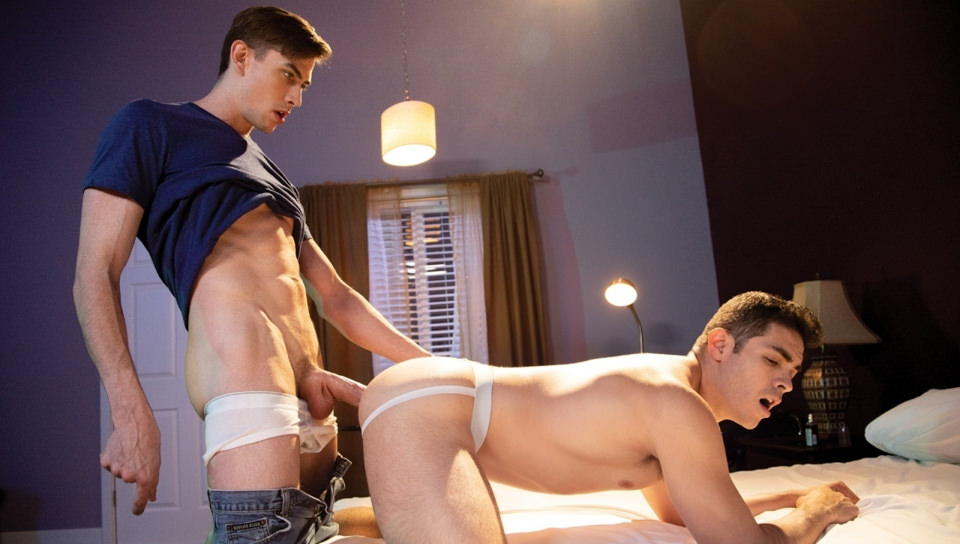 Traveling solo, Cazden Hunter checks into his hotel room finding himself horned-up with nowhere to go. Cazden take out a dildo, pops on a porno to help satisfy his needs. After a few attempts to get himself off, Cazden decides he wants more, he wants the real thing. A big hot thick cock to fill his hole.
He arranges for an anonymous hookup in his room. When his NSA fuck-buddy Jack Hunter arrives, he finds Cazden face down, ass up on the bed in a jock. Jack helps himself and gets on his knees to rim Cazden hard. After burying his face in deep, Jack smacks Cazden's ass cheeks with his thick, throbbing cock.
Slick with spit, Jack slides his massive dick straight into Cazden's bare hole. Cazden sits up and looks back at the anonymous trick as he pumps in and out of his ass. Cazden wants a taste of Jack's monster cock and turns around to swallow it whole. After getting his throat stretched, Cazden hops on top to take Jack's dick to new depths.
He bounces up and down, taking every inch of the girthy cock probing his hole. Jack puts Cazden on his back with his legs high in the air to pound him deep. Jack can't hold off any longer and pulls his bare cock out of Cazden's ass to drench his cock with a fresh load.
He shoves it back in just in time for Cazden to grab ahold of his dick and stroke a thick load out on his abs. After satisfying himself and his anonymous partner, Jack gets dressed and leaves Cazden on the bed a wet and sticky mess…Join them!
Hottie young bottom Cazden Hunter gets it together with super top guy Steven Lee.
It doesn't take long until Cazden takes control saying, 'I like to get bred.'
Cazden whos sexy bubble butt is world-renowned smiles.
'I like it rough,' asserts Steven, his fat erect cock is all set to be let loose.
Cazden gulps down Steven's girthy cock while his haunches get worked up. Steven impales the perky bottom bareback.
Everybody leaves totally satisfied and drained of their cum.
Adrian Hart and Cazden Hunter burst into the room as tattooed young stud Clark Davis is wanking his big hard dick, edging it to the fullest.
The guys take their turns sucking down hard on Clark's big dick. Clark returns the pleasure deepthroating both their cocks.
All three take turns being cock connoisseurs until Clark takes the next step and bends both studs over to eat out their holes.
Cazden is the first to give up his hole and Clark glides his dick in while Cazden fills his mouth with Adrian's pole.
After Cazden's hole takes a pounding from both cocks, Clark lines up behind Adrian to stretch his ass while Adrian keeps fucking Cazden.
The fuck train continues until Cazden sits back in a chair and takes a blast to his face and mouth from both Clark and Adrian's rods, making sure to lap up every drop that's leftover.
With cum down his throat, Cazden jacks off to a cummy finish that leaves him covered in cum.
Hottie black stud Devin Trez arrives home to find a naked Cazden Hunter lying in his bed.
Devin without a second thought jumps into bed with him.
Devin's massive soft uncut dick gets super erect straight away and Cazden struggles to swallow it whole.
He gags on that monster black dick.
Devin gives Cazden's mouth a break and bends him over to devour his tight and smooth crack.
Now that his ass is lubed and loosened up, Cazden gets on top and slides down on Devin's raw pole.
As Devin's dick passes Cazden's threshold and taps his prostate, Cazden grabs hold of his bouncing cock and jerks it good.
Switching positions, Cazden gets on all fours and lets Devin take bareback control of his hole.
Devin's cock drills Cazden's ass in multiple positions, stretching his hole to its absolute limit.
With an ass full of cock, Cazden dumps his load all over his torso, making Devin pull out do the same.
Men gay porn scenes of Cazden Hunter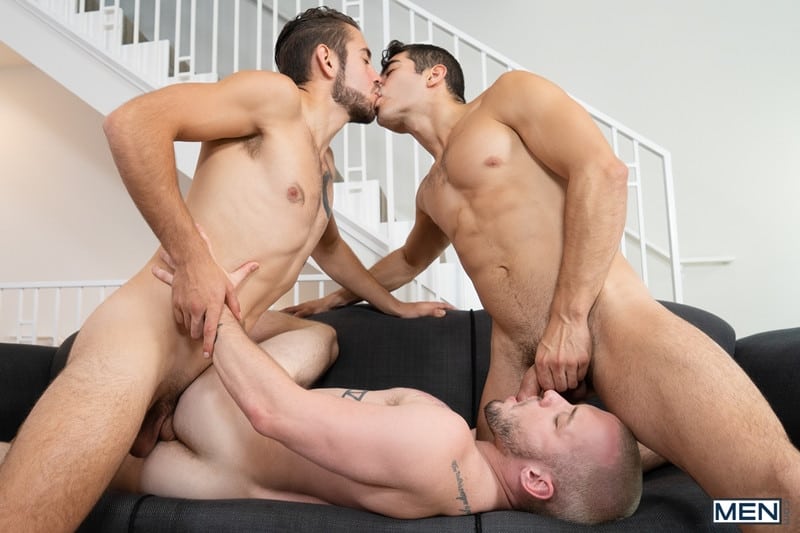 Tattooed, hunk Dante Colle still can't get rid of his everlasting erection, and he has a birthday party to attend. What is he going to do? He decides to stuff it in his pants and heads out. Once there, the guys notice something is off with Dante, and begin probing him until his rock hard, hung cock is revealed. Atheltic Cazden Hunter, blond-haired Colton Grey, muscular Dominic Pacifico and chiseled Marcus Tresor all have one thing in mind now, and that's to get the party really started with some hot group sex….Join them!
Handsome hunk Arad Winwin is a favorite here on Men.com for good reason, and if he's been starring in your fantasies as well as your favorite scenes, now you can see what it's like to hook up with him.
Watch as Arad starts his day with a sensual self-massage, lying in bed and caressing his muscular chest, then stroking his hard cock just how he likes it and pinching his taut nipples.
Arad strolls nude into the kitchen to pour himself a cup of coffee, then continues his self-pleasure in the shower, where he's joined by bearded cutie Cazden Hunter.
Back in the bedroom, the guys kiss passionately and Cazden sucks the top's hard cock, then Arad turns him over and rims his hole before sinking into him doggy style.
Arad enjoys the view as Cazden rides him reverse, then fucks the bottom missionary till Cazden orgasms.
Arad gives the bottom a facial, then kisses him hungrily.
Bottom Games gay porn scenes of Cazden Hunter
Sexy black muscle stud Adrian Hart and young cute dude Cazden Hunter are mucking about playing a slapping game.
The stakes are high as the winner of the game gets to top the loser who bottoms.
It's a game of speed and Adrian has the edge every time. After losing several times Cazden wants another chance.
He loses and finally, he succumbs to his fate as he strips off his shirt and gets on his knees, sucking down hard on Adrian's big black cock.
Hungry bottom boy Cazden slurps on Adrian's thick dick till he chokes on that black monster hitting the back of his throat.
Cazden sucks big dicks like a pro and he gets Adrian's cock well lubed with his spit.
Adrian kisses Cazden before pushing him down onto the couch and parting his smooth ass cheeks with both hands, getting his tongue deep into his tight hole, rimming his asshole good.
With Cazden bent over Adrian slides his huge erect ebony cock hard into Cazden's hole with long forceful strokes in and out.
The guys change positions a number of times with Adrian going deeper and harder so his balls slap against Cazden's ass cheeks making him cry out in pain or pleasure.
Now Cazden is on top of Adrian guiding his hole onto Adrian's massive black cock taking control and grinding his ass down repeatedly and squeezing his ass muscles tightly around his fuck tool.
The hardcore raw anal fucking continues until Cazden can cope no longer with the ass pummeling and shoots cum all over them both. Adrian follows with a huge cumshot over Cazden's ass before fucking his jizz back inside.
Sexy young stud Cazden Hunter and black hunk Adrian Hart are fighting to see who is going to bottom in this episode.
They start off competing in a leg wrestling session and after a few rounds, it is clear that Adrian is rubbish and Cazden claims the prize.
Adrian then opens his legs and takes Cazden's thick raw young cock deep in his black hole.
In the end, Adrian lets hunky Cazden pummel his bussy into orgasmic submission.
Raging Stallion gay porn scenes of Cazden Hunter
Arad Winwin finds his hired hand, Cazden Hunter, being lazy on the job and leaning on his truck.
Arad has no time for slackers and when Cazden offers to do anything to make it up to his boss, Arad pulls out his thick, hard dick and tells his employee to get to work.
Cazden needs this job so he gets on his knees to take the big, uncut dick down his throat.
When Arad is rock-hard from Cazden's talented mouth, he stands his employee up and pushes him against the tool shed door.
Arad can hardly wait to get a taste of Cazden's tight ass and gets to work rimming the willing stud.
After opening him up with his tongue, Arad is ready to shove his raw cock deep into Cazden's bare hole.
Arad bends Cazden over and starts pounding away, going balls deep with the first thrust before he picks up the pace to give Cazden the fuck of his life.
Arad wants to see the look on Cazden's face as his bare cock pumps in and out so Arad flips the stud onto his back.
The thrusts keep coming from Arad's cock until he fucks the cum out of his hired man and that's all it takes for Arad to let go.
Arad pulls his cock out of Cazden's ass and erupts all over Cazden's freshly fucked hole.
With cum leaking on Cazden's hole, Arad fucks his own load into Cazden as he shoves a dirty jockstrap into Cazden's mouth and gives him another stern warning never to touch his truck again.
Fisting Inferno gay porn scenes of Cazden Hunter
Hardcore dildo ass fucking threesome Andrew Delta, Cazden Hunter, Buck Richards sex toy anal.
It's the middle of the night and Buck Richards and Andre Delta are returning to their abandoned shipping container to find Cazden Hunter just where they left him, chained up with his hole completely exposed.
The two scruffed-up fuckers immediately begin having their way with their bound slut by tasting his sweaty hole, stuffing his ass with toys, and shoving a massive dildo down his young throat.
With Cazden now on his back and submitting to the strangers' every move, he loudly moans as that same oversized dildo stretches out his virgin hole before Buck uses his eight inches to bareback his wrecked ass.
Buck mutters to his bottom that he's going to cum and soon both of Cazden's masters are unloading all over his used cheeks and face.
See all Andrew Delta gay hardcore fuck sessions at Fisting Inferno here.
See all Cazden Hunter gay hardcore fuck sessions at Fisting Inferno here.
See all Buck Richards gay hardcore fuck sessions at Fisting Inferno here.