Hair Color: Brown
Sign: Unknown
Eye Color: Brown
Dick Size: 7.5 inch dick
Height: 5'5″
Cut / Uncut: Cut / Circumcised
Weight: 165lbs
Sexual Positions: Top
Sebastian Kross scenes at Falcon Studios
After a hike through scenic Joshua Trees, Sebastian Kross and JJ Knight return to the vacation house and head to the secluded back patio. JJ rubs his hands on Sebastian's tattooed chest and undoes Sebastian's belt.
Out pops Sebastian's giant boner, and JJ showers it with oral worship. Letting his own shorts fall to the ground, JJ unveils his unbelievable giant cock. With giant gulps and lots of spit, Sebastian gets to work on JJ's monster meat. But it's Sebastian's ass that really gets JJ going: he parts Sebastian's cheeks and works his tongue deep into Sebastian's crack.
Standing up, JJ lubes up his dick and tries to be smooth about sticking it to Sebastian. Turning around, Sebastian says, 'Maybe next time, but I came out here to fuck you.' That works just fine for JJ: he bends over and offers his ass up to Sebastian's tongue.
When his ass is wet and ready, JJ throws his legs over Sebastian's shoulders, and Sebastian slams his cock into JJ's hole. When they switch to doggy style, JJ's massive cock flaps back and forth with the motion of Sebastian's thrusting.
JJ's tight ass brings Sebastian to climax: he pulls out and unleashes a massive stream of cum that drenches JJ. Sebastian slaps his dick on the puddle, splashing white semen everywhere. Turning around, JJ jerks out a massive load into Sebastian's open mouth…Join them!
Sebastian Kross scenes at Hot House
After a great workout, trainer Sebastian Kross stretches out his client, Jonah Fontana, focusing on his tight glutes and hamstrings. Their cocks bulge inside their gym shorts. Running his hand along Jonah's ass, Sebastian works to relieve all of the tightness and stress in Jonah's bulging muscles.
In preparation for a massage, Jonah removes his workout gear and lays out on the bodywork table. Sebastian oils up Jonah's shoulders and works the knots out of Jonah's back. As he works his way down Jonah's body, Sebastian removes his shirt.
When Sebastian starts working Jonah's bubble butt, Jonah reaches a hand out and touches Sebastian's bulging cock. Sebastian puts his cock right in Jonah's face, and Jonah knows just what to do. He takes Sebastian's girthy cock into his mouth and bathes it with spit.
Sebastian fingers Jonah's hole, spreading Jonah's cheeks and exposing the tight entrance. Climbing up on the table, he rubs his cock in Jonah's crack, then slides in deep. Jonah moans and grits his teeth as he feels Sebastian's cock stretching him wide. Rising to his knees, Jonah takes Sebastian's cock doggy style.
For even deeper penetration, Jonah rolls on his back and throws a leg over Sebastian's shoulder. Reaching their climax together, Sebastian and Jonah simultaneously blow their loads, leaving a sticky, cummy mess on Jonah's hard abs…Join them!
Sebastian Kross scenes at Raging Stallion
Tattooed stud Sebastian Kross is making out with beardy, pierced Brogan Reed. Their cocks are hard and ready to get some action. Brogan sinks to his knees and slurps down Sebastian's massive tool.
Washboard abs flexing, Sebastian relishes the blow job. Brogan works the whole shaft, moving from teasing the tip with his tongue to deep throating the entire shaft. It's an impressive feat, but Brogan manages to swallow Sebastian's whole manhood.
Sebastian moves to appreciate Brogan's perfect bubble butt by giving him a rim job. Brogan's huge balls hang low as Sebastian probes Brogans hole with his tongue. Thick, frothy spit rolls down Brogan's crack and drips off his balls.
With his hole wet and ready, Brogan sits on top of Sebastian's cock and gets a hell of a ride. Thrusting up from below, Sebastian's balls swing up and down with the rhythm of their fucking. Brogan uses his thick legs to raise and lower himself on Sebastian's meaty shaft.
Rolling on his back, Brogan throws his legs in the air and opens up for a vigorous pounding from Sebastian. Brogan's furry ass looks amazing with Sebastian's meat right in the middle of it.
Sebastian positions Brogan on the ground and blows a gigantic load right onto Brogan's furry chest; then Brogan's cum arcs out of his cock in massive spurts…Join them!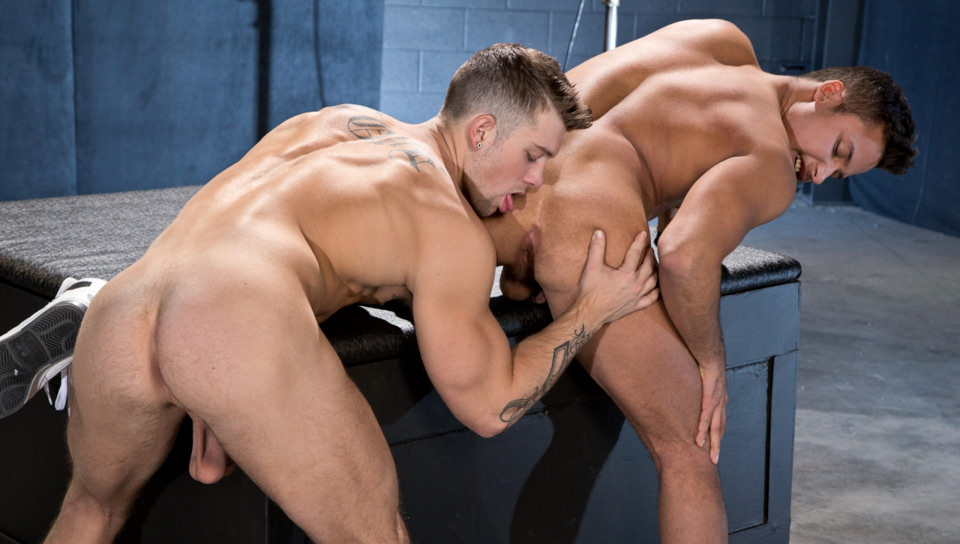 Besides their hard ons, Sebastian Kross and Clark Franco have something else in common: they are smooth from their ears to their toes. Kross' body is a sculpted masterpiece, with muscles so defined they cast shadows on themselves.
Clark is on one knee, providing a blow job that gets Sebastian's motor revving. Sebastian has to make him stop or he'll shoot, so he pushes Clark face-down onto a bench, his cock protruding backwards, and begins devour his ass.
Clark has smooth, unblemished olive skin and the hard, tight body of an athlete. He grunts and hums. His own tongue flicks in and out, as if imitating what Sebastian's tongue is doing to his hole.
Sebastian is so turned on that he has to cum. Clark leaps up to catch the hot load in his mouth, triggering his own milky explosion. Sebastian leans over and licks the stray droplets of his semen off Clark's face…Join them!
[gallery_master theme="masonry" source_type="selected" ids="476″ gallery_type="extended" layout="grid" show_title="show" show_desc="hide" height="160″ width="200″ border_style="2px solid #000″ margin="10px 10px 10px 10px" padding="10px 10px 10px 10px" title_color="#000″ desc_color="#000″ lightbox="enabled" order_by="random"] [/gallery_master]
Sebastian Kross and Tyce Jax are an incredible duo. Tyce sports a huge cock, perfect fur and muscles, and Sebastian is packing too with a smooth, inked and sculpted body.
Loving a good face fucking, Tyce takes Sebastian's thick cock deep down his willing throat. After receiving a scorching hummer, Sebastian is more than happy to return the favor, especially when the cock is as fat and tasty as Tyce's.
He can barely get his whole hand around the shaft, but Sebastian swallows it up like a champ. 'Fuck Yeah!' After that treat, Sebastian is eager to lick and finger fuck the hottest treat of all, Tyce's hairy ass.
They go at it hard and heavy on a furry throw rug, with passionate kissing in between unbridled fucking. Sebastian pounds Tyce's hole before shooting his hot load onto Tyce's face, sending Tyce over the edge and emptying his nuts all over the floor…Join them!