Every gay porn video and gay porn image gallery of Sean Ford.
Sean Ford is an Arkansas boy… I feel at home both in the sunny outdoors and dancing at the club. You can sometimes catch me watching football or basketball, or out on the courts playing some tennis. I have a huge weakness for athletic guys and twinks like myself.
Hair Color: Brown
Sign: Unknown
Eye Color: Green
Dick Size: 6 inch dick
Height: 5'8″
Cut / Uncut: Cut / Circumcised
Weight: 138lbs
Sexual Positions: Versatile
Sexual Orientation: Gay
Nationality: American
Sean Ford gay porn scenes at Men
Men.com's tribute to the work and legacy of legendary gay porn visionary Tom of Finland continues as director Matt Lambert ventures into the territory of the postmodern with CockyBoys Exclusive Sean Ford, Angel Rivera, Tannor Reed, River Wilson, and Joey Mills.
The nude twinks hang out at the Pleasure Park, shooting the breeze, challenging each other to self-suck, and bonding over the question, "What would you do if the world was ending tomorrow?"
As the day turns to night, the sunny teen sex party turns into a rock-n-roll-fueled orgy…Join them!
Sean Ford gay porn scenes at Cockyboys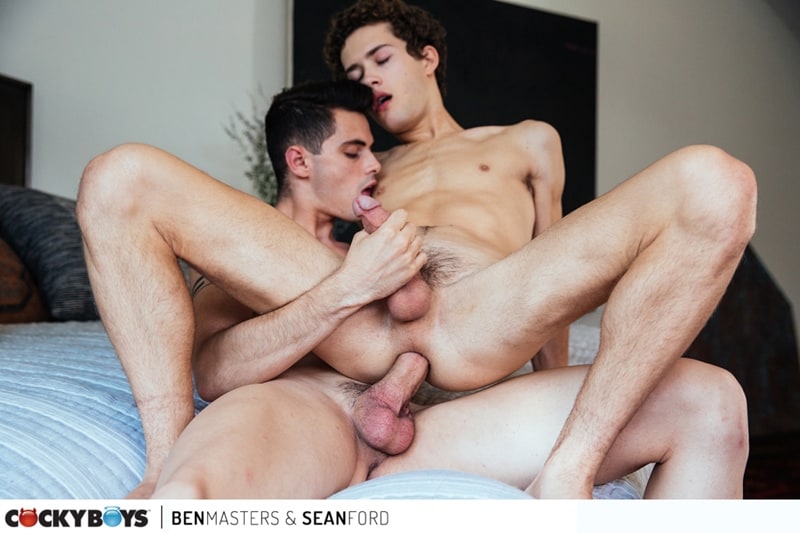 Ben Masters blindfolds Sean Ford and takes him on a kinky erotic journey in which all his other senses are heightened through visual deprivation! Sean is blindfolded throughout this condom-free with Ben in total control.
Ben makes out with Sean while fondling and manhandling almost every inch of his body and Sean is exhilarated by it all, especially when Ben turns his focus to his hole. After fingering & feasting on Sean's hole, Ben teases him by sliding his cock along his crack.
Ben mercilessly teases Sean's hole with several mini-fucks and some ass-eating before he plunges in to pound him hard & deep. Ben relishes the power of literally keeping Sean in the dark about what happens and turns him around to throat-fuck him.
Ben 69's with Sean then sucks him hungrily, putting him in a state of pure pleasure. And then Ben smoothly shifts gears again to resume fucking Sean. Ben drills Sean which way he wants from hard & fast to slow & passionate..and Sean loves it all
Soon Ben gets Sean to ride his cock and they're both thrilled by the pleasure. When Ben takes over again he knows they're both on the edge so he removes Sean's blindfold so he can enjoy it fully. Ben shoots a thick load over Sean's hole and fucks it into him and making him erupt in a thick load.
Ben feeds some of it back to Sean as he luxuriates in the cum oozing out of his hole. Ben plays with it too and as he lies back and gets kissed Sean concludes dreamily, " I never knew being blindfolded could be so much fun."…Join them!
Sean Ford gay porn scenes at Helix Studios
Instinctual. Primal. Pheromones, the smell of a beautiful boy can be the most enticing thing on the planet. Five spell bindingly beautiful boys, Blake Mitchell, Sean Ford, Joey Mills, Wes Campbell and Corbin Colby, are in a dream house and when the temperature rises so do desires. Nature takes over.
Traveling through different rooms and carnal desires, discovering their wants and needs by breathing one another deep inside. The boys are exposed bare and deep, down to their soul. They connect by working together towards the same goal, pure pleasure and absolute ecstasy.
They taste every forbidden desire AND one another all natural, organic and RAW, winding up in an orgasmic puddle of absolute lust…Join them!
Dominic Pacifico's horny hooligans heat up the screen in this juicy jam packed fuck fest starring Blake Mitchell, Sean Ford and Zach Taylor. The boy's nemesis has been carted off to the clink so the tasty threesome celebrate with a few cocktails and a whole lot of cock and tail.
There's enough of Mr. Mitchell's massive member for Zach and Sean to share. A game of tag team tonsil hockey takes place place and everyone cums out a winner in this sport. Blake stands up and joins his buddy Ford to fuck Zach's face as they swap spit.
Taylor definitely has a talent for deep throating, making Blake's entire big boner disappear to the balls. Blake is an absolute bionic top; and as every good top knows, for the best results one must prime a pucker first. With two perfect asses in his face Mitchell goes to work, munching like a madman on a mission.
Then he gets creative. His bottoms are butt to butt and Blake is in the middle blasting one with his fingers and the other with his giant junk. Just when you think it can't get any hotter, Taylor turns up in the middle for an epic spit roast.
Ford fucks his face as Blake bangs his beautiful butt. Keeping the cock whore in the middle, the boys switch spots while putting the coffee table to creative use. Getting it on either end, Taylor is drenched with gigantic gushers drained from each dude's delicious dong.
This coffee table is definitely gonna need a good cleaning…Join them!
Self assured and cock sure Sean Ford is super sexy and he knows it. Getting hot and bothered snapping a few selfies Aiden Garcia saunters up behind him to join in on the self love. If you ain't gonna love yourself, how in the hell you gonna love somebody else…Join them!