Gay porn videos and pics of Massimo Piano.
Massimo Piano is one of our 'catwalk' type men who has a natural boyish beauty and a captivating sultry Spanish look. His slender toned body is perfect for the Menatplay tailored look. Apart from those stunning greeny-blue eyes and that soft downy hair on his chest, the thing that adds to Massimo's sexy understated allure is the sensual tone of his voice.
You'll see what we mean particularly if you watch "Bromance" where, long before the sex starts you've fallen in love with the guy and his silky masculine intonation. Massimo really loves to fuck ass. He can hold his own against some of our toughest tops such as with Denis Vega in "Good Head" , as well as having hungry bottom Dani Robles under his spell in "Bromance".
But sometimes, like when faced with the palpable on and off-screen passion between him and Hector De Silva in "Upgraded", Massimo offers up his eager hole for some of Hector's dominant top cock. Massimo is one to watch if you like your men fresh and young, and you like your fantasy storylines well-acted and believable.
Hair Color: Brown
Sign: Sagittarius
Eye Color: Blue
Dick Size: 7-inch dick
Height: 6'3″
Cut / Uncut: Uncut / Uncircumcised
Weight: 160lbs
Sexual Positions: Versatile
Next Door Studios gay porn scenes of Massimo Piano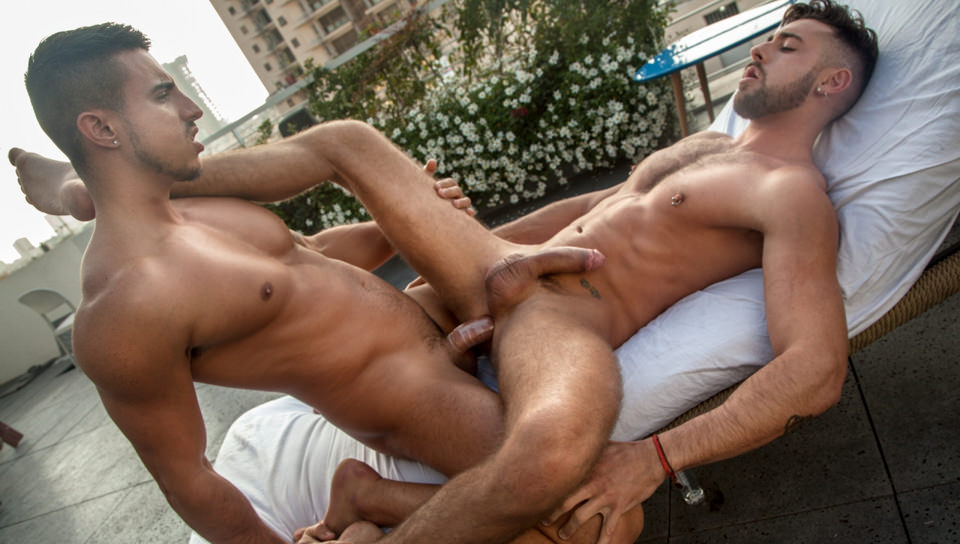 International boyfriends Massimo Piano and Klein Kerr show Tel Aviv what love looks like as they playfully frolic from the city streets up to the semi-private patio of their hotel room.
An impromptu dance lesson gets both men so turned on they strip down and take turns sucking dick and eating ass. Klein is the first lover to get his hole filled, bouncing up and down on Massimo's giant cock. Before either of them get off, Klein turns the tables and shoves his dick in Massimo's tight hole.
Klein cums first and eats if off Massimo's washboard abs then bends over and gets fucked again until Massimo pulls out and shoots all over his big raw butt hole…Join them!
Men at Play gay porn scenes of Massimo Piano
Sometimes the biggest mistakes can turn into the best times. Massimo Piano had no idea that turning up at the wrong venue for his important business conference would lead to him falling to his knees and deep throating on a big juicy Spanish cock.
Similarly, Philip Zyos couldn't have known when he put on his suit and tie that morning that he'd find himself ripping it off again to pummel some guy he met at a conference that was actually happening a few blocks away.
The two executives arrive punctually for business lectures on a marketing course but discover they are in completely the wrong building.
Now, they could run and make it and discover some new blah blah sales technique or, they could stay put and discover depths of anal pleasure that they never reached before. Seeing how they are both young handsome virile studs obviously they went for option 2.
In Philip Zyos we see a handsome but unassuming young businessman. But the star of the show has to be Philip's juicy dick and when Massimo makes that first move Philip's grey eyes turn green as his monster cock pushes at his flies begging to be let loose on Massimo's beautiful ass.
Massimo probably had no idea what he was letting himself in for but his throat and his hole both seem to enjoy taking that rod long and deep. They may have completely missed the conference but it looks like they learned some new tricks to try out on the boys back at the office…Join them!
Massimo Piano and Robbie Rojo are more like buddies than co-workers at the same firm, oftentimes playing pranks on each other.
But today, Massimo takes his pranking to a whole new level, conveniently 'forgetting' to tell a rain-soaked Robbie about his canceled meeting.
Massimo provides Robbie with a dry suit to change into, but first Robbie must strip.
When Massimo sneaks a peek at his tasty, young colleague getting butt naked, he wants to win the game and take the prize!
Massimo finally gets to fuck young Robbie's tight, smooth ass over his own desk.
But as much as Robbie enjoys getting his ass pounded, he isn't that happy about losing out to Massimo and evens the score.
Robbie proves that he can give as well as he takes it and fucks his colleague.
no images were found
Men gay porn scenes of Massimo Piano
Dark-haired Klein Kerr is having dinner with his beefy boyfriend, Massimo Piano, and their tall, handsome friend, Lucas Fox.
Klein suspects something is going on between the two muscular men and is shocked to find his chiseled boyfriend riding Lucas's big, uncut dick.
Upset, the toned cutie grabs Lucas's dick and starts to deep throat it in front of Massimo. Soon, all three men get a turn at getting their asses spread open for some rimming and ramming…Join them!
Now that Massimo Piano knows the Genie can deliver, he makes sure to use his next wish wisely; by getting in one last fuck with his ex, Hector De Silva. Massimo spreads his hole wide to soak in every second of Hector pumping his hard cock in and out of him…Join them!
All it takes is one look on the streets to spark the fire between these two gorgeous guys. Dato Foland follows Massimo Piano back to his pad for immediate seduction. A passionate make-out session leads to mutual cock worshiping before Dato loosens Massimo with his tongue and meaty fingers.
He then shoves his 7.5" uncut shaft into the open hole, pumping Massimo full of pleasure before they flip positions. Massimo's 7 incher feels right at home inside Dato…Join them!
Dario Beck is getting used to life on the road. While at a truck stop he signals to the sexy stud in the next stall that he's horny and down to fuck.
Massimo Piano signals back as he is all too eager to have his tight ass slammed by Dario's big, trucker cock. Dario fucks Massimo doggy style, before going for a ride of his own on Massimo's throbbing dick…Join them!