Every gay porn video and gay porn image gallery of Mick Stallone.
Hair Color: Brown
Sign: Unknown
Eye Color: Brown
Dick Size: 8 inch dick
Height: 5'9″
Cut / Uncut: Cut / Circumcised
Weight: 165lbs
Sexual Positions: Versatile
Kristen Bjorn gay porn scenes of Mick Stallone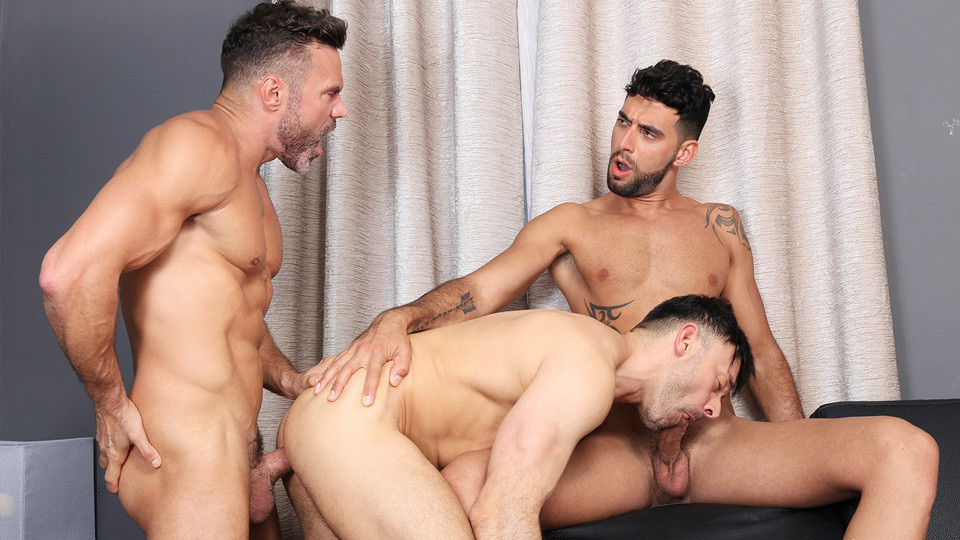 Mick Stallone has told Manuel Skye about this hot new guy that he has been fucking with, Leonardo Lucatto. Manuel invites the guys over to share their new-found friend.
The guys begin disrobing and releasing their huge, meaty, uncut cocks. Each cock offering up its own personality and abundance of pleasure.
Leonardo is the new guy in the group and wants to make a good impression and does so by devouring Manuel's hefty cock all the way to the base and balls, while Mick works over Leonardo's upturned cock.
Manuel moves to the center of attention as Mick licks and tugs on his low hanging balls with his lips and tongue as Leonardo continues sucking his cock with such zeal.
While Manuel and Leonardo move into a hot 69 position, Mick comes in from behind and tongue fucks Leonardo furry ass hole.
With Leonardo maintaining his "all 4's" position Manuel comes in from behind and rams his raw cock deep into his wet ass, while Mick forces Leonardo's hungry mouth down onto his throbbing cock.
The assault on Leonardo's ass and mouth are nothing short of pure pleasure for Leonardo. This 69 position for Leonardo proves to be to his benefit as Mick and Manuel tag team his hot, raw ass.
All the cock swapping has ramped up Leonardo's pleasure level to the ultimate of pleasure as his creamy load of cum begins to spew forward. As his cock flows with cum his ass is still being rammed deep and hard.
Manuel and Leonardo move back into a 69 position, but this time Manuel has his legs spread wide open as Mick plunges his cock deep within his ass.
With Mick's cock fucking his ass and Leonardo's cock in his mouth, Manuel rips off a huge load of cum that coats his sculpted abs.
Leonardo is so turned on by all the hot action and by his new-found fuck buddies that he unloads another load of cum, this time into Manuel's waiting mouth.
Mick can withhold no longer as his hot load of cum erupts from the huge mushroom head of his cock and glosses Manuel's hot ass…Join them!
Raging Stallion gay porn scenes of Mick Stallone
As the clippers of the 'High n' Tight' barbershop buzz in the background, Mick Stallone and Ace Era cruise each other in the waiting room. Mick unbuttons his shirt, showing off his hairy chest and tight abs. He yanks out his hard cock, and Ace eagerly gets down on his knees to perform oral worship.
Ace strips off his shirt, revealing his athletic physique. Mick guides Ace by grasping the dirty blond hair on the back of his head. Ace's waistband slips below his ass, revealing the tattoo on his butt cheeks: FUCK ME. Mick is eager to do just that. Spreading Ace's cheeks, Mick delivers a slippery rim job to lube up Ace's hole.
Ace presses Mick's face deeper into his crack, driving his tongue down into the tight center. Mick uses the tip of his cock to tease Ace's hole, then drives his fuck stick deep inside. Ace bends over a table, and Mick fucks him while standing, delivering an intense, expert pounding.
Flipping over, Ace puts his left leg over Mick's shoulder and strokes his cock, with Mick still inside of him. Ace returns to his knees and stuffs his face with Mick's meaty tool, bringing him to the point of no return: Mick spills his load across Ace's lips and onto his tongue, savoring the taste of Mick's semen.
Jerking his cock, Ace shoots his load on the floor, adding a guttural moan to his orgasm. Standing up, Ace and Mick press their lips together, sharing in the taste of Mick's cum…Join them!
Leatherman barber Rikk York is working on a 'High n' Tight' cut for his client, Mick Stallone. They make conversation about where to go out and what the local guys are like. Rikk's assistant, Jackson Grant, overhears the conversation and shares a knowing glance with Mick through the mirror.
Jackson pulls up his shirt and starts stroking his cock. 'Again?' Rikk says. Pulling back the barber smock, reveals that Mick has already started stroking himself. Jackson comes over and goes down on Mick's hard cock. Joining in, Rikk thrusts his hard cock down Mick's throat.
Jackson makes out with Rikk as Mick switches to sucking Jackson's cock. Jackson stands as Rikk and Mick both kneel and suck on his meat, lick his balls, and make out with each other. Rikk gets on the barber's chair so Mick can rim Rikk's hairy ass.
It's time for the boss to get what he wants: Jackson fucks Rikk's face while Mick stands up and plows Rikk's hairy hole with his hard cock. Switching out the chair for a bench, Rikk lays down and has Jackson sit on his cock. Mick watches while feeding Rikk his cock.
Straddling Rikk's face, Mick makes out with Jackson as Rikk continues thrusting his cock up into Jackson's tight hole. Rikk spreads Mick's asshole and shoves his tongue between Mick's cheeks. Jackson and Mick blow their loads at the same time, shooting their hot, white cum onto Rikk's hairy abs.
Mick makes out with Rikk as Rikk strokes himself and lets loose with his own stream of sticky jizz…Join them!
Mick Stallone is a scruffy versatile stud from Montreal who loves making out and rimming. Letterio Amadeo is a beefy Australian top who puts all his passion into fucking. They both crave the intimacy of eye contact.
As they make out and rub against each other in bed, Letterio quickly assumes a dominant position over Mick and begins giving him head. Wet saliva coats Mick's cock shaft as Letterio works the sensitive head with this thick lips.
Letterio gets up on his knees and feeds his cock to Mick. To enhance his pleasure, Letterio plays with his own plump nipples, one of which is pierced. Spinning Mick around, Letterio dives tongue-first into his ass. The slick spit from Letterio's rim job gets Mick's ass ready to get fucked.
Standing up, Letterio begins a doggy-style fucking that stretches Mick's hole wide and deep. Exploring his versatility, Letterio lets Mick have a go at his ass: with Letterio's legs in the air, Mick pounds his hard meat into Letterio's tight hole.
The intense fucking puts Mick at the cusp of orgasm, and he jerks out his load directly on Letterio's dick. Using Mick's cum for lube, Letterio strokes his thick meat until he spills his cum across his hairy stomach…Join them!
With cameras pointing at them from every direction, three muscled men make out and grope each other's naked bodies. On the left, Bruce Beckham displays his massive chest.
Scruffy stud Mick Stallone sits in the middle, and Jason Vario is on the right. Mick gets down on his knees to suck Jason's cock. Bruce stands up, and his massive cock swings through the air like a baseball bat.
Bruce and Mick take turns deepthroating Jason's hard, uncut cock. Wet spit accumulates on Jason's shaft. Standing up, Bruce rams his jawbreaking cock down Jason's throat. Mick continues to stuff his face with Jason's meat.
Jason falls backward onto the bed, and Mick sits on his face. As Jason rims Mick's ass, Bruce uses his mouth to work Jason's dick. Returning the oral favor, Jason gags himself on Bruce's cock as Mick shoves his tongue inside Bruce's hole.
Spreading Bruce's ass apart, Mick blows spit right into the center of Bruce's pink asshole and spreads it around with his tongue. Switching it up, Mick braces himself against the bed and takes Bruce's cock doggy style.
Jason moves behind Bruce and fucks him while standing. Bruce thrusts back and forth from the middle of the fuck-sandwich, turning up the heat. The three-way connection shared by these horny men amplifies the intensity of their deep, vigorous fucking.
Mick is eager to have Jason's cock in his ass too, and Jason is happy to give Mick what he wants. With Jason's cock stretching out Mick's ass, Bruce stuffs his cock down Mick's throat.
Bruce's hand presses down on the back of Mick's neck, guiding his mouth down on the shaft of Bruce's cock. Switching sides again, Bruce pushes his huge dick into Mick's ass while Mick wraps his lips around Jason's cock.
With Mick's ass stretched to the limit, he reclines in a chair and strokes his cock, watching as Bruce makes out with Jason. Jason beats out a thick, white load onto Bruce's muscular ass.
Bruce unleashes his hot cum on Jason's chest. Mick lets loose with a gusher of cum across his hairy, washboard abs.
UK Naked Men gay porn scenes of Mick Stallone
They're co-workers are out to lunch and Micke Stallone needs a big pen. Oh yeah, sure Micke. We're onto your game and so is Jake Steeven. Jake is tired of playing the flirting game with his office partner. So Jake coyly offers Micke his big penis instead.
Jake whips out his big cock and strokes it while Micke watches. Jake's boldness and girthy dick get Micke so hot and bothered that he pulls out his cock and joins in on the fun. And before you know it, Jake has Micke bent over the desk and fucks the living hell out of him.
They'd better hurry before everyone comes back from lunch…Join them!