Every gay porn video and gay porn image gallery of Ricco Fatale.
Rico Fatale has a handsome face, a ripped body, and a big, uncut dick. He loves having sex, either as a top or a bottom. What more could we ask for?
Hair Color: Brown
Sign: Unknown
Eye Color: Brown
Dick Size: 8 inch dick / 20.32 cms
Height: 5'8″
Cut / Uncut: Uncut / Uncircumcised
Weight: 159 lbs
Sexual Positions: Versatile
Sexual Orientation: Gay
Nationality: Italian
Ricco Fatale gay porn scenes at Kristen Bjorn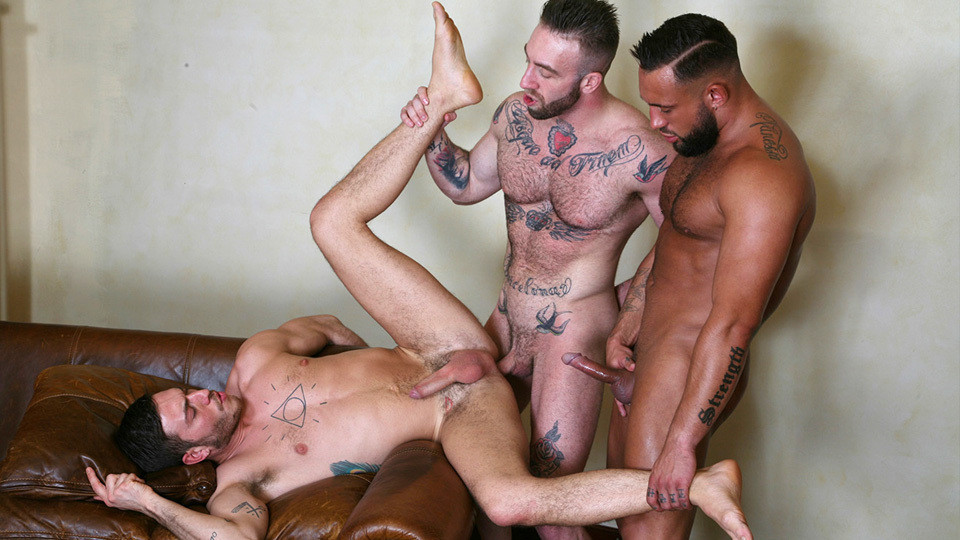 Everyone is so excited at Kristen Bjorn for the launch of the new line of underpants/underwear, but watch what happens when the photo shoot with Manuel Scalco, Jake Cook and Ricco Fatale goes awry.
Photoshoots can get very stressful, but as the models strip down and are completely nude everyone takes notice, especially the other models. After the photoshoot the models tug, touch and stretch the fabrics until Jake goes down on Manuel and pleasures his cock with his hot mouth.
While Jake is busy sucking on Manuel's cock, Ricco climbs on the furniture to get into a better position for Manuel to suck on his cock. The underpants have been lost and now it is all out raw sex with the models.
Ricco appears to be the "pig" in the group and gets on his knees and sucks in both cocks at the same time. Manuel feeds Ricco his cock a bit longer to make sure he has an extra layer of saliva dripping from his cock as he forces his bare cock deep into Jake's hungry hole.
Much to Ricco's delight Manuel periodically pulls out so that Ricco can apply more spit with his talented mouth. Ricco repositions himself and now Jake is begin fed raw cock from both ends and takes it like a true super model.
Jake and Manuel move Ricco into a perfect fucking pig position as they begin tag teaming his famished ass. Manuel moves in and gives the final push that thrusts Ricco's hot load of cum to explode.
Just as Ricco releases his load, Manuel kicks it into high gear and rapid-fire fucks Ricco until both Jake and Manuel are showering him with their thick loads of cum in tandem. Good thing the cameras were left running…Join them!